A few years ago on a trip to Cozumel, a fellow diver shared with us over beer and tacos a magical tale of swimming alongside whale sharks – the largest fish in the ocean – off Isla Holbox. We'd never heard of Holbox, but were surprised and thrilled to learn that these magnificent animals come to the Yucatan Channel each summer, and Cancun is but a four-hour flight away. When the inadvertent sighting of a lone whale shark in Raja Ampat threw our group into a frenzy (and exposed the true extent of our trust in friends, Matt), we knew that we just had to take a trip down here...
The whale shark migration is one of the longest documented (published only in April of 2018!), with hundreds of individuals congregating at and returning to a handful of known feeding locations around the world. The northeastern Yucatan is the site of the largest such gathering, attracting an estimated 800 (!) sharks each summer.
Our plan was to arrive a few days after the full moon in July, when the aggregation of plankton and snapper spawn meant peak feeding time for the sharks. Incidentally the 2018 blood moon happened to be the longest lunar eclipse of the century, which is utterly not visible from North America. Still, kind of neat…
The outbound trip went about as well as we could've hoped for. We flew into Cancun, collected our luggage and Ian, and hopped on a shuttle that took us to the ferry docks at Puerto Juarez: no lost kids, no delays. After checking in at the hotel we walked over to Mexico Divers to get some paperwork out of the way.
In the last few months we'd been talking to a friendly fellow Bostonian on ScubaBoard. M had plenty of good advice to share. But the key, he maintained, was to get out on the water early before the crowds show up, though not so early as to end up with the thankless task of having to track down the pod. The sharks move about (as a wizened divemaster in Bonaire told us, "it's a big ocean, fish swim"), and it's much easier to find other boats. We settled with Mexico Divers on a 7am departure. All was well.
For about half an hour.
As we celebrated our mini-vacation over conch ceviche and erratically alcoholic Piña Coladas, we received an email from the shop that they were canceling our second day because apparently on the 30th of every May through September (the entire season) the tours are shut down for official whale shark counts. Wait what? Didn't we just confirm our plans with them in person like… half an hour ago?
That threw a damper into the festive mood. Still, dinner at Picus was quite delightful (we were being second-hand serenaded to by a Mariachi band at the next table over). We returned to MD to find out what was going on. Long frustrating story short, it's a no-go for the 30th.
We were disappointed, but so it goes. The saving grace of night was that Meghan and Naoko, who arrived too late to join us for dinner, found this very aptly named El Milagro quesadilla stand. Fresh masa tortillas with chicharrones dripping with goodness, and a side of pico de gallo with a real kick. Never mind that we'd already had dinner, and fries, and churros (that we almost forgot to pay for). We wanted more.
In the morning we woke up to the sun rising fast over our little seaside hotel. We scarfed down some supermarket breakfast, piled all our gear into Grace's over-stuffed mesh bag, and were off.
About forty minutes into the boat ride, the captain spotted a disturbance in the regular undulation of the calm morning sea. A bait ball was near the surface, creating a swarm of fins and ripples. We got lucky, as the whale sharks have come to join the fray and feast on the spawn. Meghan and Ian volunteered to jump in first lest the fishes were especially hungry.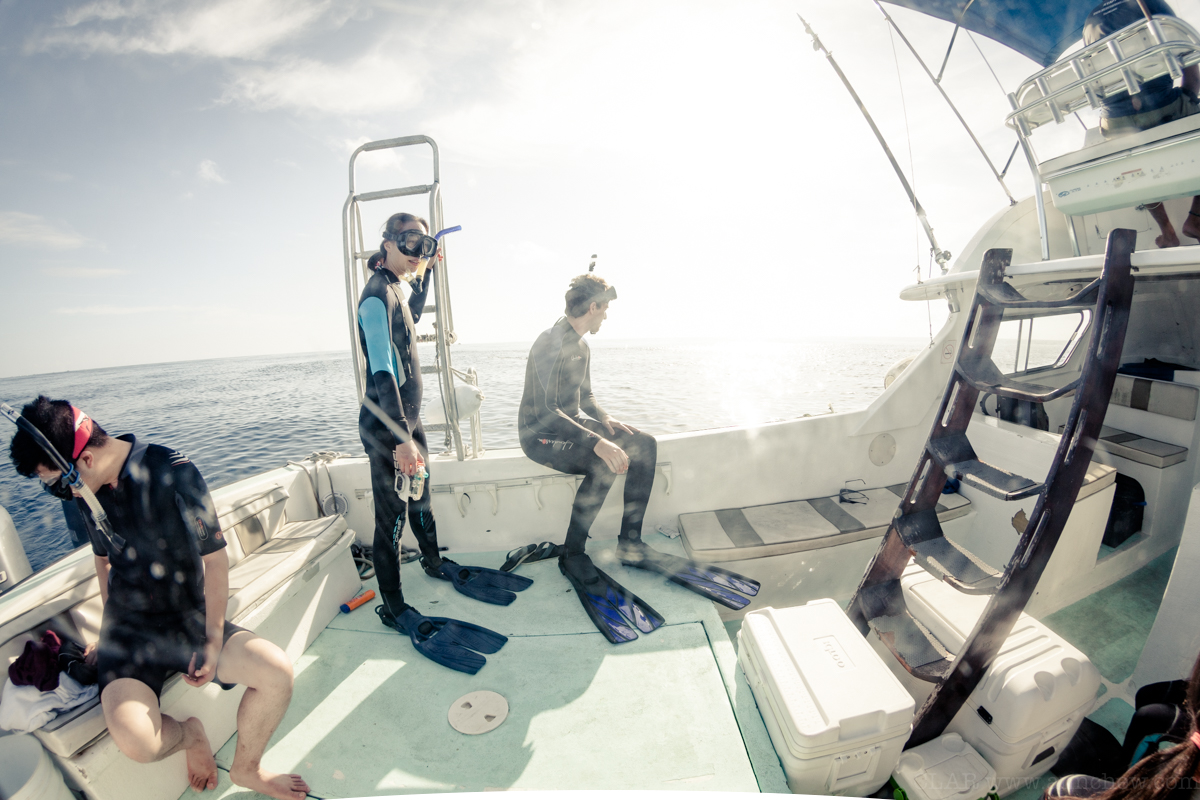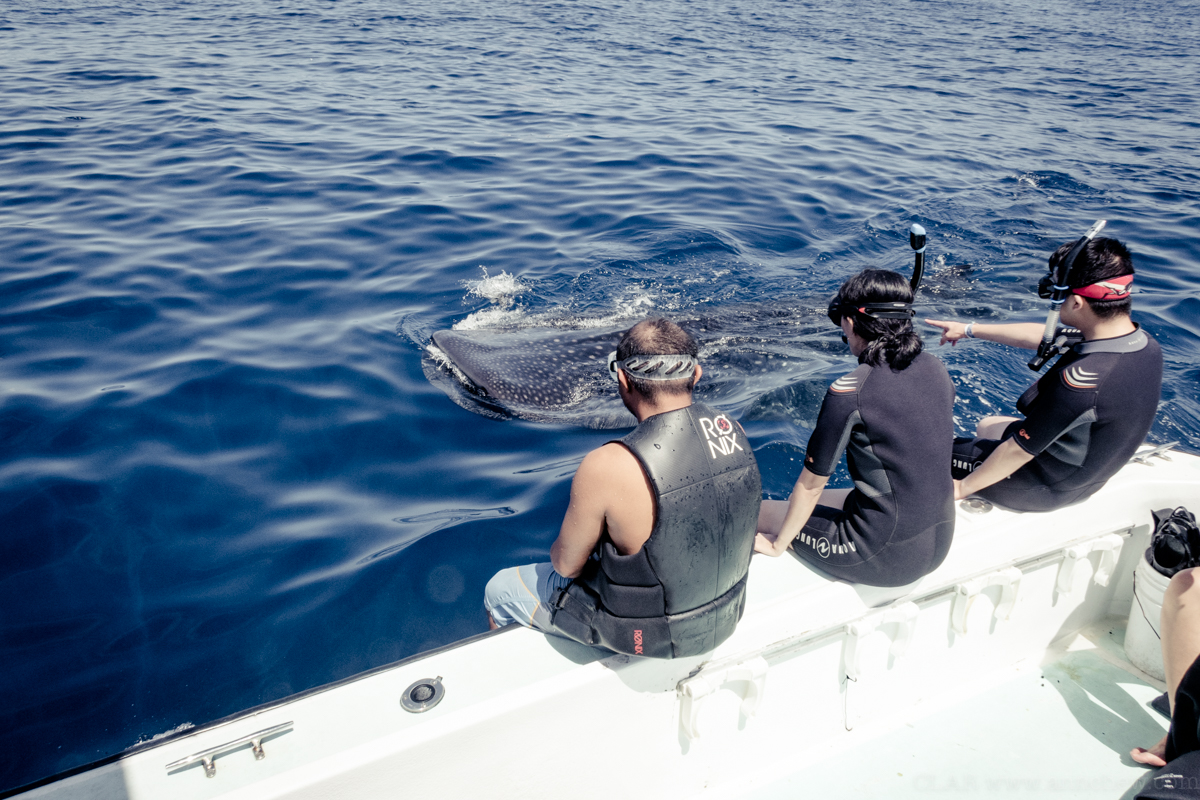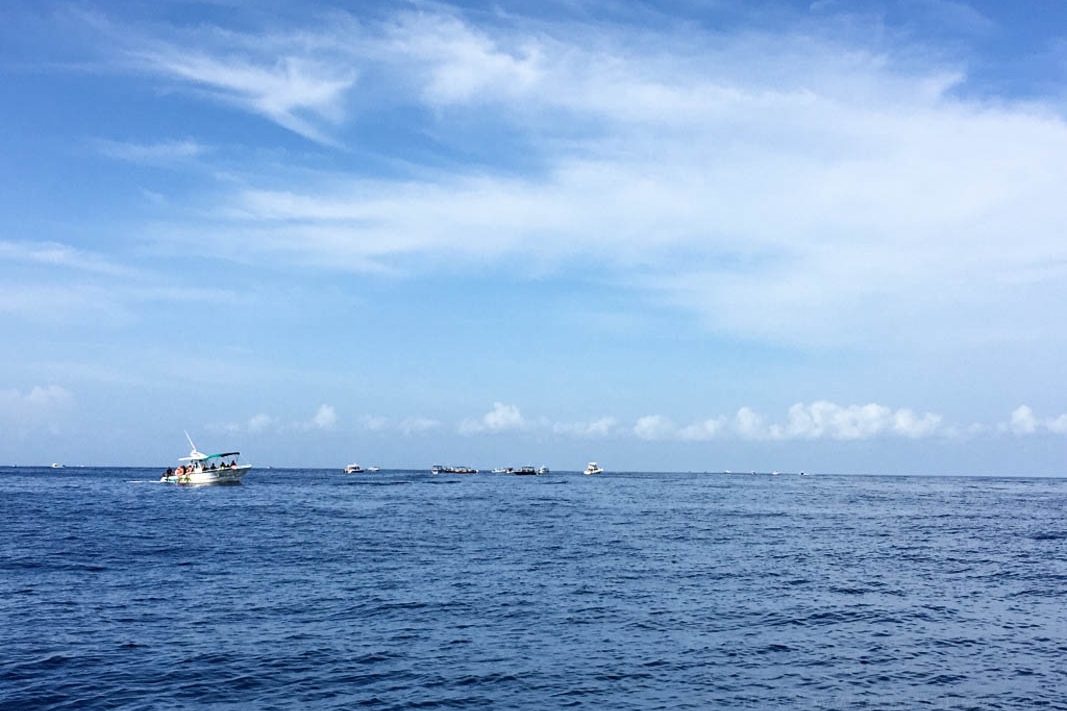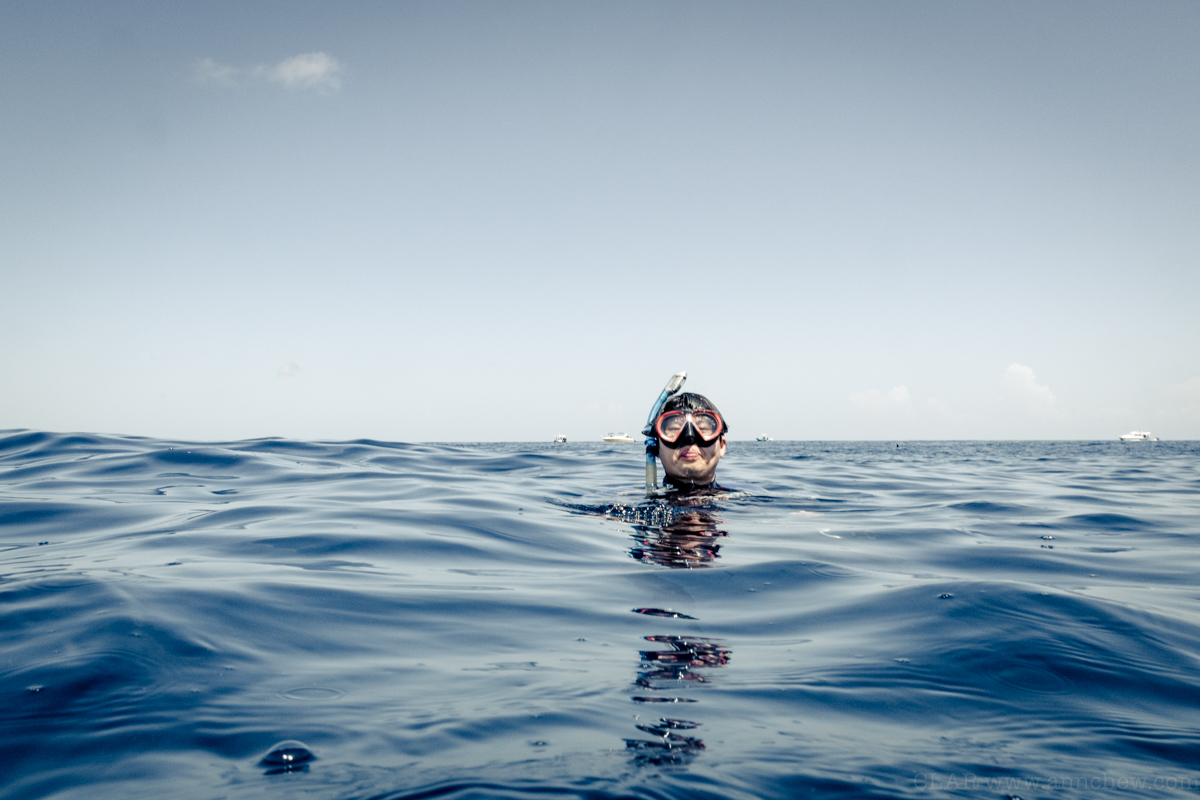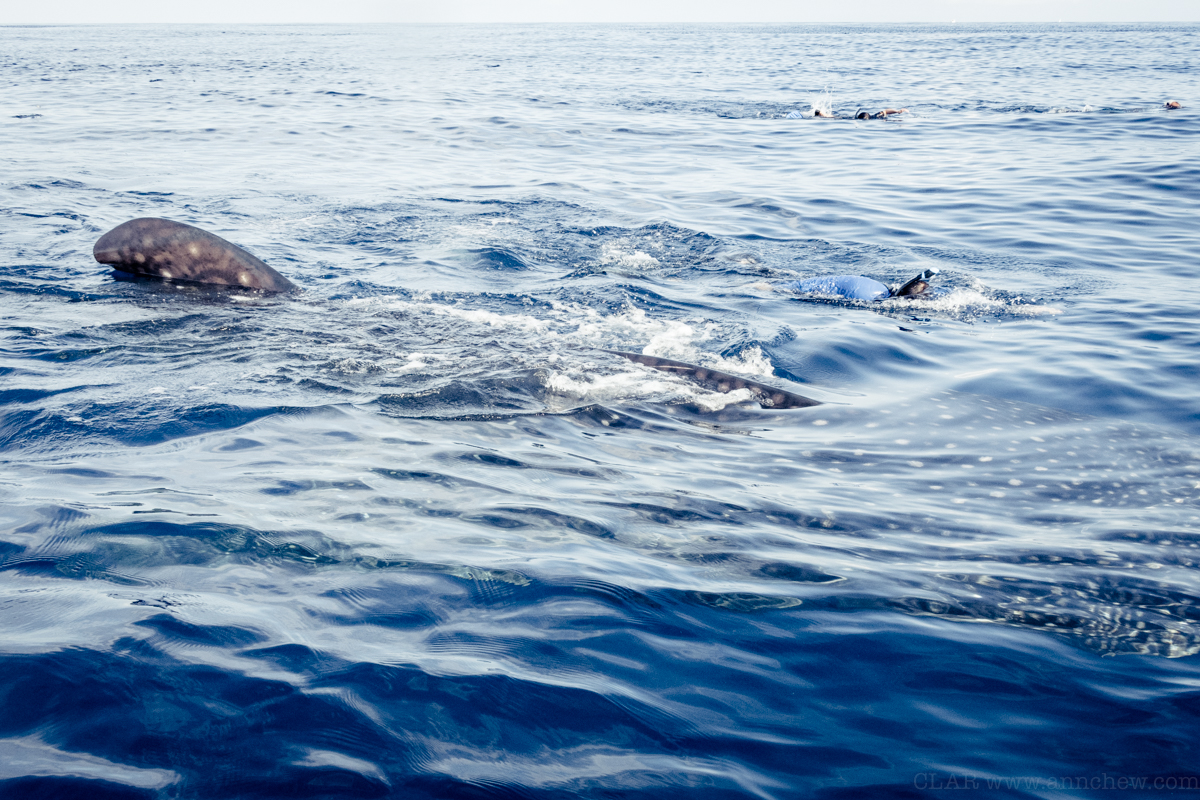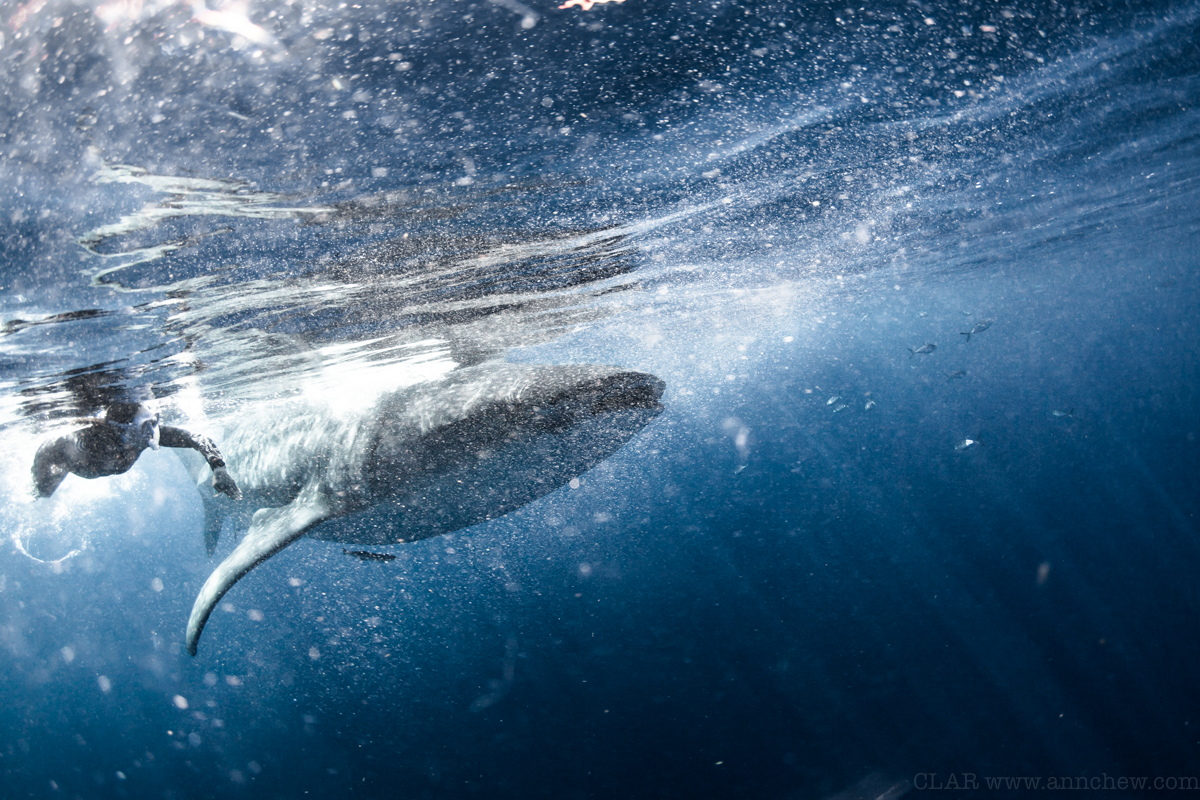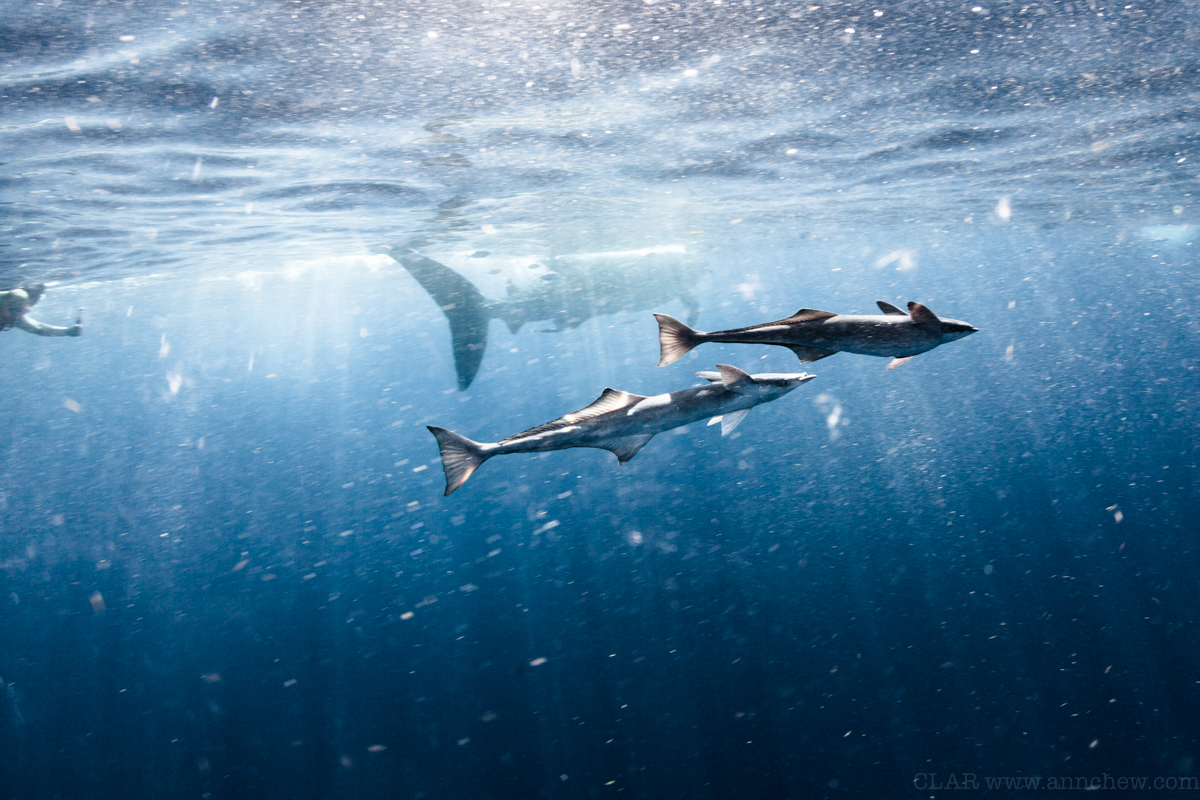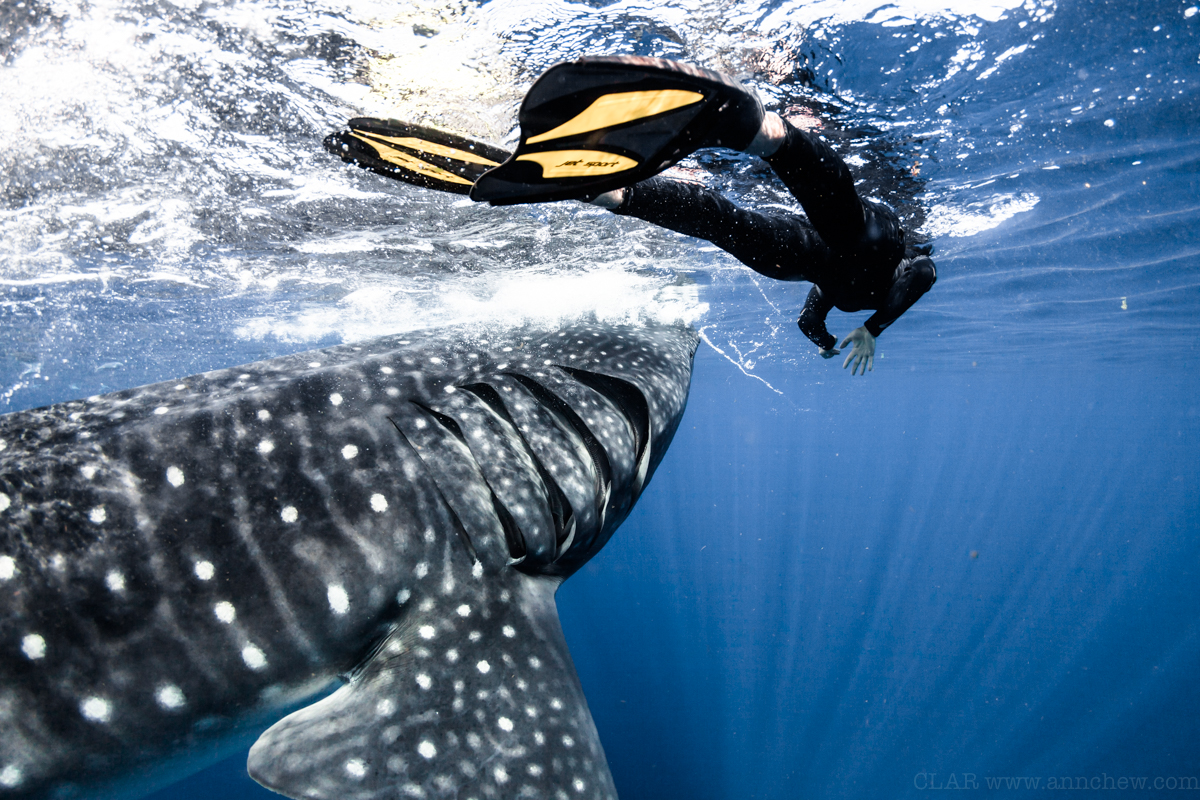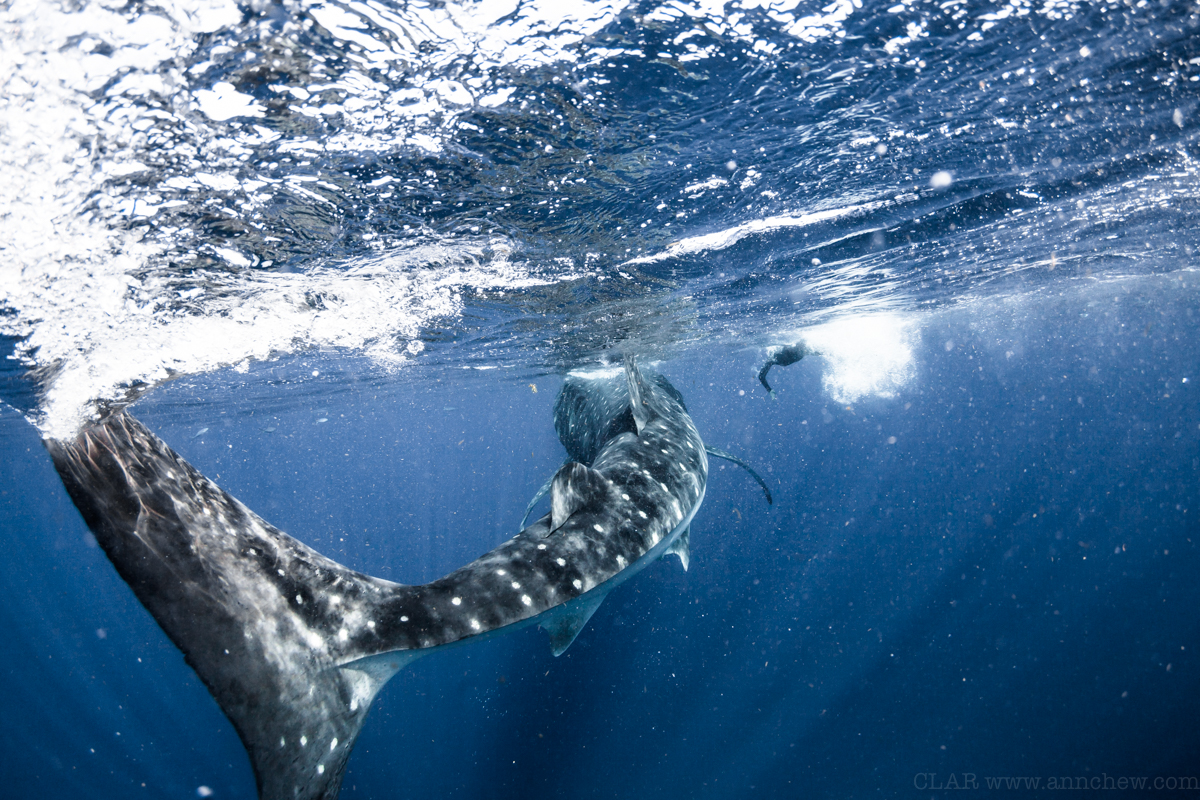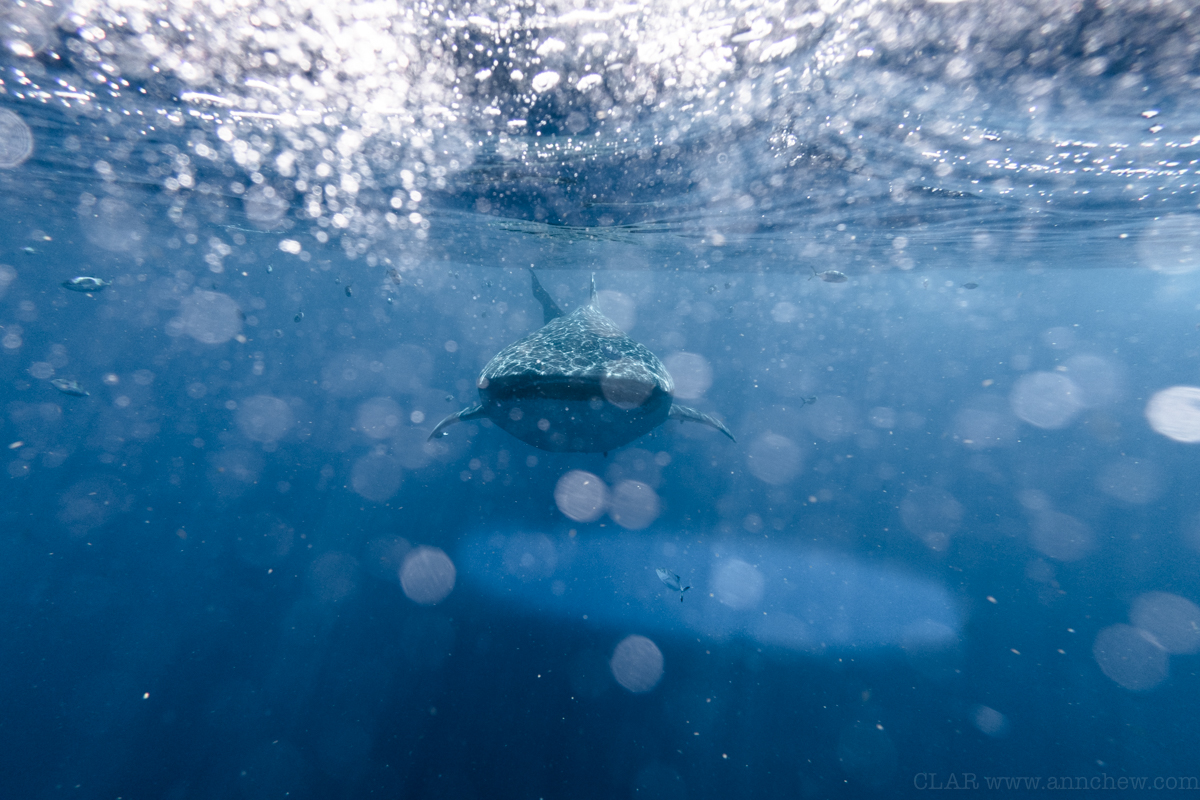 Chewie and I did a back roll off the boat as usual and watched the bubbles rise as we righted ourselves. Then I gulped a mouthful of salty seawater instead of air. Oh right, we're not diving and that's not a reg in my mouth...
A few jumps in we were getting the hang of it. Enormous as they are, the whale sharks moved elegantly – almost lazily – through the water. We frantically tried to keep apace, while the guides shouted, "here! over here!" After years of doing this, the locals knew some of the individual animals by their patterns and fin shapes. "That's Rooster. His dorsal fin got run over by a boat," they'd say, "and that's Godzilla."
From the side their mouths looked comically small:
A few of our friends were lucky enough to have spotted tunas and sailfish, and even an occasional pod of dolphins from the boat. We did get a few visits from some reef mantas (distinguished from their oceanic counterparts by their lack of butt bumps, as we learned on the Raja trip). Looking through the photos we noticed for the first time the dancing ribbons of sunlight on their backs. I wonder if the mantas too appreciate their ephemeral adornment?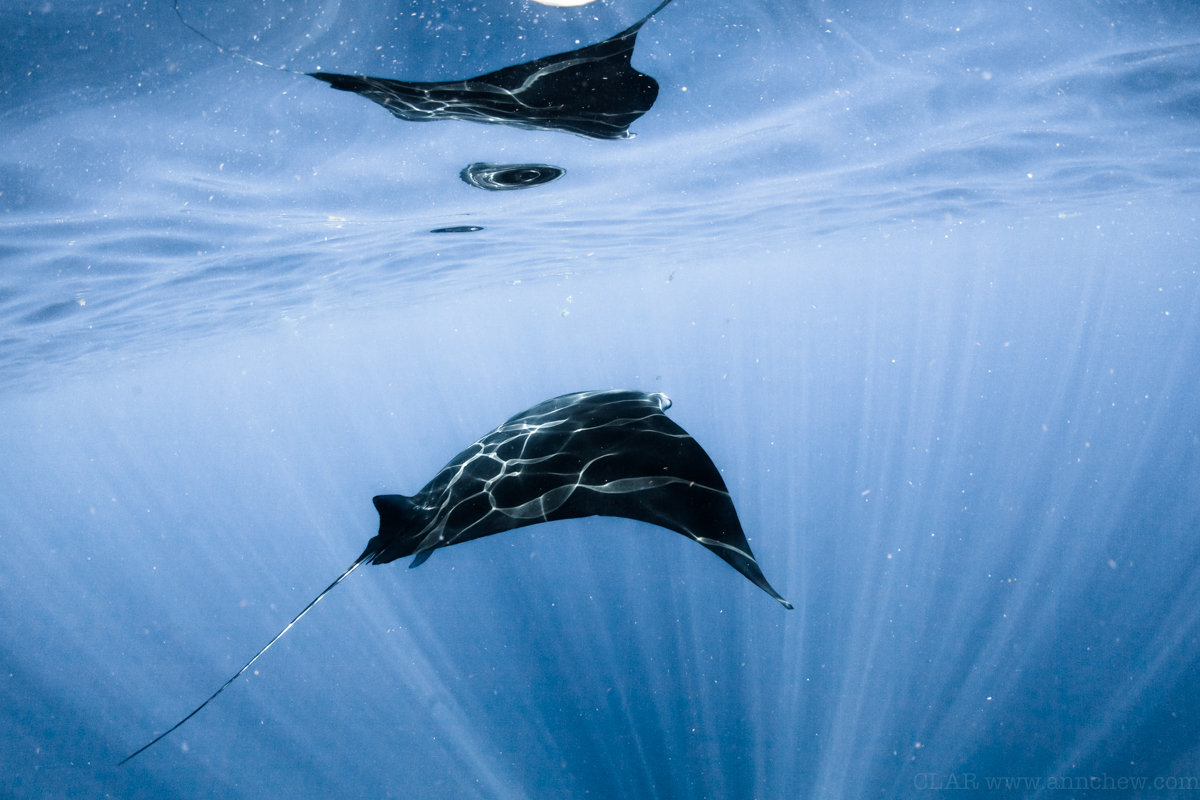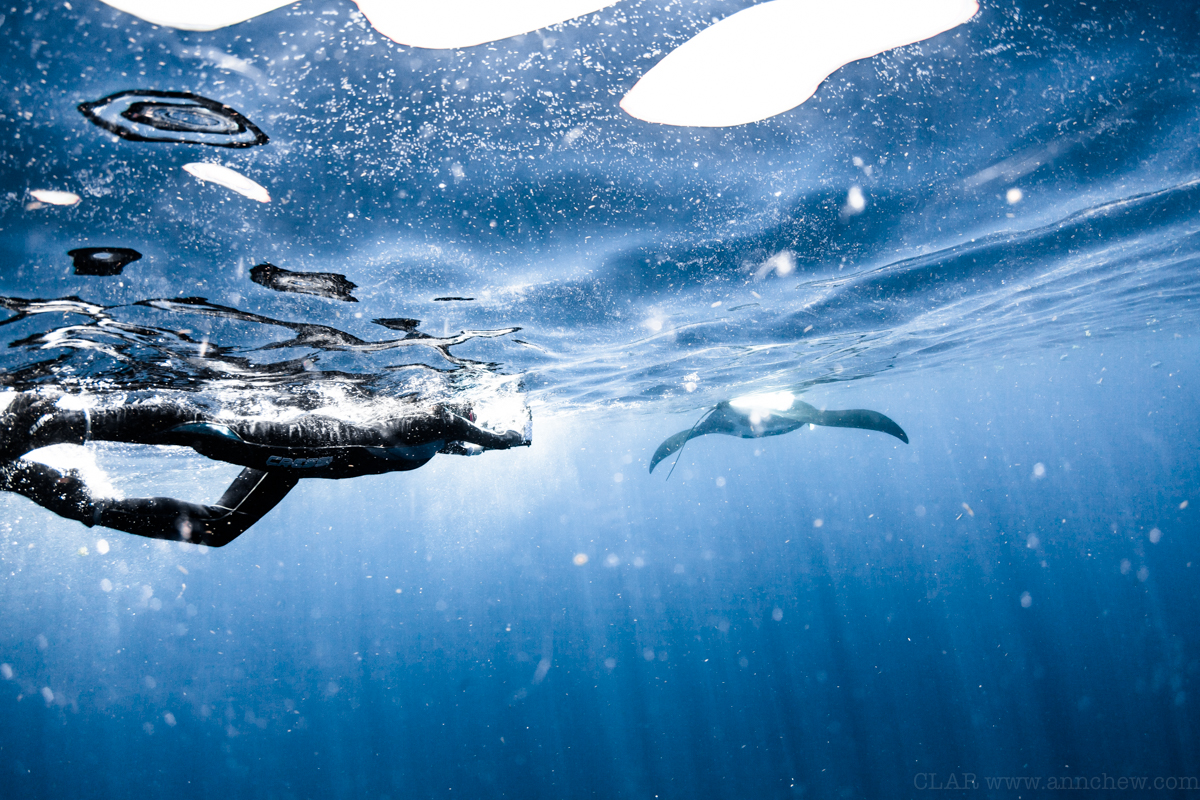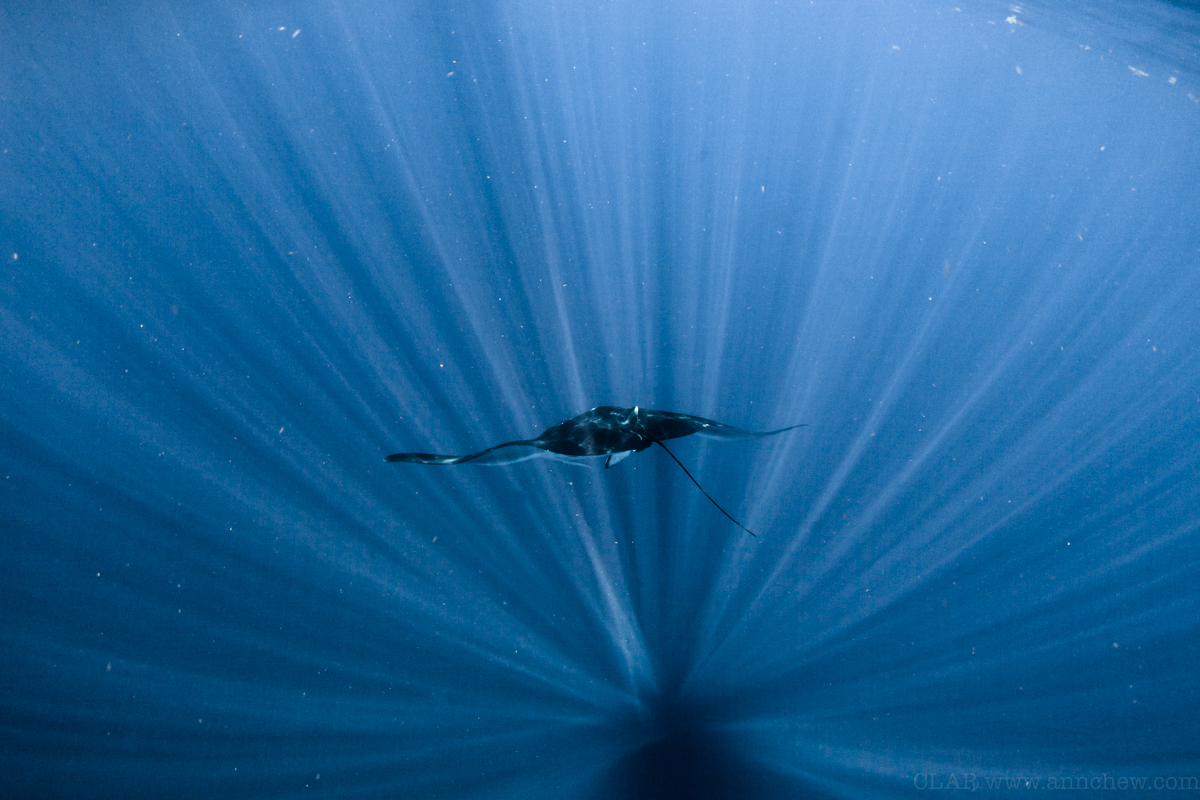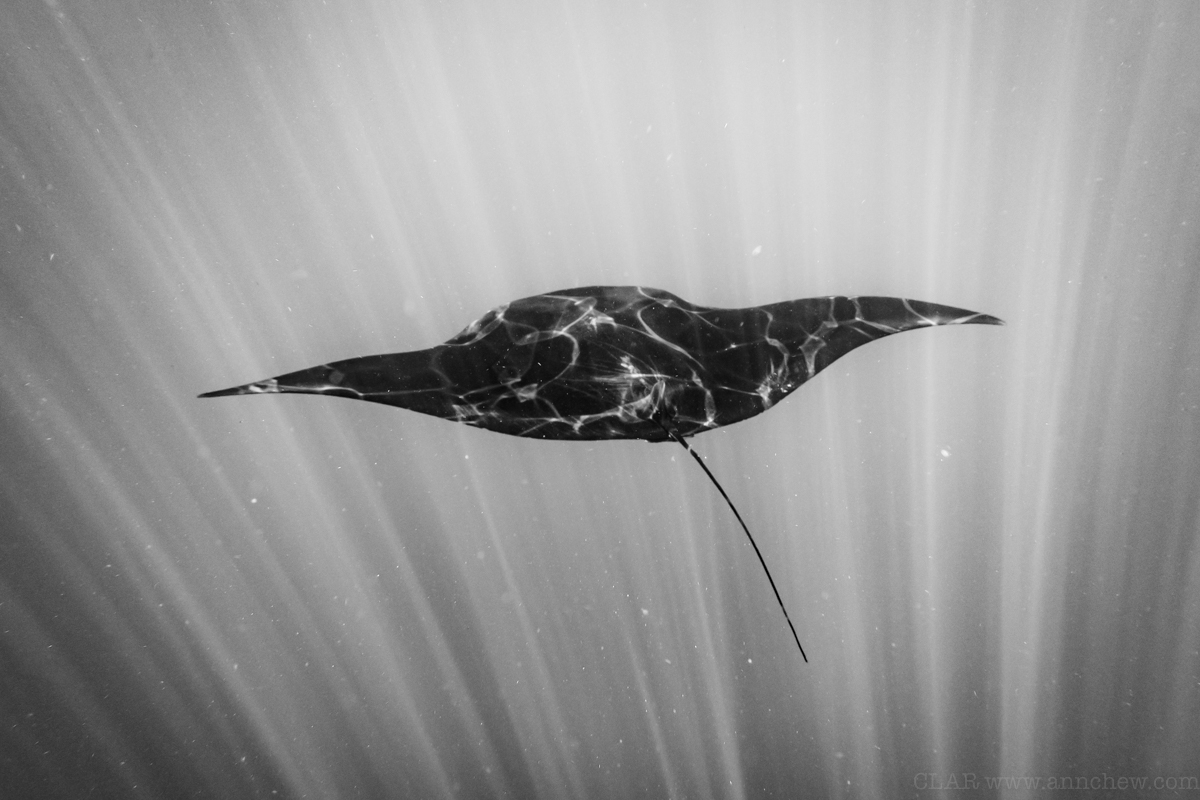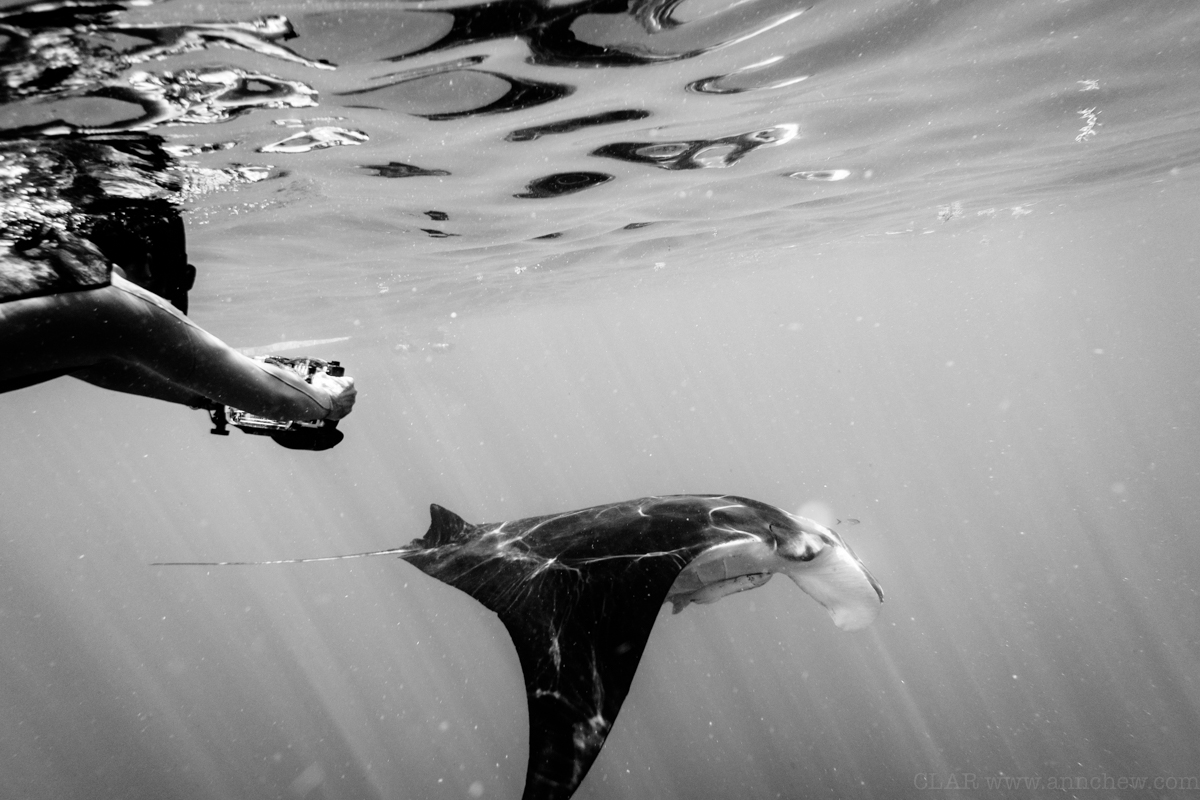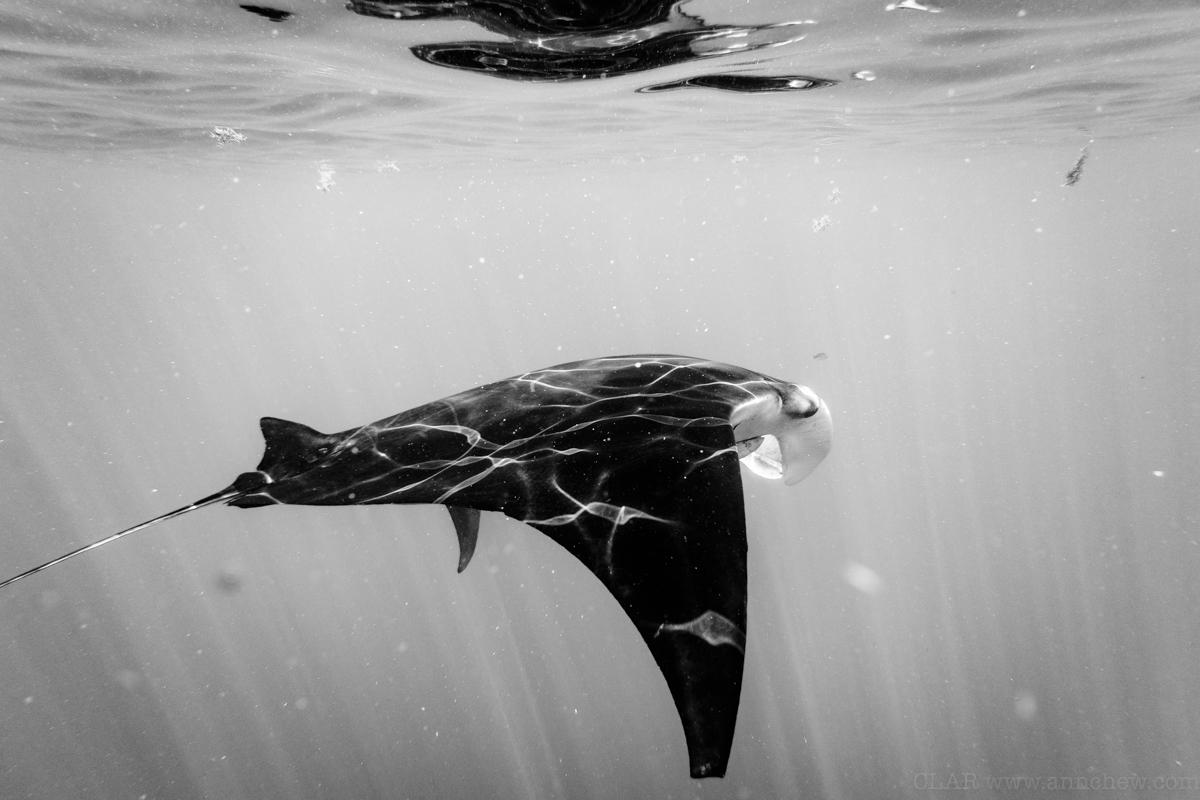 Well, we had one shot at seeing the tiburón ballenas. Bad luck (or bad organization) notwithstanding, I'd say it was a pretty good day. One last pass of a giant coming from the deep blue:
By noon the whale sharks had begun to retreat to the depths, so we motored off to Playa Norte for some snapper ceviche and snorkeling over white sand. A party boat of crimson (barely)-clad youths, their arms aflutter and dark skin gleaming in the sun, pulled up right next to us and began to blare the latest Billboard hits. They're definitely having a great time :-)
Day two was… much less exciting. Since whale sharks were off limits we ended up doing what we always end up doing: diving. IM isn't exactly known as a world-class scuba destination, but we kind of missed the zen of slow-breathing underwater and listening to the sound of our bubbles. Except the Manchones Reef really is that lackluster, and the divemaster even more so. At least it was a new experience for some of our friends: Jameson's first post-cert warm water dive, and Weiwei and Naoko's first dive in the ocean.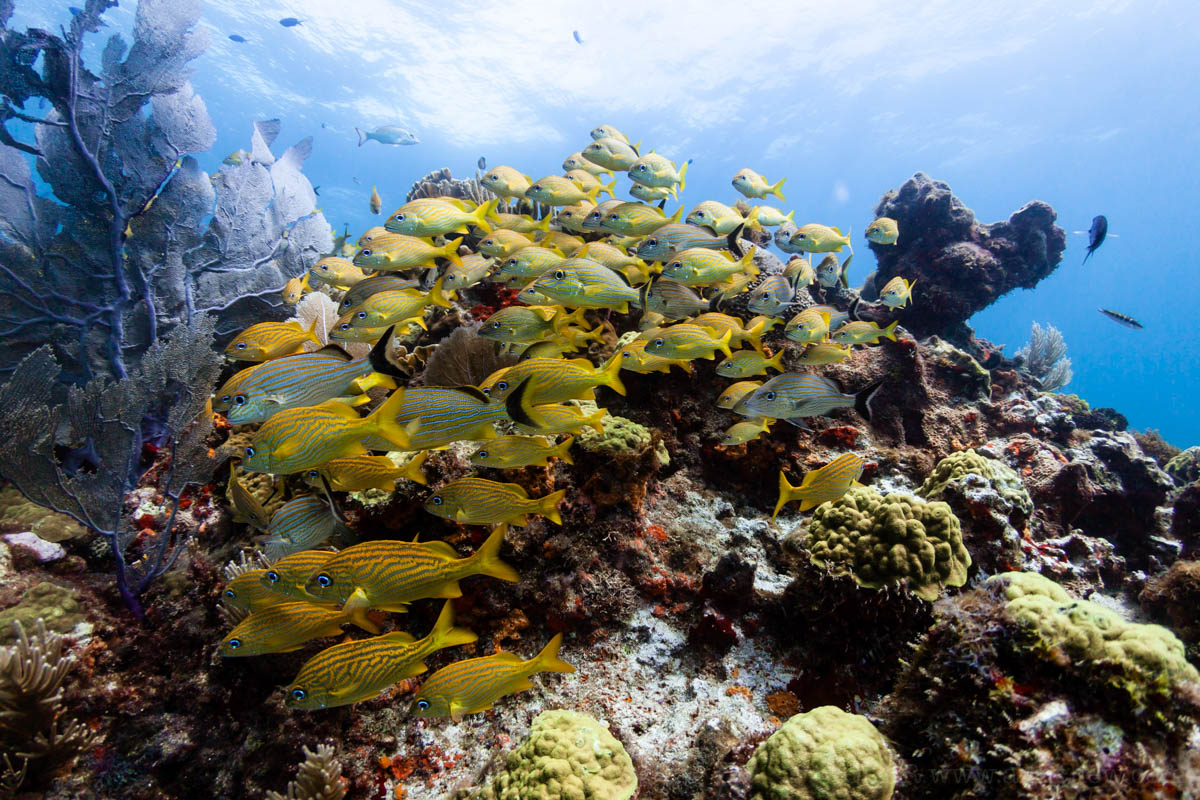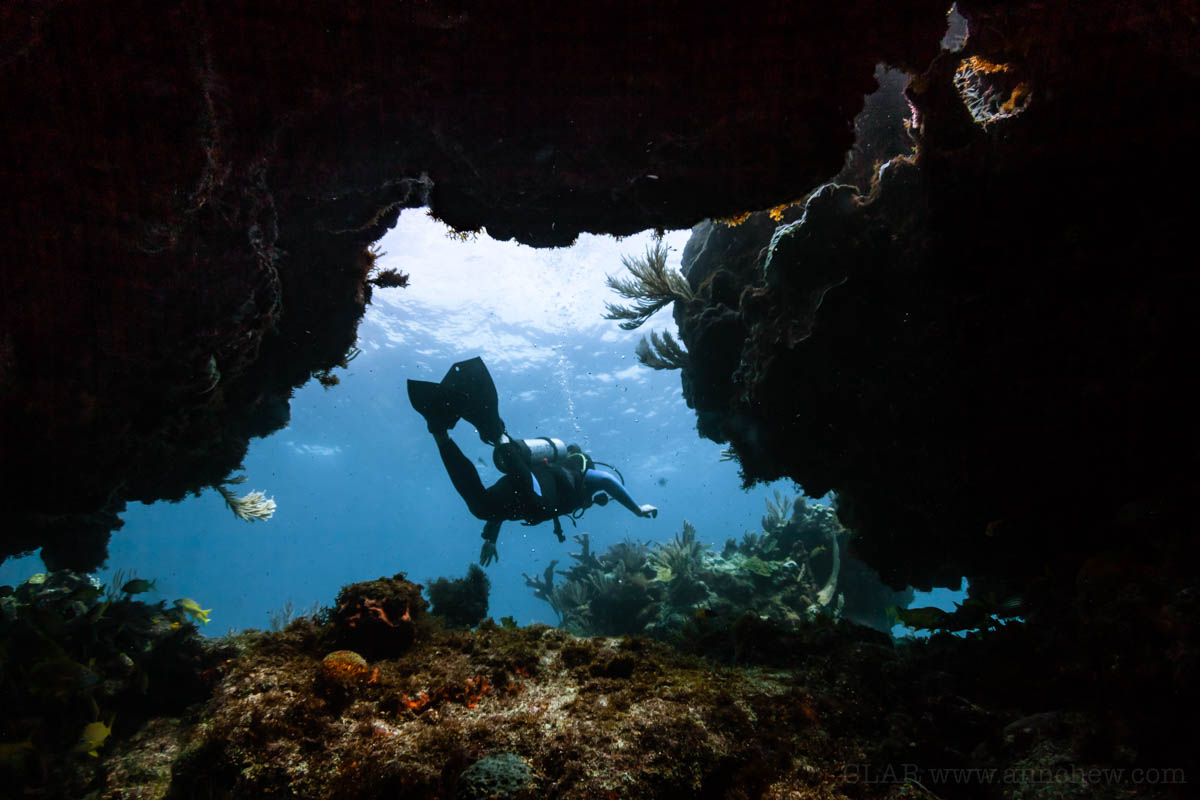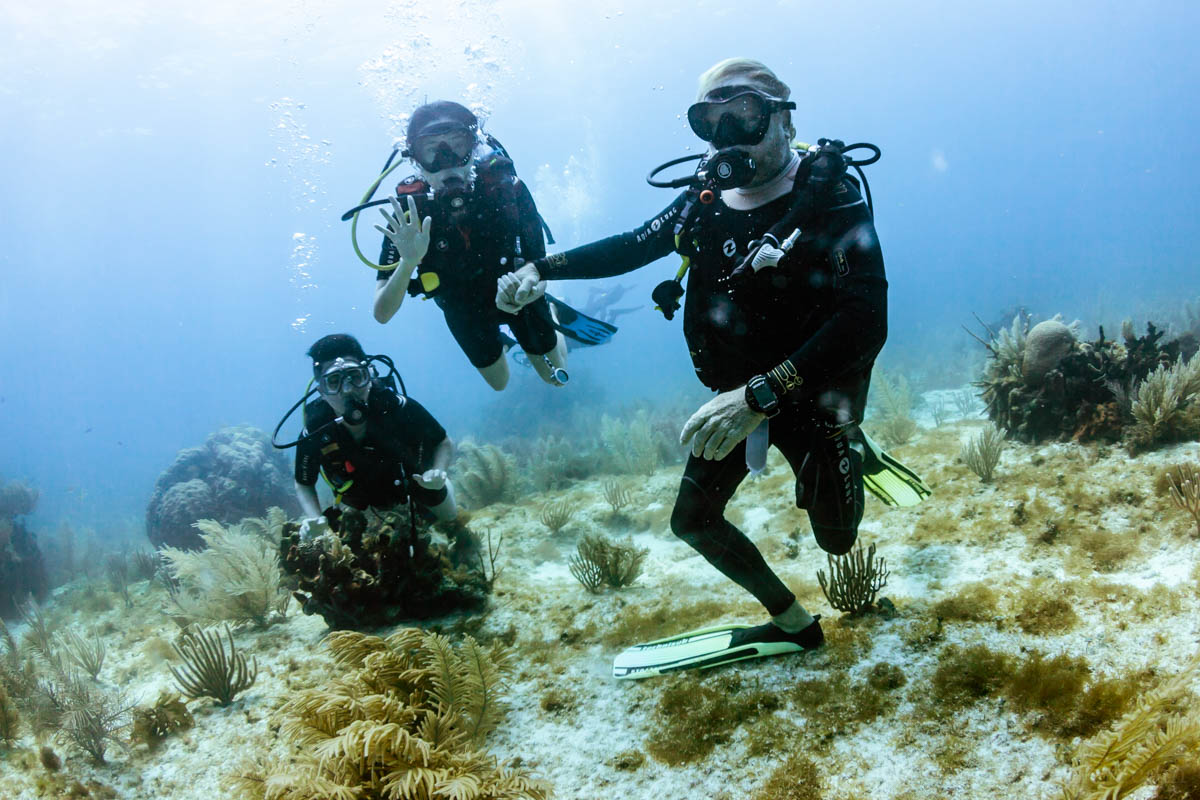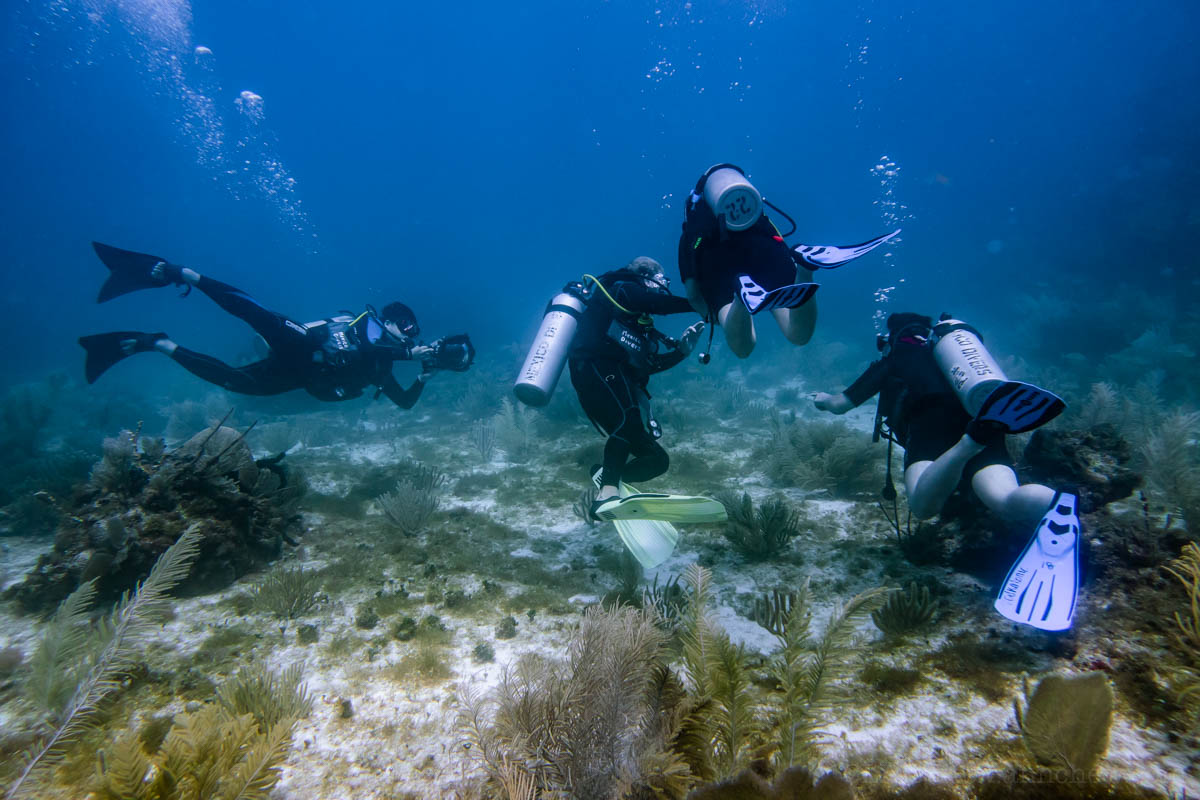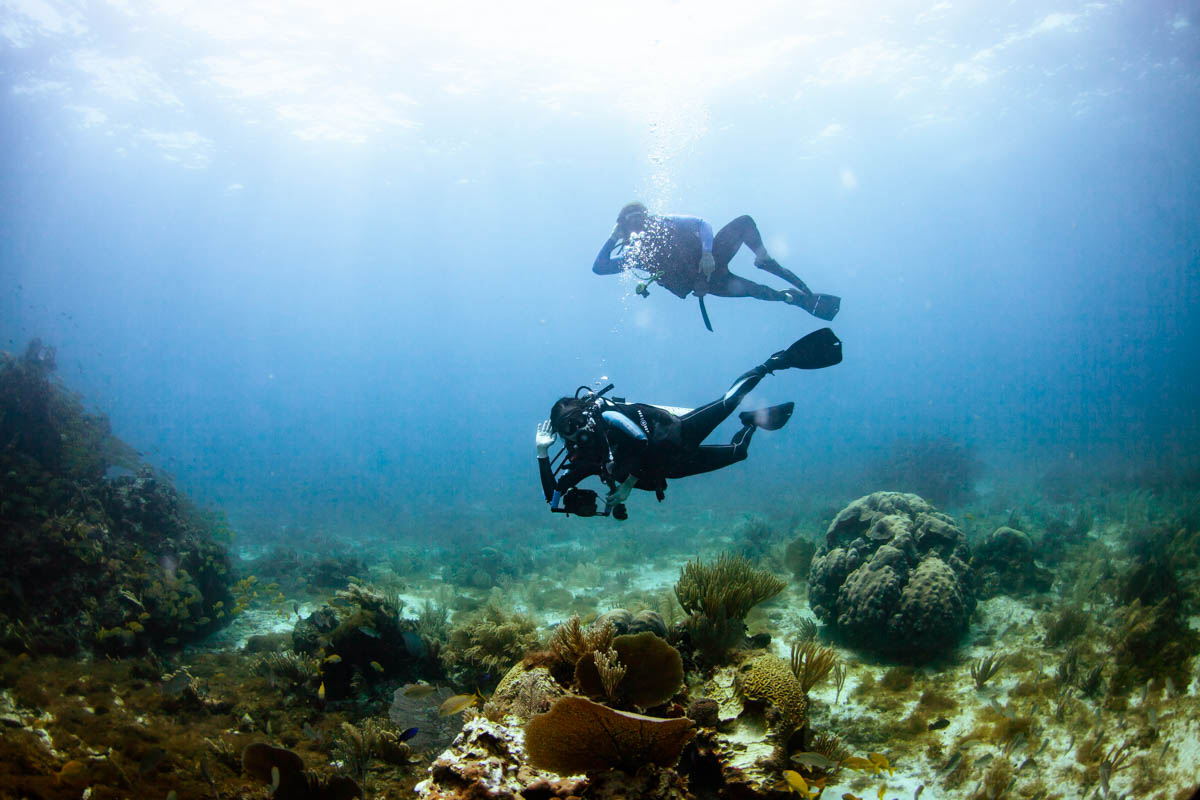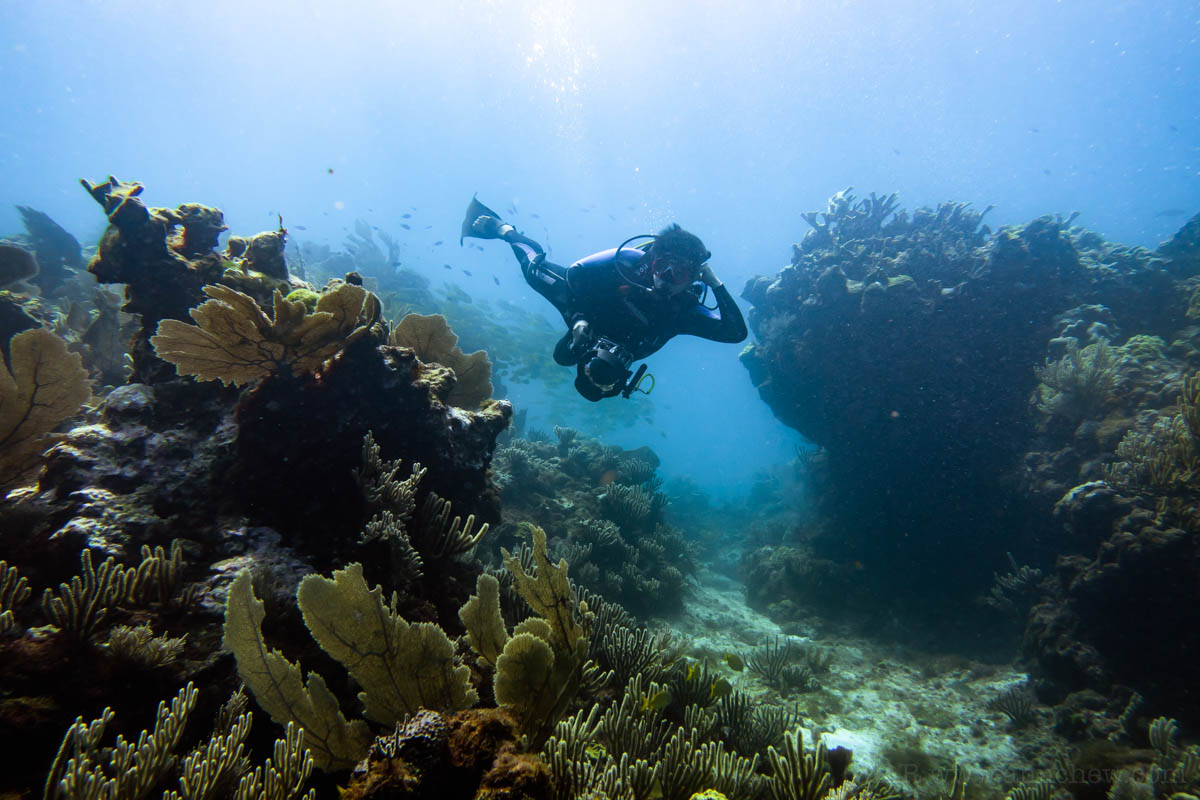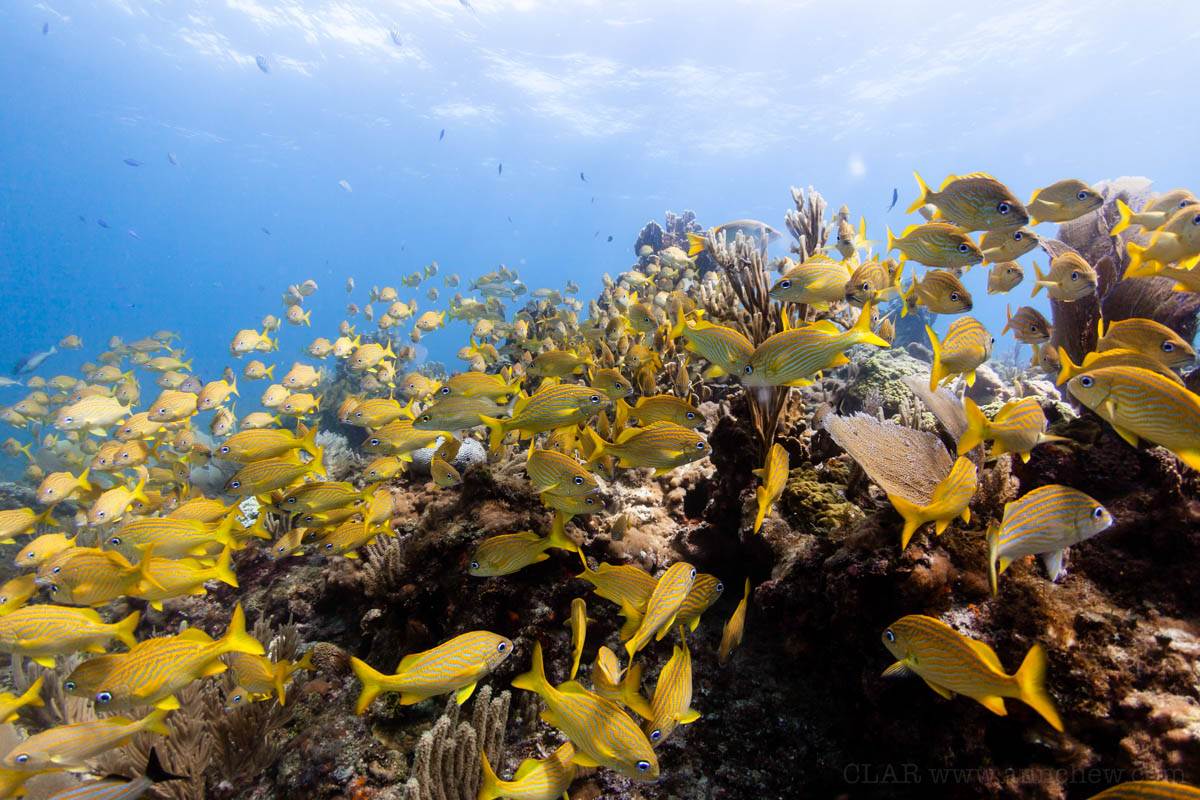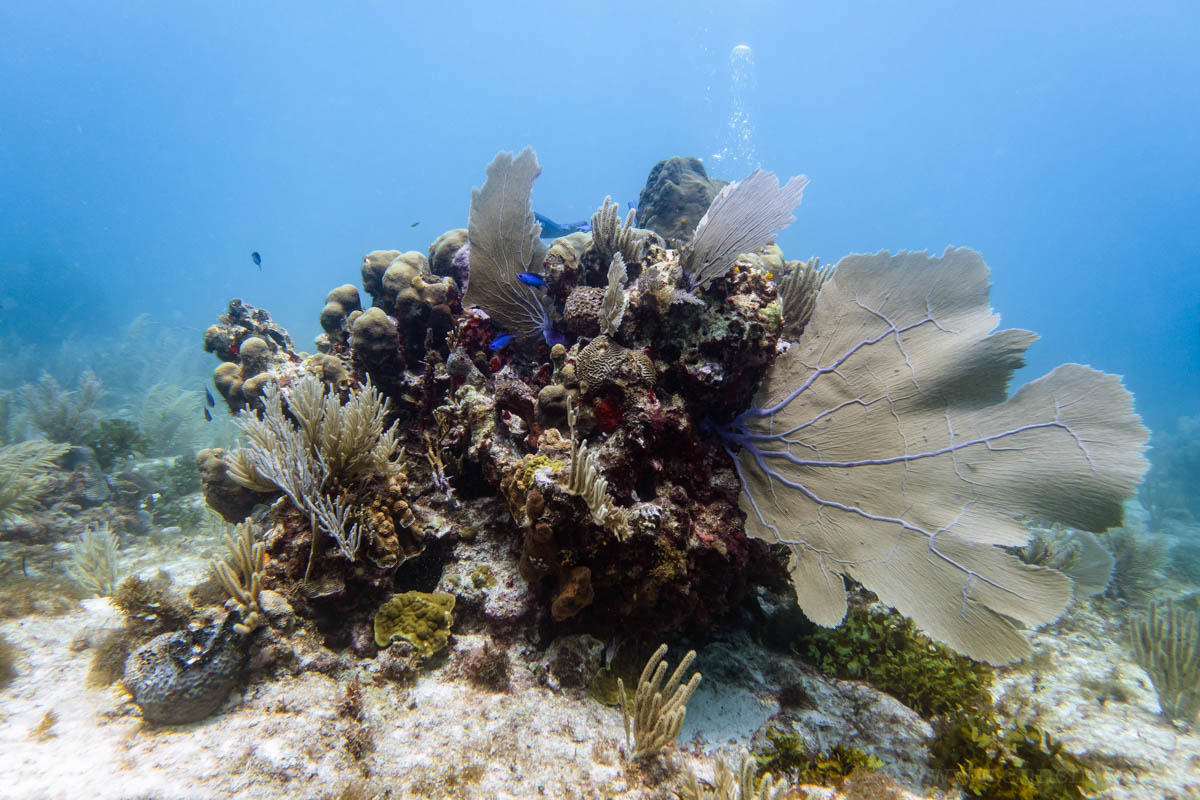 Unfortunately (or maybe fortunately) the weather really took a turn for the worse when we came up for the surface interval. We called the second, and instead went back to El Milagro for more memelas. And the rest of the menu too.
The storm had subsided by the early afternoon. We took a nice walk along the beach until the boardwalk ended, and then climbed over some rocks and fished tiny dead urchin shells out of the tide pools.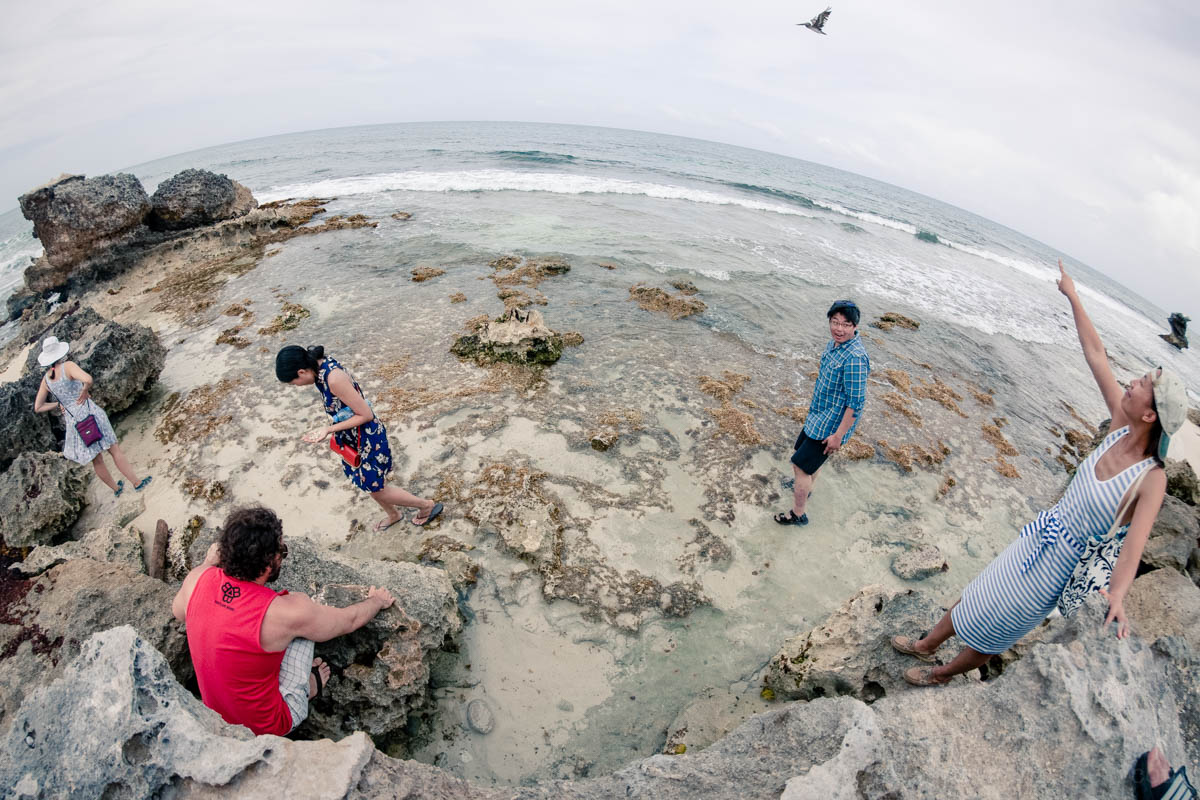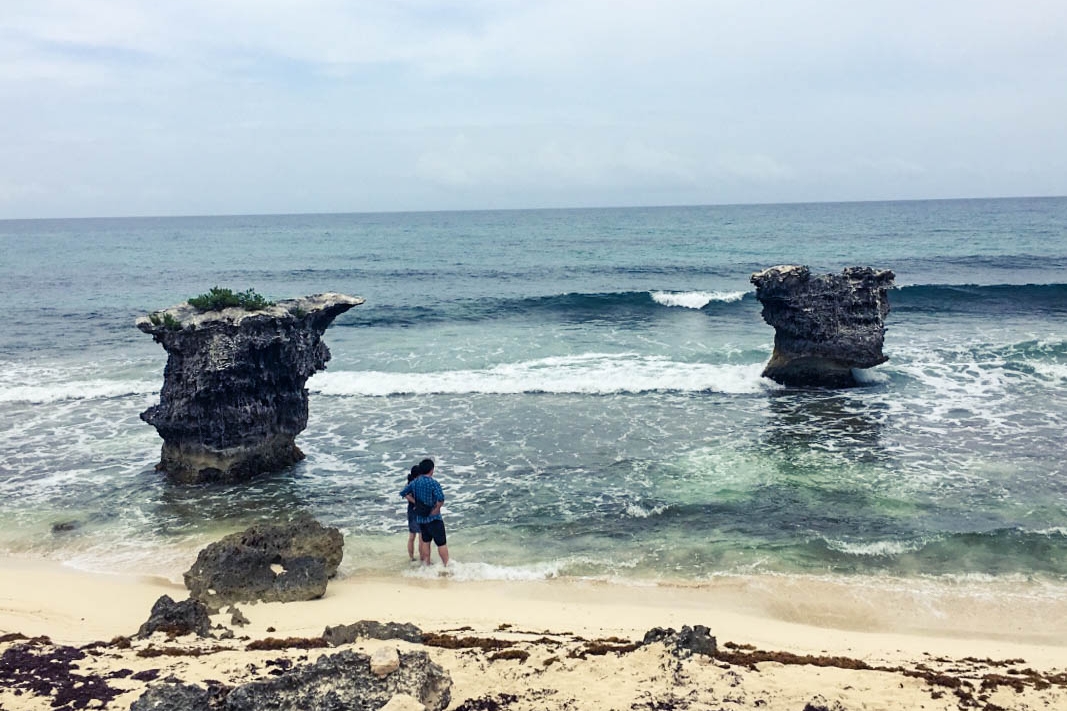 And so quickly passed a long weekend of (mis)adventures. In just under a month we'll be going back to Bonaire for the fifth (!) time, and can't wait to share our happy little desert island with friends old and new.