As the summer drew to an end I left for Asia and Europe for a couple of weeks. The itinerary was a bit convoluted (as I've had to explain to various airlines/immigration officers a few times), but for the first two legs of the trip, I was joined by my old college roommate Christine.
Day 1: Seoul, full of surprises
From the two opposite coasts of the US we arrived separately without any major mishaps. After a good night's sleep in the compact but clean business hotel in the Gwanghwamun area we're ready to go out and explore! Unbeknownst to us, however, a typhoon has been brewing up in the North Pacific and is about to bear down upon Japan, with the Korean peninsula as collateral damage. It looks nasty outside. Great. I garb myself head to toe in every piece of waterproof clothing I brought for Iceland. No such luck for Christine, she has to fend for herself with a borrowed umbrella.
We decide to stay close and visit Gyeongbokgung, one of the city's several major Joseon Era palaces. As luck would have it, today is National Culture Day: free entrances to historical sites. I presume this normally would've prompted throngs of visitors, but not today, with the lashing rain and mushy plains of wet sand. We wander around the premises and admire its tranquil presence (as tranquil as a storm allows) in the middle of a bustling metropolis.
By noon I've discovered that my old Columbia rain jacket is not actually waterproof, and Christine is chilled to the bone. We head back to the Insa-Dong area near our hotel, and plop ourselves down at Koong for some home-cooked soup dumplings. How very satisfying.
We make a pit-stop back at the hotel, check the forecast for the next few days (not good), and decide that we want to spend the afternoon mitigating further weather-related problems. I read about this area around Jongno 5-ga that's well known for stores selling outdoorsy goods, and that sounds very appealing. Two metro stops later we emerge from the underground tunnels to the sound of unabated rain. And hoooooly cow! I wish I'd had taken some pictures of this area. There's everything from ultralight camping stoves to apocalyptic-looking mountaineering double boots, brand name stores and shops peddling fake goods, crammed side by side for block after block. Our favorite: The Red Face. Not like The North Face at all :-/. I pick up, belatedly, a dry bag and a bright yellow rain cover for my now soaked backpack, and Christine picks out a navy rain jacket. Thoroughly wet and defeated (though somewhat amused), we head back for an early dinner and some rest.
Day 2: Thunderstorms promised, but we're ready.
We're taken on a guided tour of the Changdeokgung Palace complex, and learn that like Gyeongbokgung and pretty much every other historical place here, it was burned almost to the ground by the Japanese, once in the 16th century and again in the early 20th, with some major and minor pillaging in between. In spite of all that, the palaces have been rebuilt and restored, and quite nicely preserved since. Expansive and colorful, Changdeokgung looks a lot like Gyeongbokgung but for a little sub-complex called Nakseon-jae where the princes came to seek, apparently, a more low key lifestyle. The tour lasts about an hour and I'm sweating. It's muggy, but there's no rain.
Behind Changdeokgung is Huwon, a secret garden so named for the private use of the king, his A-list guests, and visitors who plan in advance. It's actually more of a cultivated forest than a garden, and a pleasant, long walk under tall leafy trees. By 1pm the heat and humidity are getting somewhat unbearable (ahaha you child, just you wait), but Google is still saying the rain will start in an hour.
After lunch, we visit the Bukchon Hanok Village, per Lonely Planet the best-preserved remnants of the Joseon era houses and alleyways in Seoul. And boy is it tour buses and selfie sticks galore! The "please talk quietly" signs pasted on the walls and held up by little old ladies do little to subdue the sea of cacophony here. It's quite a lovely view from the top of the hill though, as the late afternoon sun bathes the old wooden houses in a beautiful warm color. I guess it's not going to rain after all.
Day 3: Of Cats and Cosmetics
We make plans to visit Myeong-Dong, the other, not-to-be-missed cultural experience of Seoul-style binge shopping. But first we go to a cat café!
Believe it or not this is actually my first time in a cat café. When we walk in we're handed plastic bags to cover our stuff, which is none too soon, because some fluffy rascal promptly decided to pee on it. I love cats, but man, there are some truly grotesque looking things in this alien menagerie…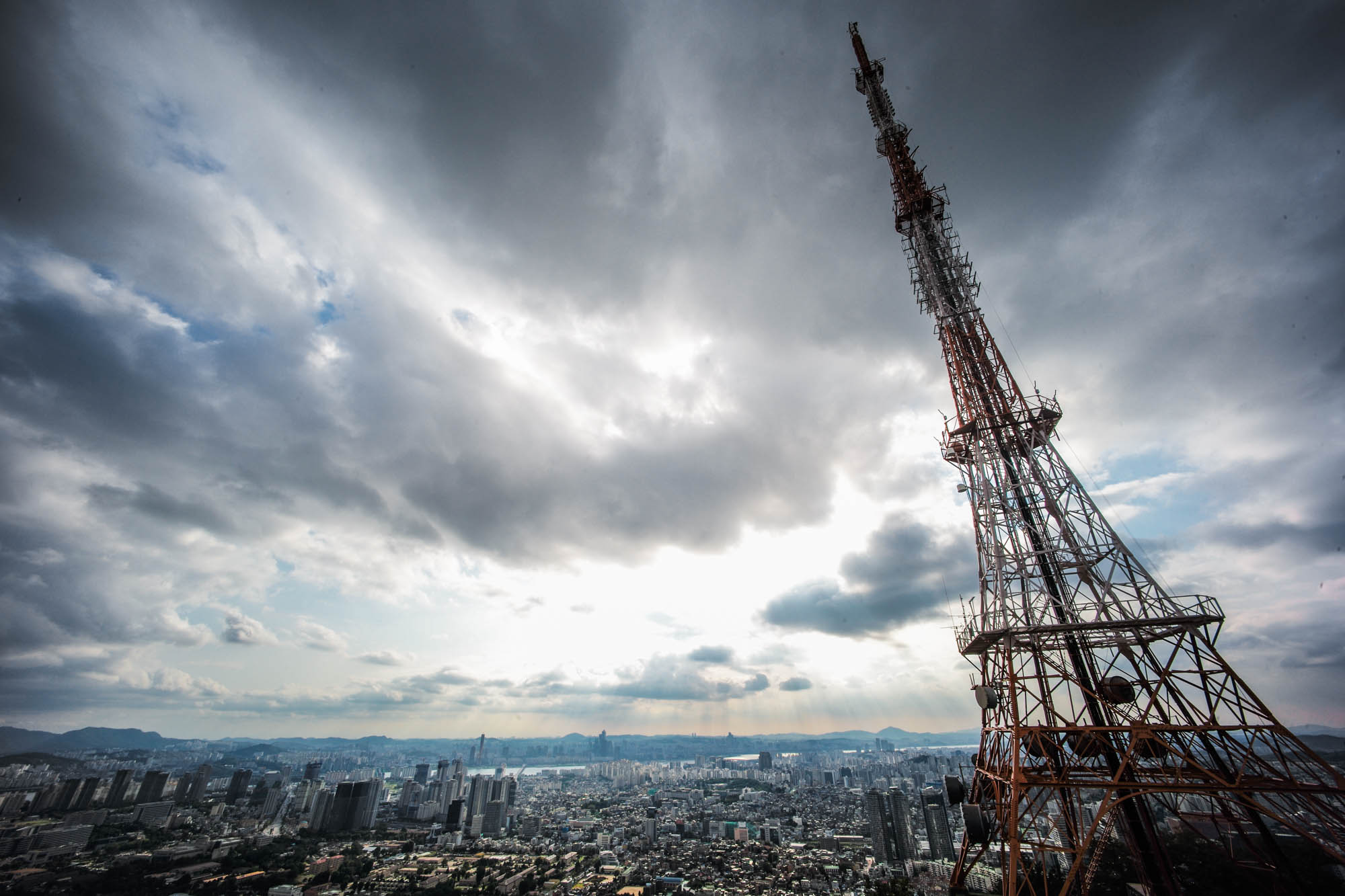 We head next for the Namsan hills nearby. A nice trail winds its way up the hill, but we're lazy and take the cable car instead. The hilltop isn't so much a peaceful as a dating-going-to-DTR kind of place: there's a large complex of restaurant/park/observatory and hordes of mirthful visitors. Tied to every fence and post are colorful "love locks" that profess eternal devotions and sentimental yearnings. We admire the view over Seoul, from Myeong-Dong to Gangnam.
We take the cable car back down and finally push our way into the glitzy world of high density, freewheeling consumption. As we wade wide-eyed through the multitudes, possibly in circles because we've walked by the Innis Free shop at least six times, we start to forget what exactly we've come here to buy. In one beauty products store someone's boyfriend is alone in a corner and passed out, his head sunken deep into a mound of shopping bags…
Day 4: A visit to the DMZ.
This is going to end up being its own post…
Day 5: Why do we go to school?
We take it easy on our last day here, and from our hotel amble towards a small river nearby. The Cheonggyecheon area has been recently cleaned up and renovated as an urban green space. As we approach we find a gathering of school-aged youths holding some kind of rally or demonstration. Several of them accost us and insist on handing us white balloons imprinted with Hangul characters. We've no idea what cause we're supporting but sure, we'll take one, and enjoy a quiet riverside stroll. Before long curiosity gets the best of us and we ask a troupe of youngsters what the balloons are about. They don't understand our question. Finally, someone says, "We shouldn't go to school."
"You shouldn't?"
"We spend too many time studying."
"What would you rather do?"
"We like music, and movies…"
A young man hands us a Post-It and asks, "Why DO we go to school?"
To learn things? To know about the world? For better opportunities in life? Christine and I look at each other. I'm actually at a loss for words. The kids take our post-its and place them under the column 20s. Christine is flattered that they think we look so young. I chuckle to myself, kids these days…
We walk back towards the hotel and pass by the Jogyesa temple. The monks here have been waking us up every morning with their 4am chants. I'm surprised to learn that most Koreans are not in fact Christians, but the religion is somehow disproportionally represented within the ex-pat community. The temple is graced with a lovely garden of lotus flowers, some black bird-like butterflies, and a wisdom tree in the courtyard to which the elderly show their reverence. Inside the temple proper, hundreds of supplications, inscribed onto paper lanterns, hang off the ceiling.
Our last stop in Seoul, before going onto Hanoi, is at a teashop (Osulloc) in Insa-Dong. It's an exercise in self-control to refrain from buying yet another box of tea. But the ugh, the green tea ice cream! Why have we not discovered this place earlier?!