So long Patagonia. It happened that on the way to Santiago we flew directly over Torres del Paine. The Cordilleras are elusive as ever, even from the sky, but the giant Grey and Tyndall glaciers peeked from just under the clouds.
We could smell Santiago before we got off the plane. It's that slightly acrid, smoky smell that permeates so many cities in the throes of industrialization and growth. And then we stepped off the plane into a thick, red haze that's completely obscured the many hills of the metropolitan area, not to mention the supposed high Andes in the background.
We picked up our rental car and almost immediately noticed that we're can't drive like we're from Boston. People here are all about "no you go," even hitting the brakes to let us take a picture of a random church. But after spending one night and one morning in town, we decided that for the rest of the week we'd get out of the smog and fly somewhere by the seat of our pants.
That very afternoon, Chewie plowed–in one six-hour-long breath­–a heroic 500km on the Pan-American Highway (Ruta 5) from Santiago to Vicuña. We arrived at Alfa Aldea, a sort of basic but charming hostel in the back of a vineyard, with… a giant telescope. And that's part of the reason we came here: The Elqui Valley, mostly known for growing Pisco grapes, has for whatever reason also collected a critical mass of entrepreneurial stargazers. Having hardly dropped off our bags, we jumped into a guided outdoor tour of the Southern Skies. The many, many photos (yet to be deciphered) on Chewie's camera are a testament to his newfound enthusiasm for stargazing.
On Day 2 in Chico Norte, we drove farther north (could've probably planned our routes better, oh well) to the coastal town of Punta de Choros. The scenery got only increasingly desolate as shrubs turned into patches of cacti, which in turn grew ever more scarce just like the roadside fruit peddlers.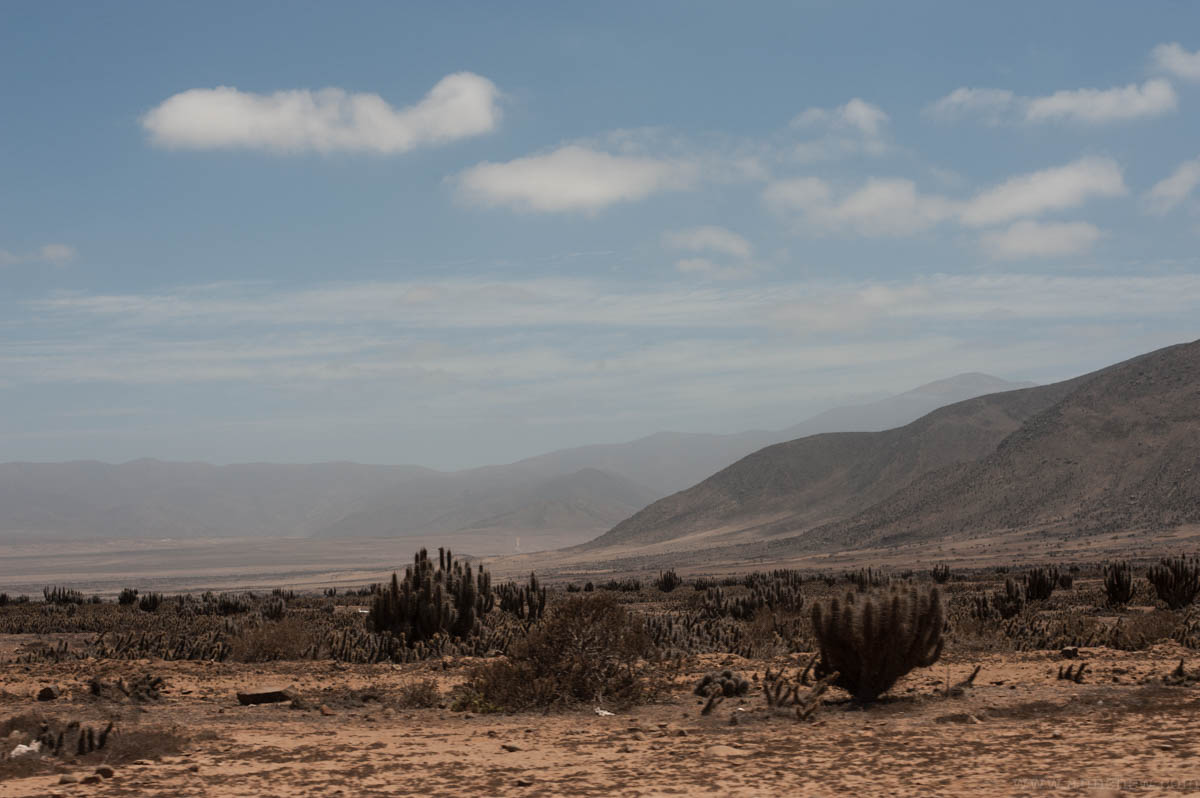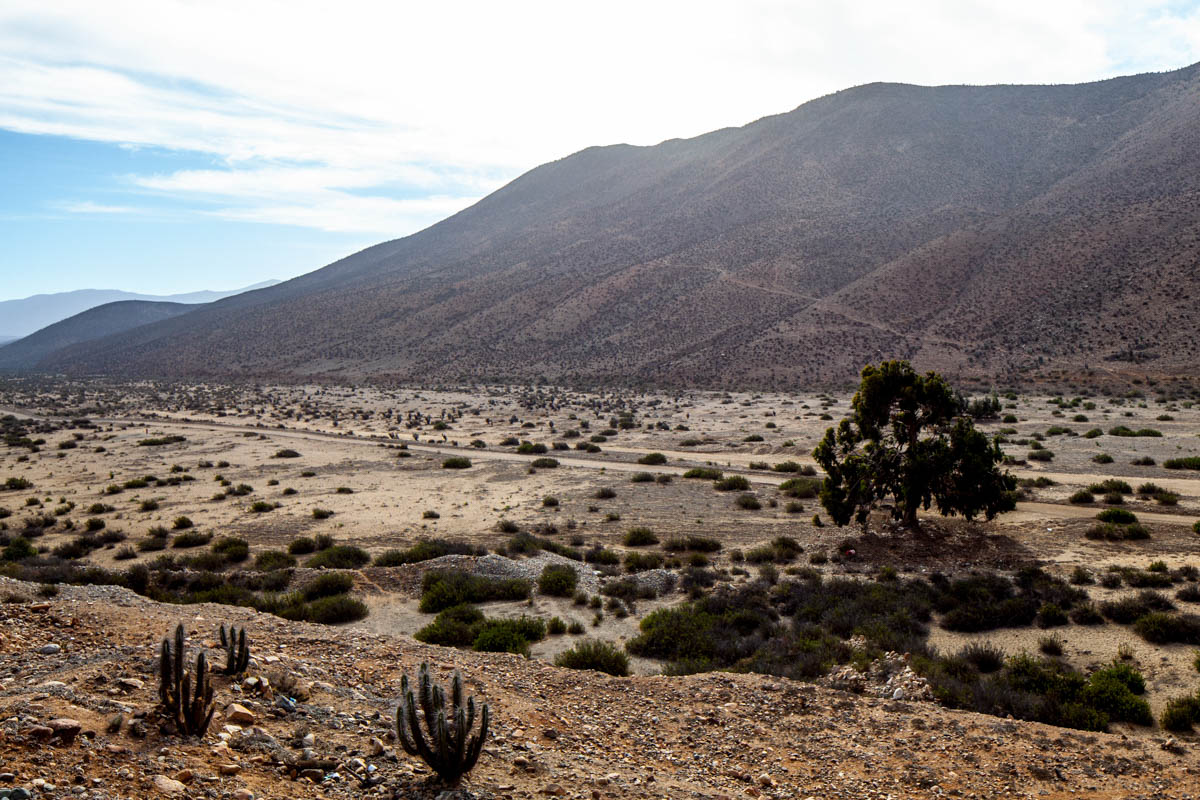 Two and half hours and a few guanacos later, we found ourselves in a ghost town (the week before Christmas really seems to be more dead than shoulder season here). By some miracle we found the docks and, not only got on the last boat tour of the day, but with just enough passengers for the captain to deem the trip worthwhile.
Our efforts were thankfully not in vain. Along the rocky cliffs of Isla Damas and Isla Choros we spotted lazy puppy-faced sea lions with flippers like Force Fins and more species of birds than we'd ever seen. They range from the graceful aerodynamic kinds, to big-bodied or big-throated predators, to plump and not-so-flighty ones like Humboldt penguins; apparently there are fishes of sizes and shapes for everyone.
But the real highlight were the pods of bottlenose dolphins jumping out of water and twirling alongside our boat, one of which was brown…? Oh wait that's not a dolphin, that's a sea lion masquerading as one!
We docked on Isla Damas and walked around for a bit. There are more birds, and these impressive cacti a needles...
The trip back would've been a lot more monotonous had Chewie not spotted a pair of long ears. A mountain hare! Or… is that actually a fox? We got tricked again. They were just two Zorros trying to chillax on a hilltop, their faces pointed towards the gathering evening wind, eyes delightfully squinted. Leave us be, no molestar, they seemed to say.
2016.12.23 The High Andes
Paso de Aguas Negras is the highest Andean pass connecting Chile and Argentina. It's also a windy dirt track, which up to a few years ago was still (and is?) considered one of the most dangerous roads in the world.
We decided not to drive it ourselves.
Lincoln (from Elki Magic) picked us a up in a more sensible 4x4, and up the Elqui Valley we went with another couple from Germany (one of whom may or may not be Ser Jorah traveling incognito). We got a bit of history lesson about the region: half a century ago this entire area was just another arid valley carved out by a glacial river. In the 90s two enormous dams were constructed and irrigation systems put in to collect the melt off. And thus were born the viticultural communities we now see burgeoning all along the riverbanks (but with the glaciers receding farther each year, how long will they last?) In spite of these improvements, the area is sun-beaten and windy, not to mention snowy in winter, and only a handful of cultivars will grow here.
About 100km in, Lincoln pointed out the "last village" before the mountains took over. Higher up, there are only seasonal migrants holed up in shanty huts pasturing their horses and goats.
Soon after we got past the customs and border control (still at least 100km away from the international boundary), the road ended, and we were to become inured to bumpy rides and altitude. We're only at ~3000m (!) but the air is already thinner and drier, sucking all the moisture out of our lungs. We made another acclimatization stop or picnic at the upper dam.
Past the dam we're ascending in earnest, teetering on dirt tracks just at the edge of steep valleys. We're so glad we're not driving. Gone are the trees but the mountains are blossoming in mineral-laden layers of red, teal, and yellow, and the sky has become unnaturally (and alarmingly) blue.
Hugging the mountainsides are also remnants of glaciers and patches of partially sublimated, meringue-like snow mounds.
Another few hundred feet up, the snow banks are deeper and their white peaks much more jagged. This is what we've come to see: penitentes in the high Andes!
Above 4000m, we're feeling the altitude all right. It's easy to get light-headed with any movement, and walking as little as 20ft has become an exertion.
We finally reached the top around 4700m. There's another car here. Not starting because apparently there's not enough oxygen for the engine. What?! This is not a good place to breakdown... By the time we pushed the car 10ft to get it going again, all six people were out of breath.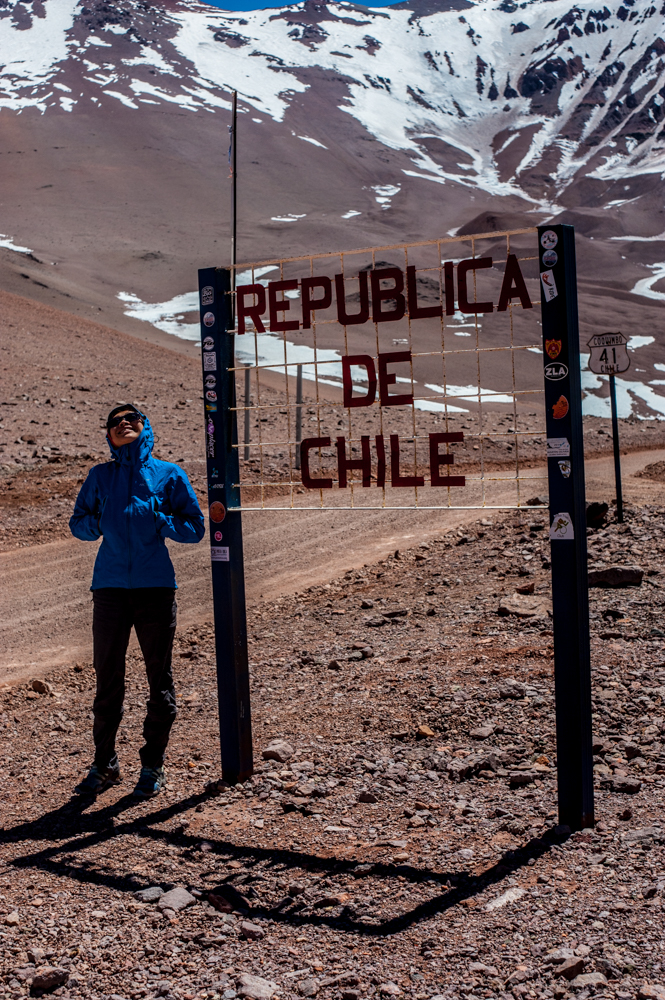 So here we are, briefly straddled between Argentina and Chile on top of the mountains.