Ann had promised that not every one of our vacations would be a dive trip. After Thailand and Bali, we'd given all our gear a thorough rinse and packed them away for the winter. And then she tricked me with a long weekend of dry traipsing around Barcelona, so it was precisely 53 days since we last dipped our fins that I begrudgingly took everything out of storage again… This time, we decided to go south. We'd fly into the non-international destination (according to American Airlines) of Cancun, and from there hop on a taxi to Playa del Carmen.
First day, and we'd already planned an ill-fated morning excursion. Heavy storms had been bearing down upon the Yucatan for about a week, and we woke up to a blinding deluge accompanied by twenty knot winds and violent sea swells. There were no boats going out today. But at the last moment, there was a reprieve and the captain gave the green light. It turned out to be a poorly timed decision for all, and before we got a chance to pick up all the passengers (who were swimming out in neck-high waves to the boat with all their gear) we were again under siege from a fulminant cloudburst. The weather didn't improve for the rest of the twenty-minute ride and I got progressively more nauseated.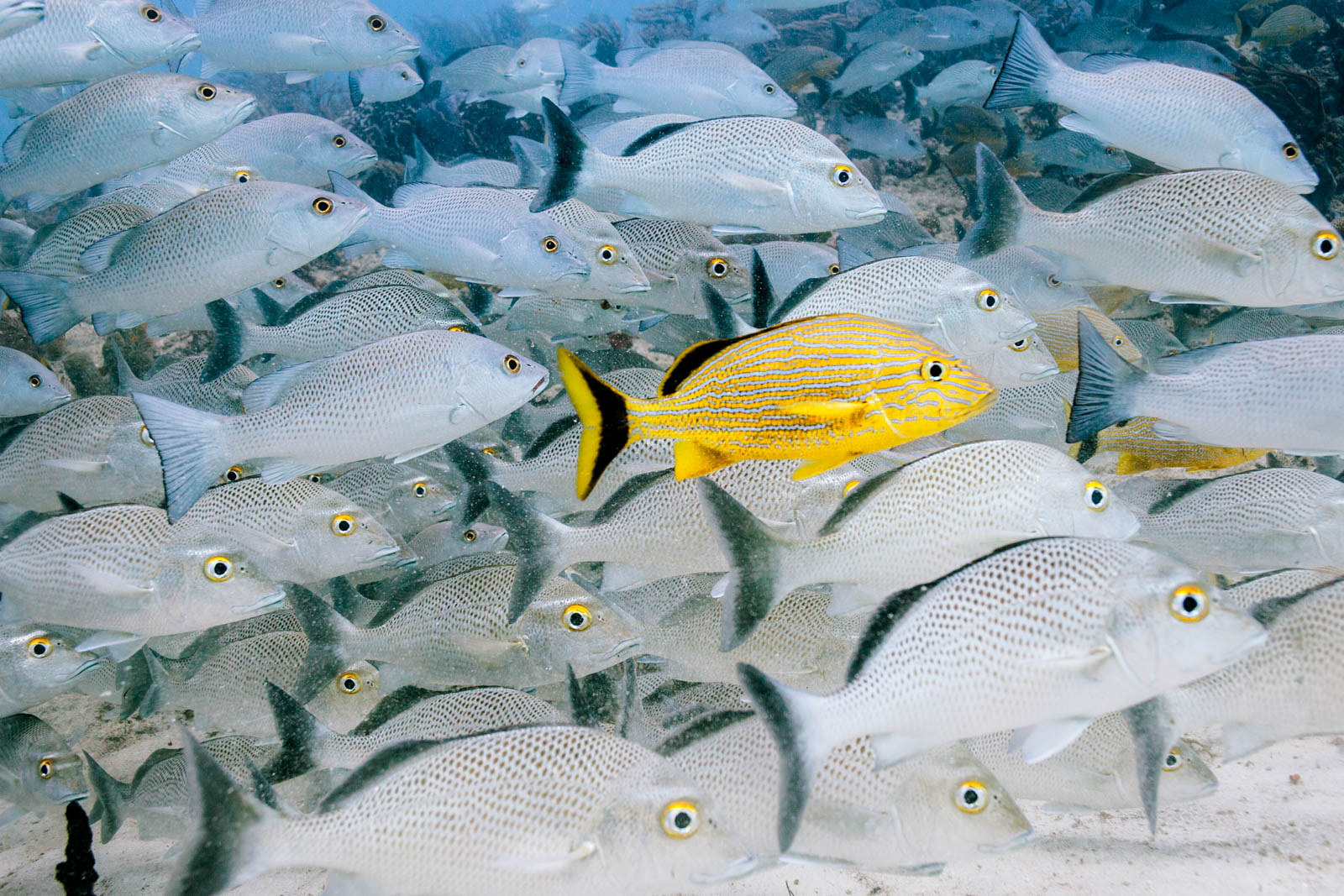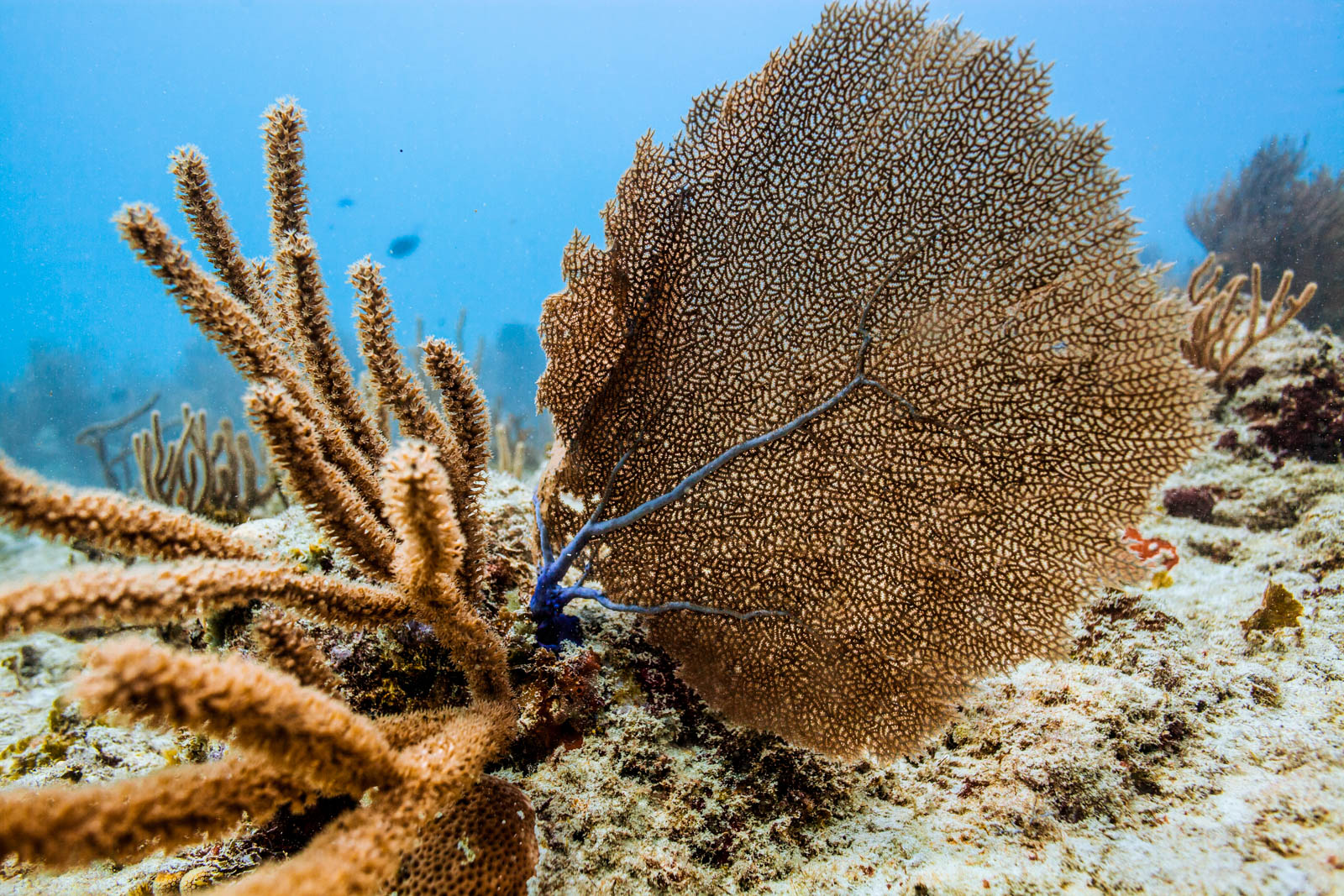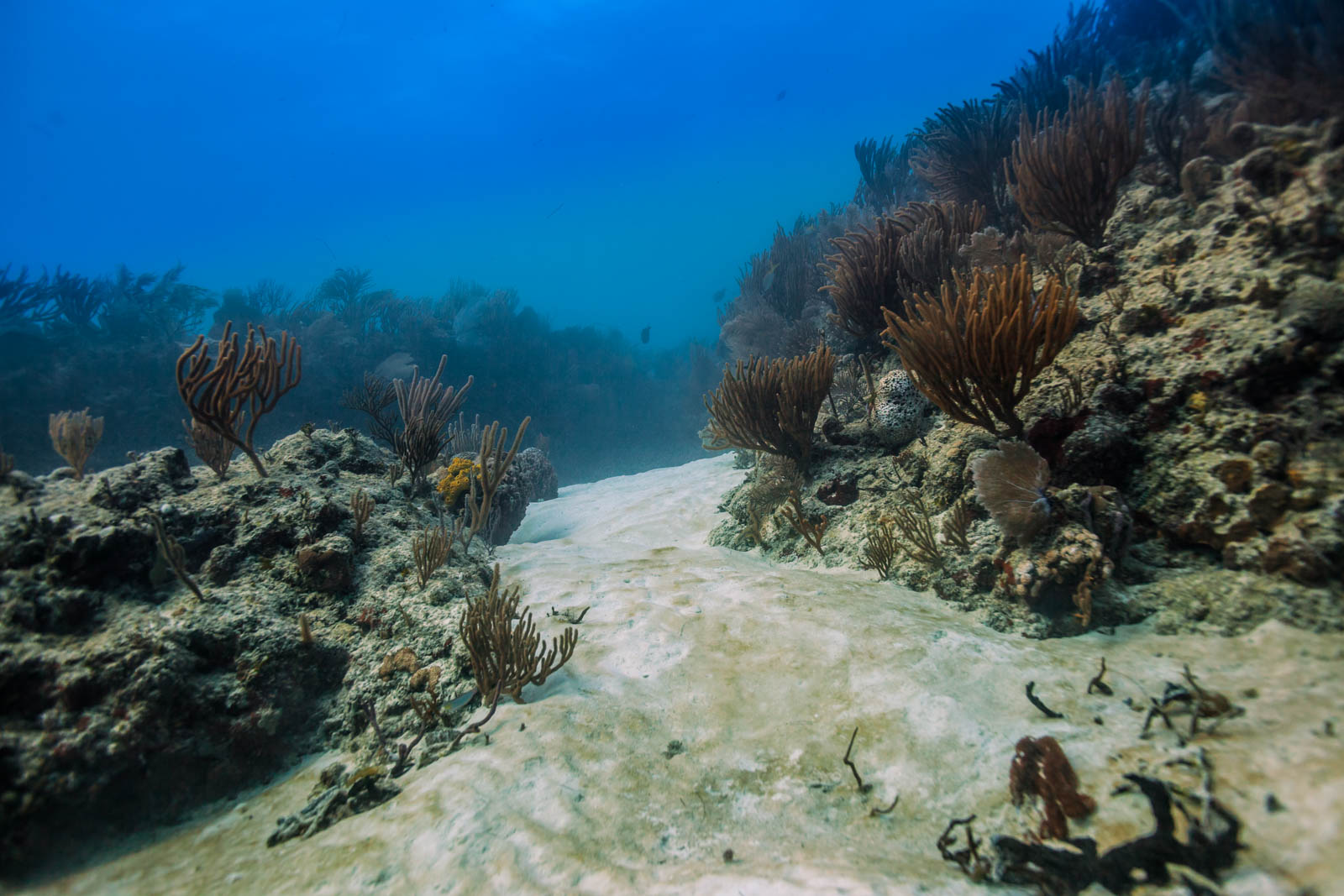 Eighty feet below the roiling surface, things got calmer and we rode the swift current over the fingers and sandy bottoms of the undulating and rather uninspiring Sabalos Reef. Still, we managed to find a gargantuan hermit crab, a cute small lobster, and some large schools of margates, grunts, and snappers. The brief surface interval and second dive were both pretty terrible. After throwing up my breakfast into the regulator, I was more than happy to be back on dry land.
Across the channel on the leeward side, Cozumel was practically placid. Its patrons seemed to be an older crowd than Southeast Asia, and a rowdier one than Bonaire. We stayed at the lovely though aged and not-quite-all-inclusive Blue Angel Dive Resort: the food was pricey but in all honesty not bad, and on most days accompanied by live music. We even found another couple, Bill & Mona, from Massachusetts and met a gang of Chicagoans who have been coming here for dozens of years!
Cozumel is famous for its fast drift dives, which we had very little experience with. We were at the whim of the ocean, with barely any time to register the vast reefs flying into our view and stretching out before receding into the blue again. It was at once effortless and breathtaking, exhilarating and terrifying.
The exit procedure was also new to us. Instead of ascending as an entire group, every buddy pair came up with its own surface marker buoy (SMB) for signaling to the dive boat. We didn't have one and for the most part relied on the sharp sight of the captains, though after one dive we did spend a good 10-15 minutes bobbing in the swells wondering where we were.
The reef must have been magnificent once - and the macro structures are still there - but the hurricanes, climate change, coral disease, and careless divers must have taken their toll. The famous Palancar Reef looked quite unhealthy and broken parts were strewn about (in fact we witnessed a clumsy and terrible diver flail and kick off a football sized chunk of coral). Still there were many beautiful sites and an impressive diversity of fish, some of which we'd never seen before – including the splendid toadfish and parrotfish in its sleeping bubble!!
All in all an eye-opening experience and we were happy to have done it, but not necessarily in a hurry to go back. Sites dived from south to north: Palancar Bricks & Garden, Paso del Cedral & Santa Rosa Wall, San Clemente & Punta Tunich, Chankanaab and Paradise Reef, and Villa Blanca Shallows and Wall:
Lastly, an awesome new fish gallery: