15.08.15.
The big day. Our friend Bernd used to constantly goad Ann with, "It's not too late." But after this day, he would be changing his tune to "It's too late now."
Despite the raucous night before, I managed to wake up early in the morning: there was much to be done still. Coffee in hand, I jotted down some final thoughts on the vows and went out with future brother-in-law Jason to demarcate an aisle with rocks we'd collected the week before. Meanwhile, our our wonderfully talented musician friends were already practicing the pieces we'd imposed upon them two weeks before. Weiwei had also set up his own styling studio in the living room and was working down a queue of untied bowties.
Ann finally woke up after being told that the stylist were waiting downstairs. Surprisingly the preparations didn't take too long: we were left with plenty of time to spare. Besides, our last guest Lizzy was somewhere on this island in a rental car, with no map or GPS, and for her heroic efforts we were definitely not going to start without her. Finally, someone spotted a car shooting past the turn off to the guesthouse. The gathering of people outside cheered as the driver backed up a quarter mile of gravel road. It was time.
Not having rehearsed any of the actual ceremony, we traversed the very short walkway much too fast for the music. Inga, our officiant, was waiting at the head of the aisle in full Icelandic garb. Her welcoming remarks were lighthearted, thoughtful, and by our pretend puritanical sensibilities, almost raunchy. We laughed heartily; no tears were shed.
What Ann will remember from the ceremony is that 1. it was cold, and photos be damned she was very glad to have the sweater, 2. in Inga's mind we are very nerdy chemists who liked to season our food with science, which is...kinda? true, and 3. I knew exactly what I was getting myself into. I was marrying a cat lady and now we have 36 witnesses to that. Right.
Just like that we were a fait accompli, our cat children legitimized. We recessed to a dancing ostinato, and celebrated with pink champagne and strawberries picked from next door.
For our first moments together as newlyweds, we were going to be an unsolicited spectacle, an extra entertainment for tourists visiting the Golden Circle. Gulfoss, Geysir, and Thingvellir, august in their winter might, have become almost unrecognizably verdant in the summer. For us, this destination wedding was as much a celebration of love, gratitude, and happiness as an excuse to bring all of our dearest friends and family to this most magical and special place in our hearts, both figuratively and literally.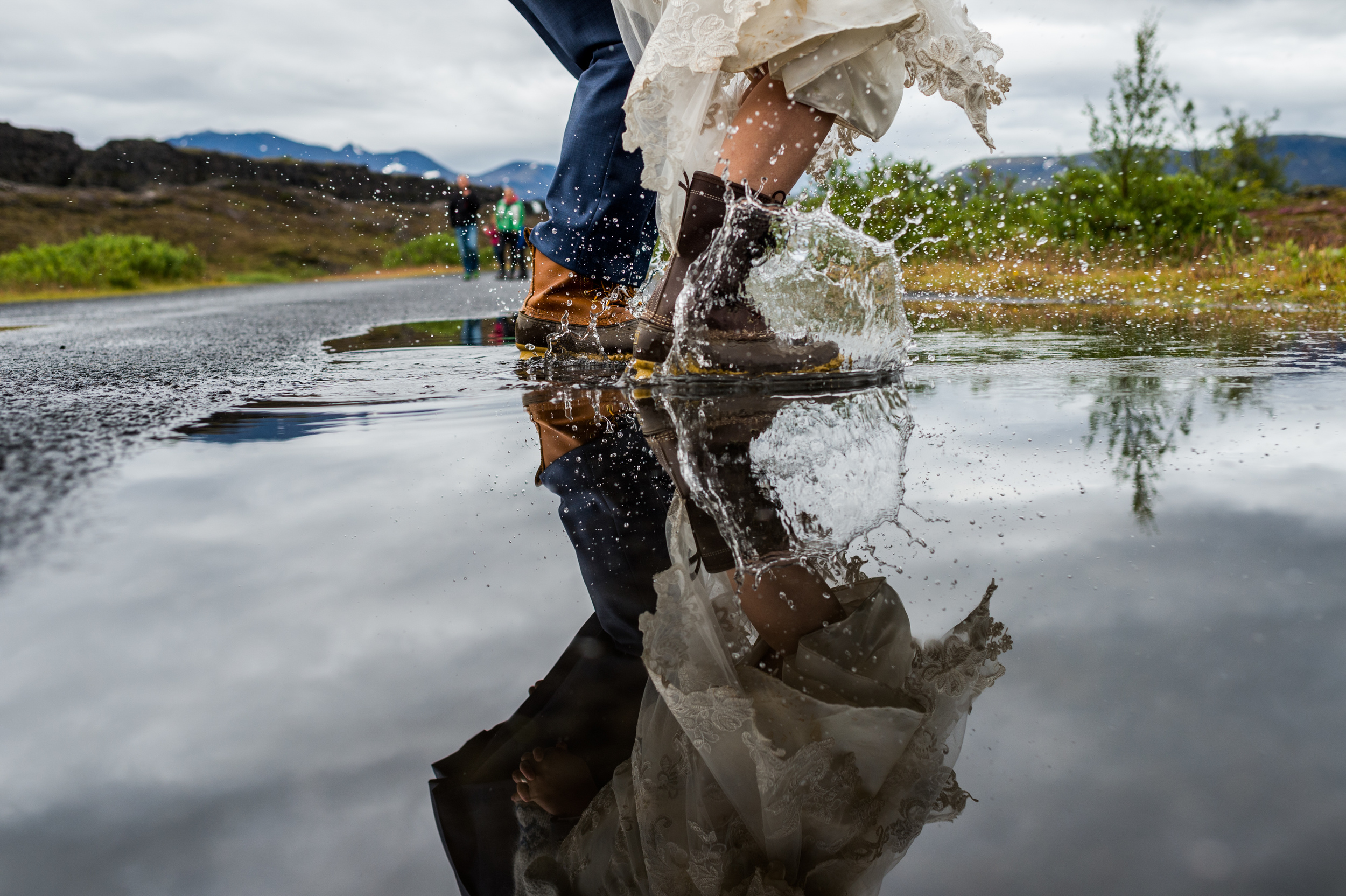 If in all our wedding photos our faces are aglow with joy and warmth, we'd have to credit our incredible photographers. Steve and Drew somehow managed an atmosphere of easy, unaffected liveliness, and for our part we tried our best to ignore the wind and spray from the formidable waterfall and fickle geyser.
Back at the house, Hannes from Pink Iceland and his team had transformed the common room into a forest of canapés. It felt a little sacrilegious to dig in...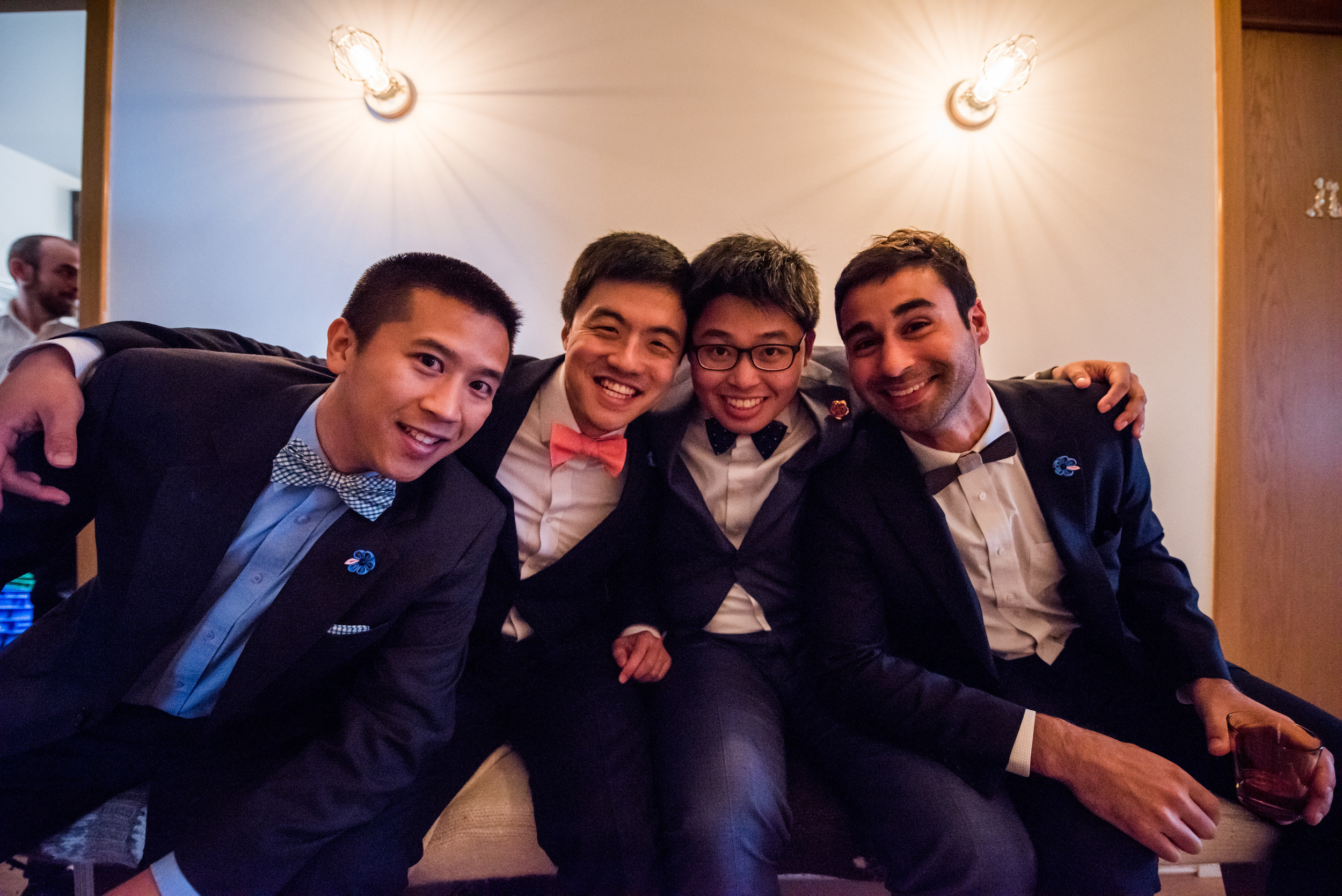 While the guests were on appetizer duty and creating fantastic scenes at the photo booth,
We went out to practice our dance. In theory we'd taken classes a few weeks before, but we were really just going to count steps and aim not to drop Ann on her head.
We were almost ready for dinner. Just a couple of silly shots to show off some colorful footwear:
Dinner was amazing. There's really not much else to say. Next time we'll have to go visit Logi's restaurant in Reykjavik, The Harbour. Over the feast, our dear friend Matt and my sister really stole the show with their funny yet touching toasts. And so began the celebratory drinks with Mao Tai (encore) and Einstok and much dancing, and dancing, and dancing.