2015.08.14.
Good morning to an impossibly beautiful sunrise: today our guests arrive!
We picked up some breakfast items: juice, instant coffee (peh!), and sundry pastries. At the last minute, I donned my welcoming hat, and here we go!
By the time we got to the waiting hall there was already a small contingent of early arrivers. Over the next hour and half our guests continued to trickle in; somehow, incredibly, not a single flight was delayed. We were euphoric, from both the excitement of reunions (some of which were quite overdue), and relief that we didn't need to hatch a Plan B after all. With everybody collected, we rendezvous'ed with Siggi, our tour guide for the weekend, and headed off to play!
We left the airport right on time at 7:30am, with a big tour bus and a caravan of two cars (soon to inflate to six). Our first stop at Gunnuhver, where mud pools boil and sulfurous vents rain, was only minutes away. For reasons of forgetfulness and simplicity I've combined photos here with those of Krýsuvík, a similarly pock-marked land of geothermal commotions.
During our past week here, as we sometimes retraced the steps of our last trip, Ann and I have been taken aback many times by the summertime transmogrification of light and life. The barren snowfields by Keflavik are now hraun overflowing with green and speckles of red and purple; the streets of downtown Reykjavik, festive with Christmas lights but for the lack of souls, are now bustling with revelers and hipsters. Our last visit to the Blue Lagoon was a curious experience, a dichotomy of head and body, frigid air and balmy water. We were among the few partakers then, of a mostly solitary intimate encounter with the early winter morning.
Not so today. Here we met the last of our guests, Ann's relatives who had just flown in from China, and reunited with Matt, who appeared to be tired but alive after his four-day radio silent trip to Landmannalaugar and the southeast. Everyone filed in, thirty-five in all, and by the time I cleared the line to shower, most of our party had already dispersed into the throngs. I picked up a waterproof bag for the iPhone -- gouged by Blue Lagoon prices but ah well, worth it for the day -- and documented the muddy and giddy faces: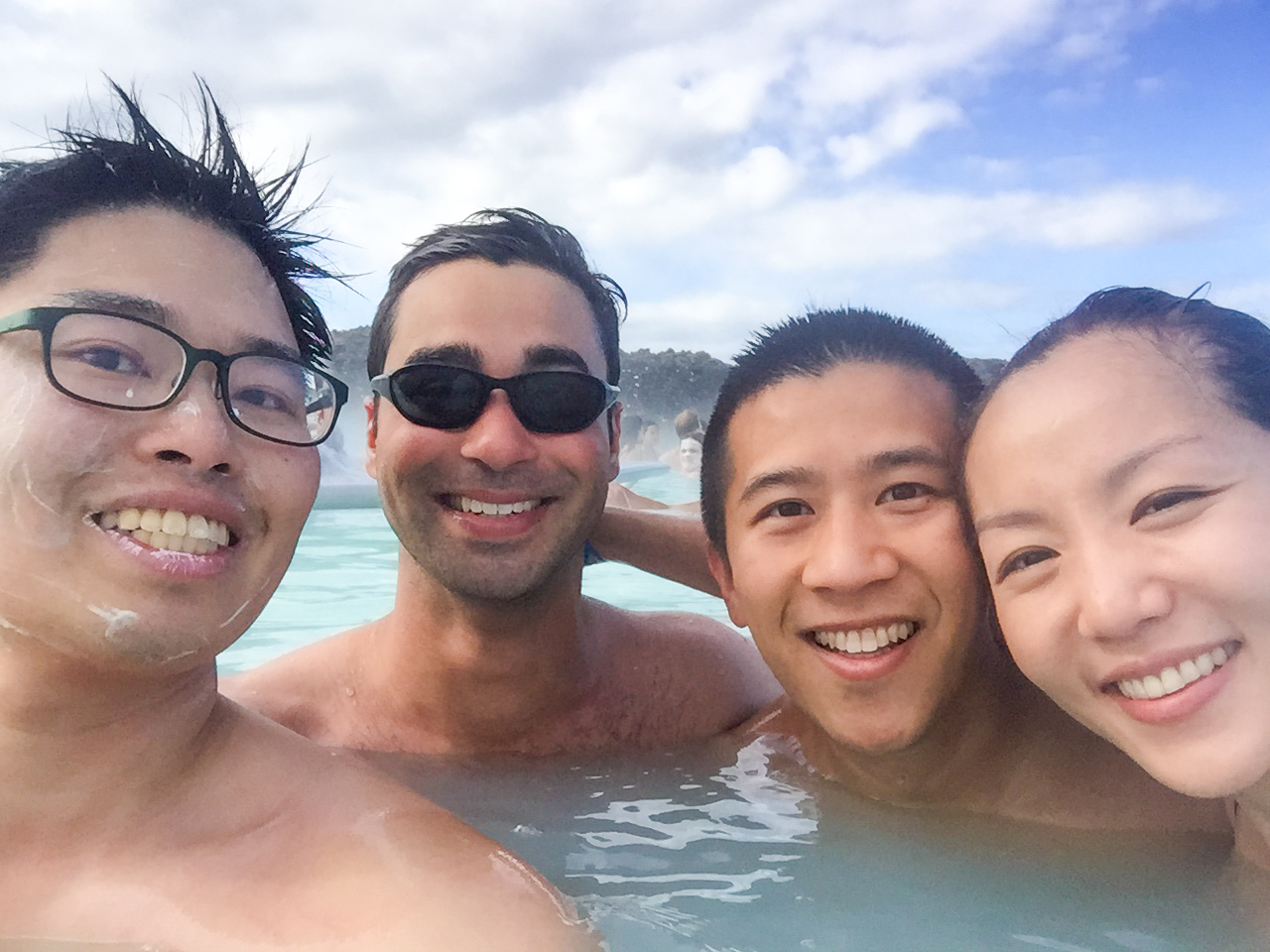 We had a very nice lunch at the Blue Lagoon Cafe, our fears of inedible food unfounded. My favorite was the smoked salmon cubes, which seemed to be also popular with our guests. After lunch, we started making our way towards our house at Mengi Kjarnholt in earnest, but not before another stop at the twelfth-century Strandarkirkja church, which was supposedly vowed into existence by storm-besieged sailors.
I followed up the rear of the caravan through windy hills while Ann continued her lonesome race to finish our playlist and writing of the welcoming toast. Just as the mountains opened up to a wide valley and the road came to a dramatic bend, we sped past the bus on the last leg to Kjarnholt. We've got work to do!
Our gracious hosts Jón and Bjarnveig did not miss a beat as Ann hopped out of the car with door tags in hand. As we hung up the last one (Room #1, a double with a mute organ), we recognized the chorus of gravels being thrown about. Perfect timing.
We had booked this guesthouse sight unseen, but it was truly beautiful and serene. We were isolated in the midst of the valley, with horses for companion and a panoramic view of a winding river and multicolored hills. We were hard-pressed to find a single spot that out-shined another for our ceremony.
Dinner was relatively casual: grilled dogs and sausages from various places, salad, and beer. In addition Ann's relatives had brought eight bottles of Mao Tai (as our friends soon learned, liquid fire of up to 52% alcohol) to wash down and sterilize everything with. Our families, whom we settled at the nearby but slightly more proper Hotel Geysir, dressed up and looked splendid. We also had a chance to meet our photographers, Stephen and Drew, a convivial pair who were already scouting out the surrounding scenery.
What I will remember best from this dinner is not how I delivered the semi-extemporaneous welcoming toast, nor how many Einstok beers or different kinds of sausages I tried, but the incident of my mindlessly eating a hot dog that had fallen on the ground. That Matt fed me. Ann claims to wash her hands of any responsibility.
Before long a group of us had relocated to the hot tub, and by then I was a bit tipsy. We vaulted in, and for future employability we'll have to leave those pictures off the internet.
Photo credits to our dear friends: