2015.08.21
Well-rested from the night before, today we tackled The North. Most visitors to Iceland are familiar with the Golden Circle around Thingvellir. Up here in the north, there's the Diamond Circle: Asbyrgi, Dettifoss, Myvatn, Krafla, Godafoss.
We were on our way towards Husavik when we noticed this pond and stopped to investigate. The water wasn't even lukewarm. Why was it steaming??
Husavik was a good place to grab lunch and coffee, but asides from the whale watching tours there weren't many things to do, so we continued onwards. Before our traumatic drysuit diving experience in Boston, we'd considered doing another dive up here in the north at a shallow geothermal cone and river. After some internet sleuthing and atlas scrutinizing we thought we'd found one of the sites, and sure enough there was a solo diver just surfacing from an unassuming pond along the muddy, potholy road. At the end of the road we found a horse farm, and for the price of a photobomb Chewie shallowed a dozen or so midges. Peh.
Next stop was Asbyrgi, a horseshoe-shaped canyon of improbable origins, whether you believe the thunder-hooves or Thor's horse or the single catastrophic flood that's supposed to have eroded this canyon, in a matter of DAYS. The creation days may be up to interpretation, but still...
It was hard to capture the magnitude and stillness of this place. In an otherwise fairly treeless country, here we were, stumbling upon a lake hidden in an enormous birch and willow forest. It was magical.
The road from Asbyrgi to Dettifoss was... interesting. There are two parallel routes on either side of the river; the guidebooks and road signs gave us somewhat confusing recommendations. We decided to chance it with the road to the west, Route 862, half of which is wonderfully paved, and the other recently de-listed from the infamous F-road category. It was a bumpy hourlong drive through the usual gravel and a few dried up riverbeds, and as we neared Dettifoss the landscape became progressively stonier.
If Gulfoss was lush and benevolent, this place was all kinds of ruthless and terrifying. By volume discharged it's one of the greatest in Europe, and by its stern eastern bank no plant matter dared to grow. The entire area made me feel like a character within a CGI world of stones that were almost too perfectly cubical, and one false step I'd fall into a portal to another universe.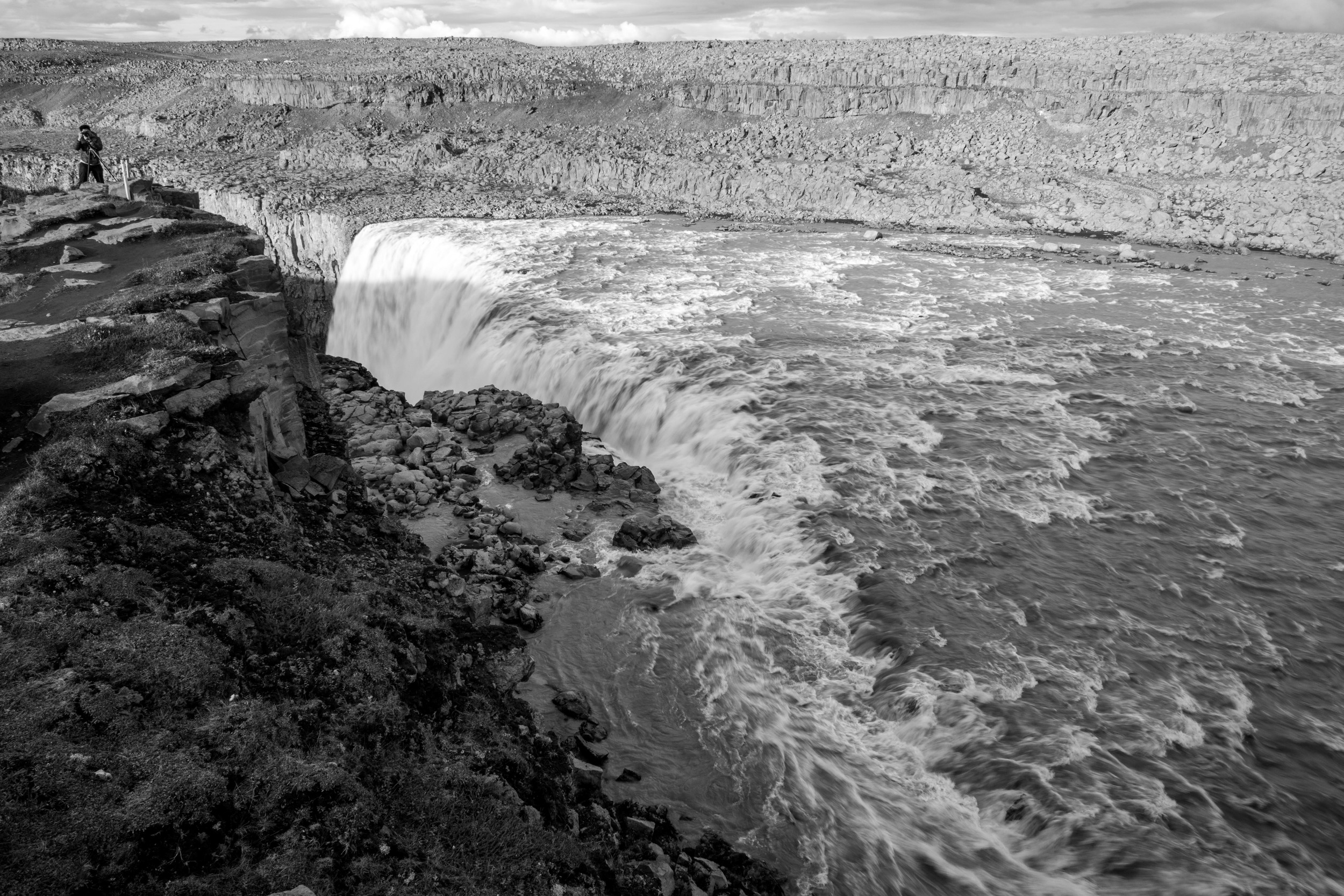 The way back to Myvatn, as promised, was a smooth ride. After three days here we'd still hardly spent any time exploring the lake itself. Today, we had just a bit of time before sundown to take a walk around the woodlands near Höfði.
Myvatn at sundown, from a raised outcrop:
And so concluded our trip to The North.
Photos from the road, stuff of dreamscapes: