Without a doubt, one of our most magical memories together was watching the night sky light up with the swirling and snaking green tendrils of the aurora. It was a sight that cemented our love for Iceland and ensured that we'd return time and again. We've often said to each other that if ever a favorable aurora forecast (more on that later) coincided with cheap airfare, we'd hop back over for a quick weekend jaunt. It's been over 5 years since, with a single summer visit to Iceland in between (although Ann will gladly remind me of her layover without me). And then it happened. Kp 4-5. $270 roundtrip. It was time to return to the land of Ice and Fire.
At the outset, the mission was simple: a trek into the Vatnajökull ice caves and a night of basking under the northern lights. But as word got around about our upcoming venture, our intimate weekend getaway quickly snowballed into a bit of an unruly party: Matt, our ever faithful third-wheel, and Ravi from the 2011 trip that started it all, plus their respective significant others Jenn and Elizabeth. And then there were Julia and Yin, not to be left out of the action, who joined in less than two days before departure (but only after Yin realized that he could make it back in time to still see the Superbowl). Heading into the weekend we closely monitored the Kp index and weather. All looked well and the excitement was palpable.
We should have known better.
The first inkling of trouble came with an email from Pink Iceland, who was (again) helping us with our travel arrangements: our tour to the crystal ice cave was canceled due to flooding from recent rains, but we could visit a different "black ice" cave nearby. Not ideal, but we'll take it.
The flight to Reykjavik itself was rather nondescript and we actually arrived ahead of schedule. Ravi reported, to our collective envy, that he'd seen the aurora from the plane. After loading up on caffeine and picking up the car, we headed due east towards Jökulsárlón. It was around 5:30am and we had plenty of time before our afternoon tour. Unlike our first winter visit, the road was mostly free of snow and ice and the landscape surprisingly green. We made good speed past Reykjavik, and it seemed like smooth sailing. Then it hit us. Hard, driving, pelting snow–a perfect storm of wintry mix came down sideways at our small convoy. Through the furiously working windshield wipers we could barely see ahead; it was somewhat terrifying, but beautiful at the same time. It went away as quickly as it came, and before long we saw Seljalandsfoss in the distance, lit from beneath with enormous lights that must have been a new addition since we were last here. This called for our first pit-stop on the trip. We fumbled through our carryon bags for warm clothing, and in the pre-dawn light took some photos by the waterfall.
We continued onwards, hoping to make it to Vik in time to see the sunrise. About half an hour out of Seljalandsfoss, I had the sudden, heart-stopping realization that my wedding ring wasn't on my finger! We pulled over, and after a panicked deliberation decided to return straightaway to Seljalandsfoss to search the grounds of the parking lot. We found nothing. About to return to the car disheartened, I heard someone call out "found it!" Ann proved to be my savior as she doggedly searched through our bags and found the errant ring at the bottom of our backpack: it must have slipped off my finger in the cold while I was grabbing our gear out. Disaster averted but having taken a one-hour detour (sorry guys!), we raced on towards the black sand beach at Reynisfjara. We made it barely in time to catch some of the first morning rays touch the familiar basalt pillars of Reynisdrangar.
To our surprise, a throng of tourists had already assembled on the beach by the time we got to it. Between the dangerous 'sneaker' waves and people jostling for spots to take the best photos, the beach was anything but tranquil.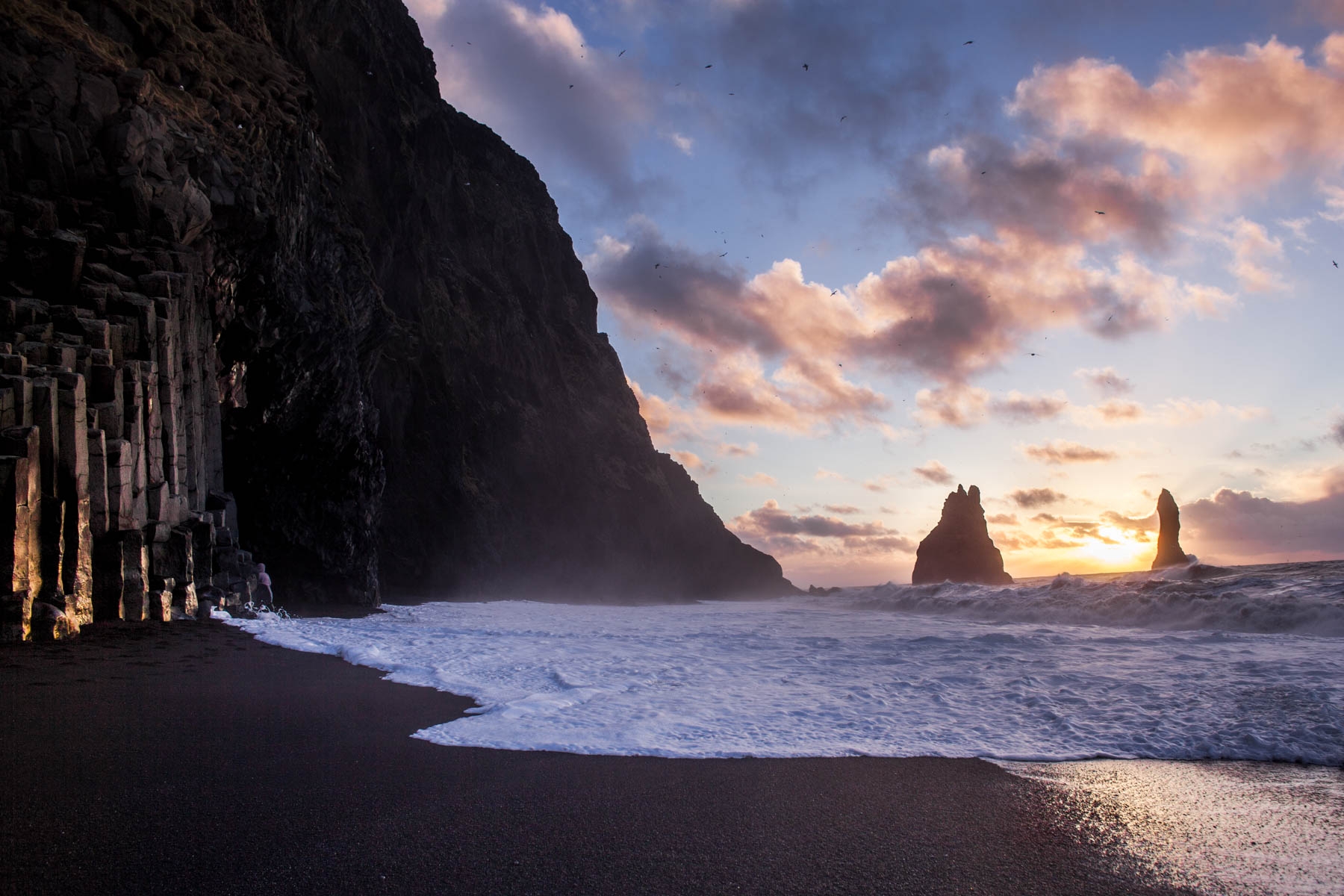 Unfortunately, we were a bit too early to eat at the fantastic Black Beach Restaurant and because of the ring affair running short on time. So, as is par for the course for an Icelandic road trip, we found ourselves at the N1, picking up a few hotdogs for sustenance, and refueling on gas as well as more caffeine to keep the drivers going.
A mad race later we arrived at Jökulsárlón. The tour, lead by Siggi of South East Iceland, was a lot of fun. It was our first time walking on a glacier, which was essentially a giant sheet of slippery, glassy ice in varying shades of blue and gray. With the crampons providing firm footing, we clambered along Breiðamerkurjökull for a good two hours, stopping by various ice formations, peeking into the flooded entrance of the crystal cave (Sad!), and ending with a visit to the Black Diamond ice cave.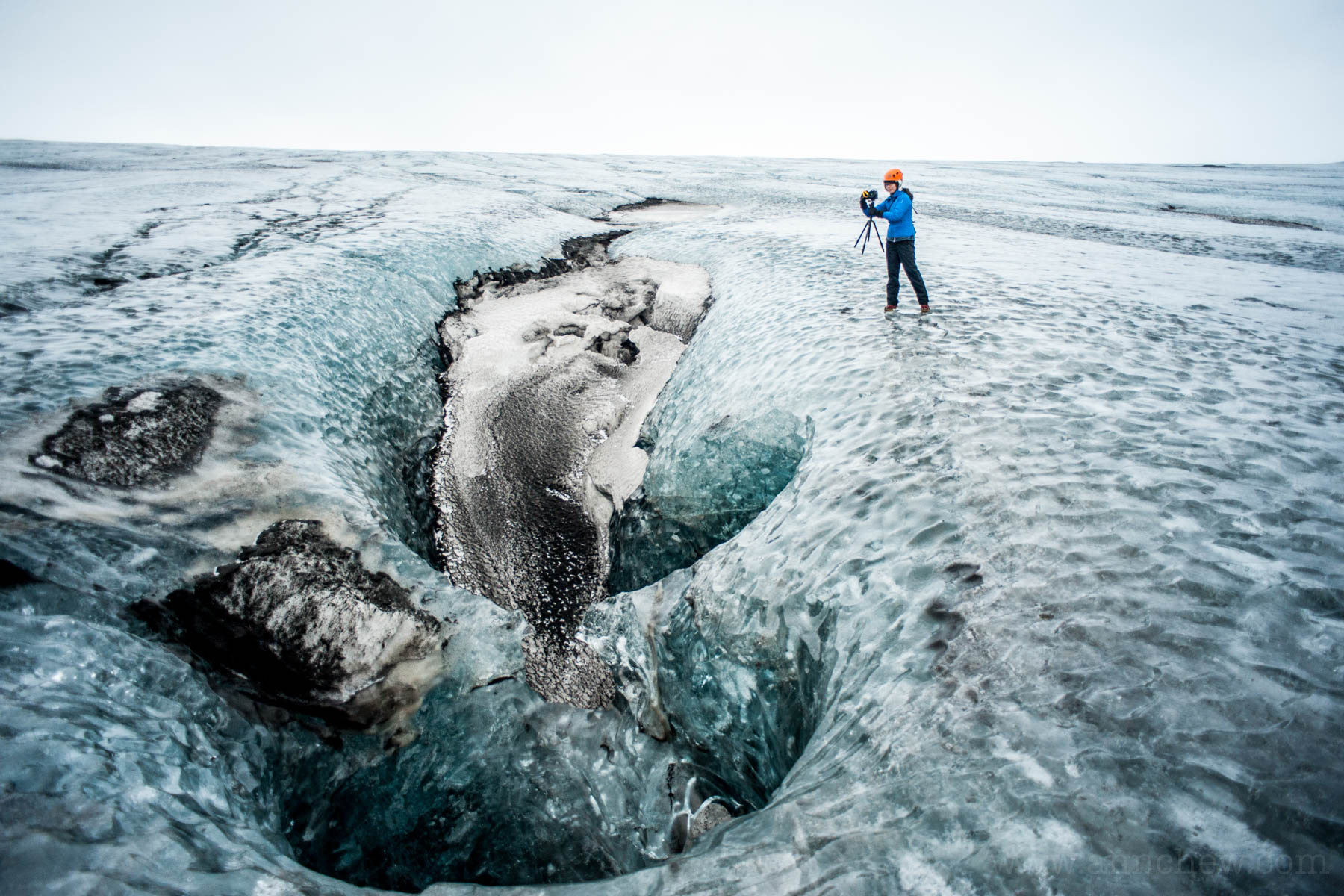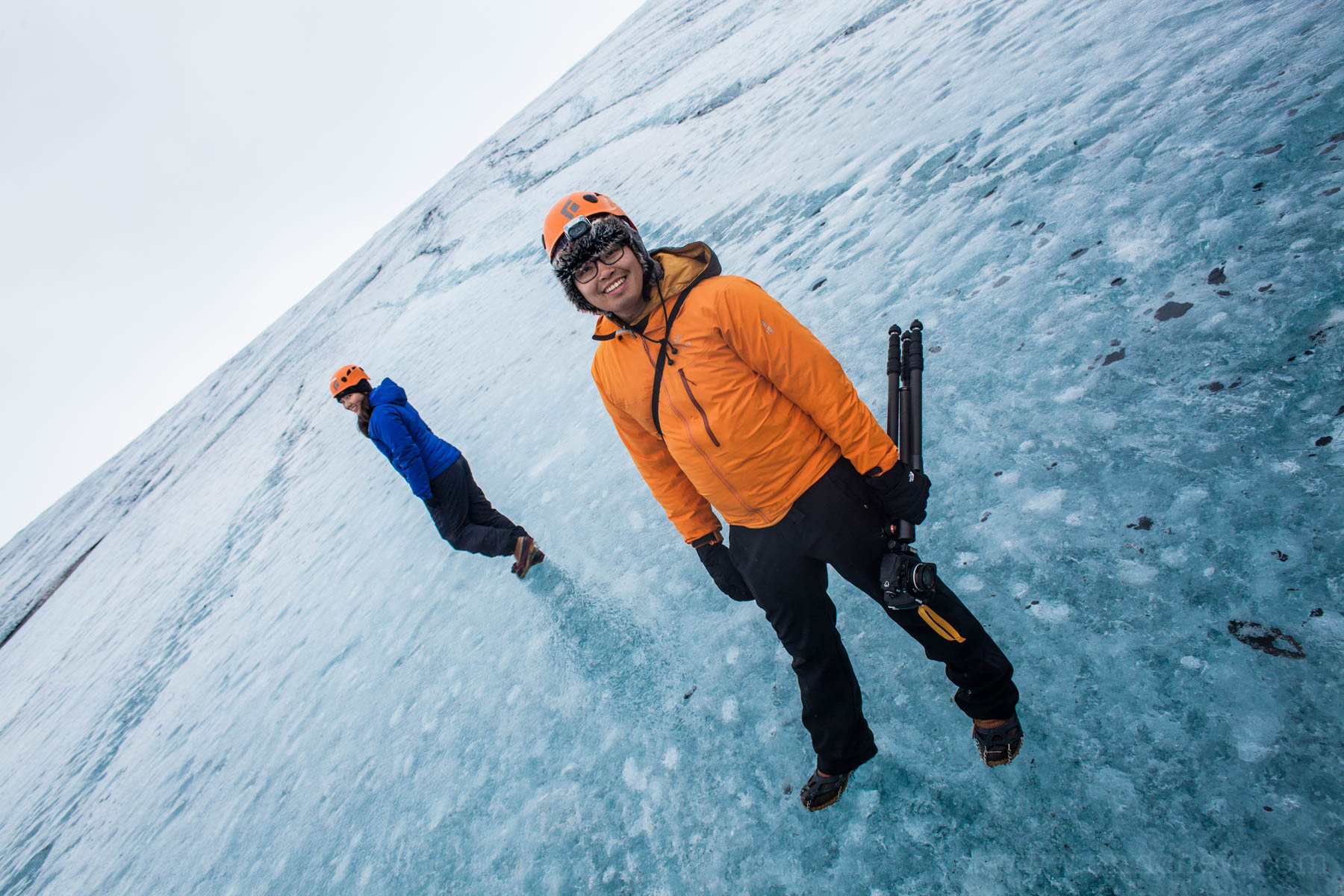 The tour ended just as the sun was setting. Despite growing hunger and fatigue, we swung by the nearby Diamond Beach to admire some of the beached 'bergs before heading off to the aptly-named Skyrhusid in search of hot food and shower. After dinner, the weather worsened. We drove back out anyway in an attempt to find a hole in the cloud cover. Alas, it was not meant to be.
We woke early the next morning after not-enough sleep. The first car had a long drive back to Reykjavik to catch return flights; we wanted to go back to the Diamond Beach for some more pictures. Ann had had the bright (hah...) idea of bringing along our 1200 lumen SCUBA light, which, in addition to being conveniently waterproof, lit the icebergs in dramatic fashion. I, on the other hand, almost sacrificed myself to the Drowned God.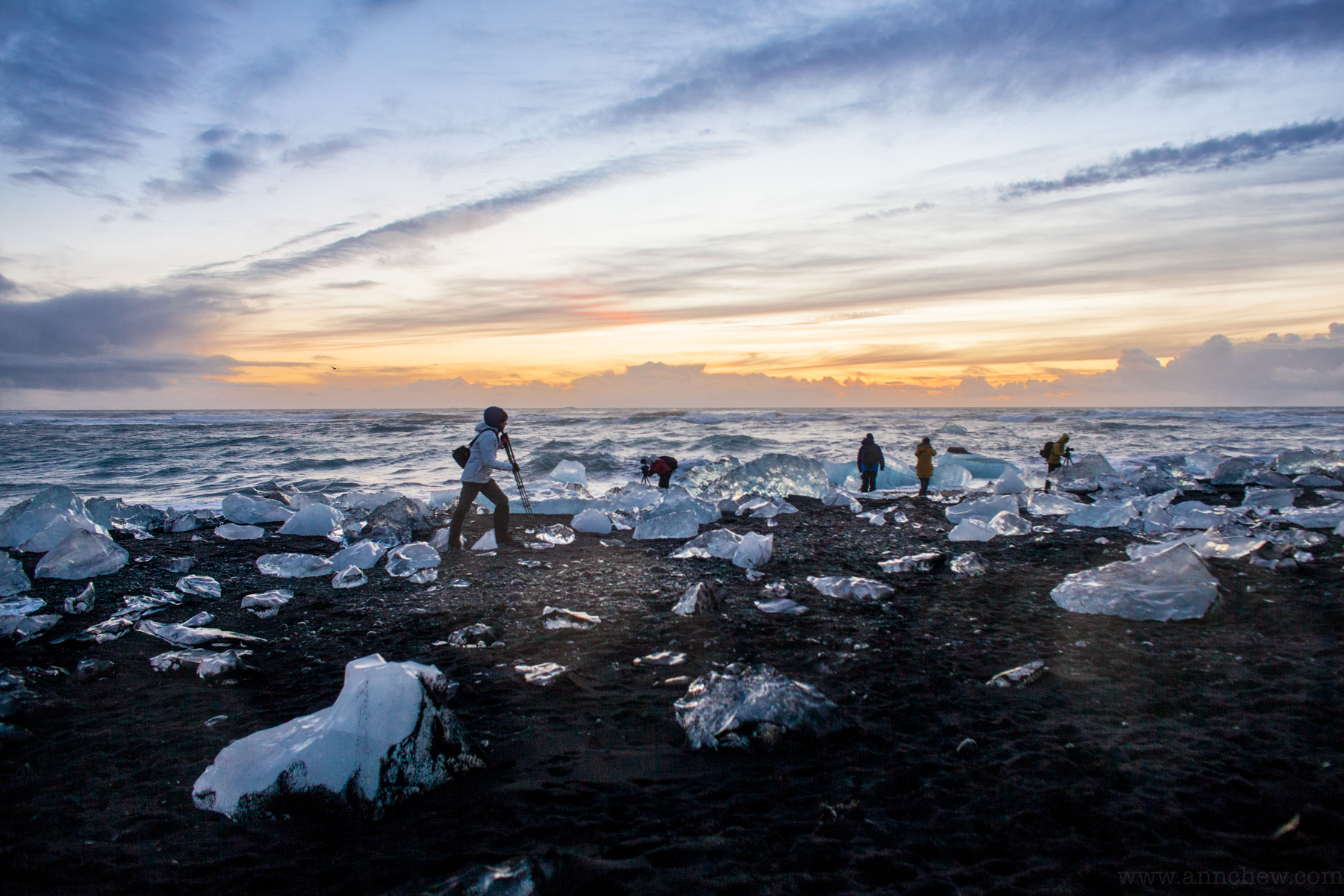 We were back on the road, rushing yet again to catch our second tour. Julia gave us periodic updates from the other car: heavy snow ahead; traffic slowed to a crawl. They wanted to see Winter Iceland, now they got it.
We made it to Sólheimajökull (Sun-home-glacier) just as our group was gearing up. Overnight a thick blanket of snow had fallen and painted it white. We dutifully trudged behind our guide, taking care to avoid the hidden crevasses and moulins.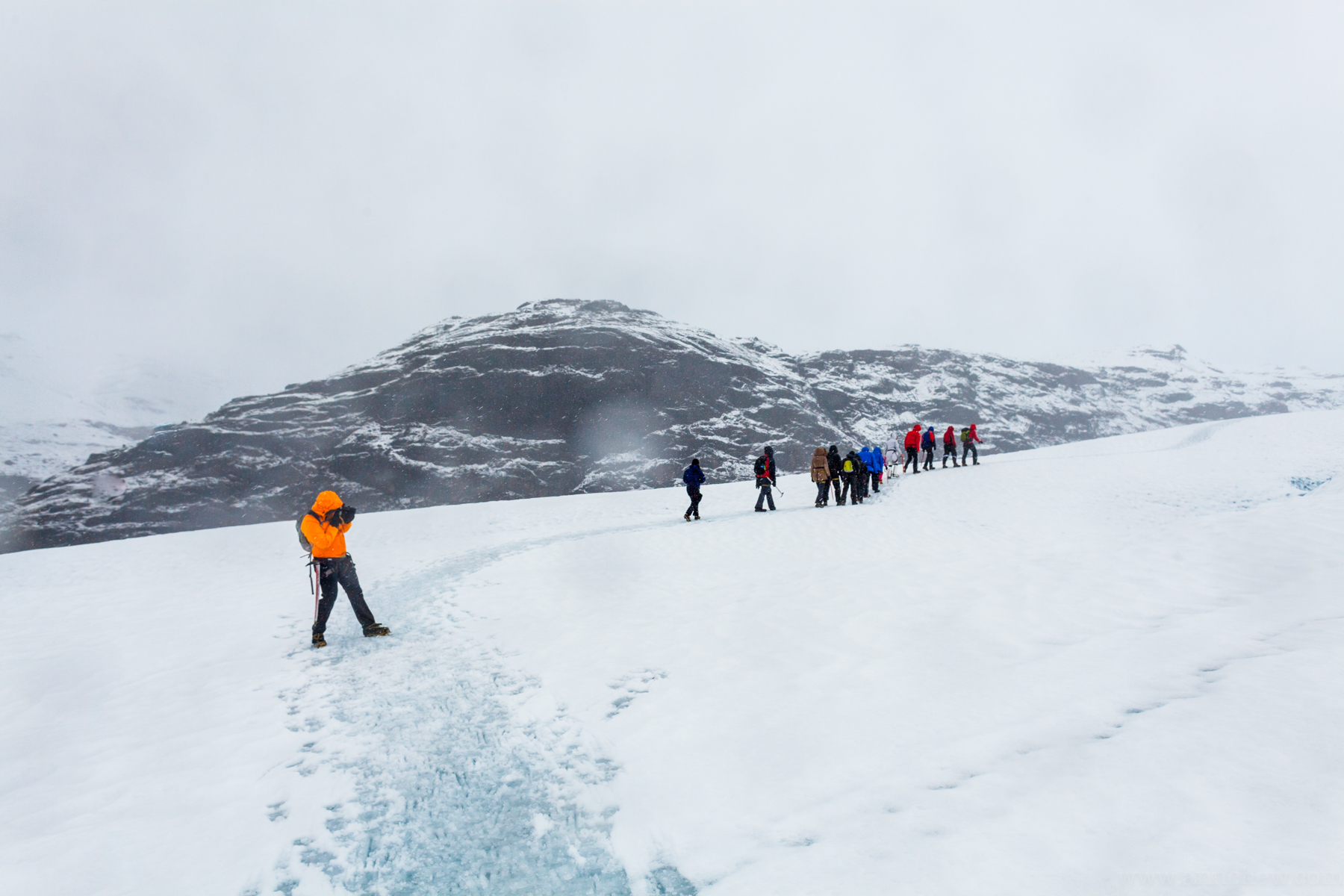 As luck would have it, a tiny hole had opened up inside Sólheimajökull. So we got a tour of a blue ice cave after all.
Everybody took a bite (or a lick) of glacial ice and snow:
By mid-afternoon the weather had improved (after a few hiccups). For the first time on this trip, we were also not rushing to get somewhere. So after the tour we backtracked to Vik, and finally got to satisfy my cravings for lamb soup and Skyr cake at Black Beach Restaurant, which was now open.
Back at the Skogar Guesthouse, we discovered to our delight that it had an outdoor hot tub. After two days of being cold, wet, and tired, soaking our weary souls in its warmth–as fluffy snow came down–was exactly what we needed. It was amaaaazing. We were rejuvenated, and ready to go out aurora hunting once again.
This time we were armed with a bit more info, and the weather was better, though sadly the solar storm had largely subsided by the evening (and we were running out of gas with no gas station open nearby). So we did the best we could by driving down the nearest inland-bound, not-F road near Seljalandsfoss. Julia will never believe any of our photos ever again. This was after some long exposure, but we did manage to see or hallucinate some green...
Photos from the road. Icelandic winter days are short and dramatic. We experienced sunshine, snow, hail, and rain in the span of hours. On the way out the lava fields were black and hraun green, and on the return everything had turned into a sheet of white. The light changed constantly. In exchange for the brief window of daylight, it was always golden hour...
So ends another trip. Some general observations:
This was supposedly the warmest winter in 160+ years of weather records. We stood no chance with the Jokulsarlon ice caves.

Solheimajokull is still receding, even since our last visit there, at the pace of ~300m a year. Go watch Chasing Ice.

There were WAY more tourists (probably because of Chinese New Years around this time of the year). We were surprised to learn that hotels and guesthouses are now booked full year-round.

Food remains expensive. Icelandic lamb is still incredibly delicious. As is Mountain House.

Weather and space weather forecasts are not to be trusted. More on that later.

They find our president situation incredibly funny...

GLOBAL WARMING!