Continued from Part I
Day 5 Dive 16 Hilma Hooker max. 89ft, 61min
Ann finally succumbed to her morning habits and slept this one out. The rest of us dived the Hilma Hooker, a boat best known for being an abandoned drug mule that eventually sank under her own weight. The southern mooring is a pretty long surface swim out and marks the deeper end of the ship. Mind your depth/bottom time as the Hilma Hooker sits in about 100ft of water. There's a good number of tarpons and barracudas at the site.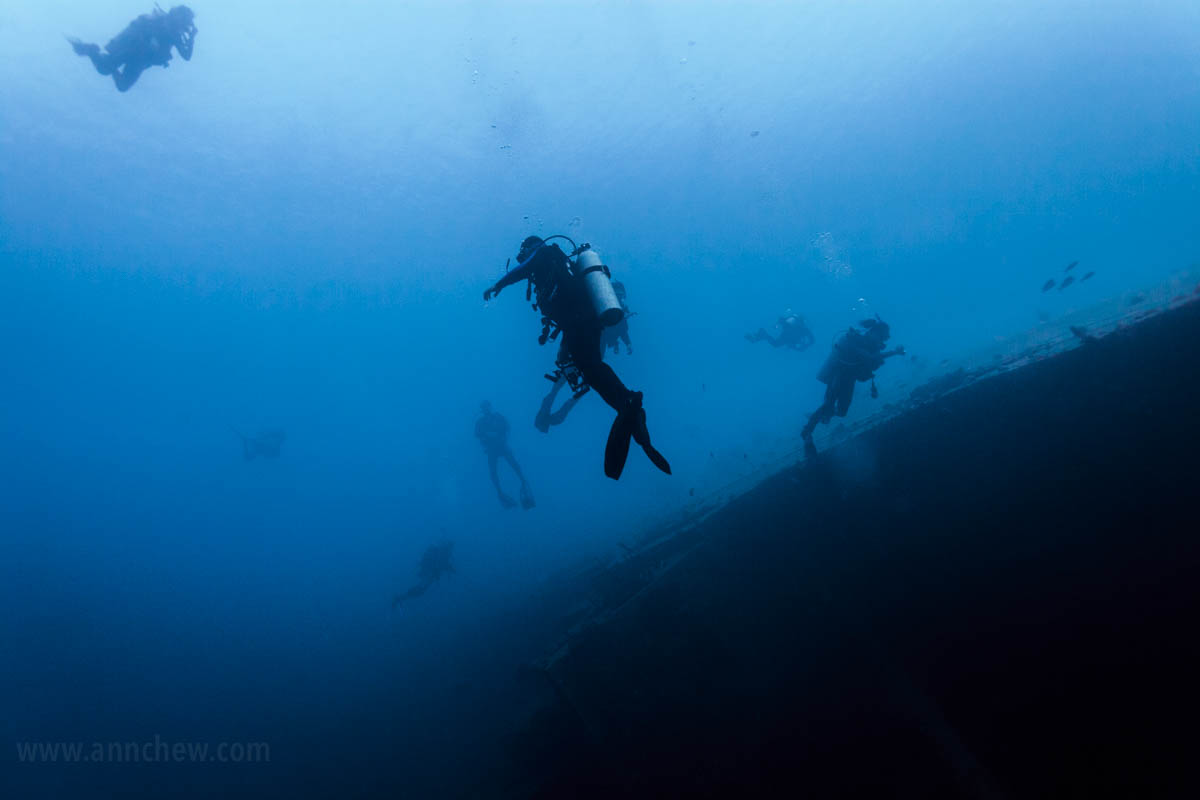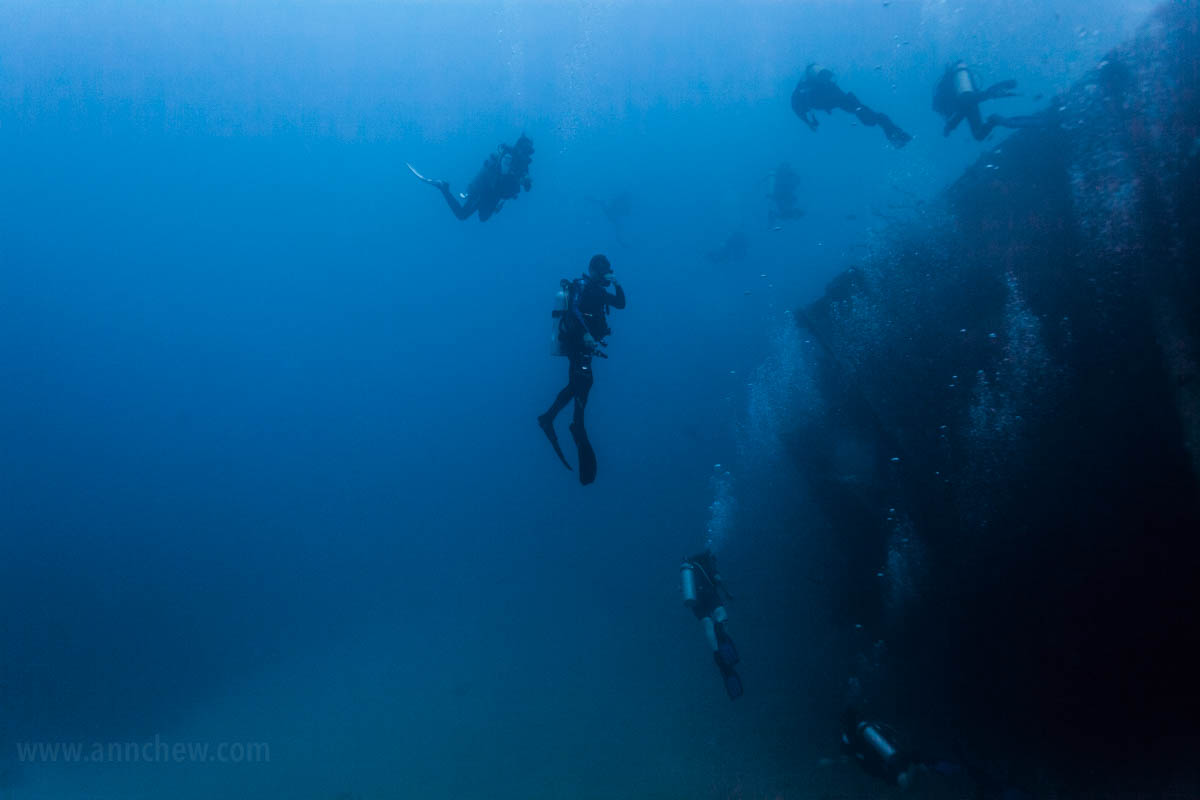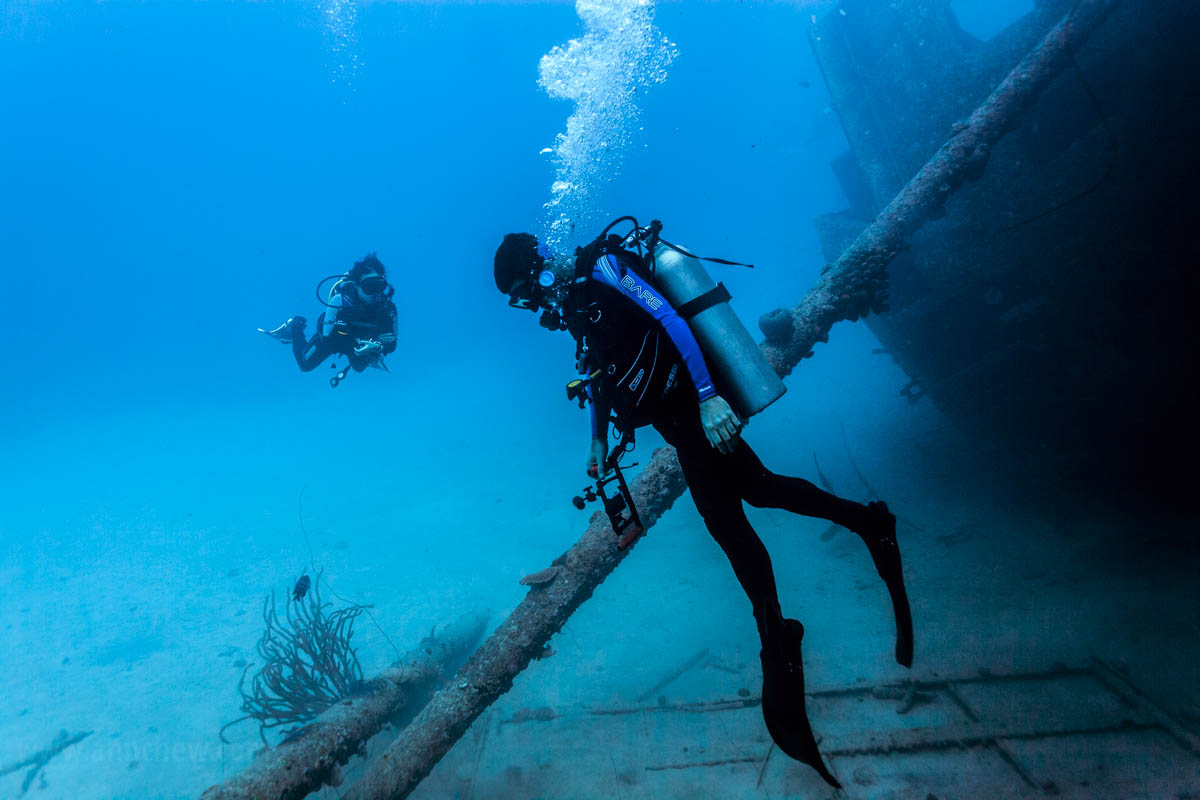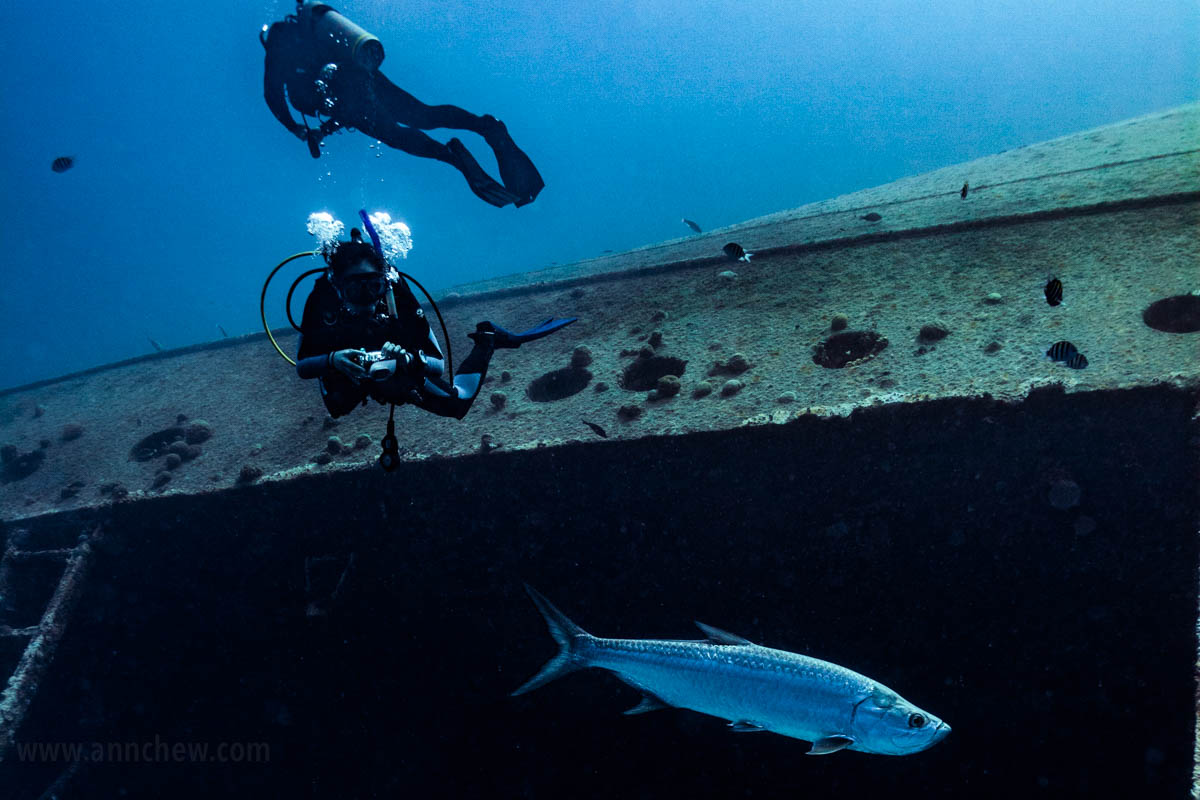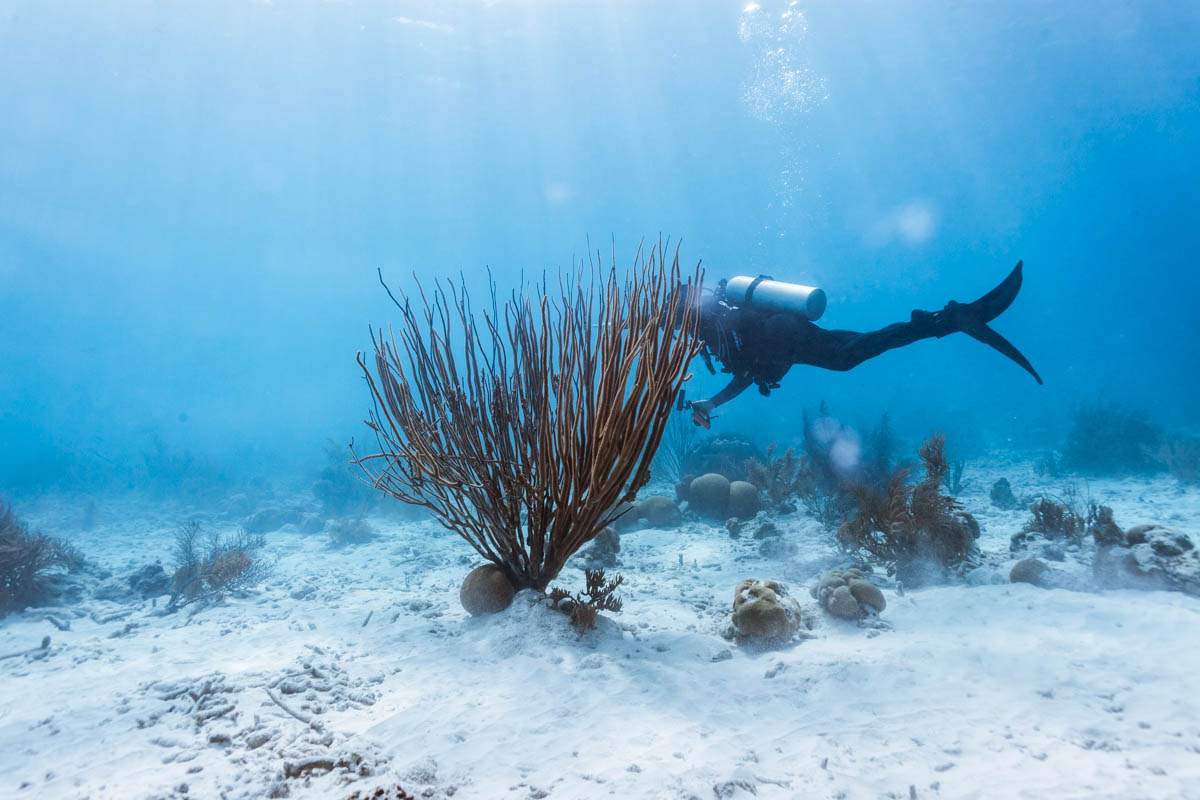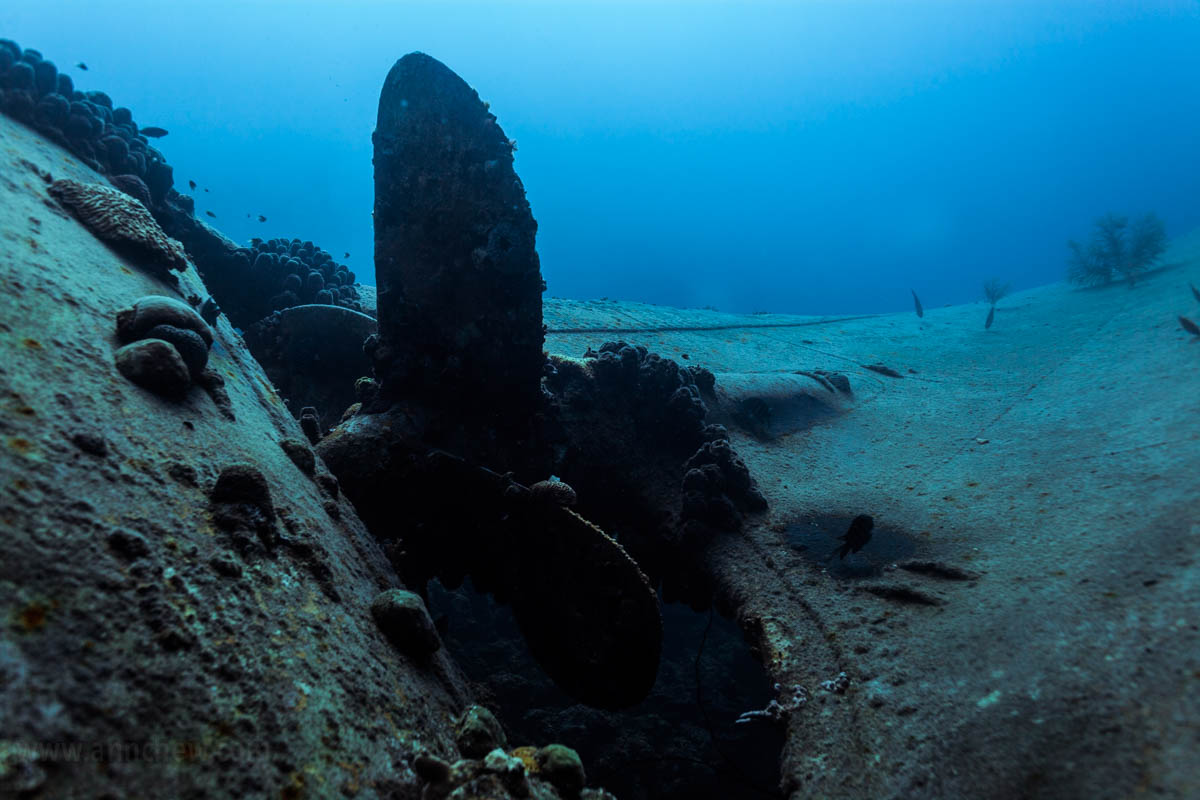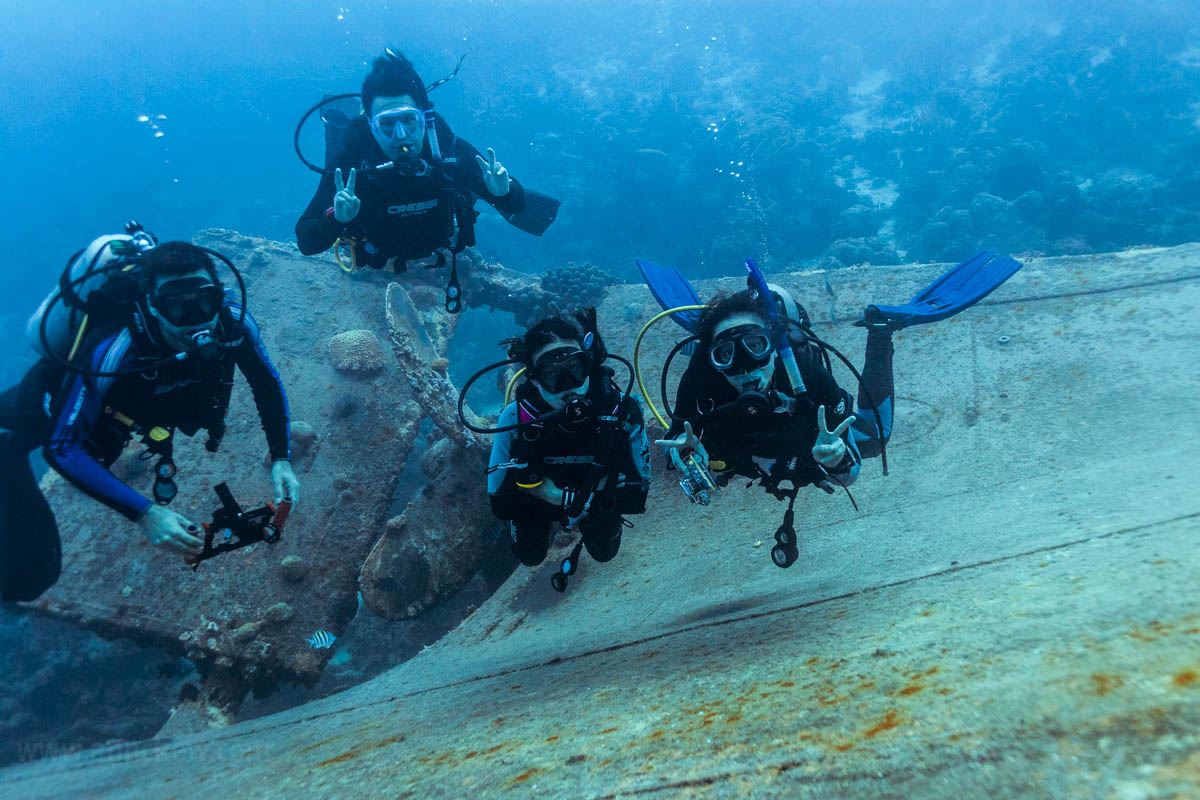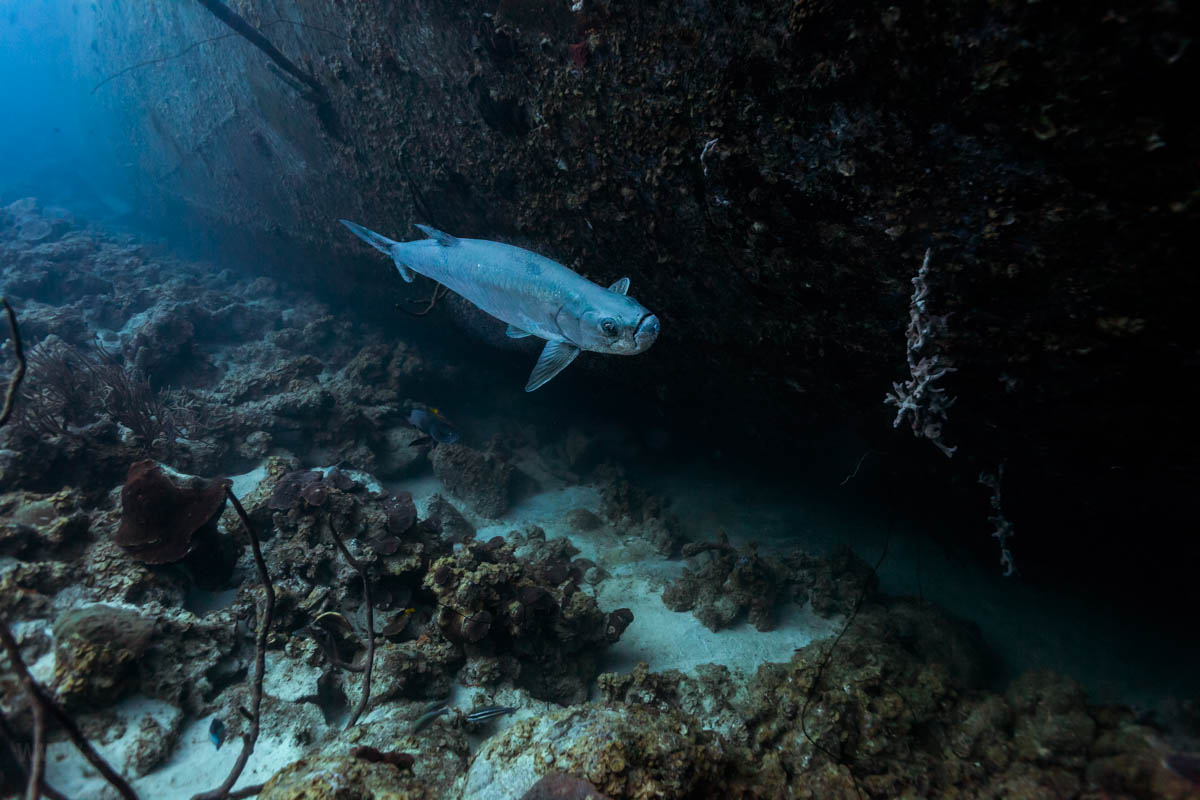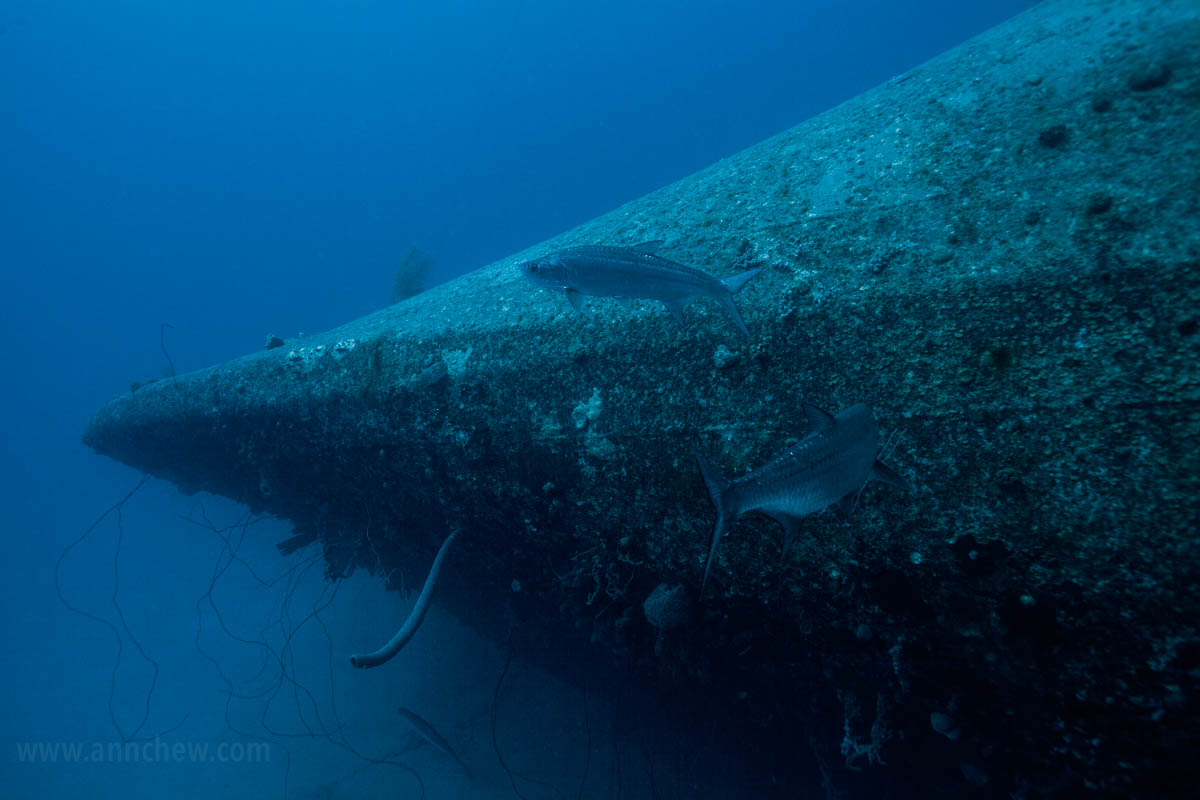 Dive 17 The Lake max. 86ft, 49min
BEST. DIVE. EVER. The site itself was beautiful: a white sandy "lake" separating the double reef system, connected by coral bridges, and brimming with life. We saw tarpons, a Southern stingray, a big tiger grouper, but the highlight, at the top of the outer reef, was this black cloud that materialized out of nowhere. As it caught up with each of us, we each in turn realized that we were about to be subsumed by an incoming, house-sized bait ball of bogas being chased by horse-eye jacks.
And this is the one dive where CHEWIE FORGOT HIS CAMERA.
BOGA BALL! BOGA BALL! BOGA BALL!
Dive 18 Weber's Joy max. 61ft, 60min
We headed up north for the afternoon dives. The "Witches' Hut" across the road from the dive hut is long defunct. Entry was easy down the steps from the parking lot, though exit slightly rougher with the waves crashing about. There were plenty of invertebrates here that we didn't get good pictures of. The coral-scape itself was quite magnificent with pillars and tall stands, kind of reminiscent of Karpata, maybe not quite as nice.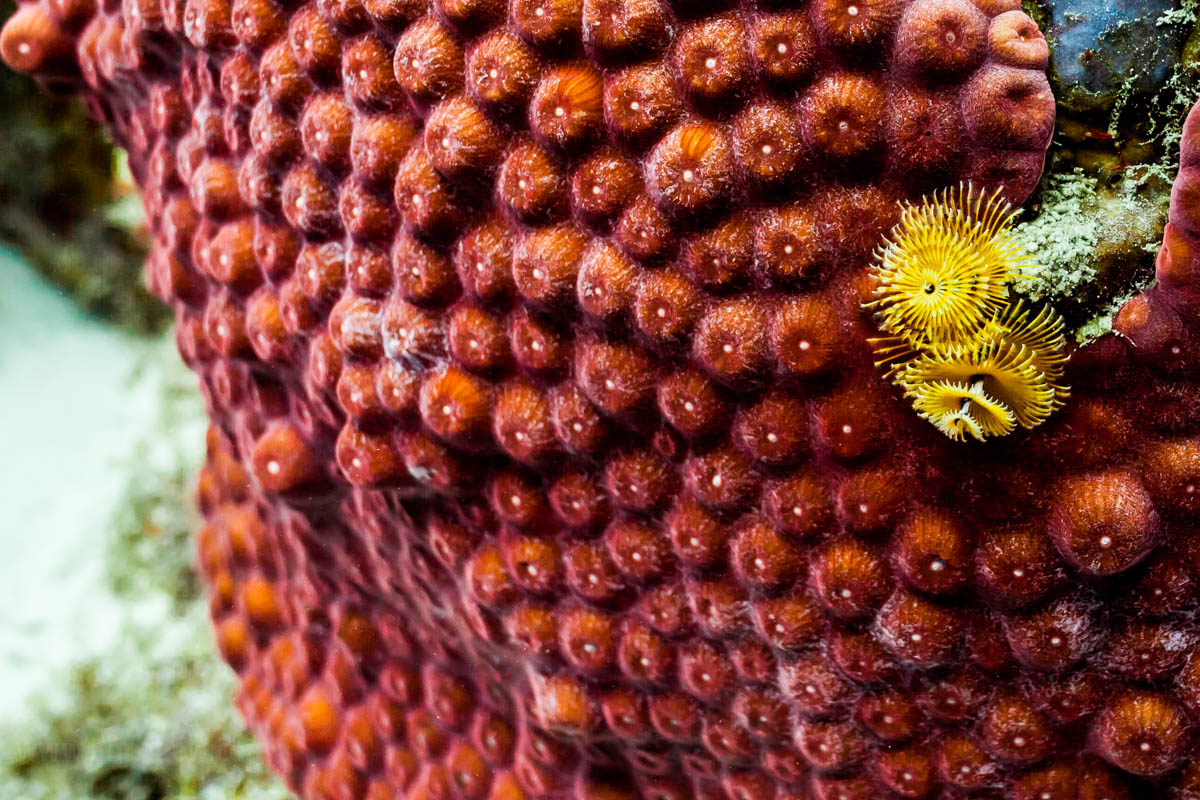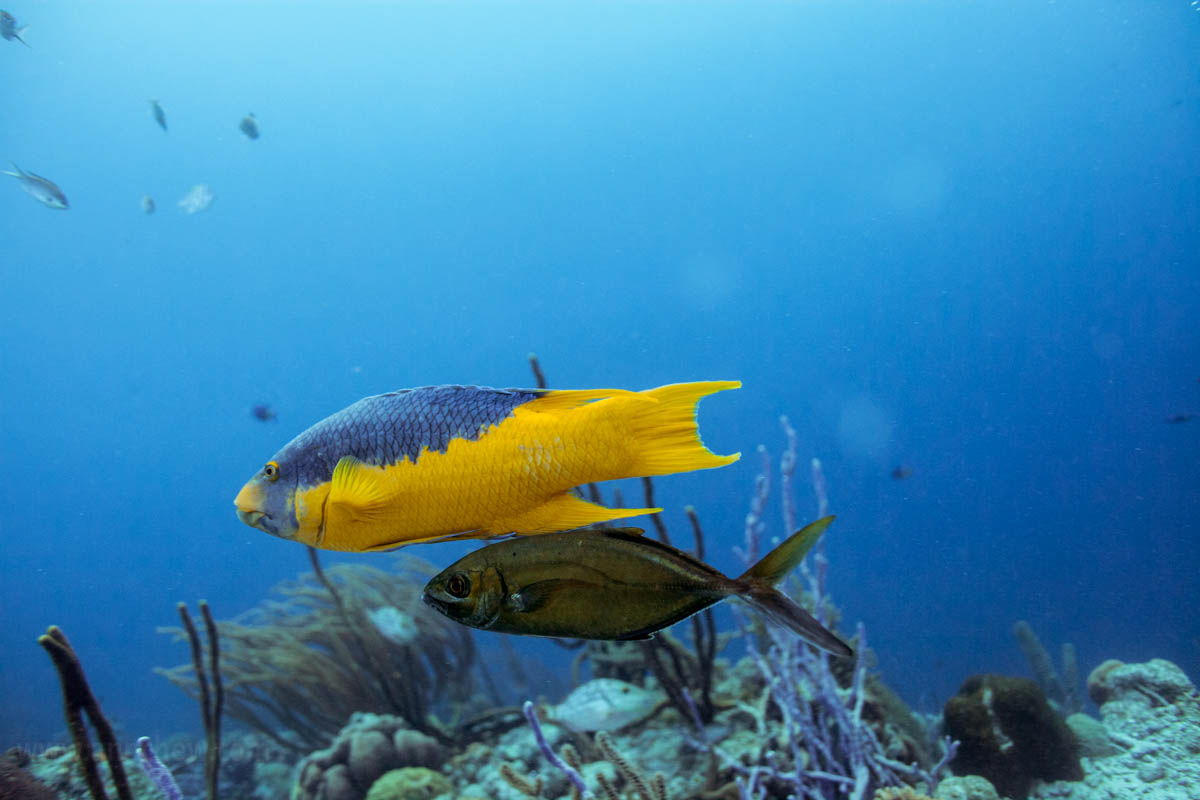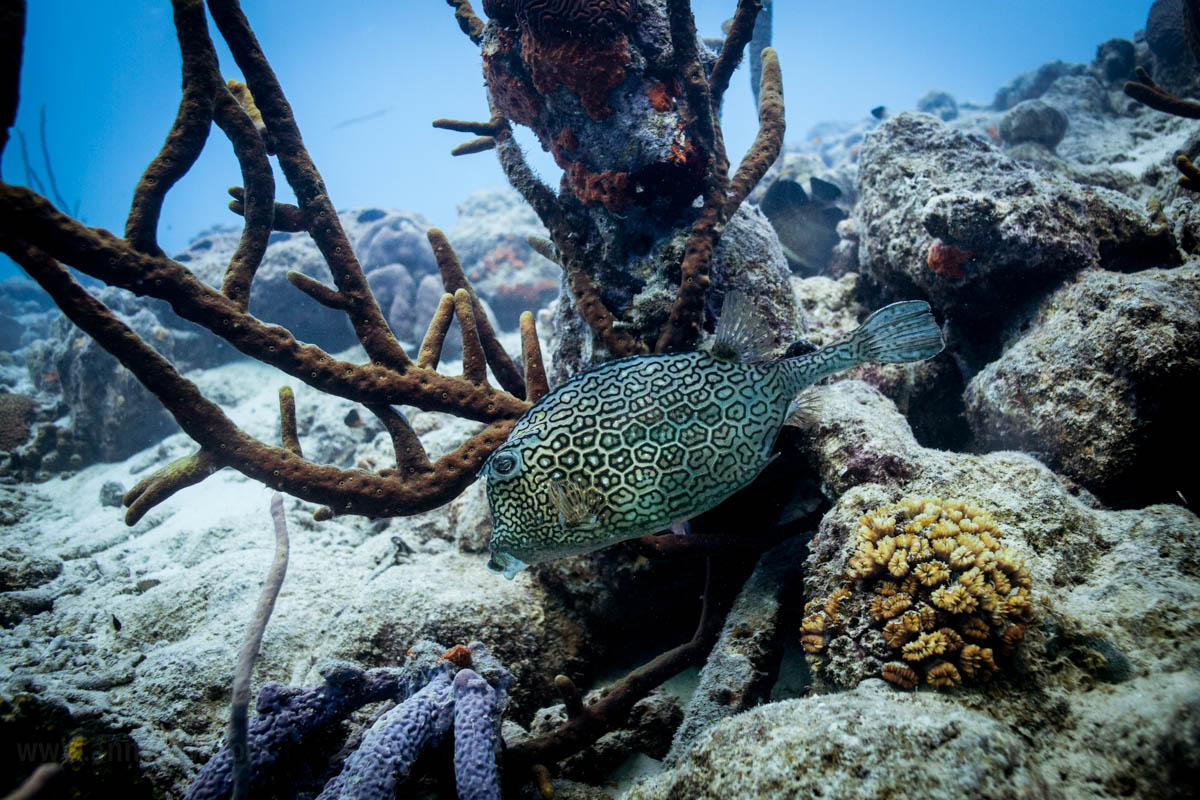 Dive 19 Bari's Reef max. 54ft, 47min
Despite what we've read on every shore diving guide to Bonaire exalting this site as one of the best for diversity and macro, we didn't have much luck finding things here (probably because we aren't very good at spotting critters yet). The visibility was terrible at times (<5ft) but cleared up a bit farther offshore. This would've been somewhat of an unremarkable dive save a spectacle of frenzied dance of the creole wrasses, or as Jenn puts it, "fishes dating."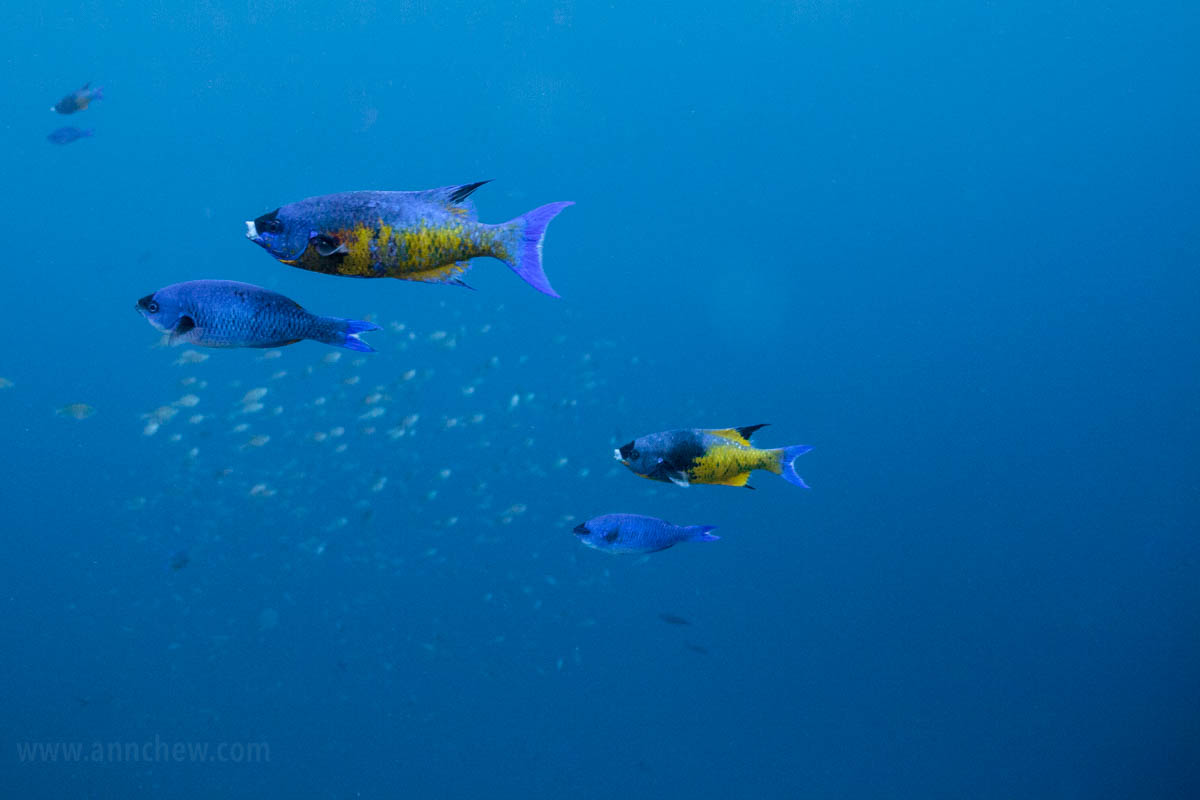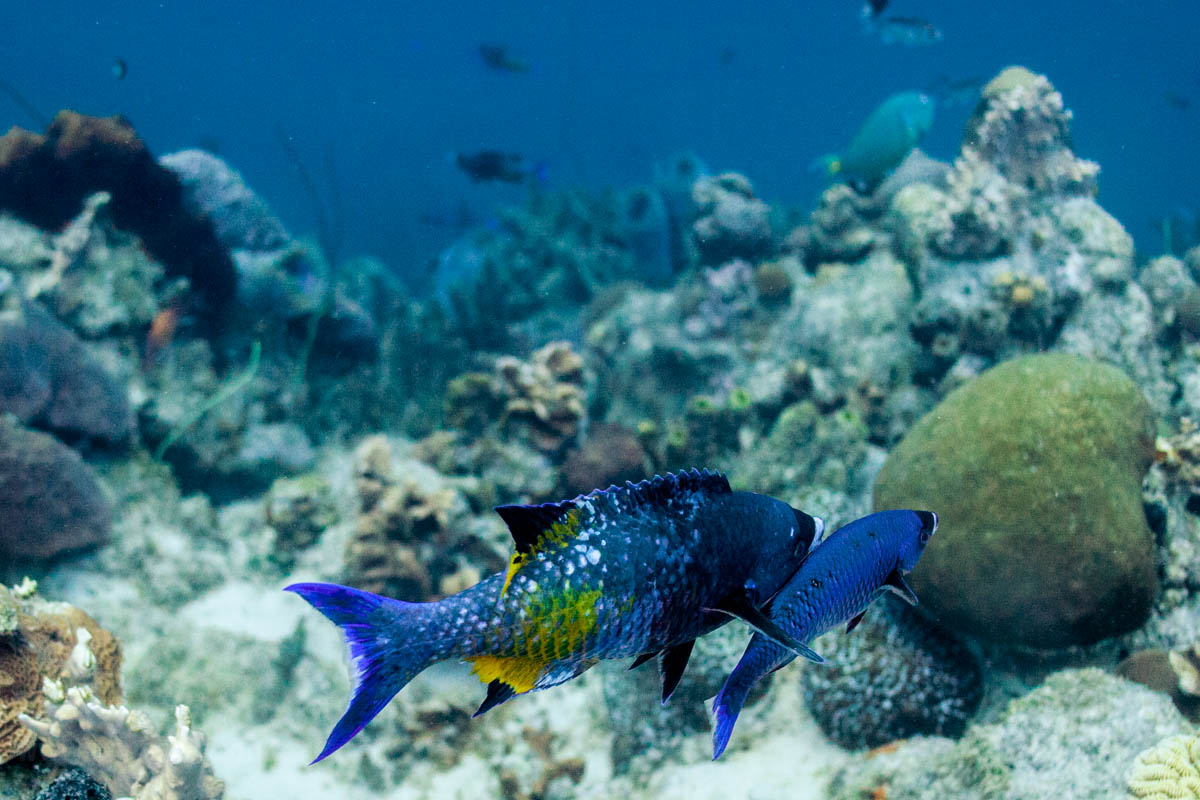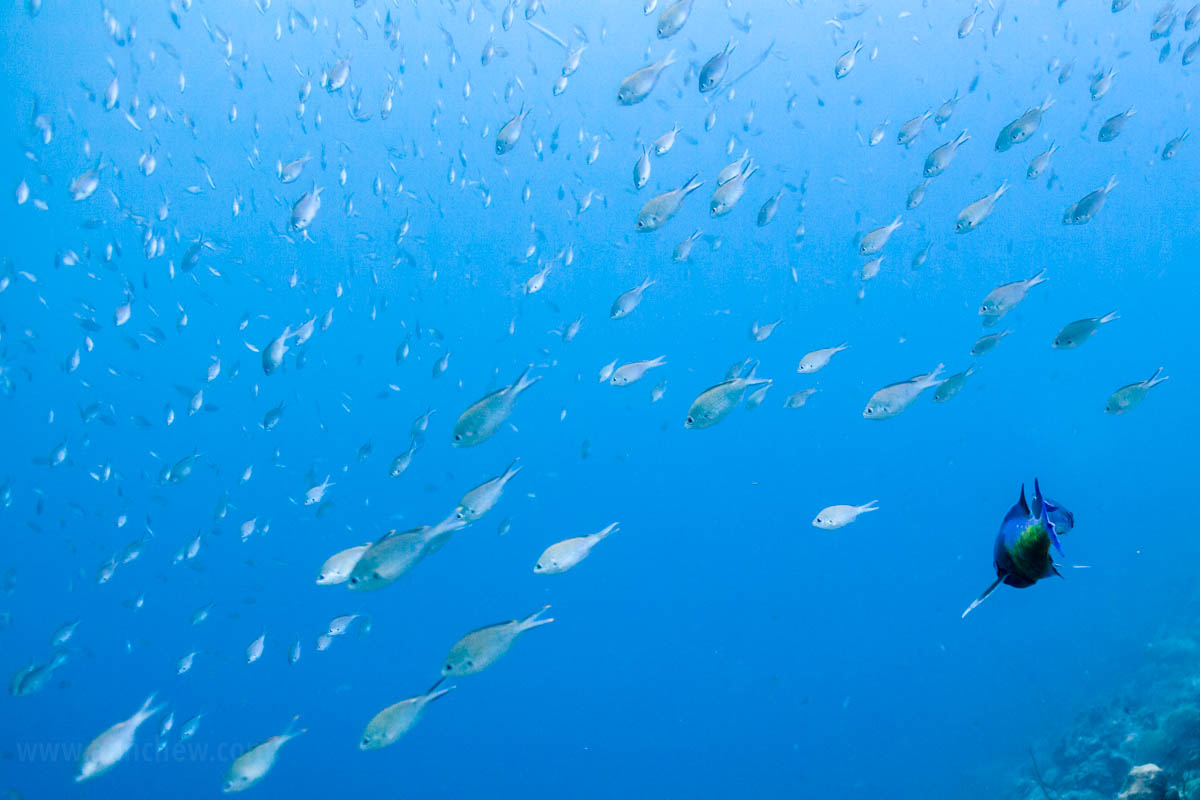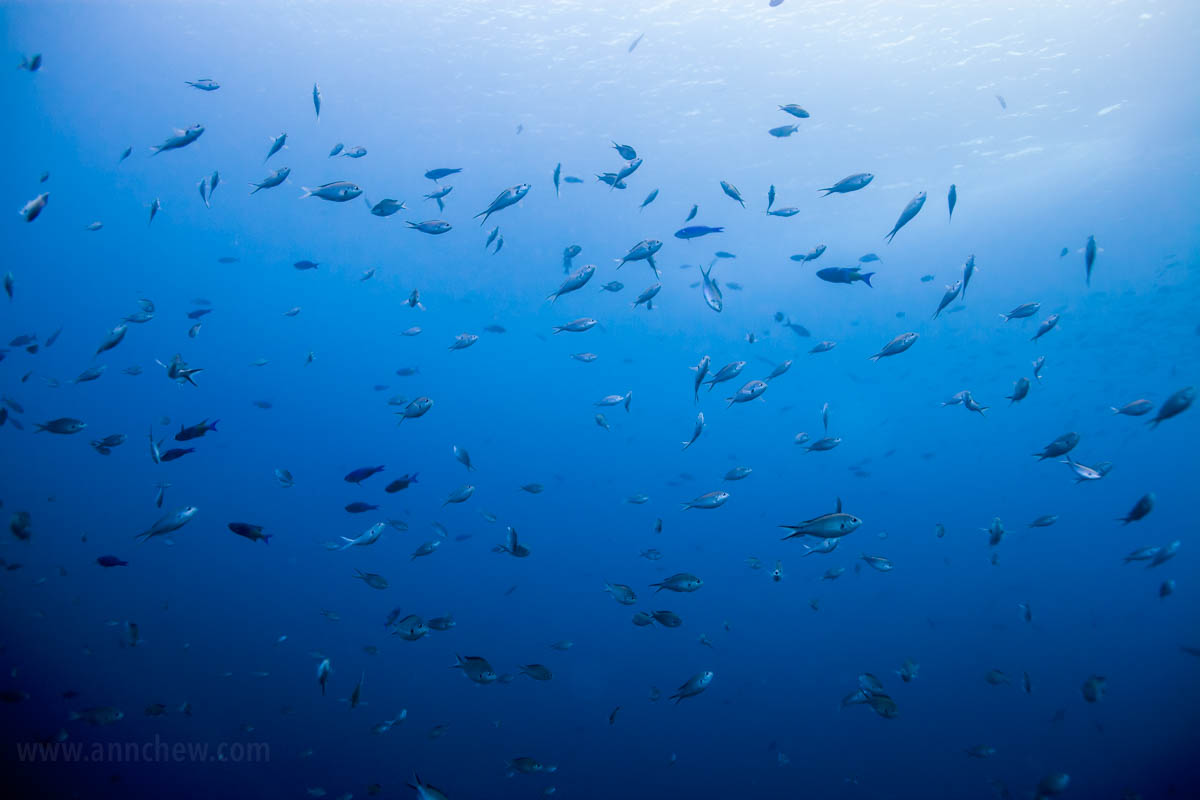 Day 6 Dive 20 Invisibles max. 86ft, 57min
The rain overnight had made this site "invisible" indeed. In an attempt to find the outer reef we swam what seemed like an endless five minutes into the deep blue with no frame of reference. Heading back, we finally encountered the "islands" connecting the reefs at the southern end of the site, and spotted a big grouper, plenty of chromis, and goatfish. This would've been a beautiful dive had it not been so silted out...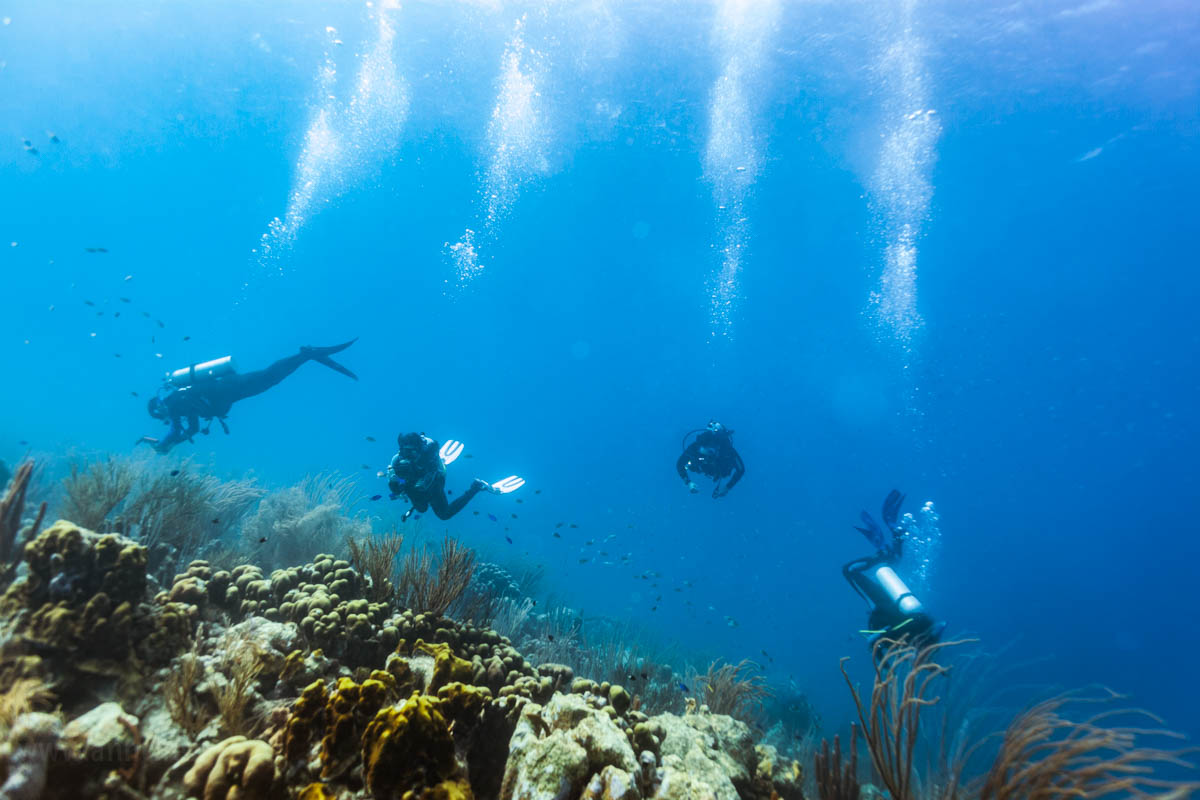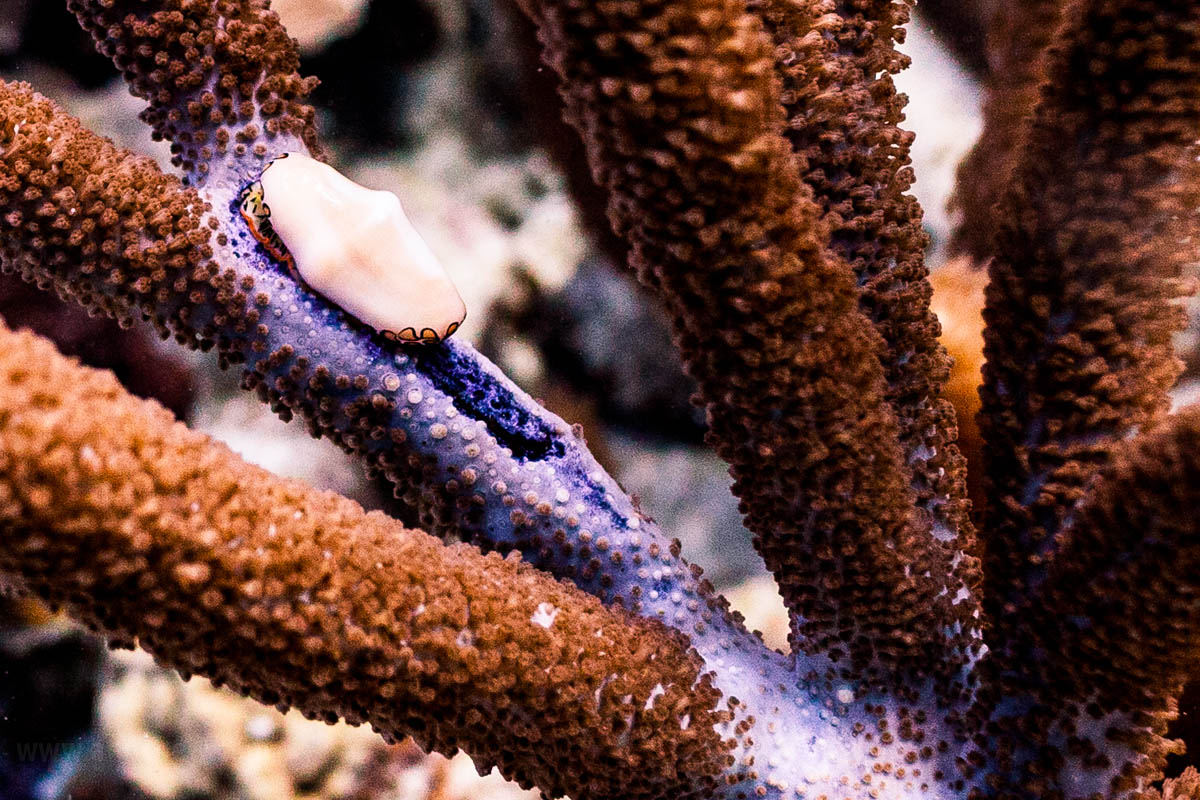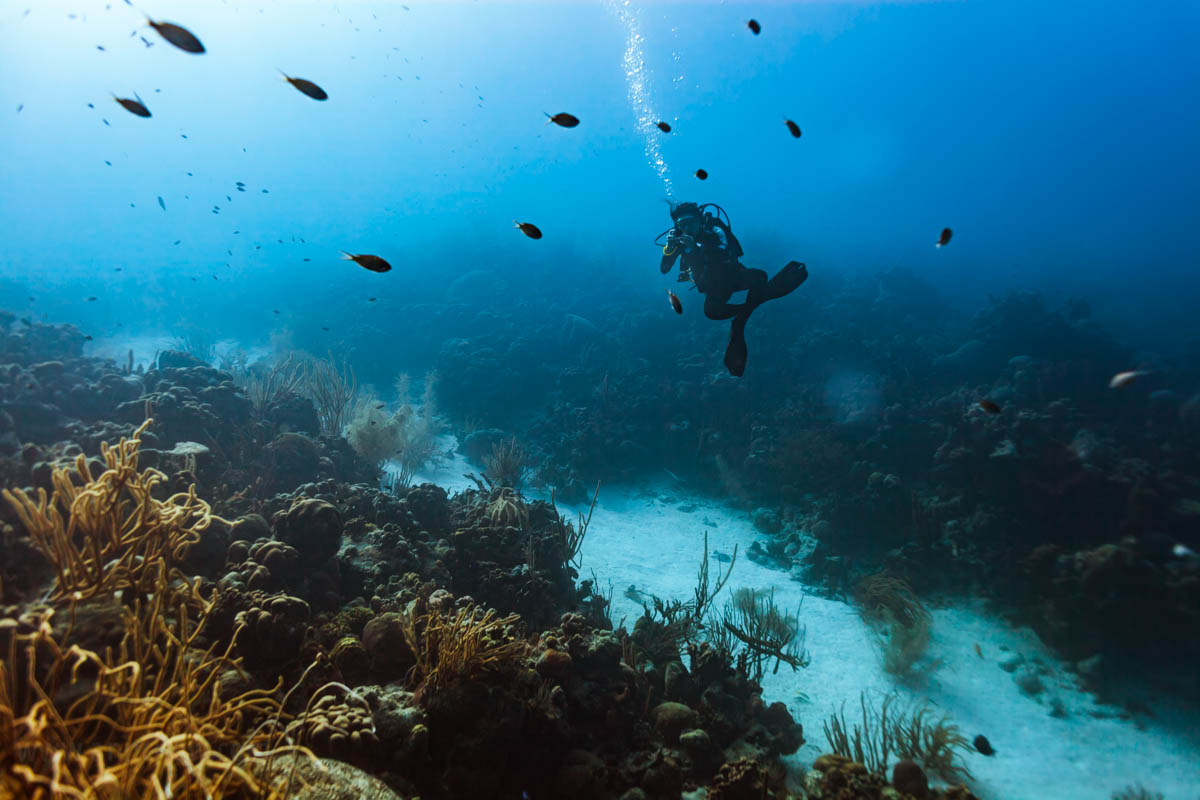 Dive 21 The Lake, again max. 71ft, 53min
Having profoundly regretted not bring his camera, Chewie campaigned (it wasn't very hard to convince us) for another chance at The Lake. We spent a good portion of the dive cruising the outer reef in search of the boga ball, but alas, it wasn't meant to be ...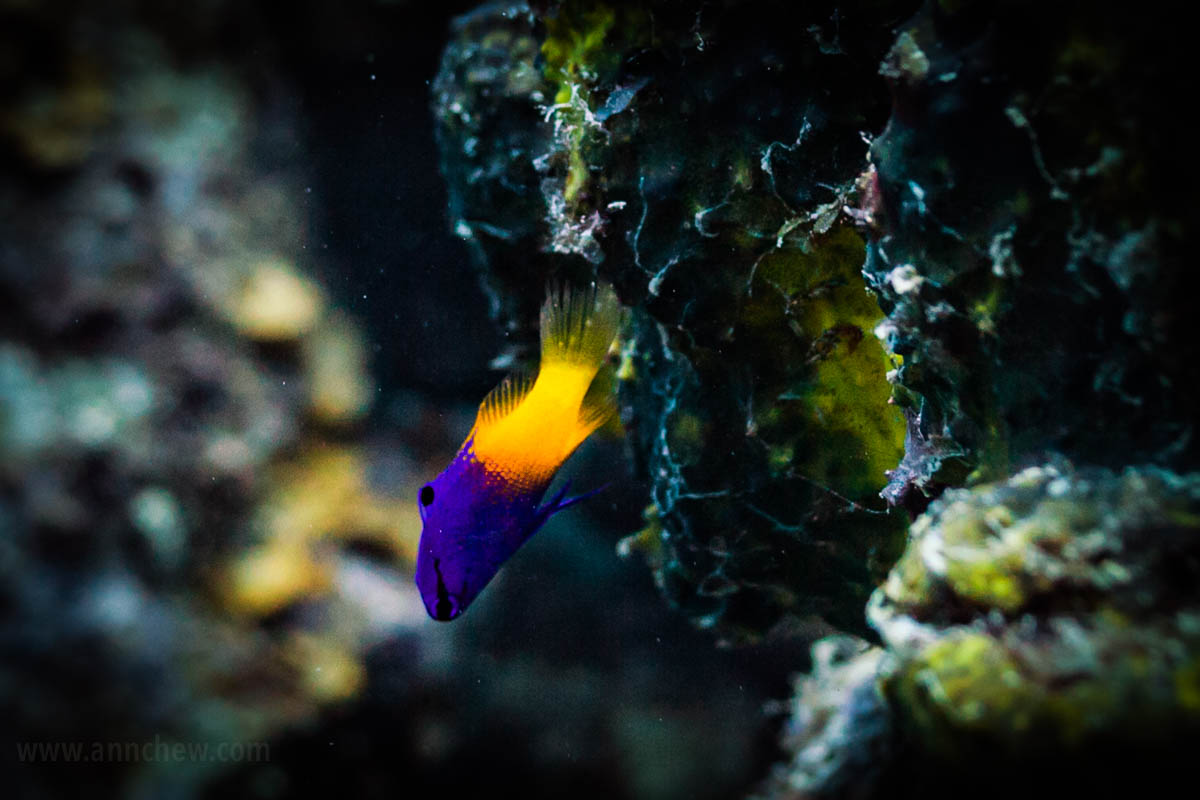 Still, a beautiful site. On the way out a few of us got smacked hard by the incoming tides, and Ann ended up with >17 urchin spines of various sizes embedded in her fingers. Ouch.
Dive 22 Karpata max. 72ft, 64min
We've done Karpata a few times, but this was the first from shore. The entry, despite somewhat intimidating looking, is actually not at all bad (the concrete block helps a tremendous amount in stabilizing entry and exit). It's such a beautiful site with rolling coral hills and the afternoon sun rays filtering through the depths. A number of anchors mark the return so it's not that hard to navigate if you know what you're looking for.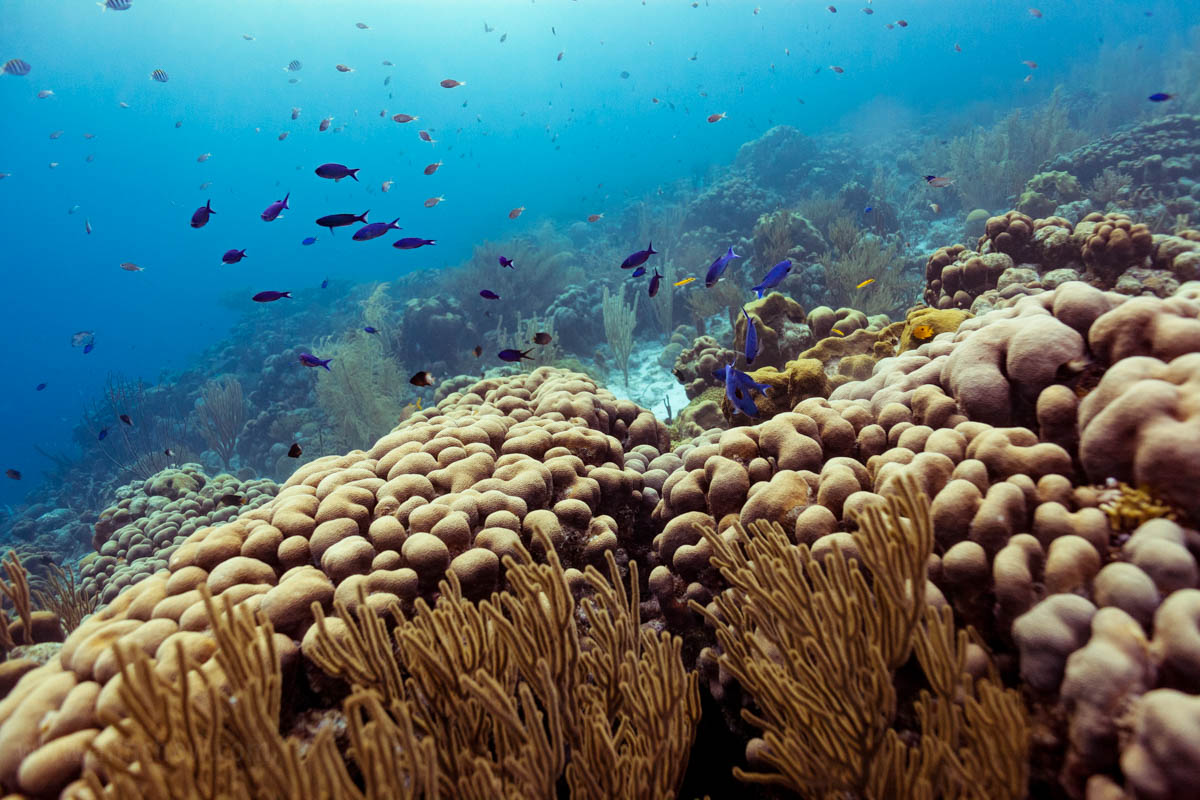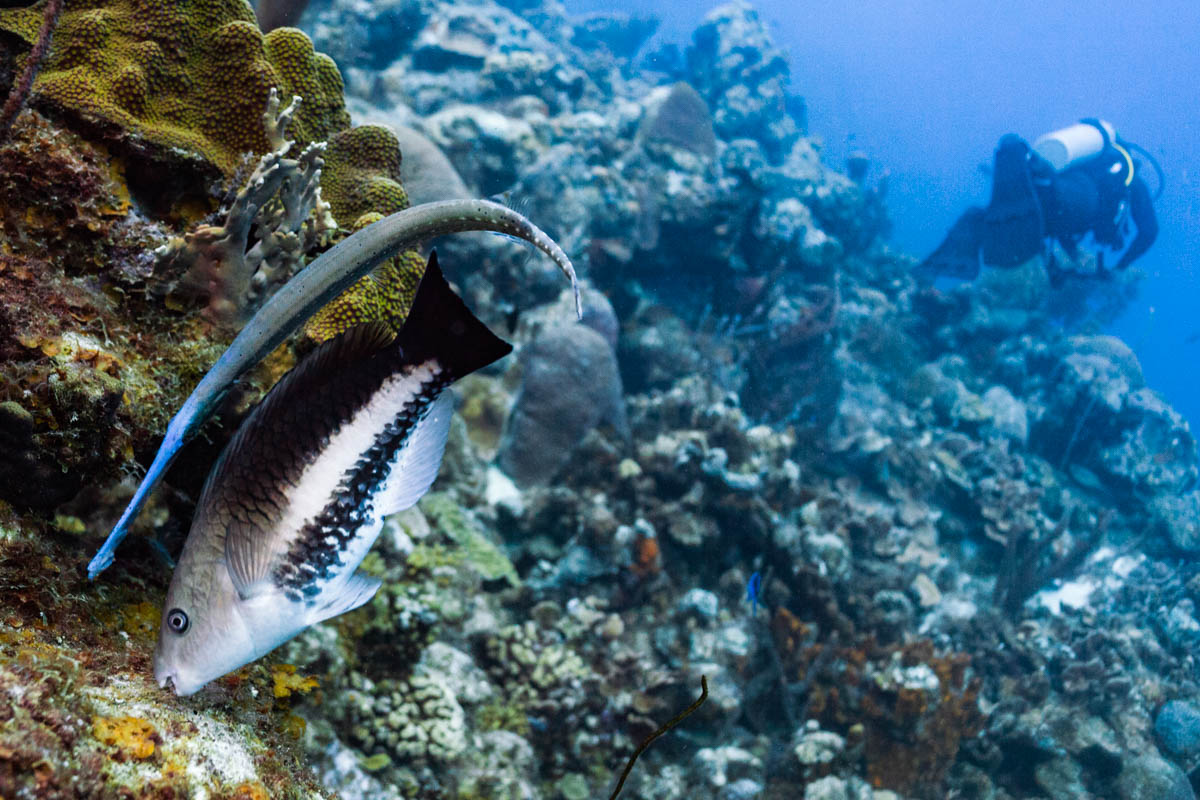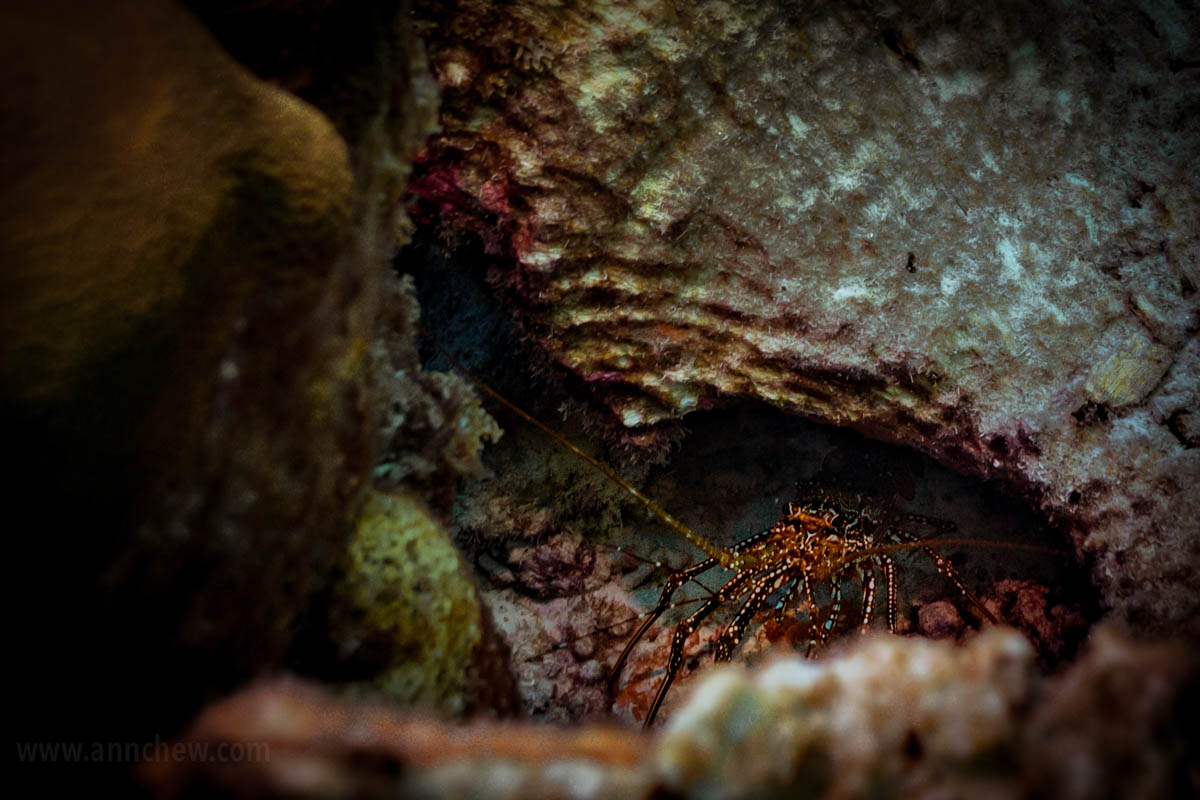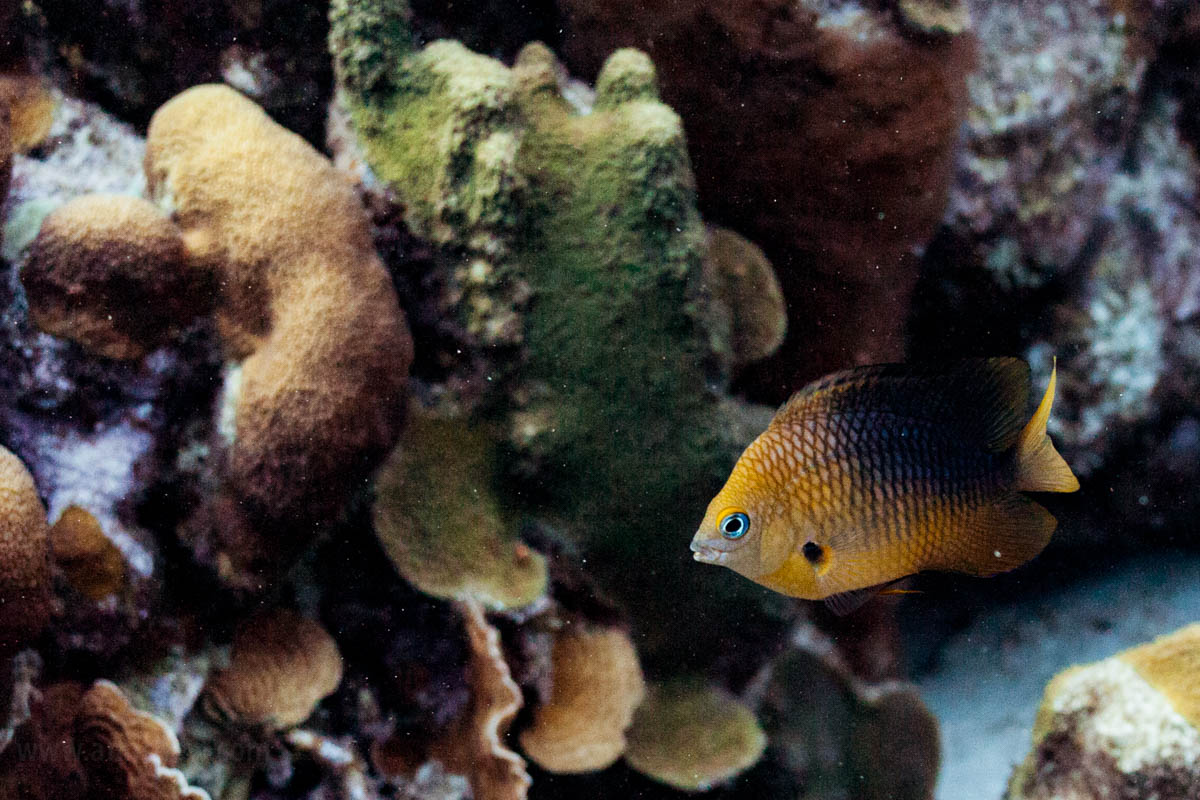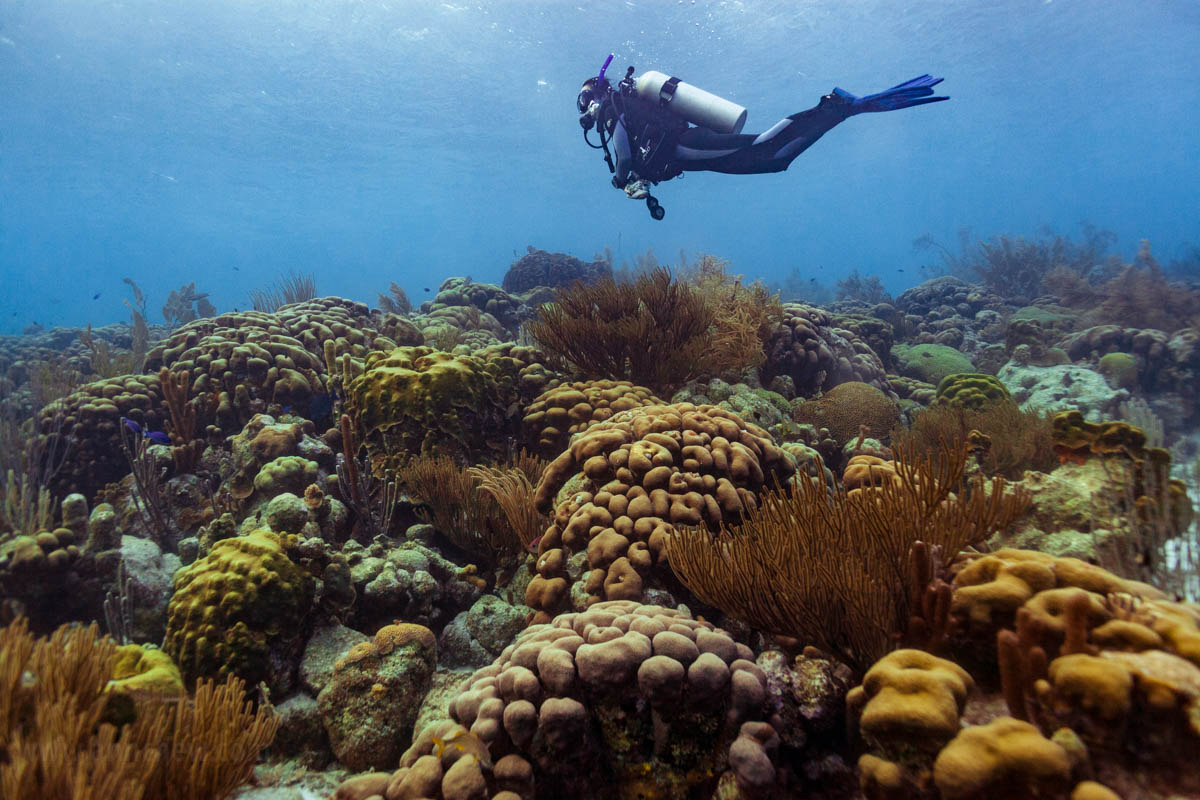 Dive 23 Oil Slick Leap, night-ish dive max. 49ft, 42min
From the giant leap we dropped in on a trio of tiny squids and tied one of our lights to the mooring. We circled close to the light and found lots of drums and soapfish on the prow, along with various kinds of shrimps. Another 4-dive day, and we were pretty exhausted and cold after this one.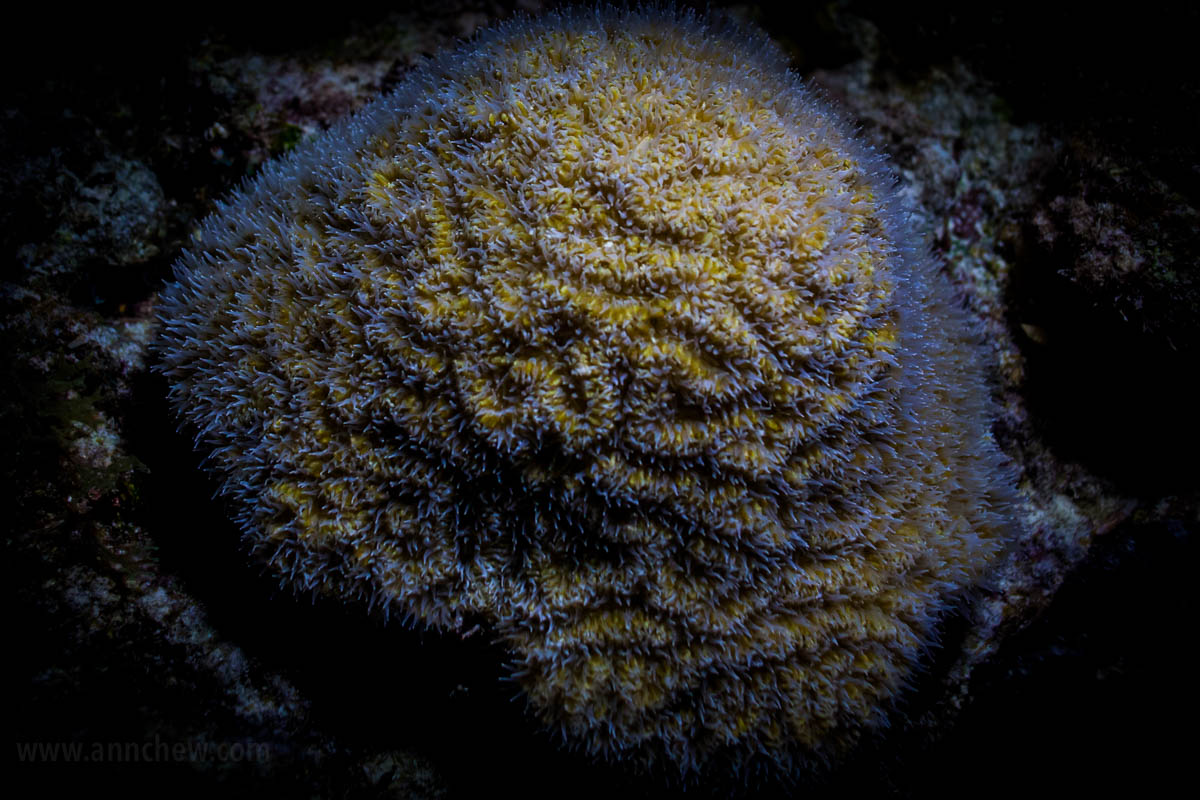 Dive 24 The Rock max. 78ft, 47min
Two trips ago a kind couple from Oregon showed us this site– a cone-shaped coral mound in the midst of deep blue. It was fantastically clear and in our memory home to a legendarily large eel. Unfortunately, we weren't quite as good at navigating and ended up swimming in the blue, kind of lost, for a long time without stumbling upon the Rock. Will have to try again next time!
On the return, we scooted along the reef and saw the usual creole wrasses and schools of palometas over sandy bottoms. We also happened upon a group of divers (including Ron Wilsey, a part-time scuba-diving resident of Bonaire), who showed us something that we had spent most of the week searching for: a seahorse!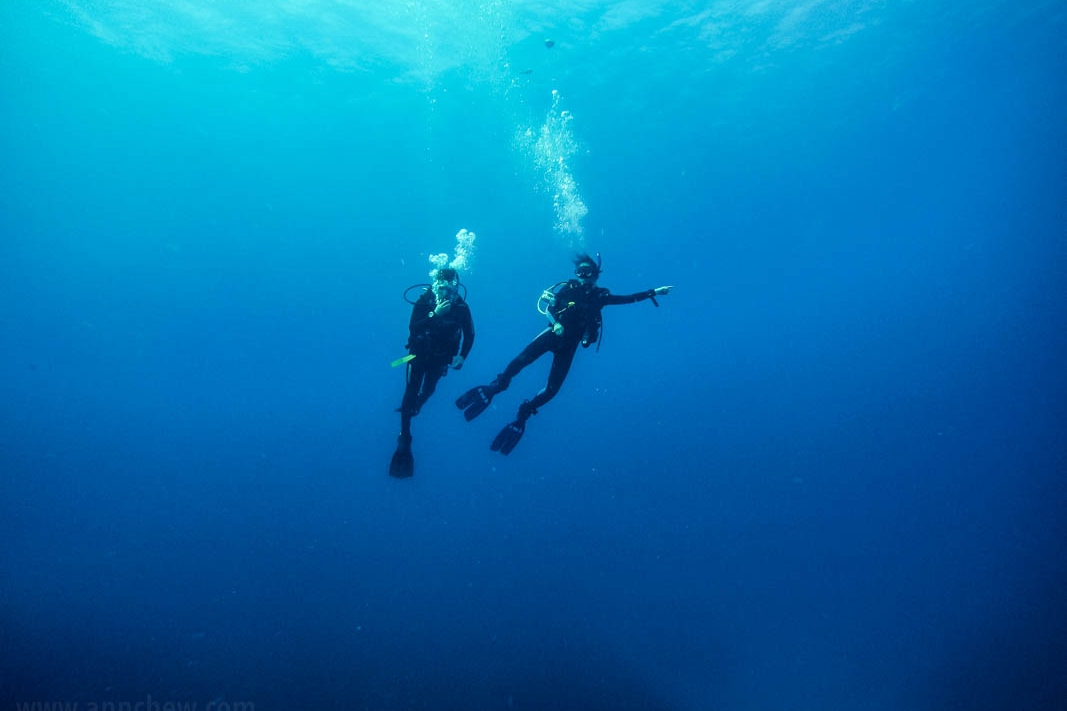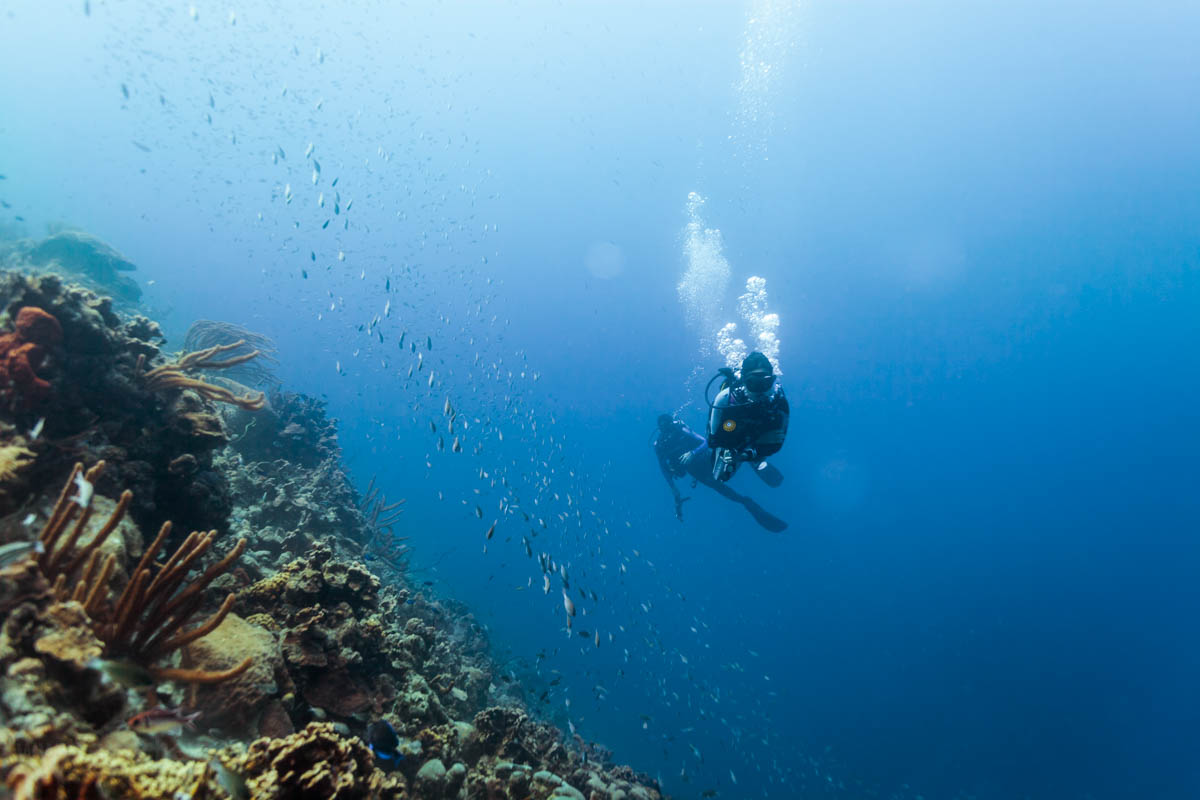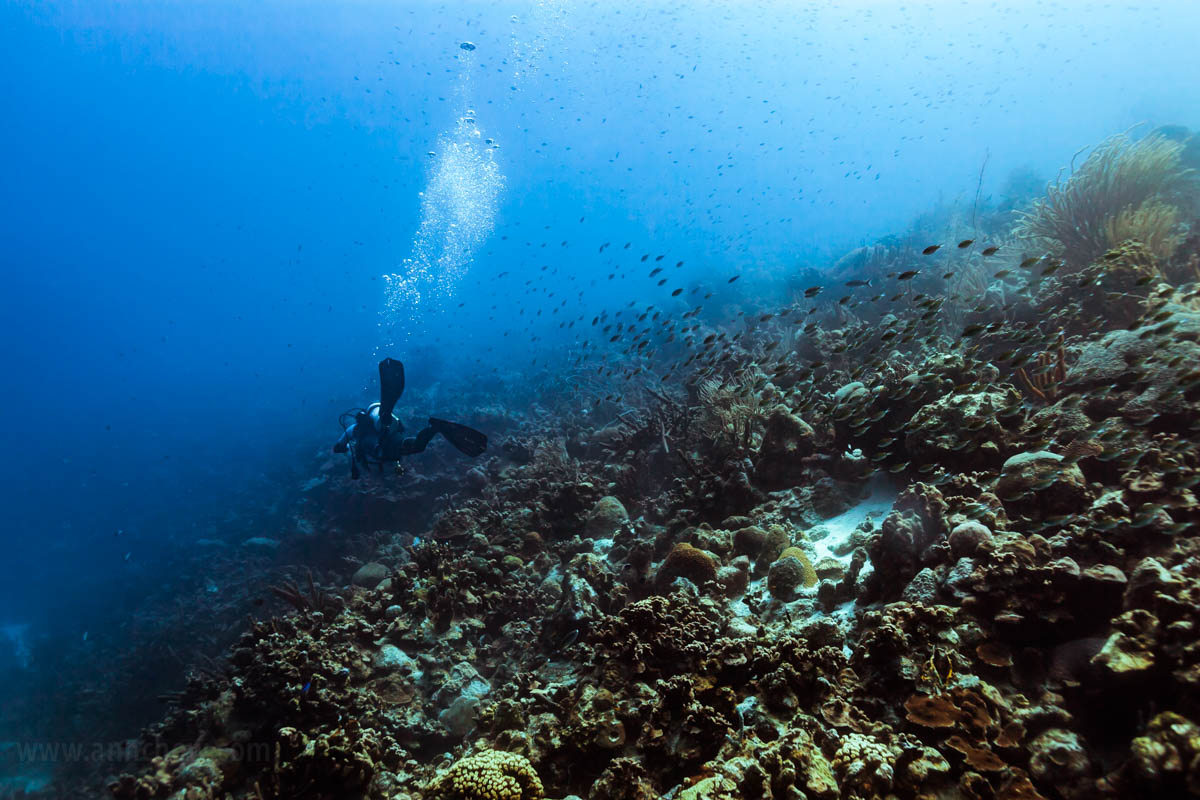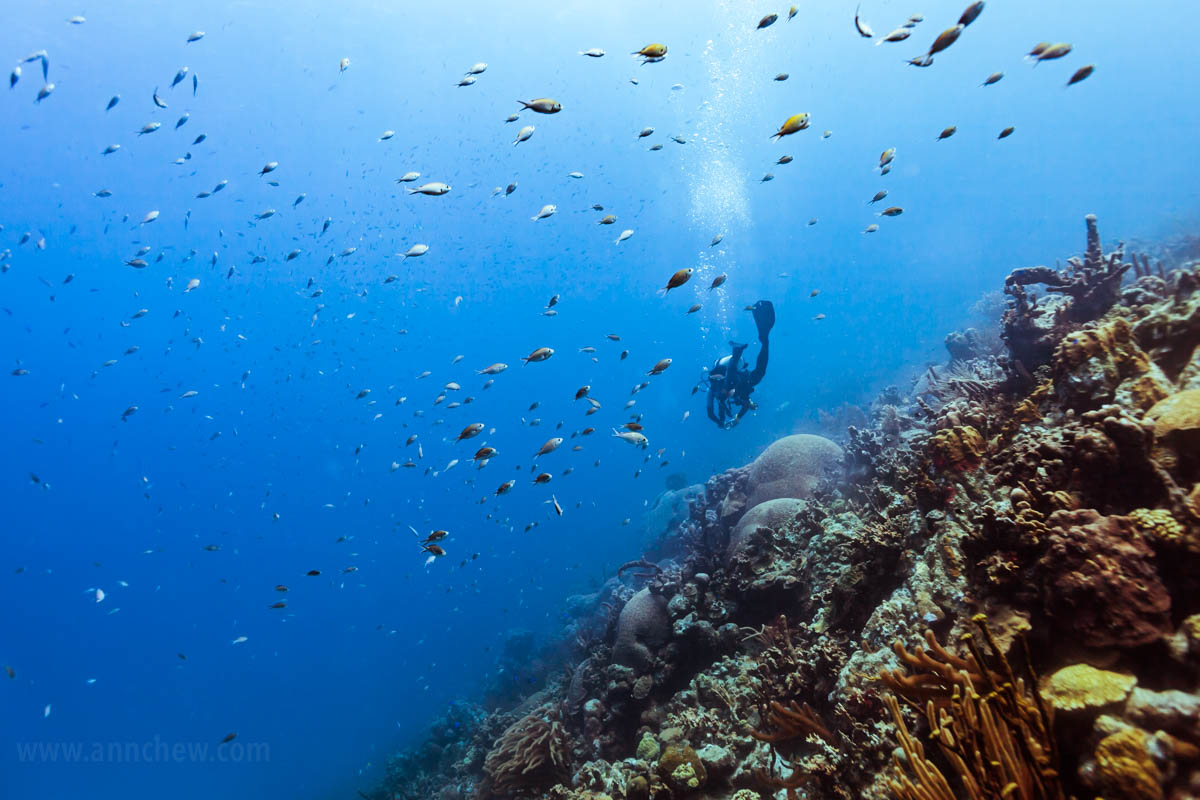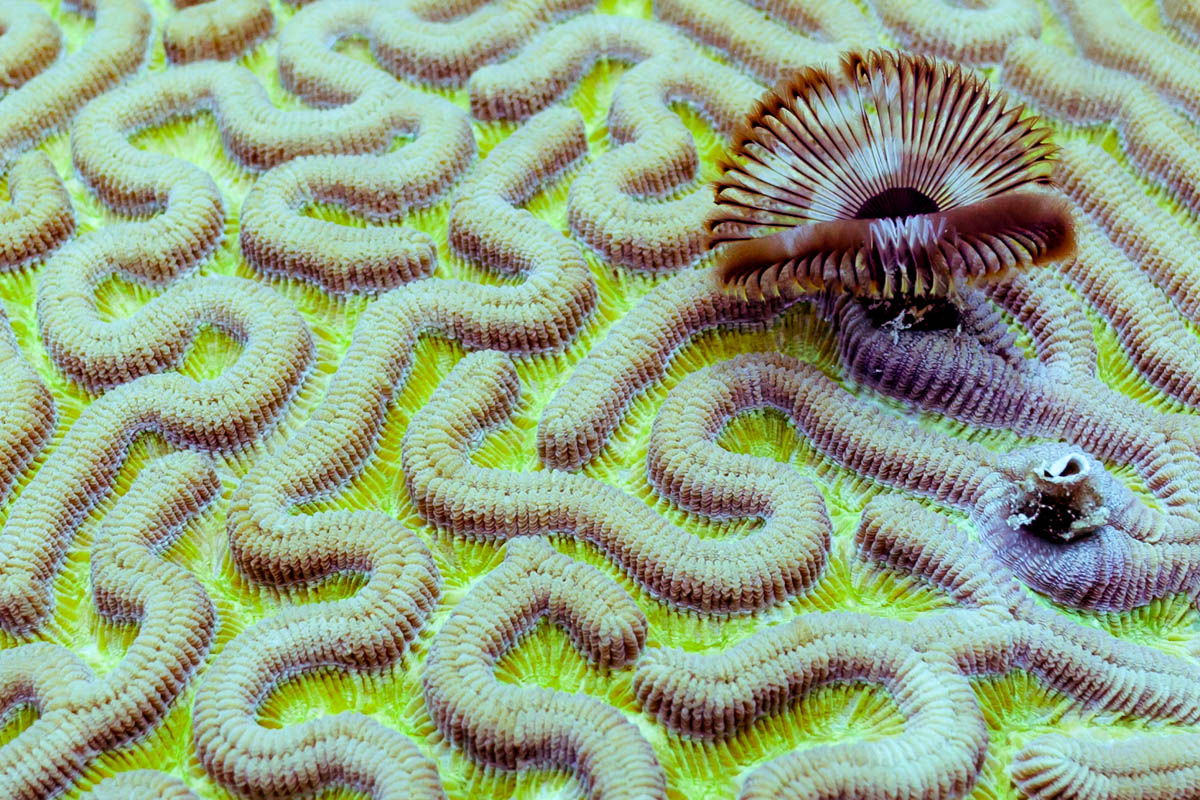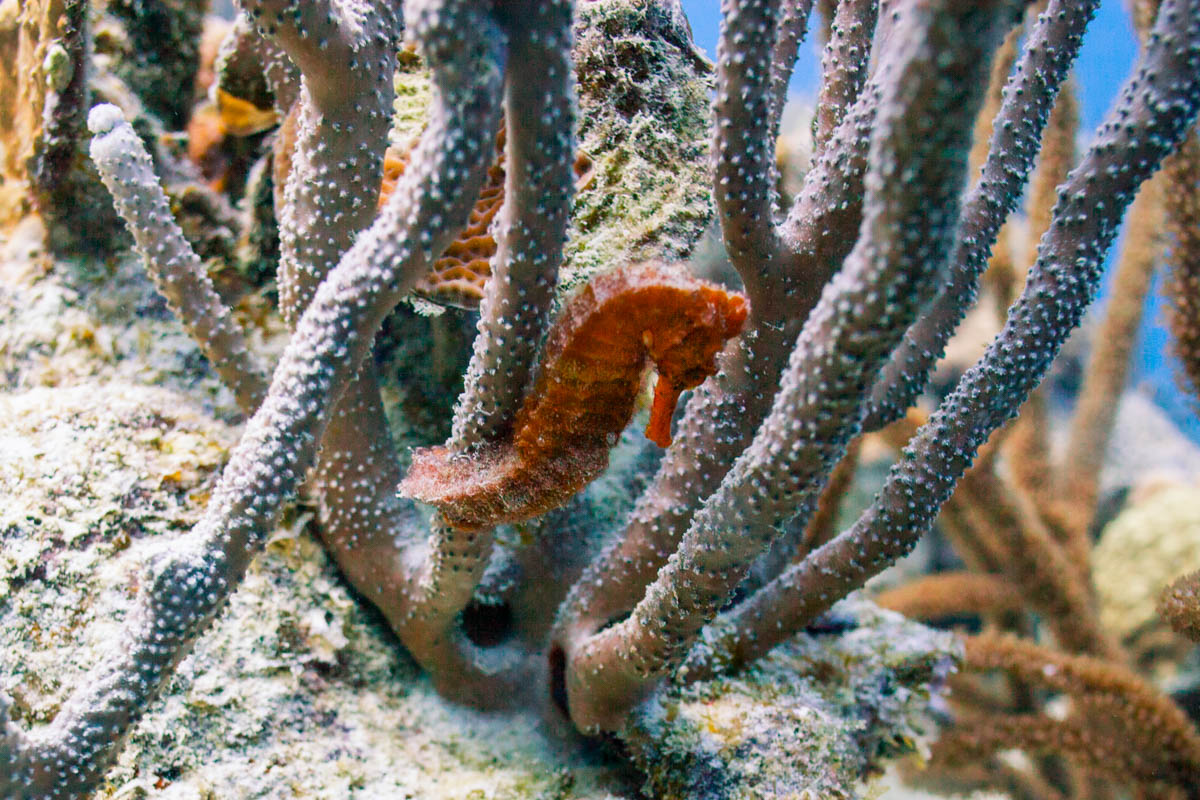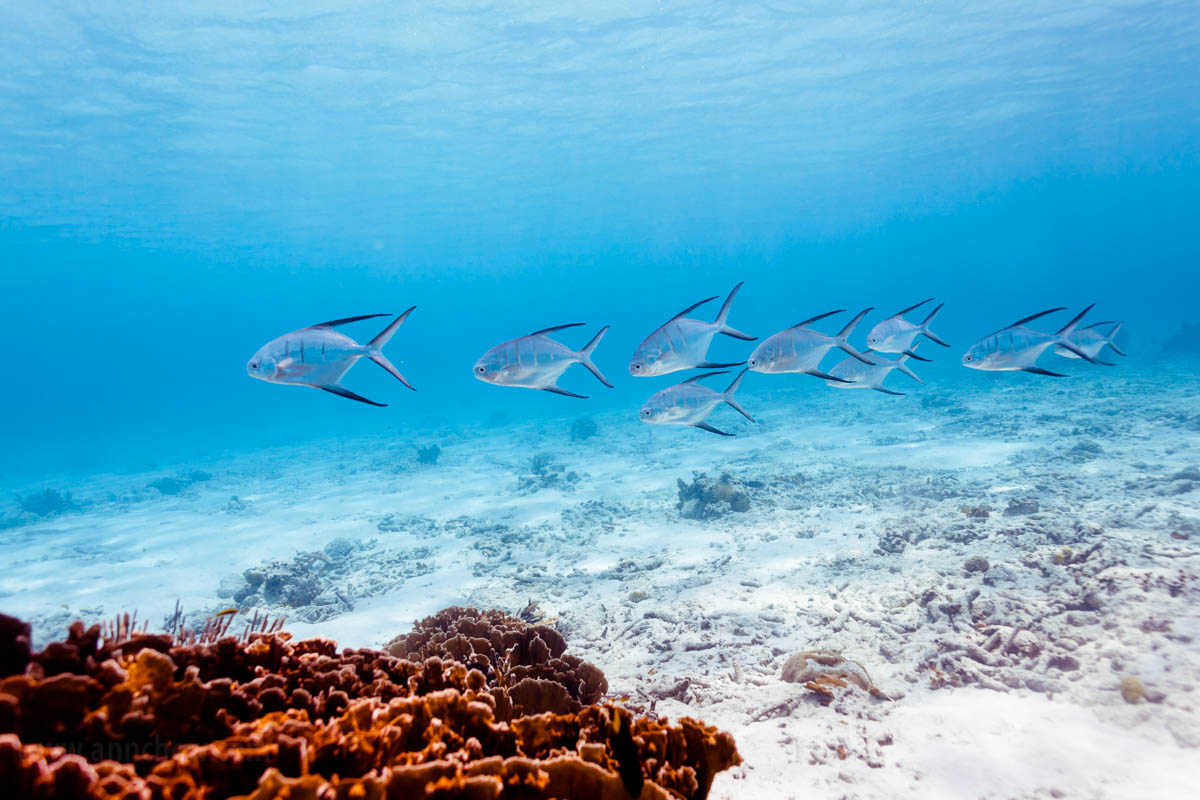 Dive 25 Salt Pier, Reprise max. 42ft, 59min
We had finally gotten to the last dive of the trip. Originally, we had wanted to be more adventurous and visit some of the southernmost sites. However, after driving all the way down, and seeing the pounding surge, we decided that next time we should come to Bonaire in August/September when the ocean is supposed to be calm like glass. As we drove back north, we saw that the salt boat, which had been docked since our dive there at the beginning of the week, had disappeared between in our surface interval and long drive south! Like vultures at the ready, trucks were just starting to pile-up as all divers homed in on the freshly vacated site. A nice, shallow, and beautiful dive to end the week.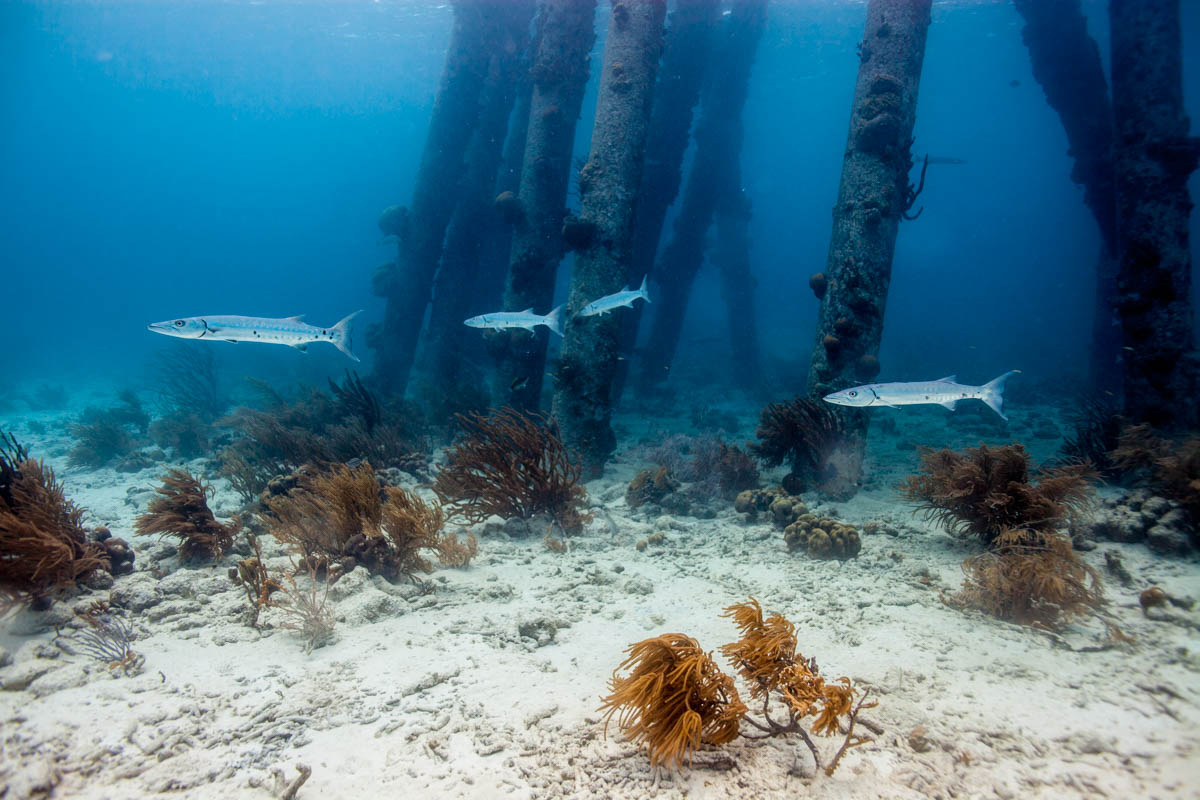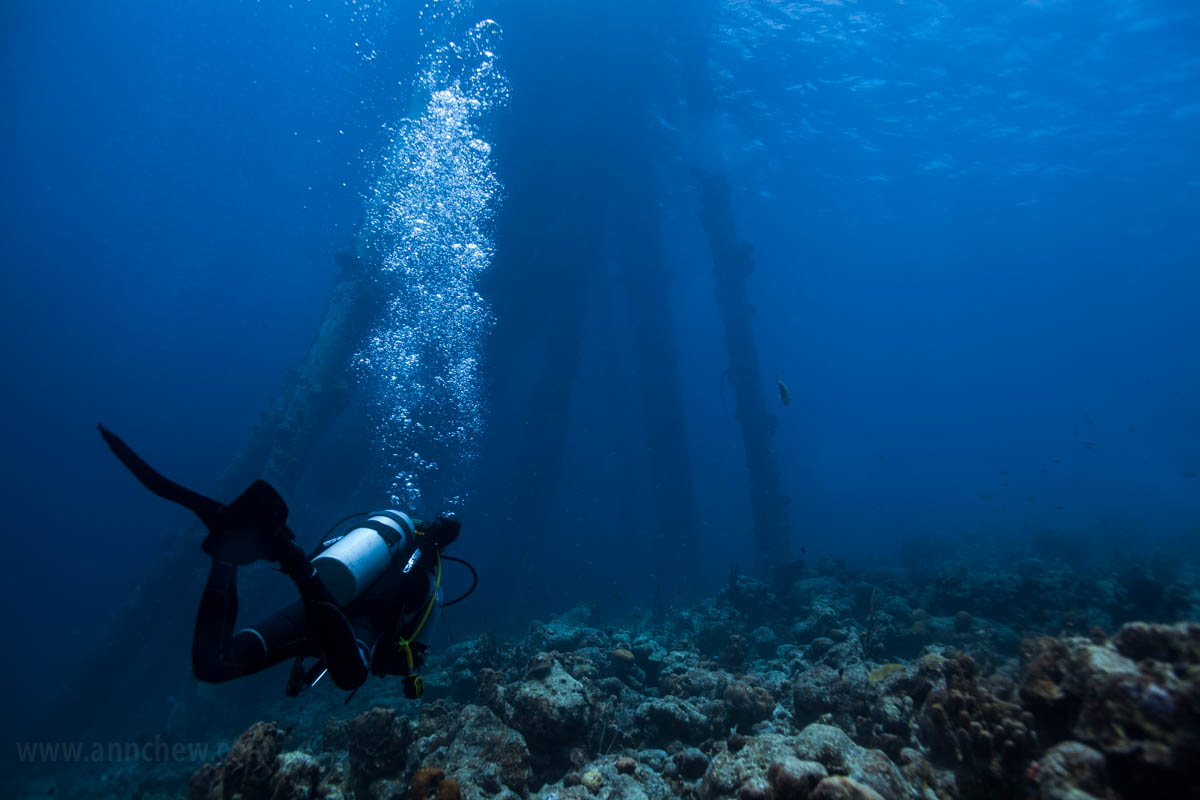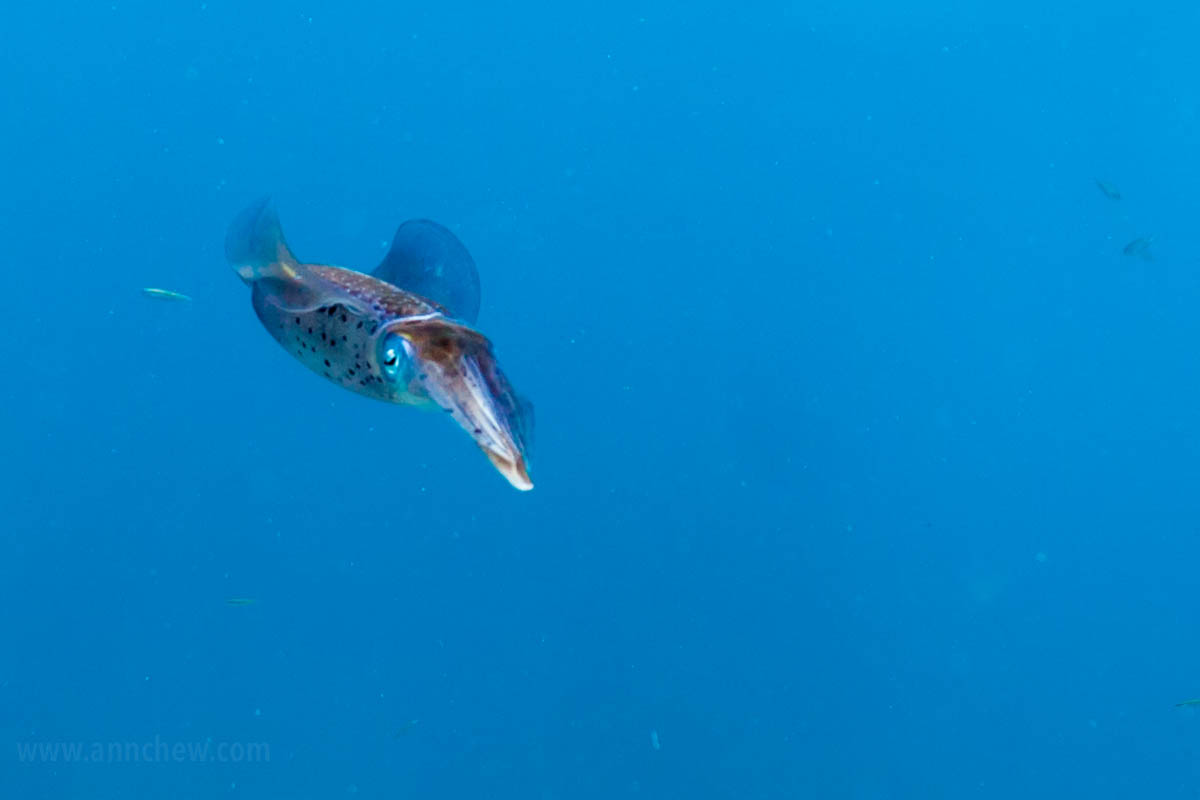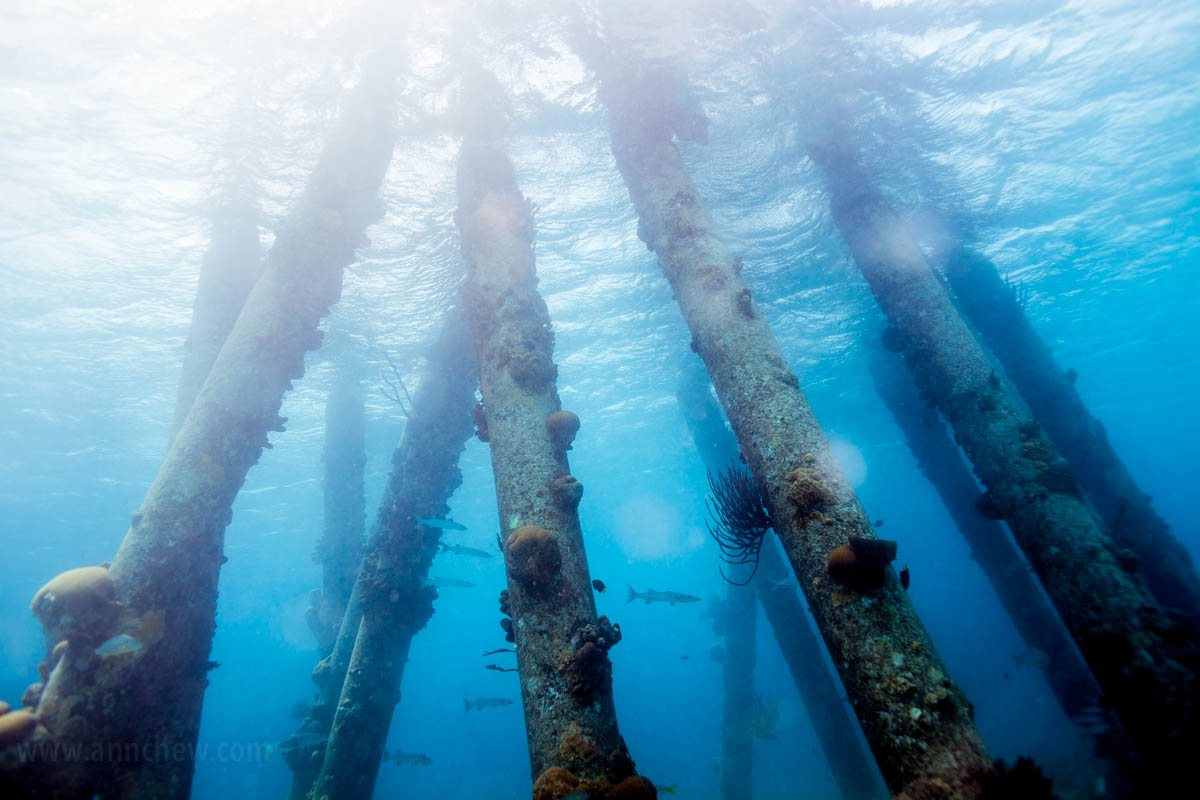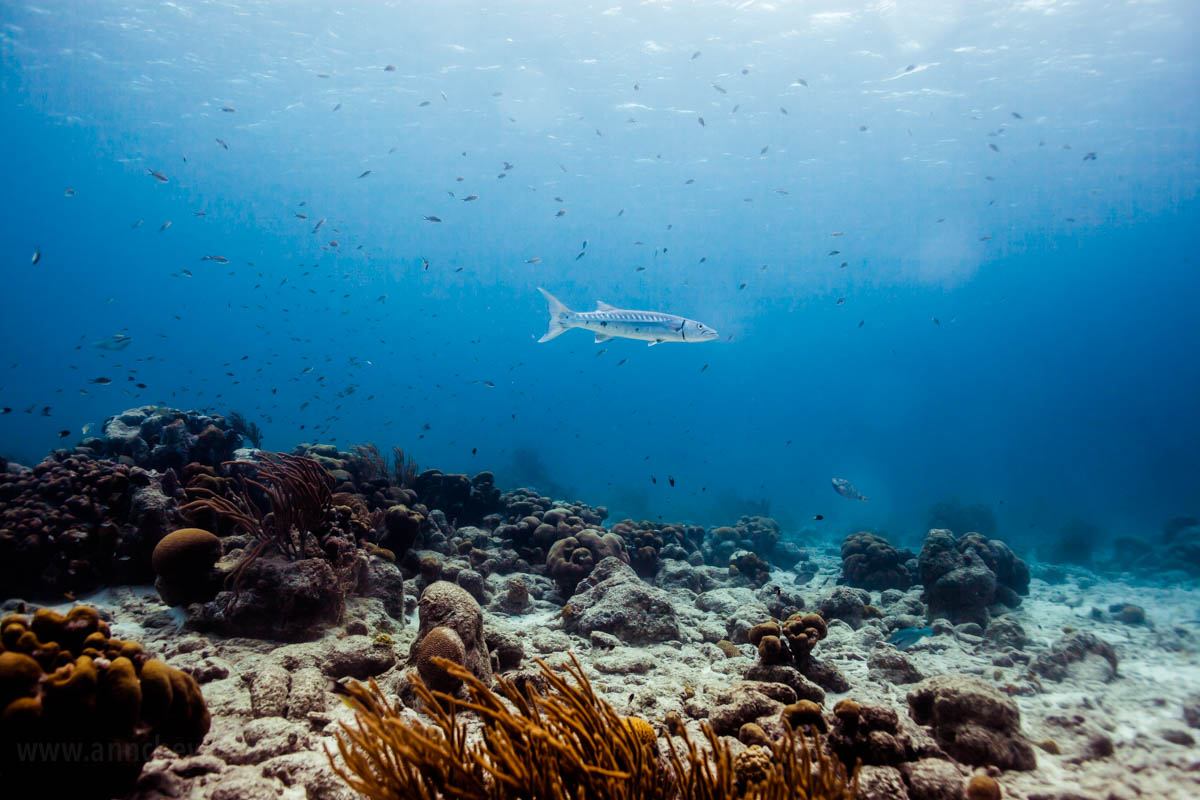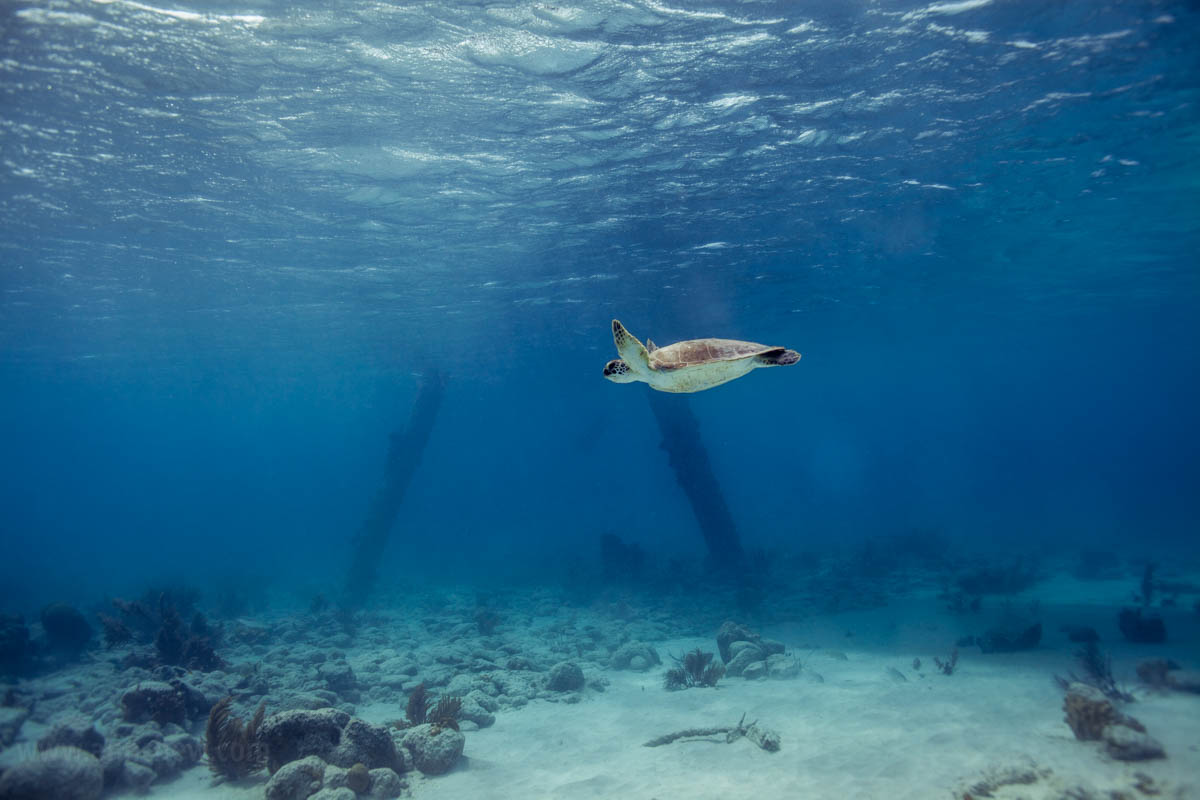 Unfortunately that marked the end of our repetitive dives as we had to fly in ~24 hours. On the last day, we paid a visit to the very polarizing donkey sanctuary ... Imagine the Walking Dead, but with donkeys. I guess it's worth a visit if you've never been. Not sure what else to say about it.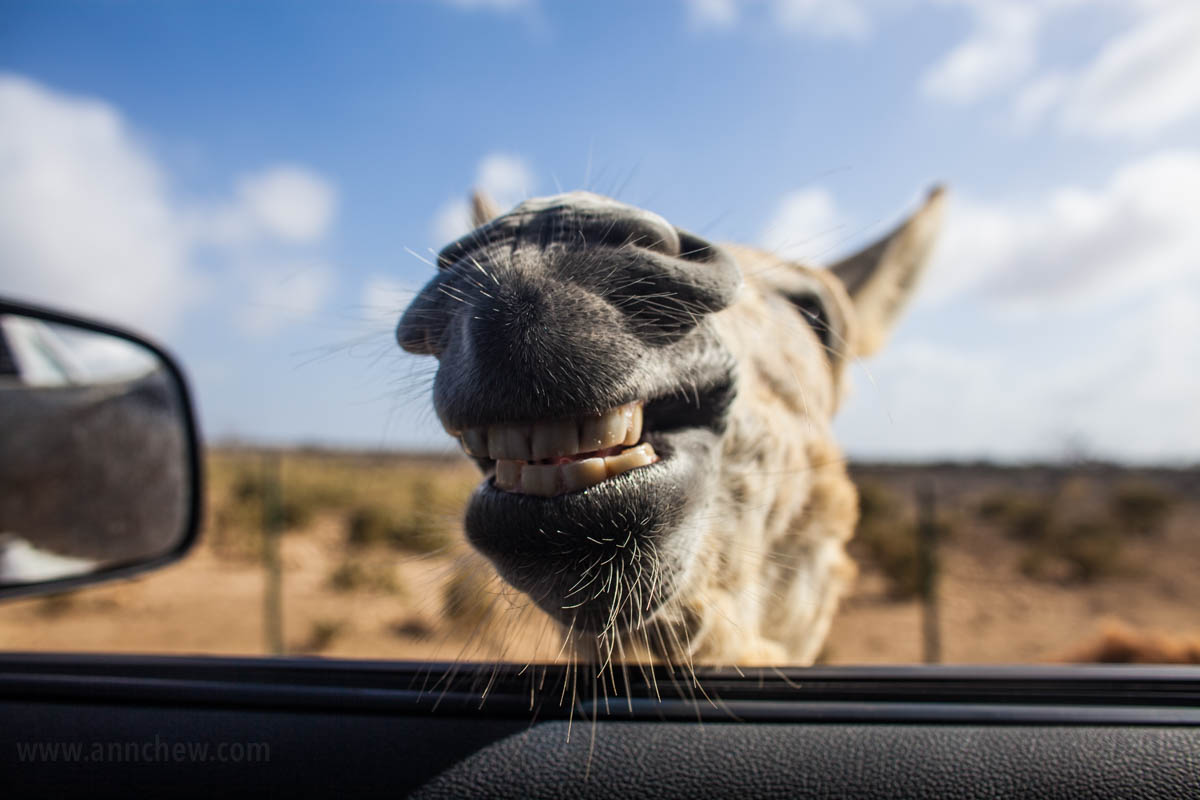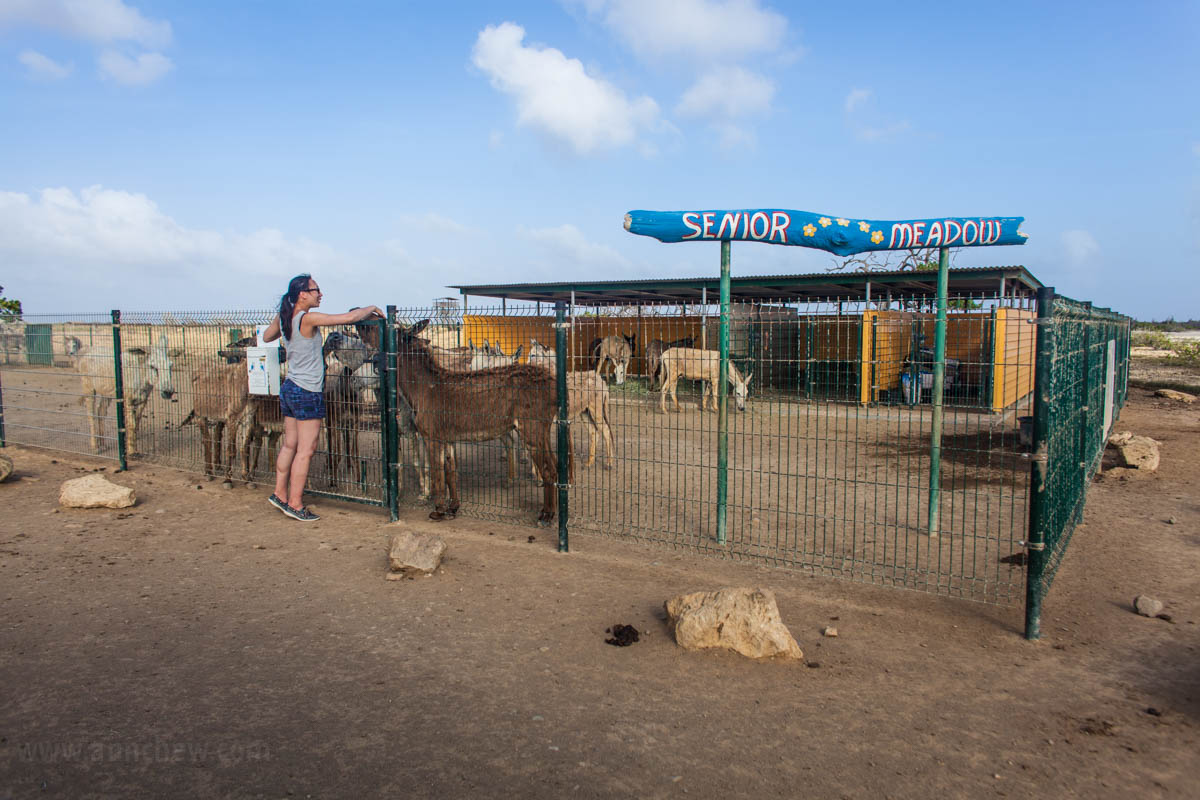 All in all, a typical fantastic trip to Bonaire. We did get a bit cold at times (water temp was down to 79F), and came home more tired than at the beginning of the vacation. And now we have a few more friends fall in love with Bonaire. Until next time. Let op, drempels!