Here's a very belated trip report from March. This was our fourth trip to Bonaire and we managed to convince five friends to join us. Our usual hangout at Blachi Koko was booked up, so we ended up staying at L'Ambiance Villa, a beautiful and well-furnished house with outdoor BBQ grill, swimming pool, and more than enough beds for the whole gang x 2. With two double-cabin trucks, provisions from our favorite Dutch grocery, Van den Tweels, and unlimited air/nitrox fills from WannaDive, we were ready for a week of SCUBA adventure: 25 dives, 22h+ underwater, one aborted attempt, and, sigh, one visit to the donkey sanctuary.
Day 1 Dive 1: Front Porch max. 95ft, 40min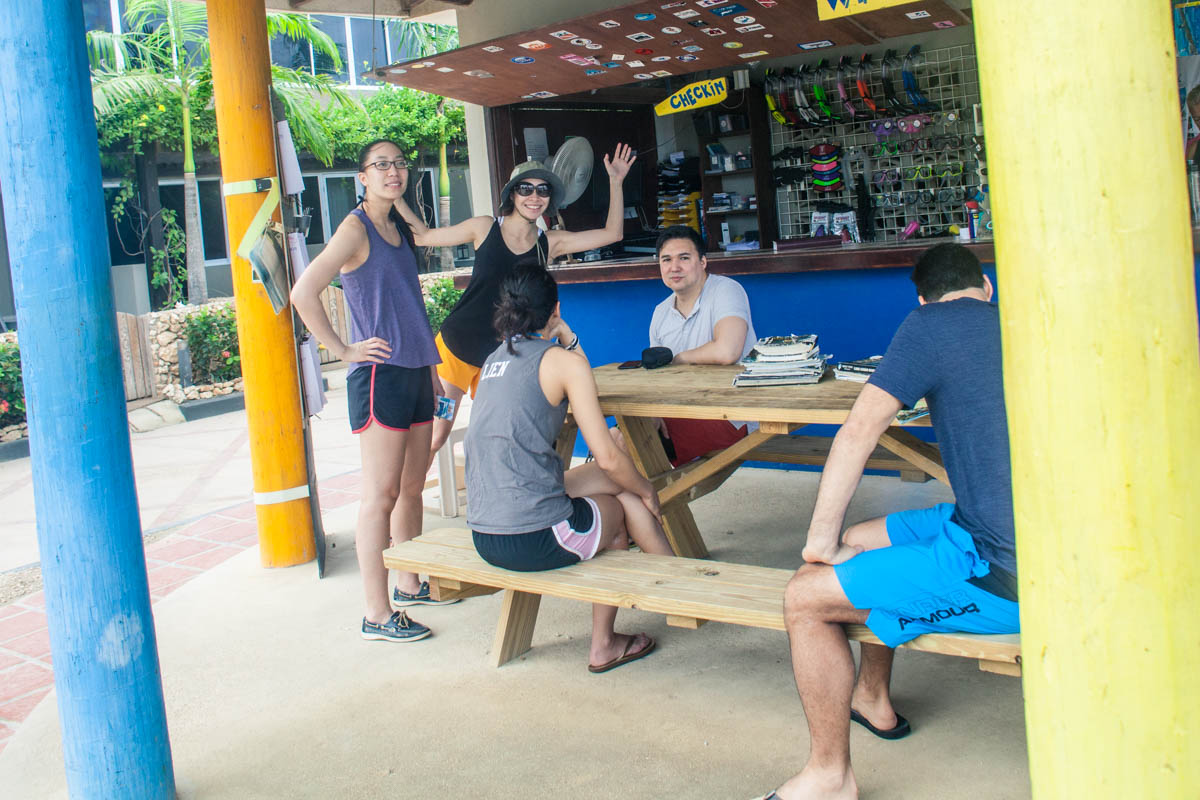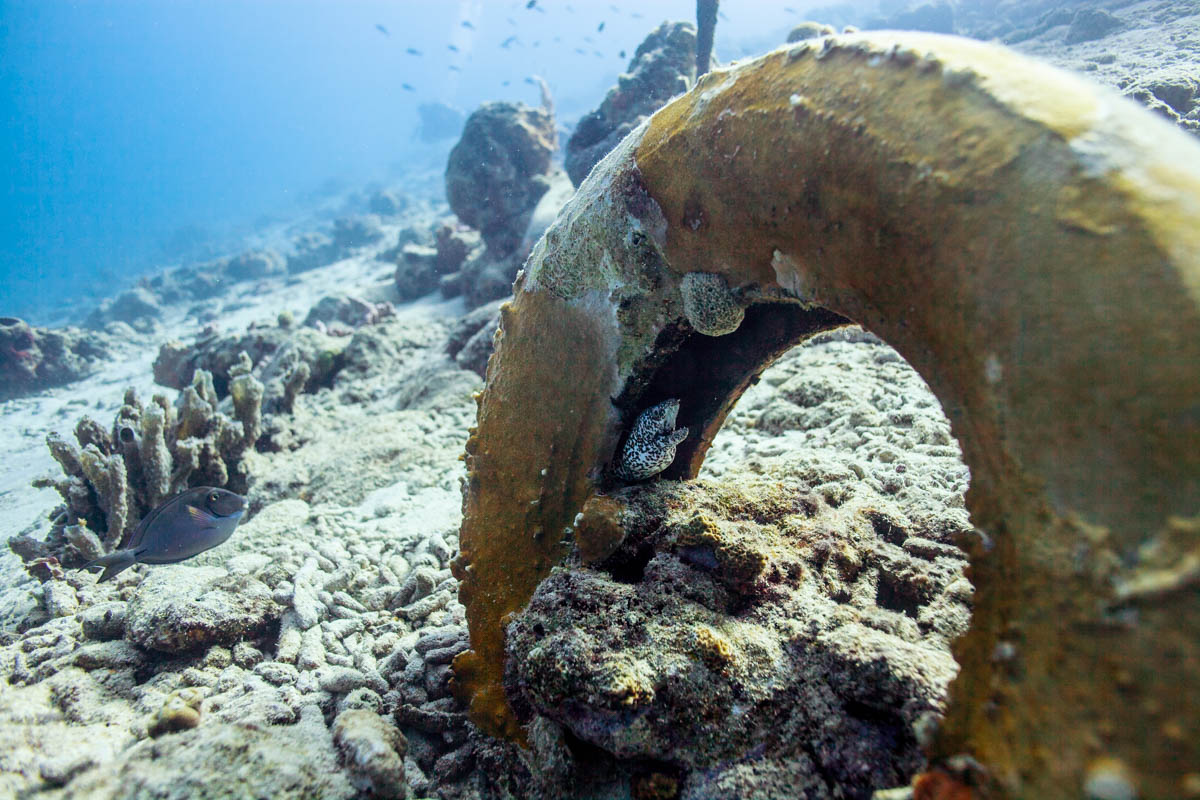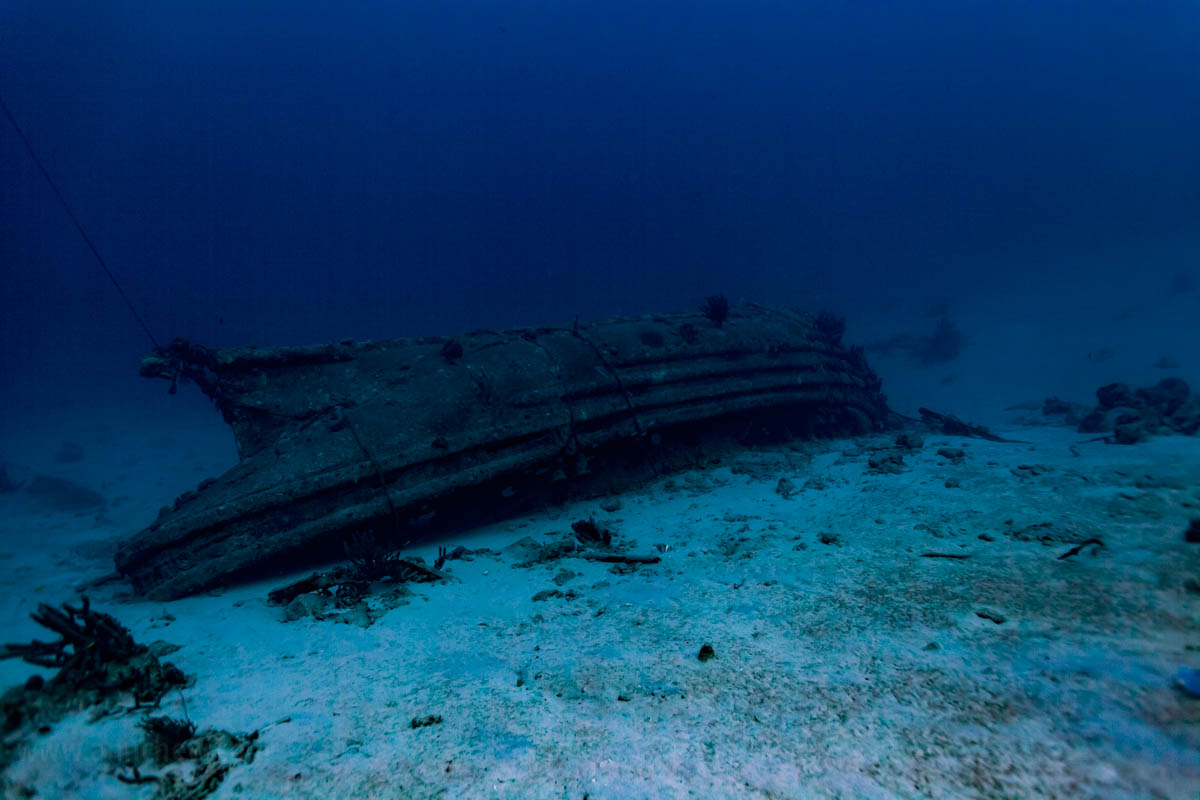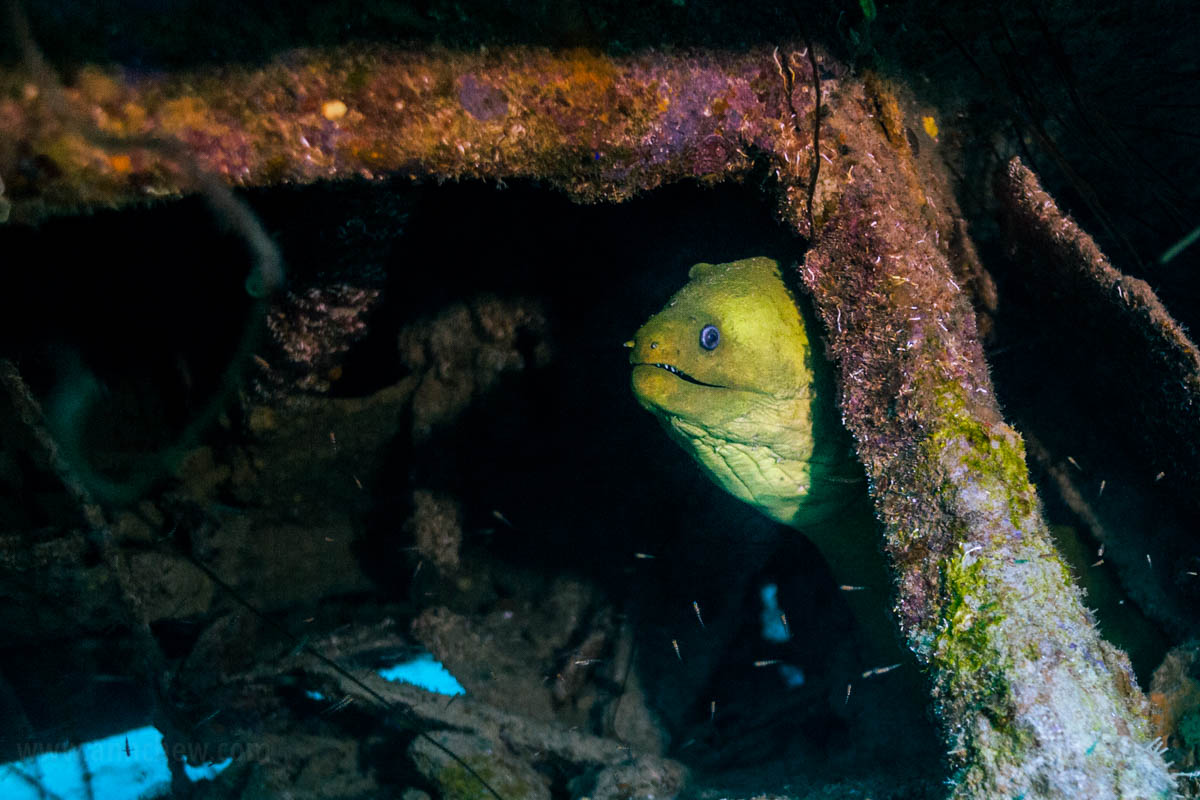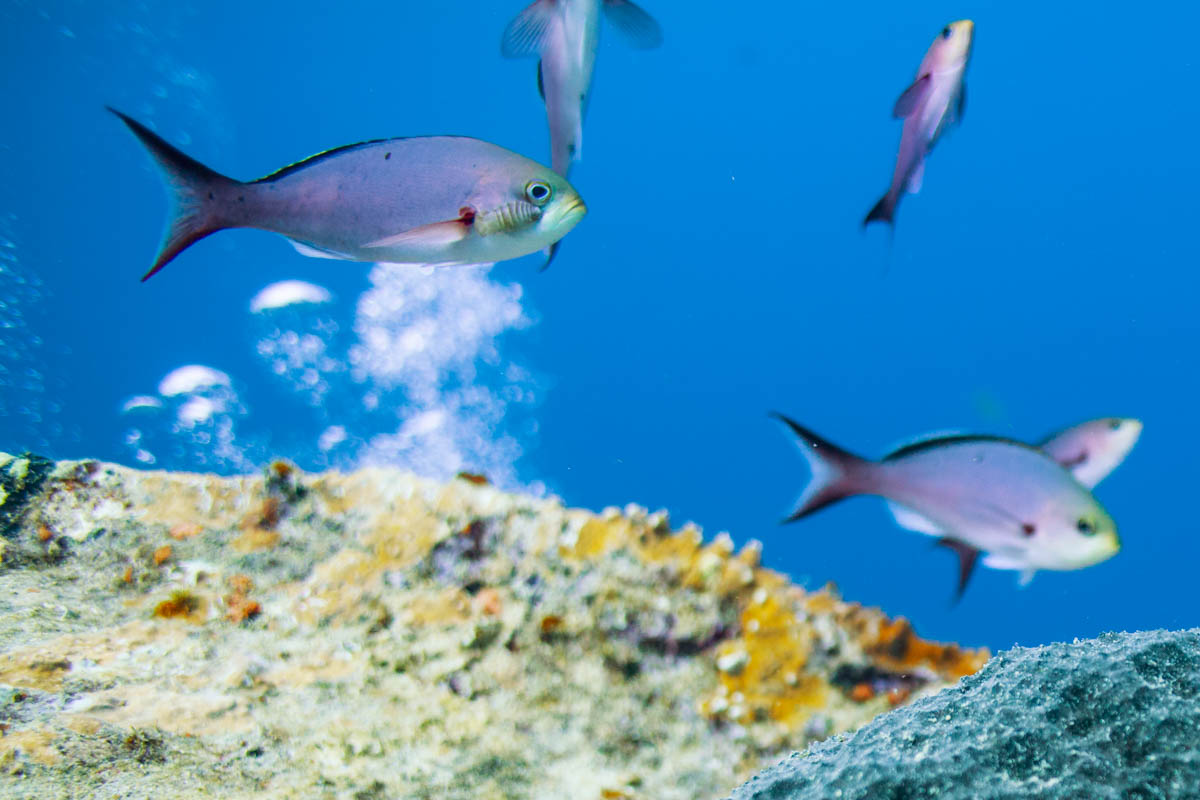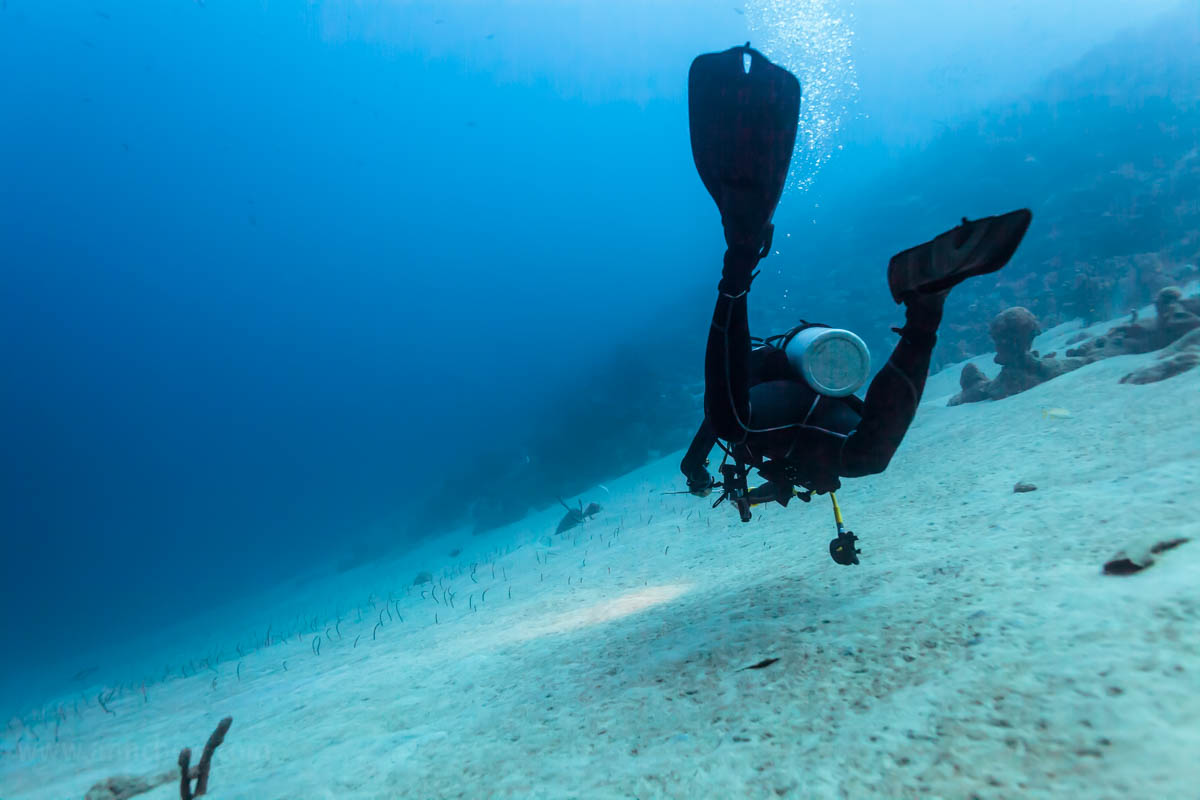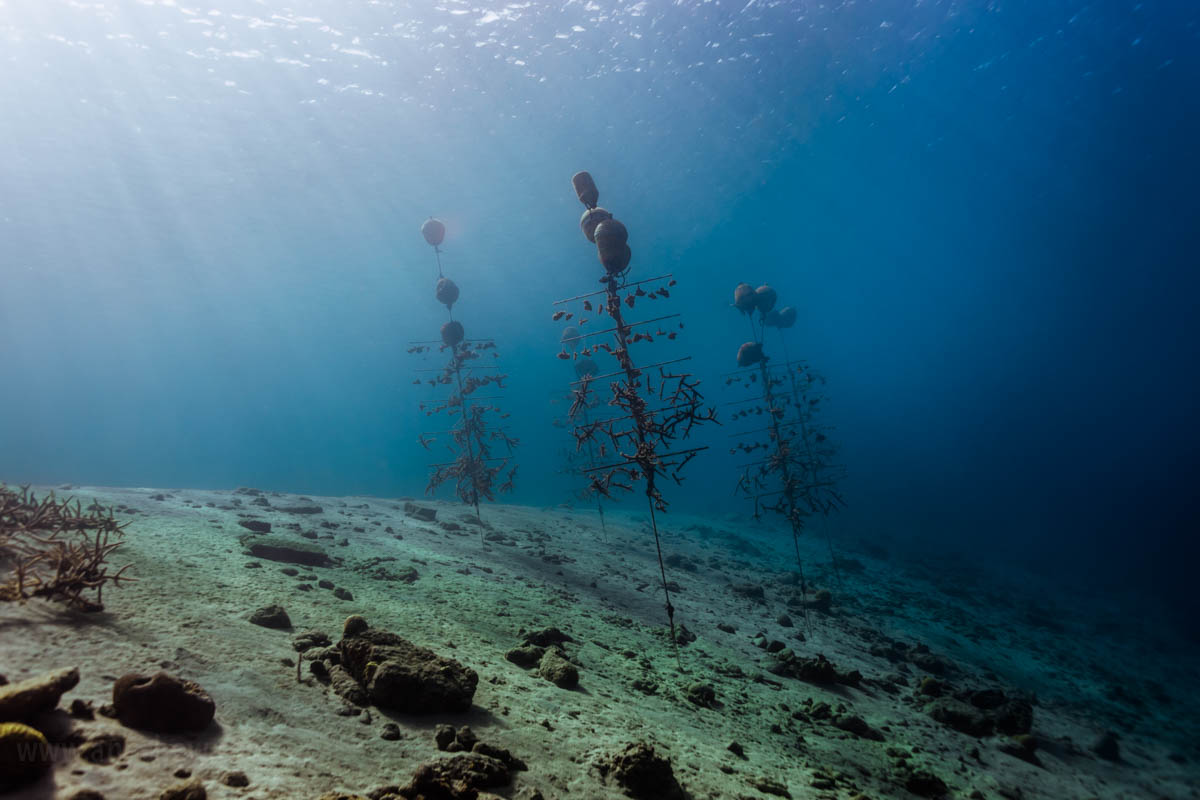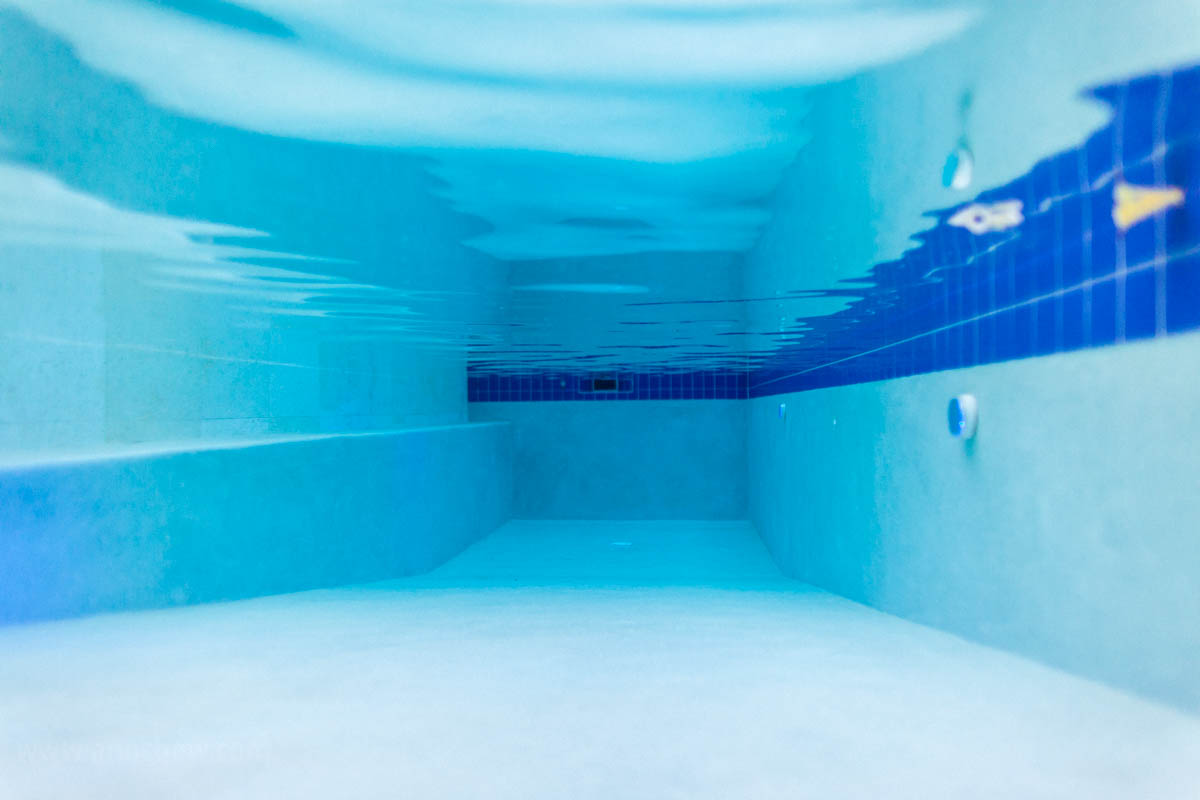 Bernd, being the newest certified diver (!) in our group, seemed a bit unsure about this week of nonstop diving he'd just committed to. We descend as a group into our first checkout dive. About ~90ft down there's a small barge with a monstrous green moray eel lurking beneath, and in his excitement Bernd totally forgot about this thing called "depth" (worry not, Grace took good care of him). The reef isn't terribly long or impressive, but just past its Northern end there's a huge patch of garden eels that Ann spent a good 5 minutes trying to creep upon.
Dive 2: Windsock max. 68ft, 53min
Easy entry and navigation for our second dive. This place is like Salt Pier-Lite: there's lots of rubble to explore along the pylons, where we found an abundance of grunts and snappers and a very cute juvenile smooth trunkfish. The other thing to know about this site is that it's the home for the Kite City food truck, which has some of the best lunch choices in Bonaire. Check their Facebook page to see if they'll be around! Also good for a pre-flight meal as Windsock as right across the street from the airport.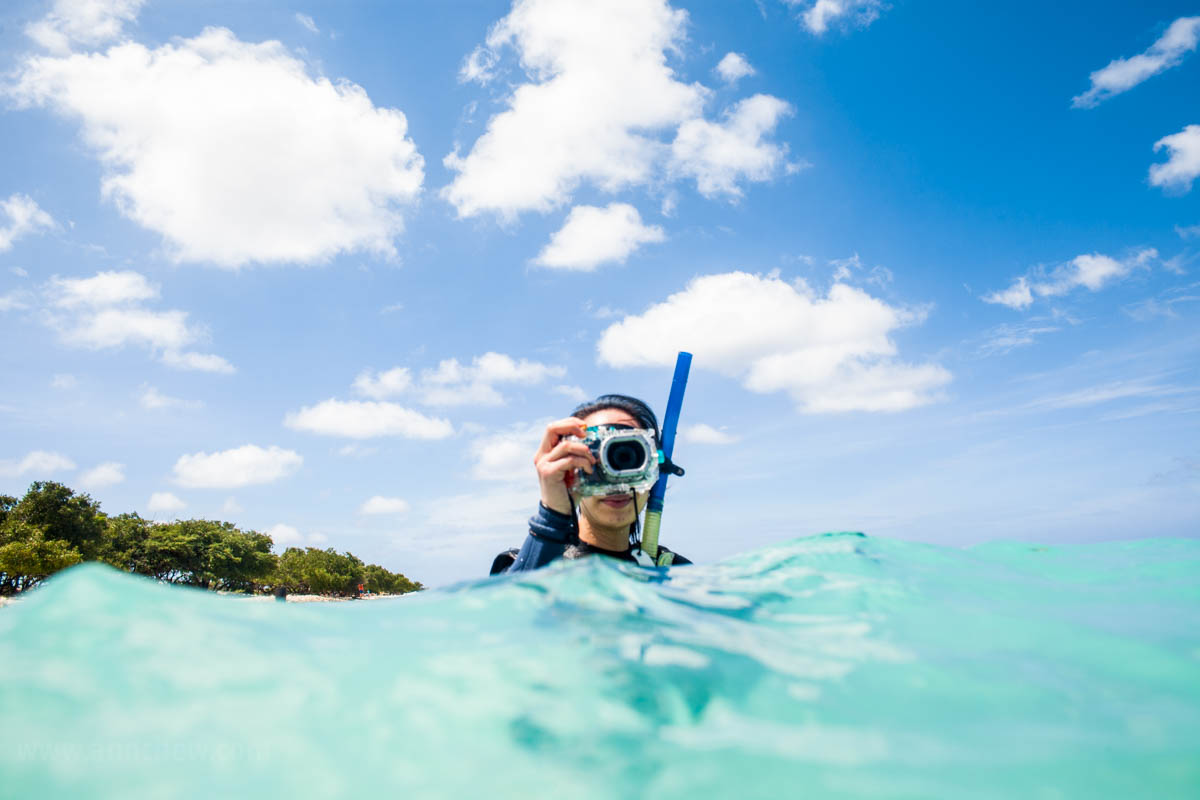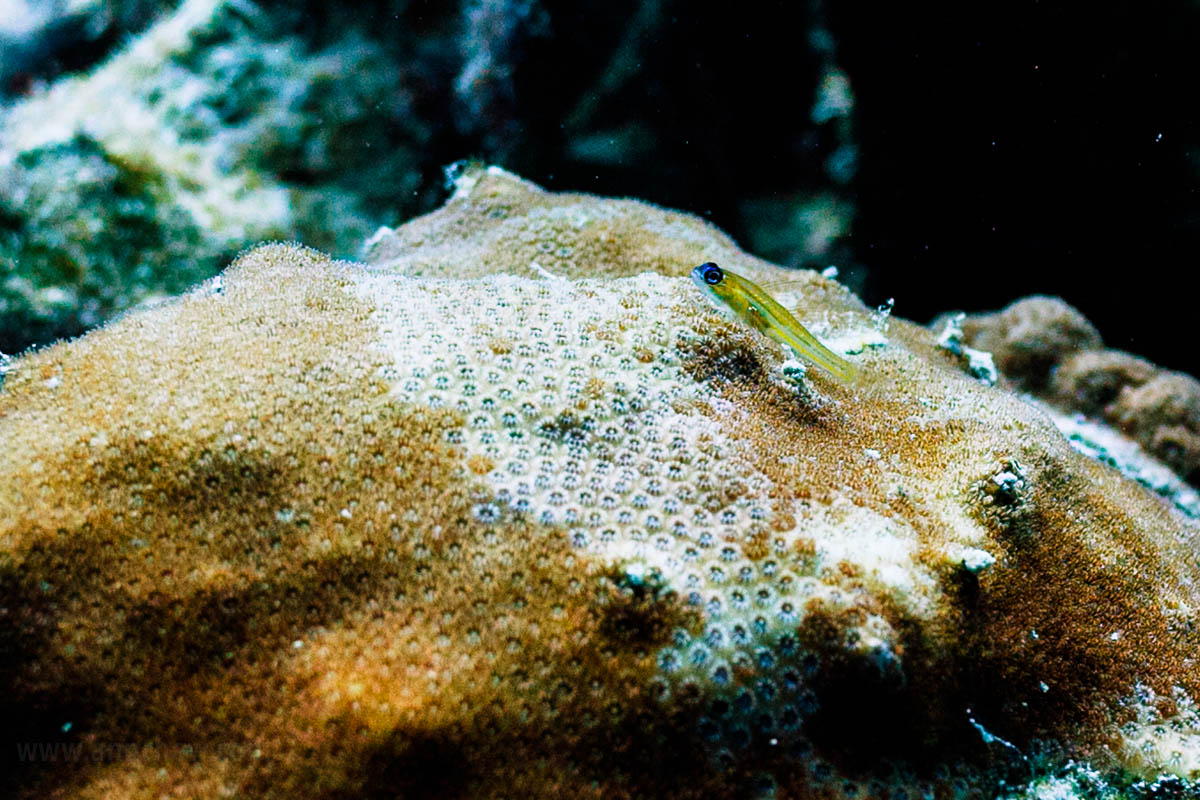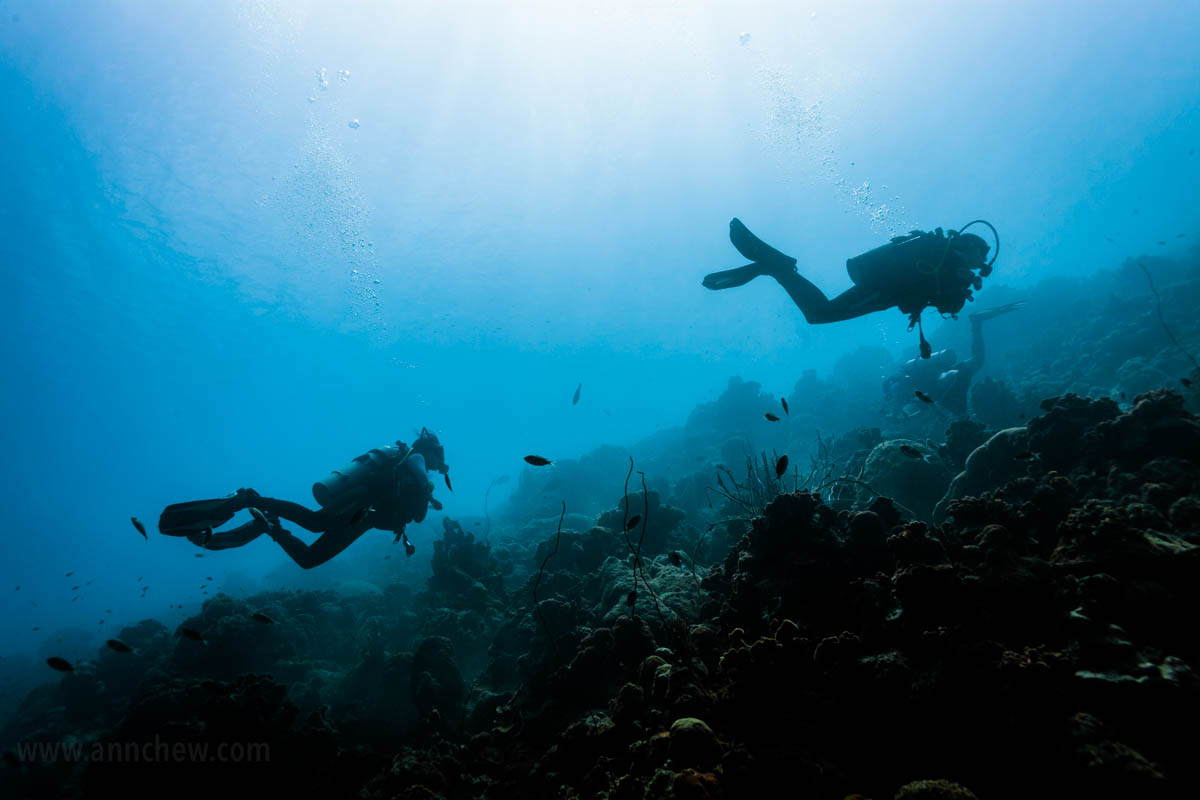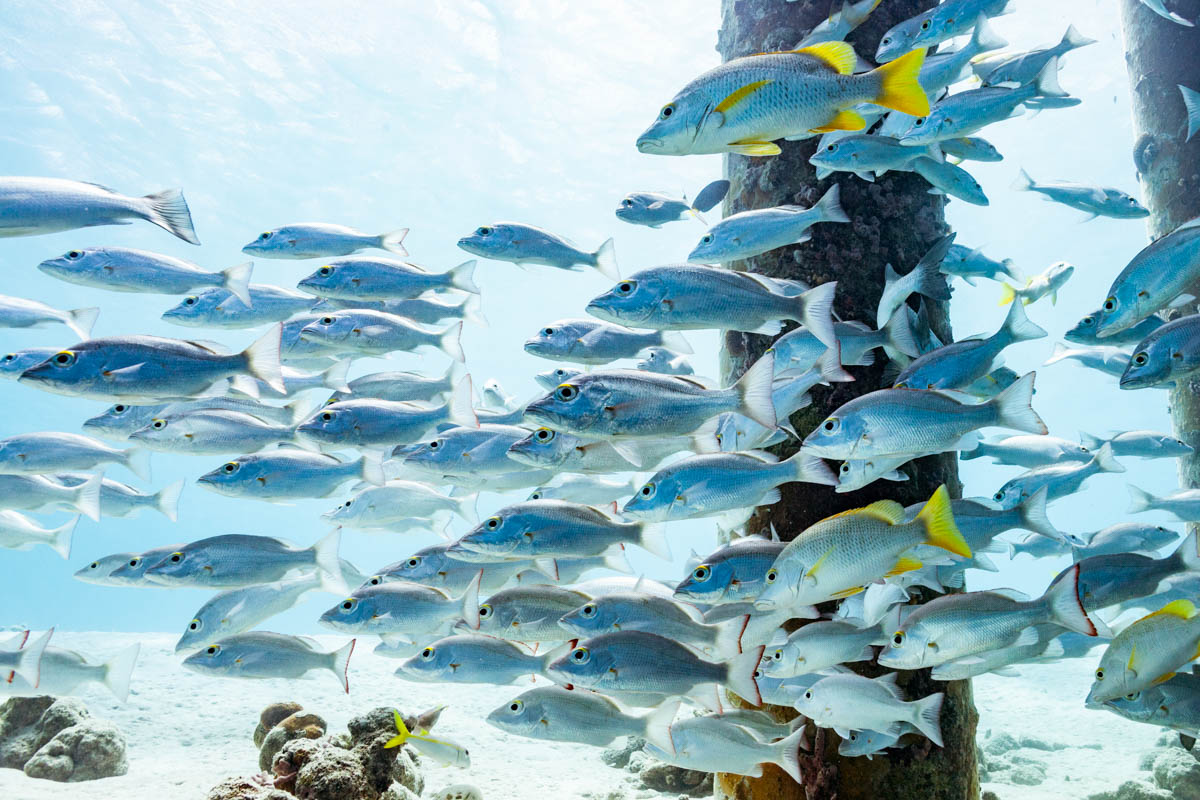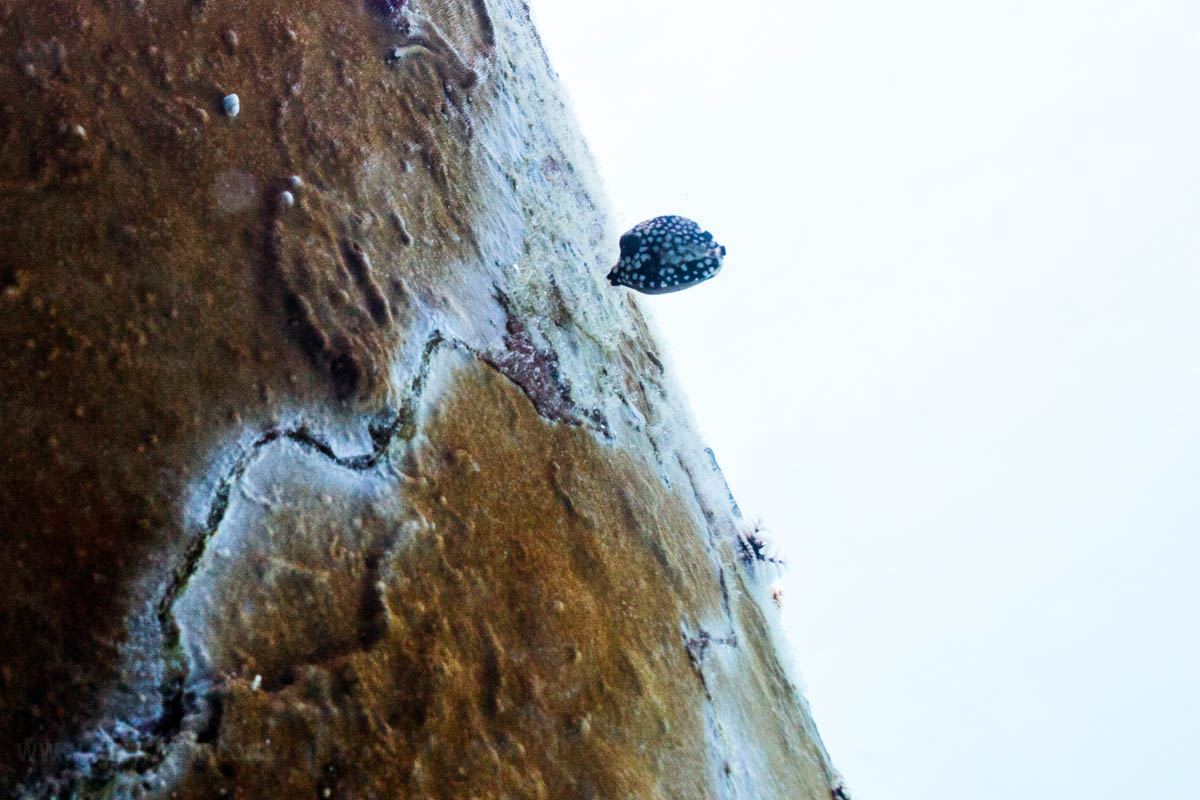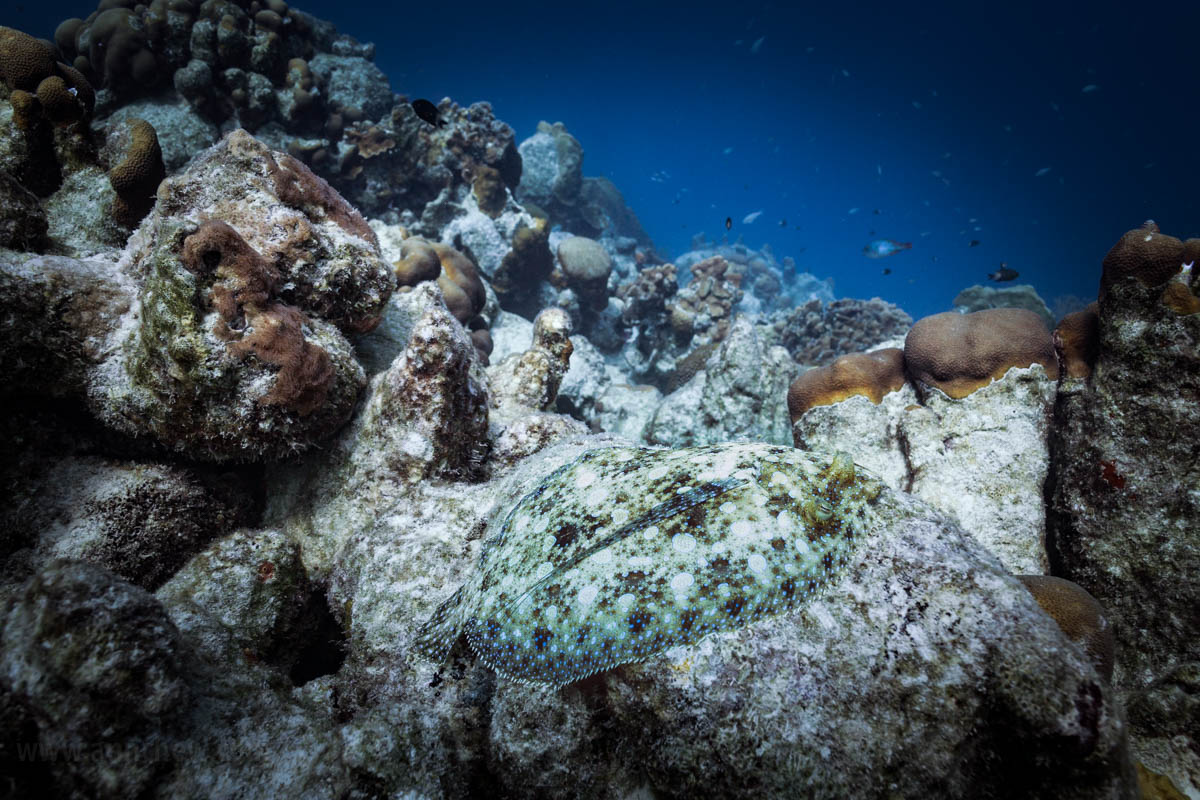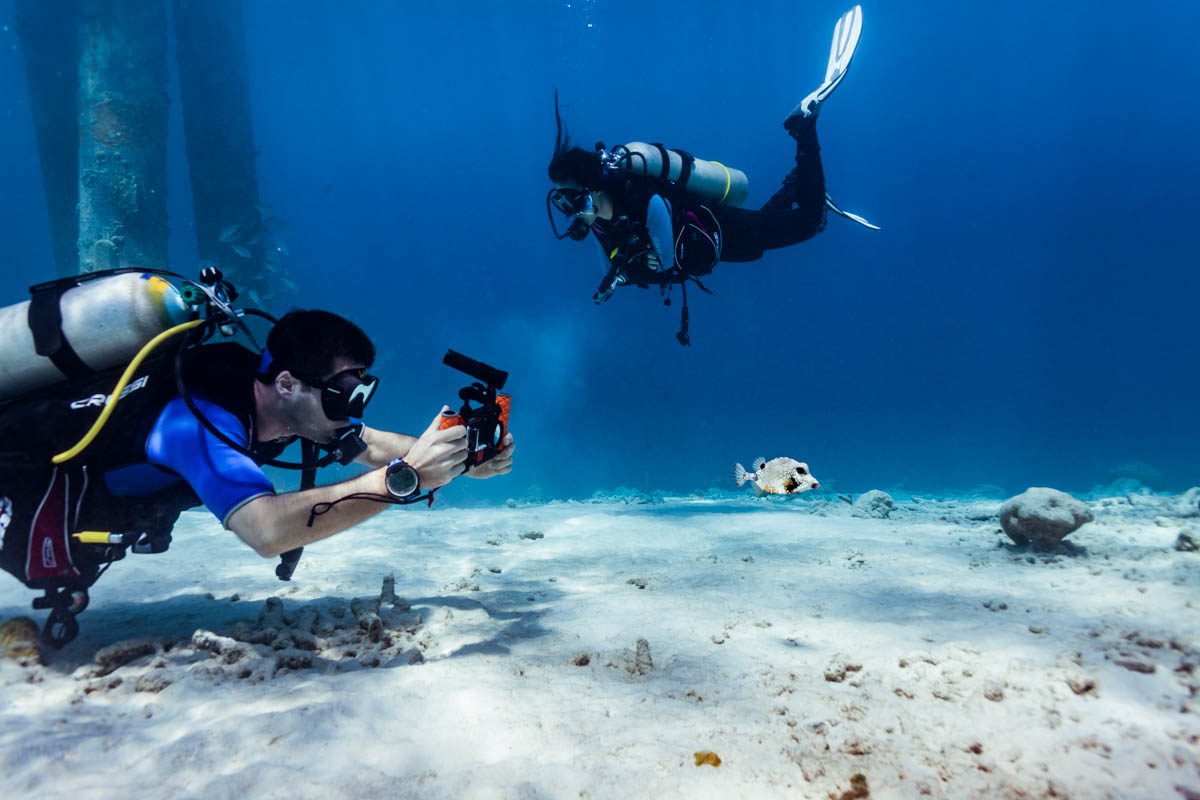 In the afternoon Michelle, the last of our group, arrived, so back to Front Porch we went for her checkout dive. To everyone's surprise we found ourselves struggling against a heavy current. Damned tides. After a fruitless 2-minute swim, we called it.
Dive 3: Oil Slick max. 69ft, 41min
This is one of our favorite sites from the previous trips. The reef starts almost immediately from the rocky, critter-filled cliff that lines the iron shore and entry is via a GIANT leap straight into the ocean. Chewie may have given everyone a heart attack with a near-stumble on the cliffs while putting on his fins. For the less adventurous, there is a metal ladder that can used for both entry and exit. It's a very short swim to the drop-off and mooring buoy. Sightings here: creole wrasses, parrotfish, eels, shrimps, drums, and so many sweepers under the ledges.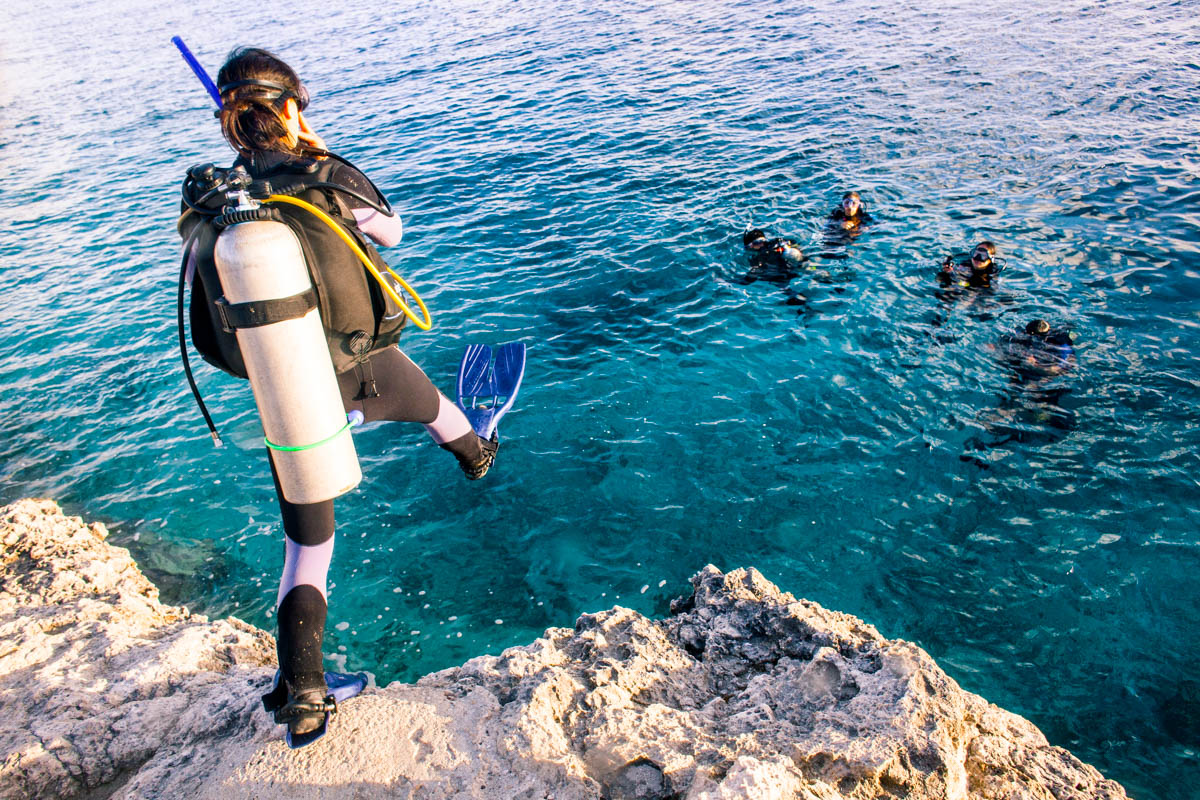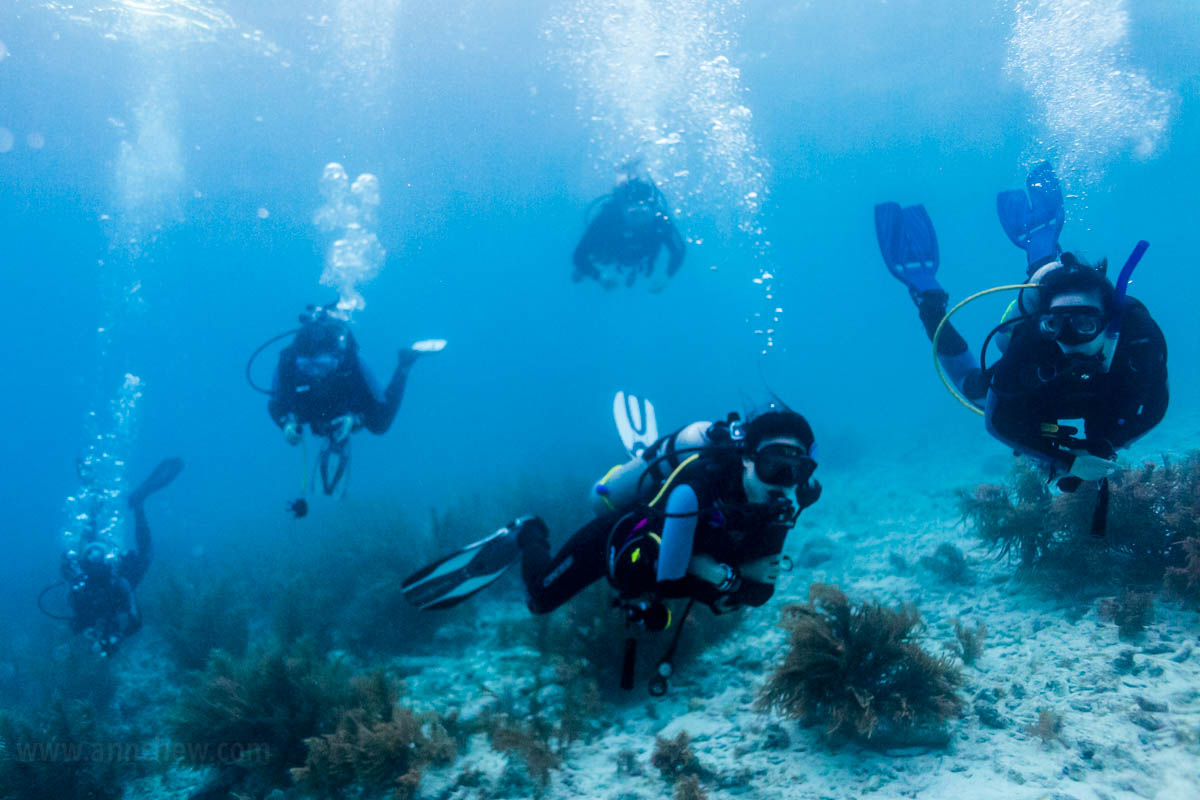 Since it's our first full day in Bonaire, we're taking it easy and paying a visit to Van den Tweel's to stock up for the week.
This is Chewie's dive #100!
Day 2 Dive 4: Leonora's Reef, Klein Bonaire max. 73ft, 58min
From the docks of WannaDive, it's a ~10 minute ride to the north side of Klein Bonaire. Despite the surface surf (white caps and a steady wind across the channel), the currents are mild and visibility phenomenal here. As with many other sites on Klein Bonaire, the hard corals here are in relatively good condition and homes to shoals of smaller fishes. It's a pretty nice site.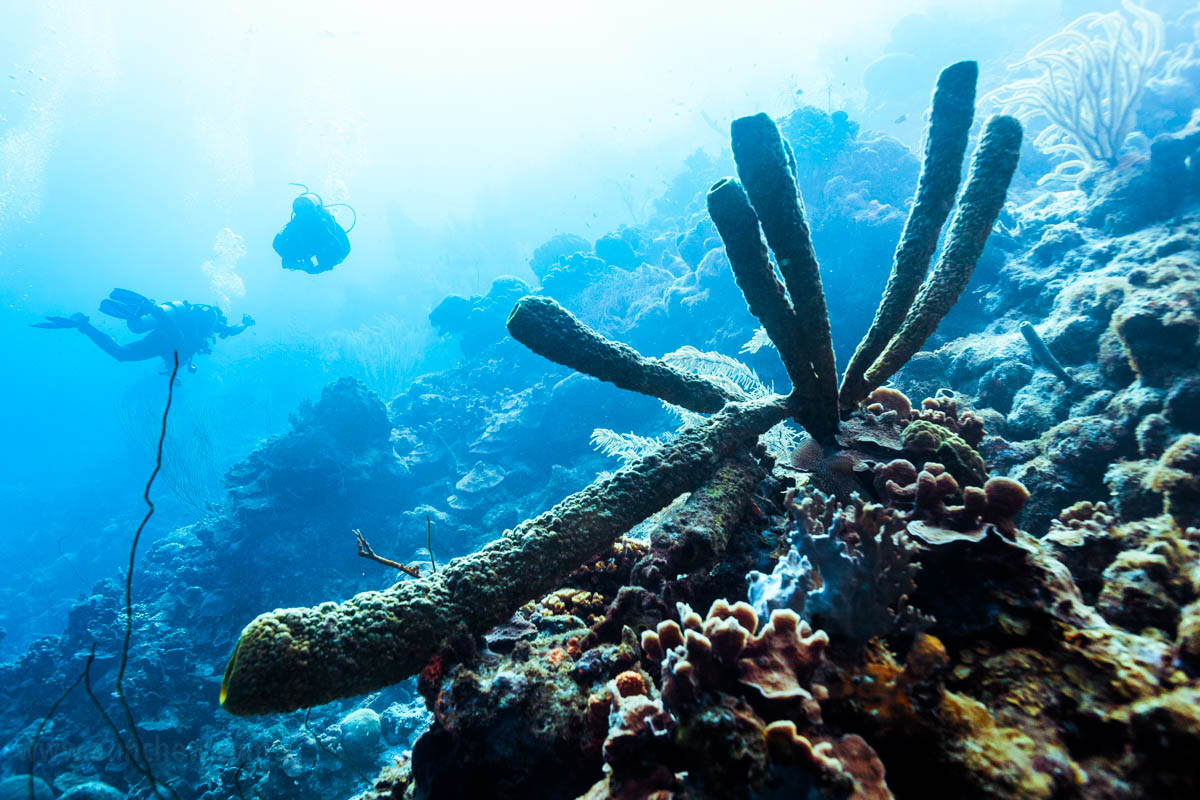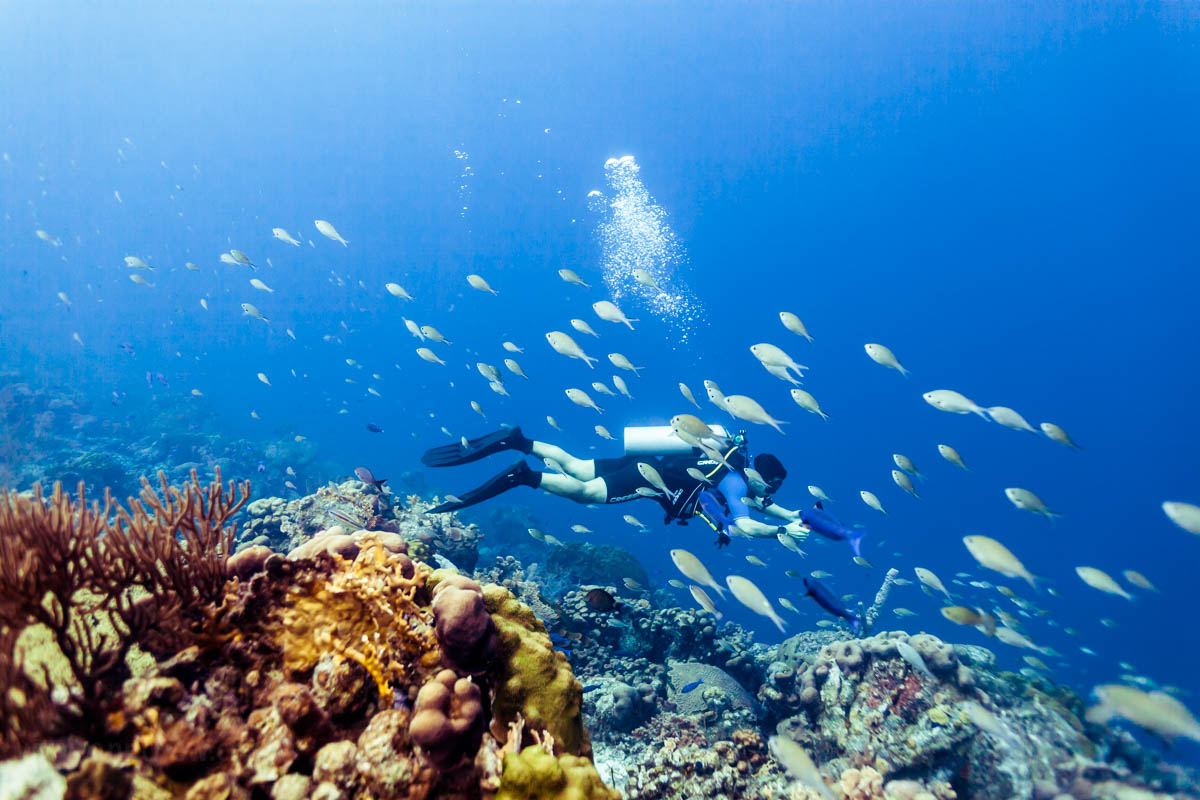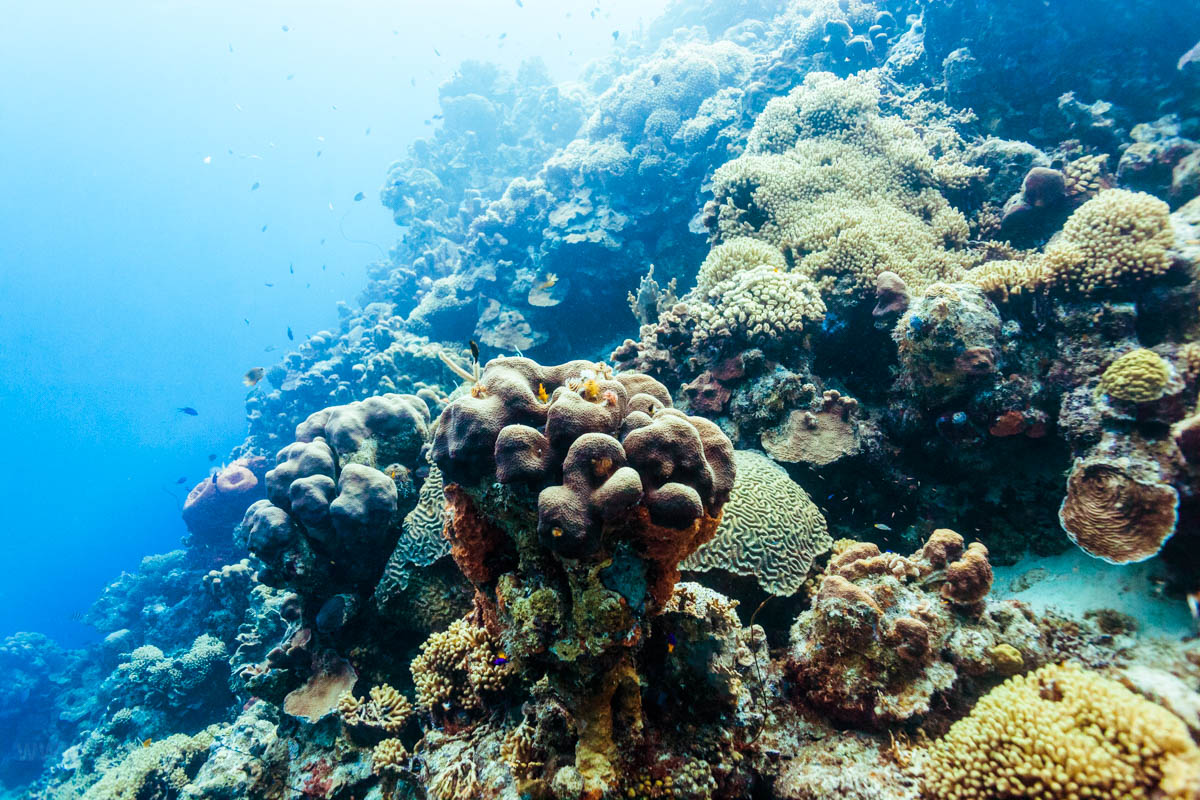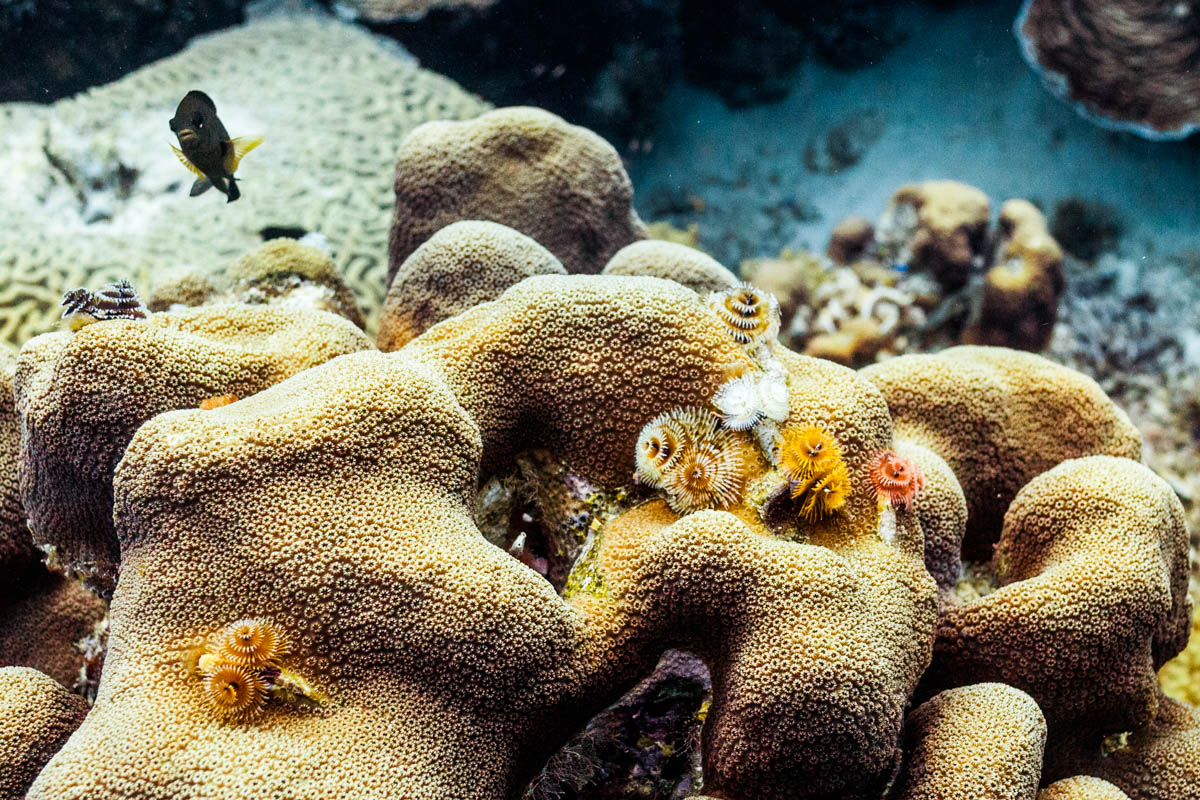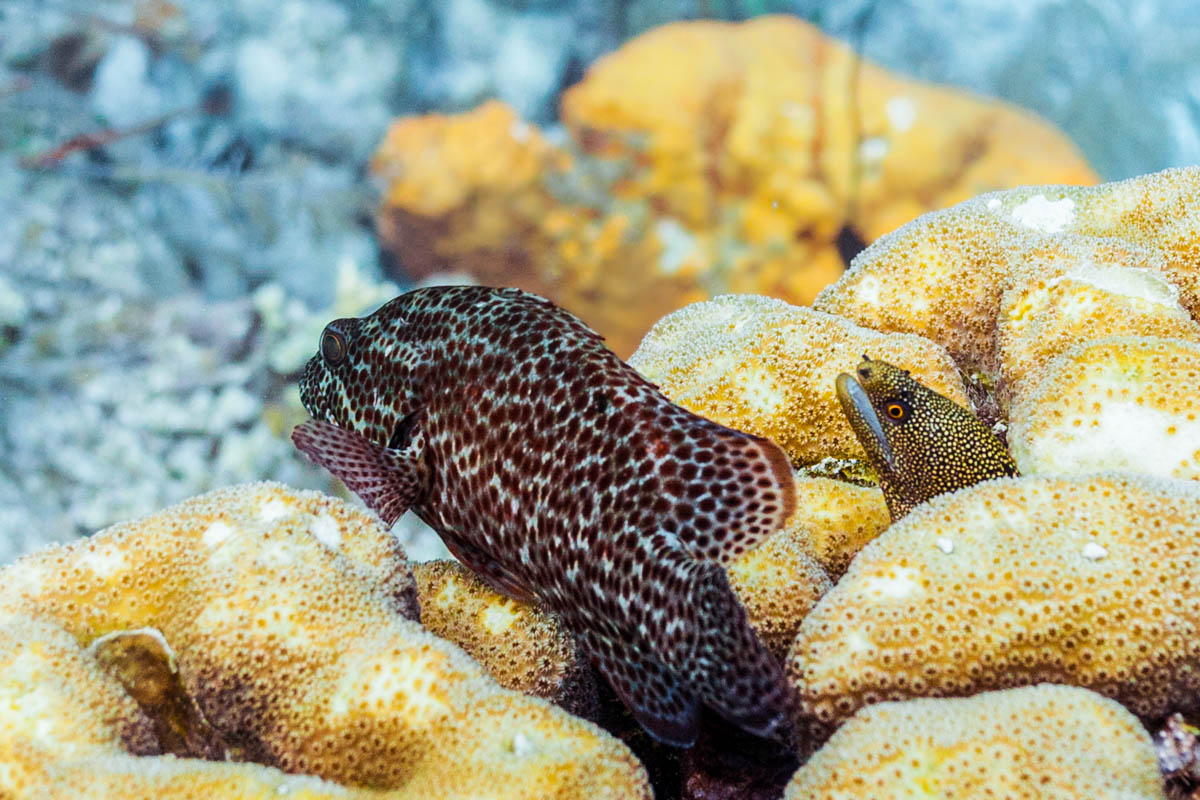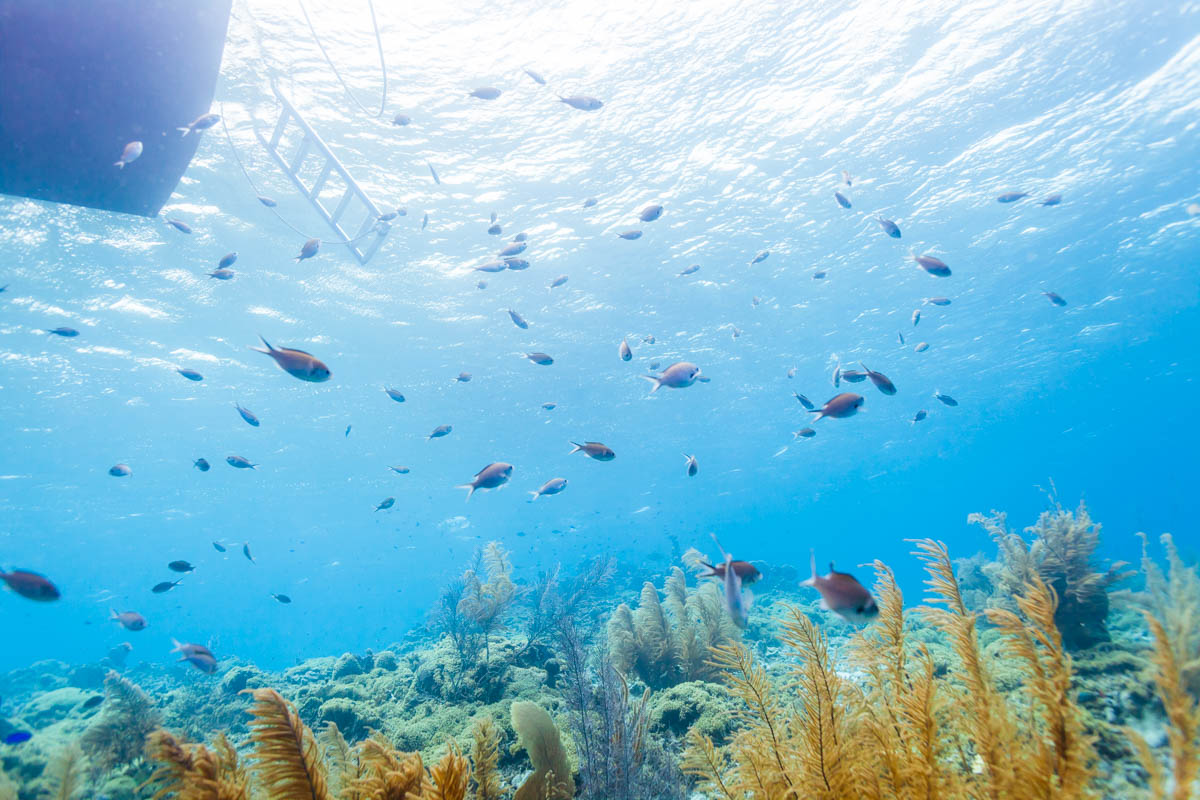 Dive 5: Carl's Hill, Klein Bonaire max. 68ft, 60min
At the NW corner of Klein Bonaire lies Carl's Hill. Apparently it'd been damaged by Hurricane Omar (?) years back but against all odds the coral have been growing back along this GORGEOUS, sea whip and gorgonian-covered wall. In the shallows we encounter soft corals and tons of baby fish darting amongst the fire coral blades.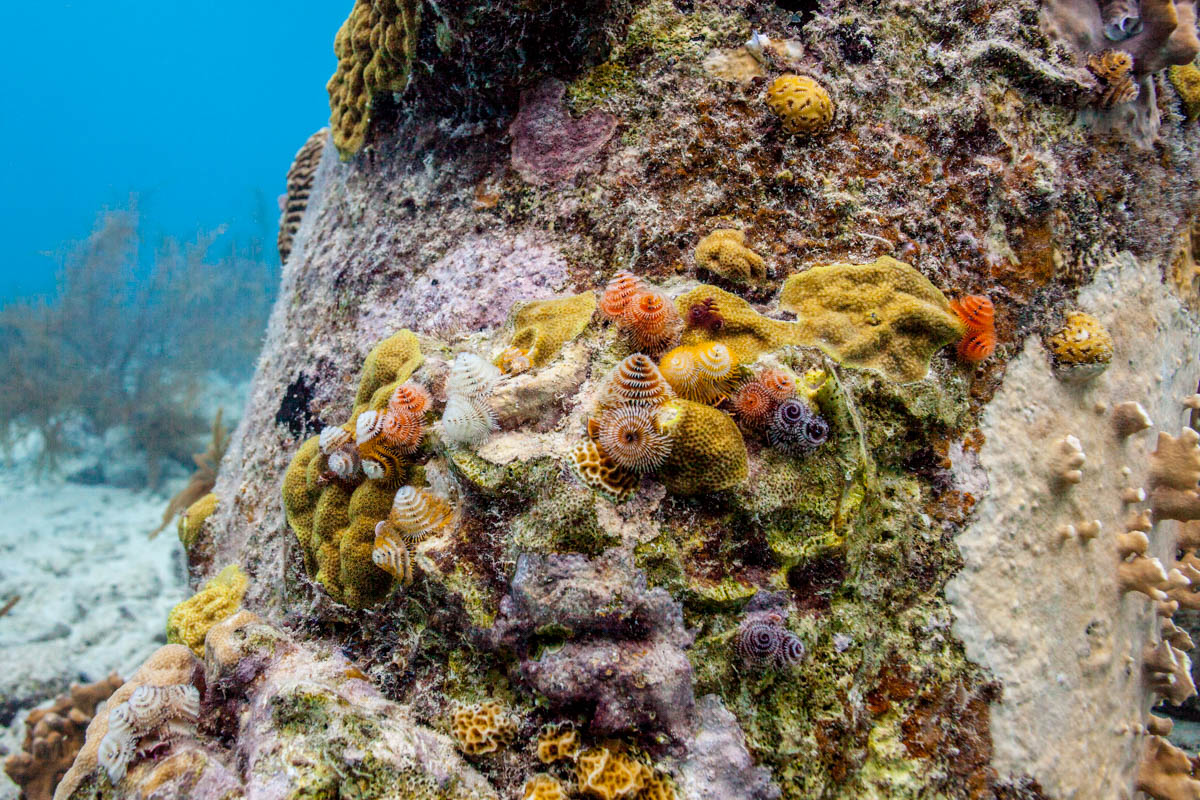 This is Ann's dive #100!
Dive 6: Salt Pier max. 48ft, 77min
This is one of everybody's favorite sites in Bonaire. Home to huge amounts of sea life, it's where we're almost guaranteed to see squid, octopus, tarpons, and turtles on every dive. However, it's only open to divers when the salt ship is not docked, which can take up the better half of a week. Not wanting to take any chances we headed out to it in the first afternoon we could (and not a moment too soon). The viz wasn't actually that great this time, but as expected, the pier was just brimming with life: midnight parrotfish, barracudas (much more than previous years), octopus, cleaner shrimps and arrowhead crabs, and schools of grunts and jacks and chromis... and turtles!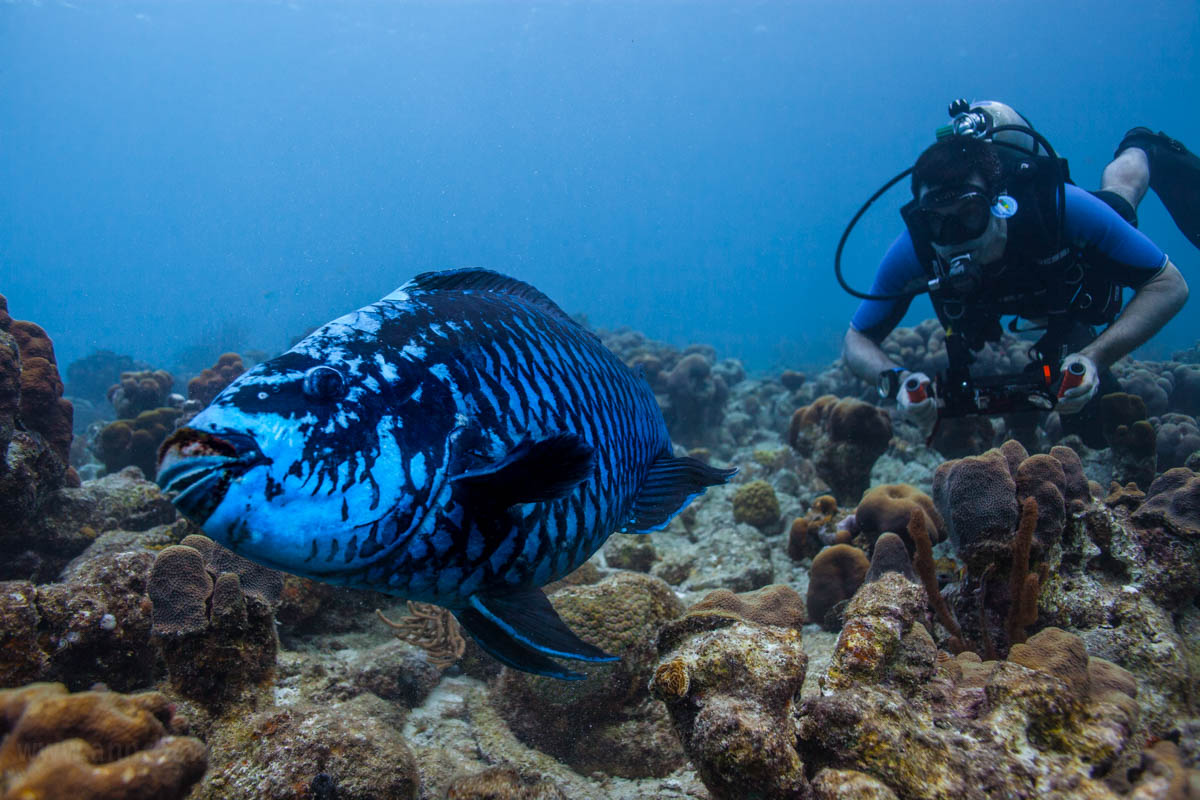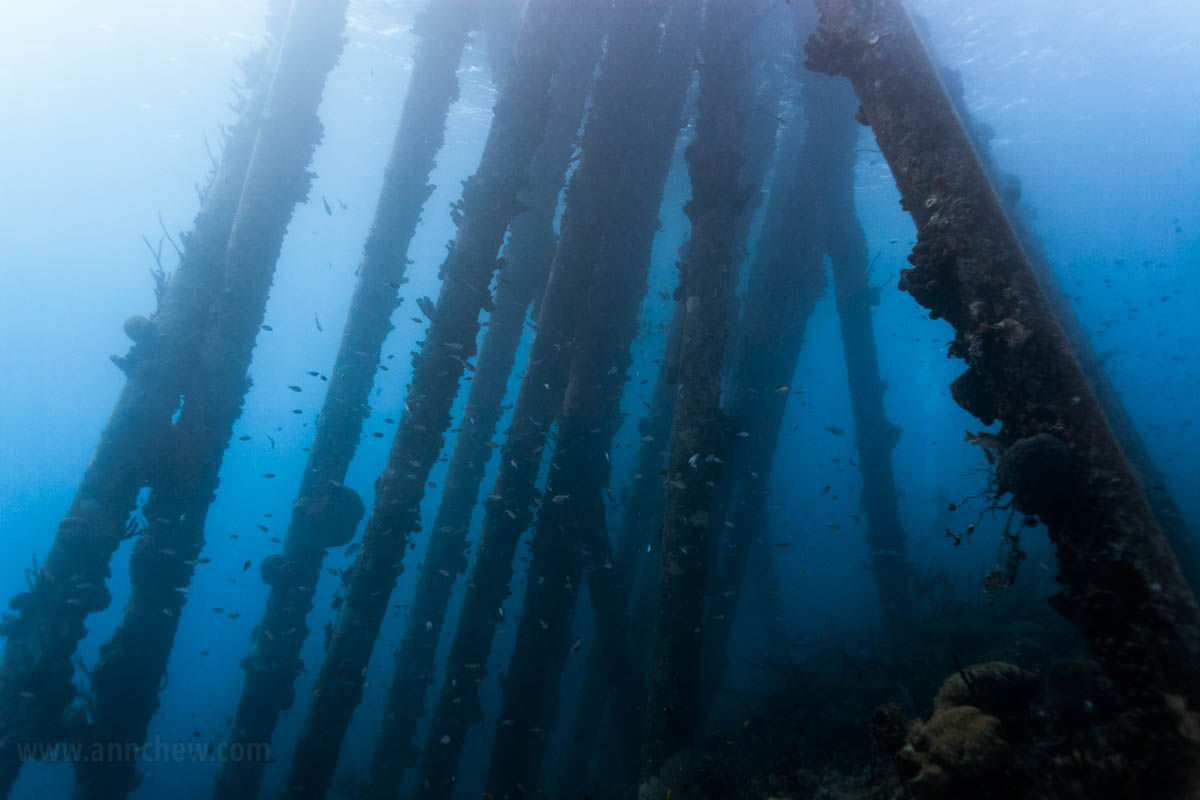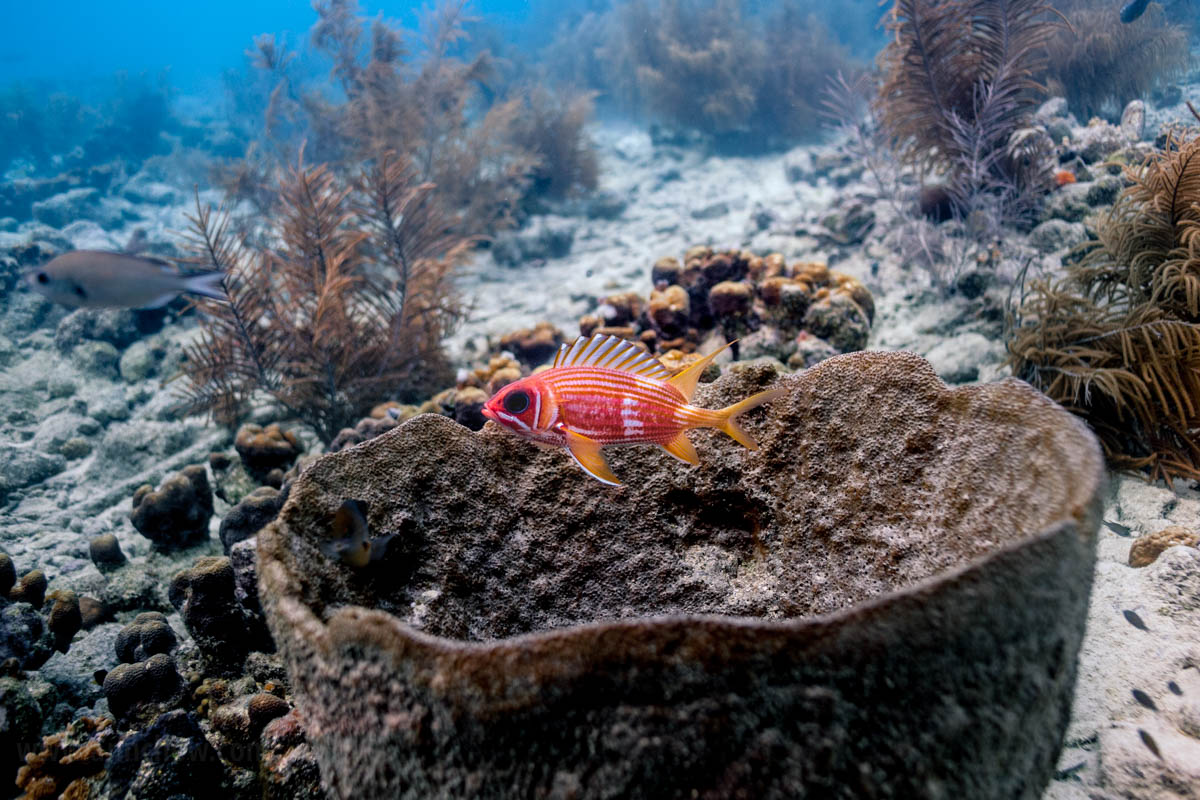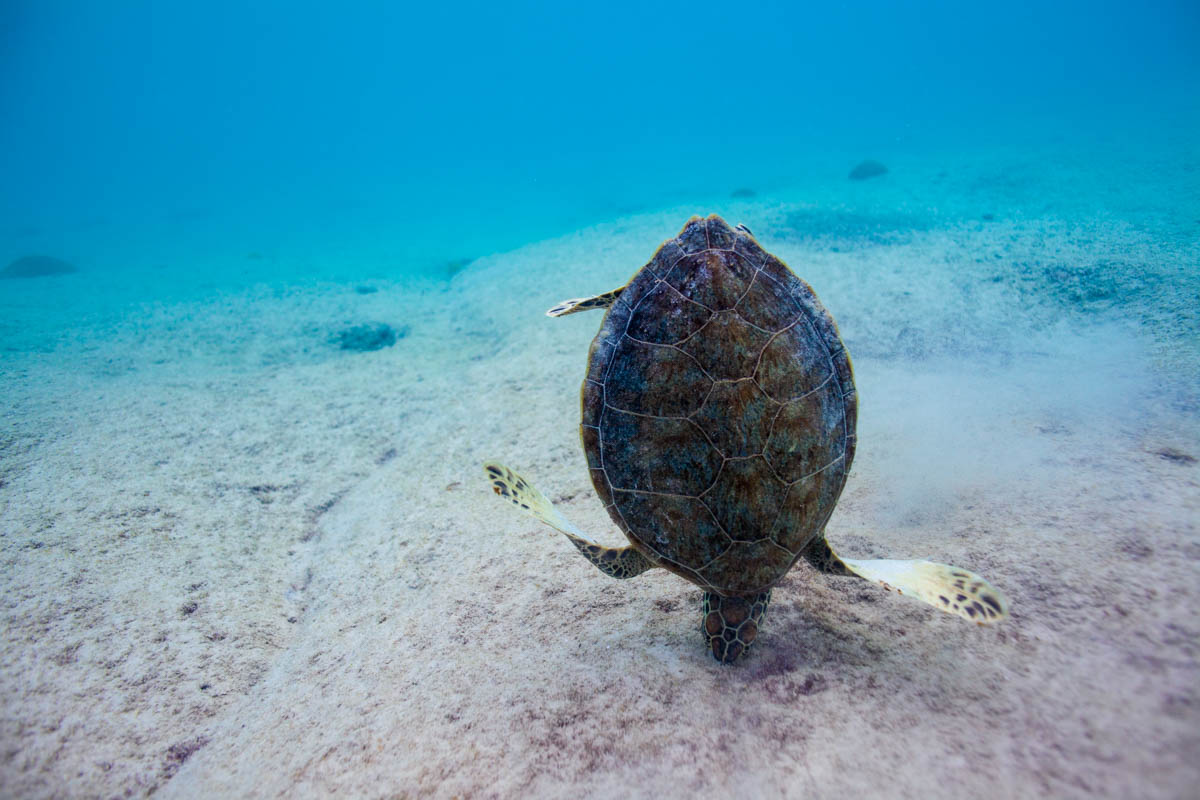 Dive 7: Bachelor's Beach max. 54ft, 53min
Bernd's been a trouper so far, and jumped (literally) into his first night dive with no hesitation. We headed out at dusk, and got in the water ~10 minutes before sunset. Not much was happening until about half an hour after dark, when the tarpons appeared out of the deep and began to hunt by the light of our torches. In a flash an 8-inch long goatfish disappeared into a shower of shiny scales, accompanied by a sickening (or if you're Bernd, exhilarating) crunch...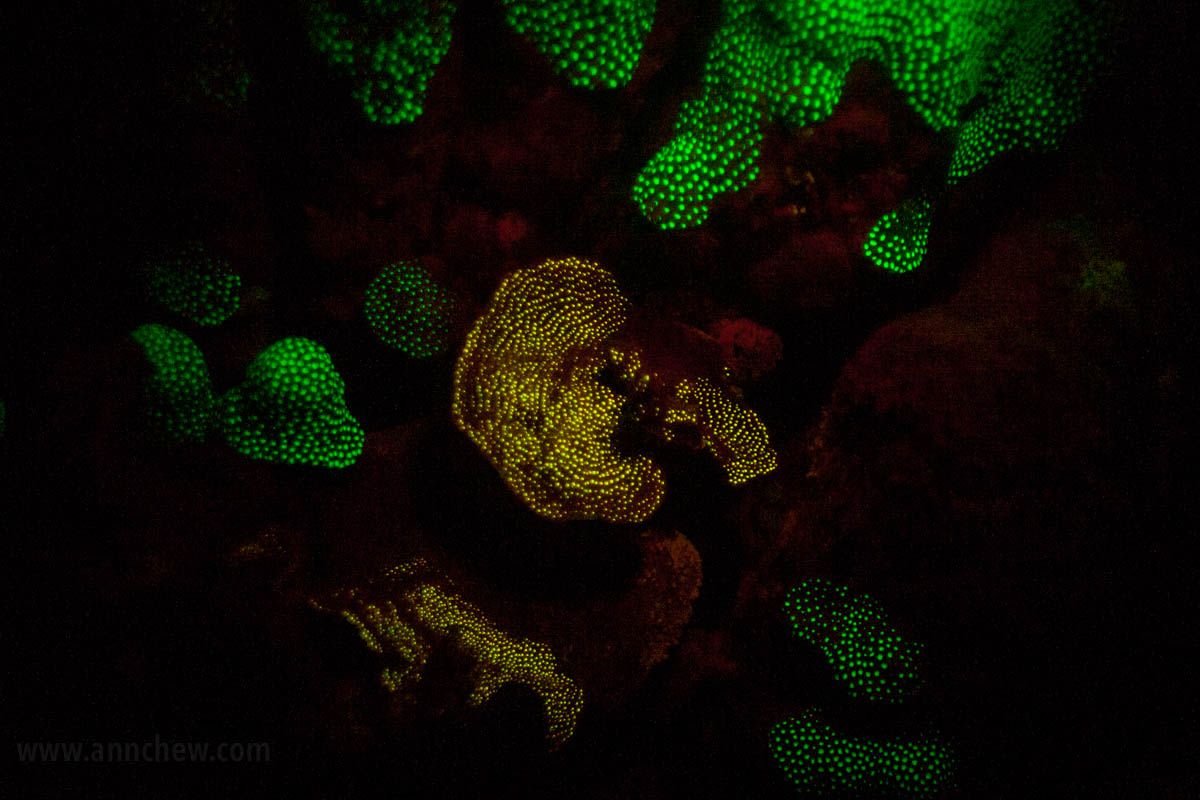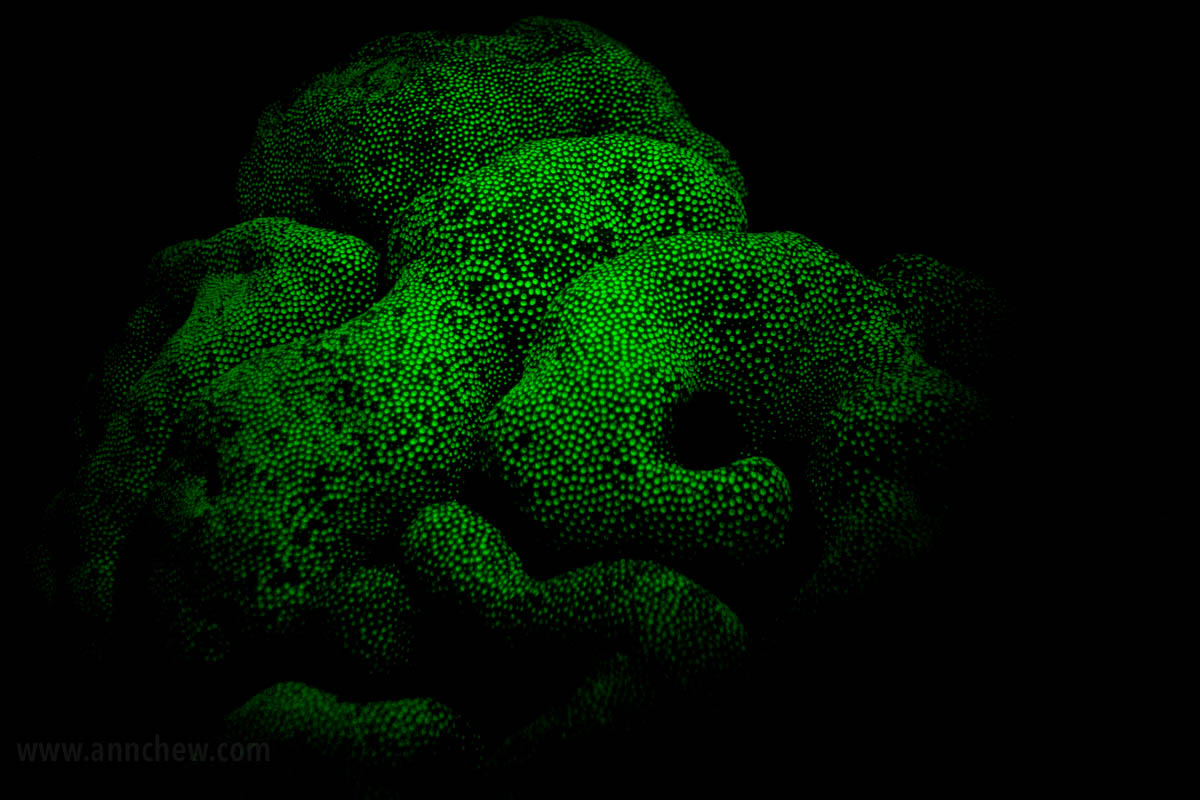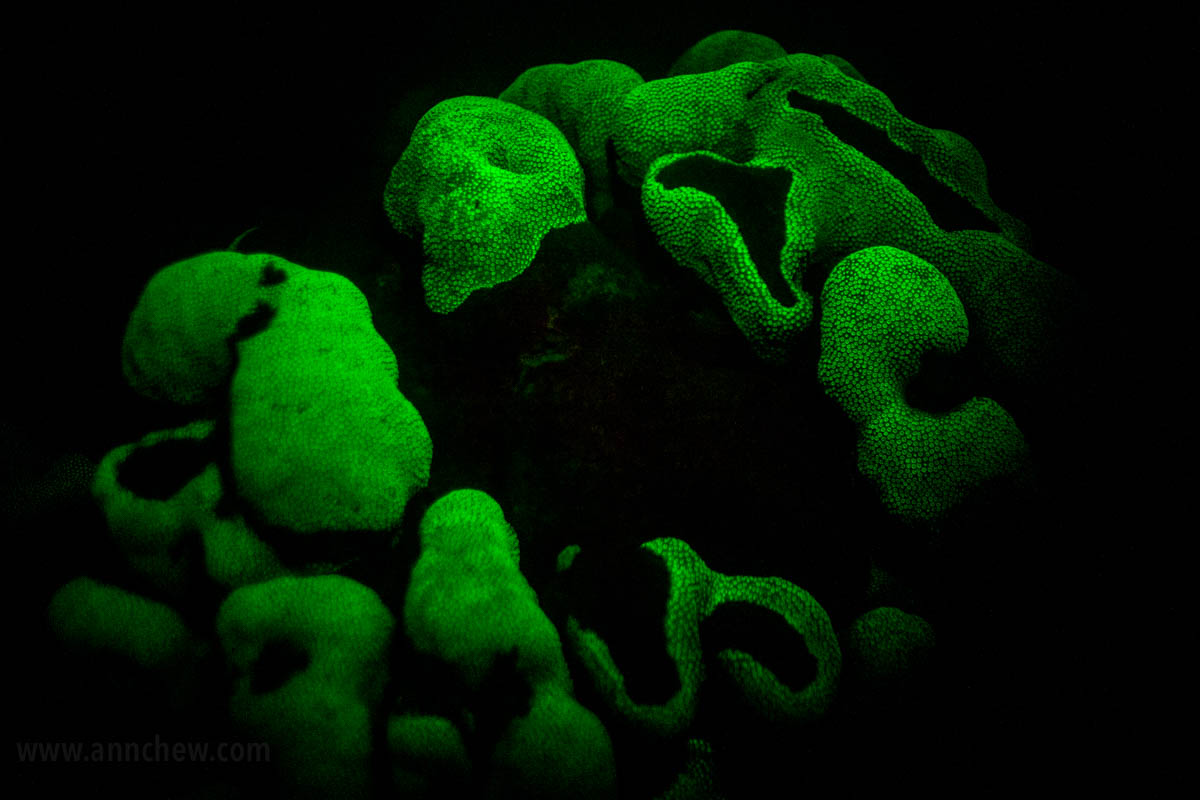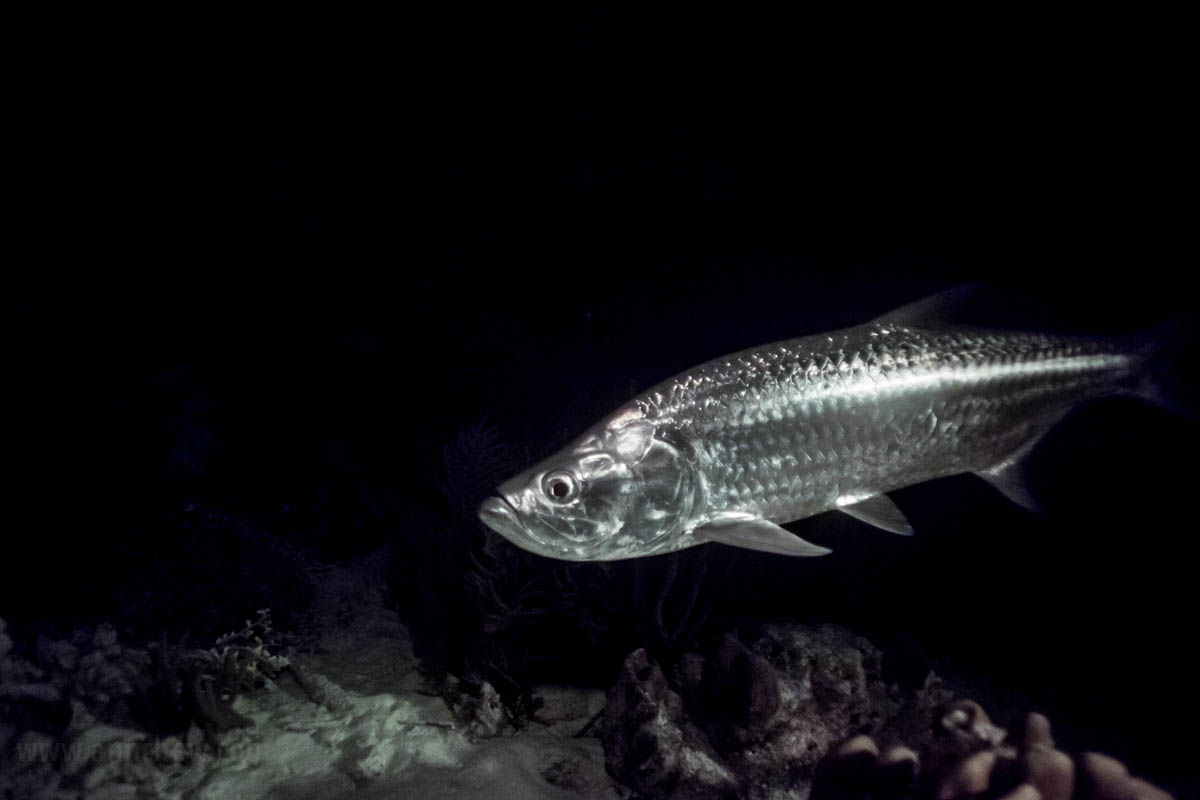 Day 3 Dive 8: Funchi's Reef (East Coast) max. 82ft, 57min
Right after Ann got her OW in 2012, we did a drift dive from Cai to White Hole. It still counts as one of the most amazing dives we've done in Bonaire (and in retrospect, a bit scary given how green we were). So here we are on a zodiac boat back on the wild coast, braving seasickness and cresting over 8-foot waves like it's nothing.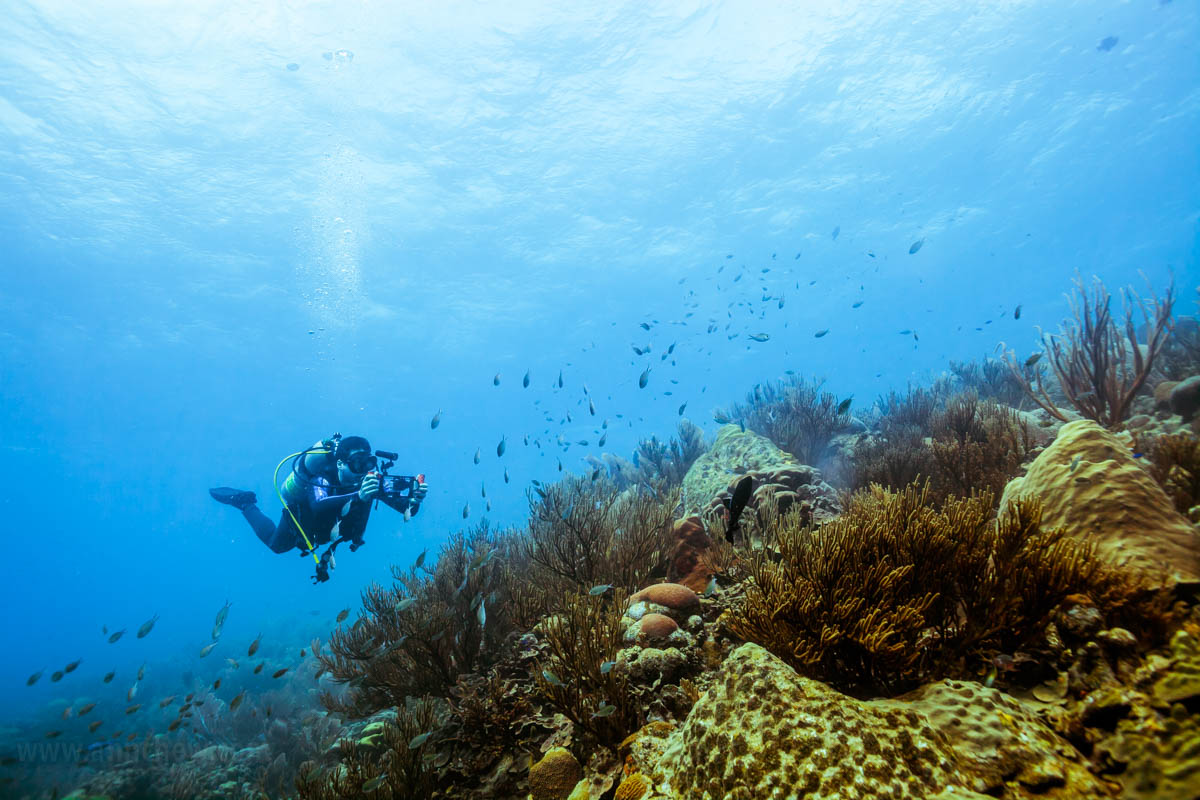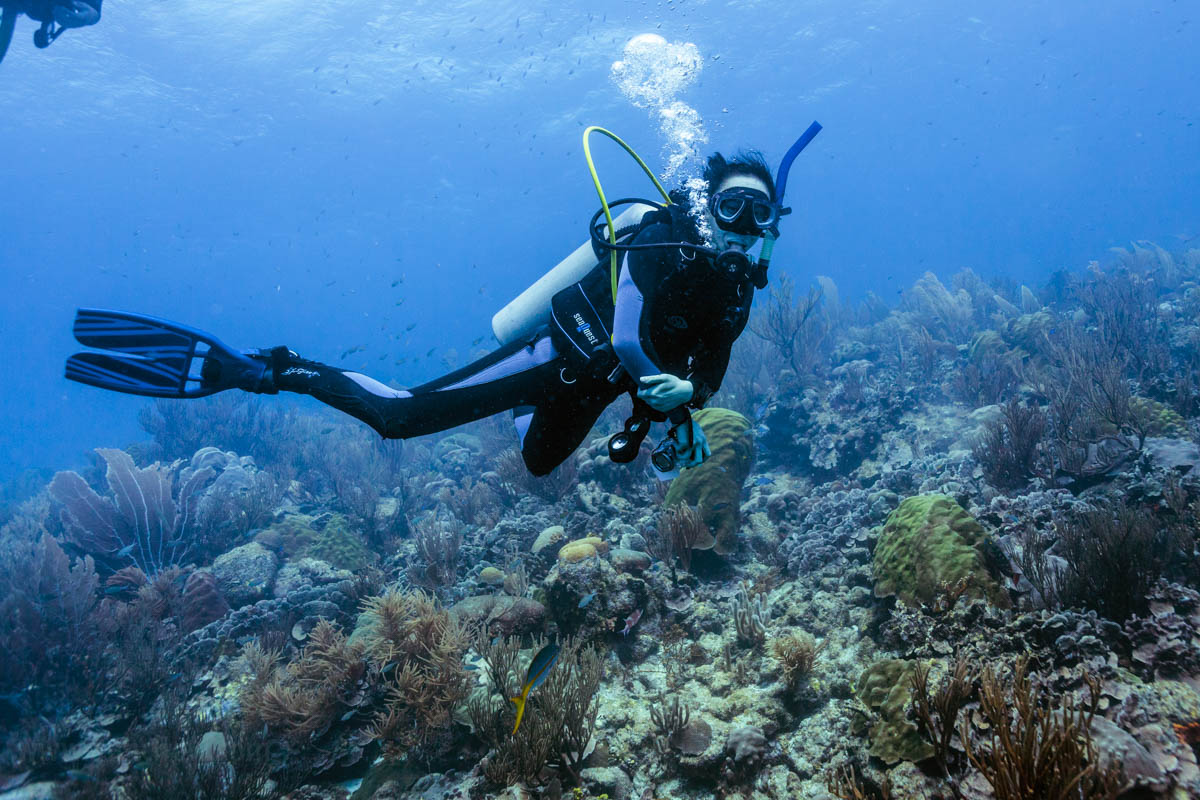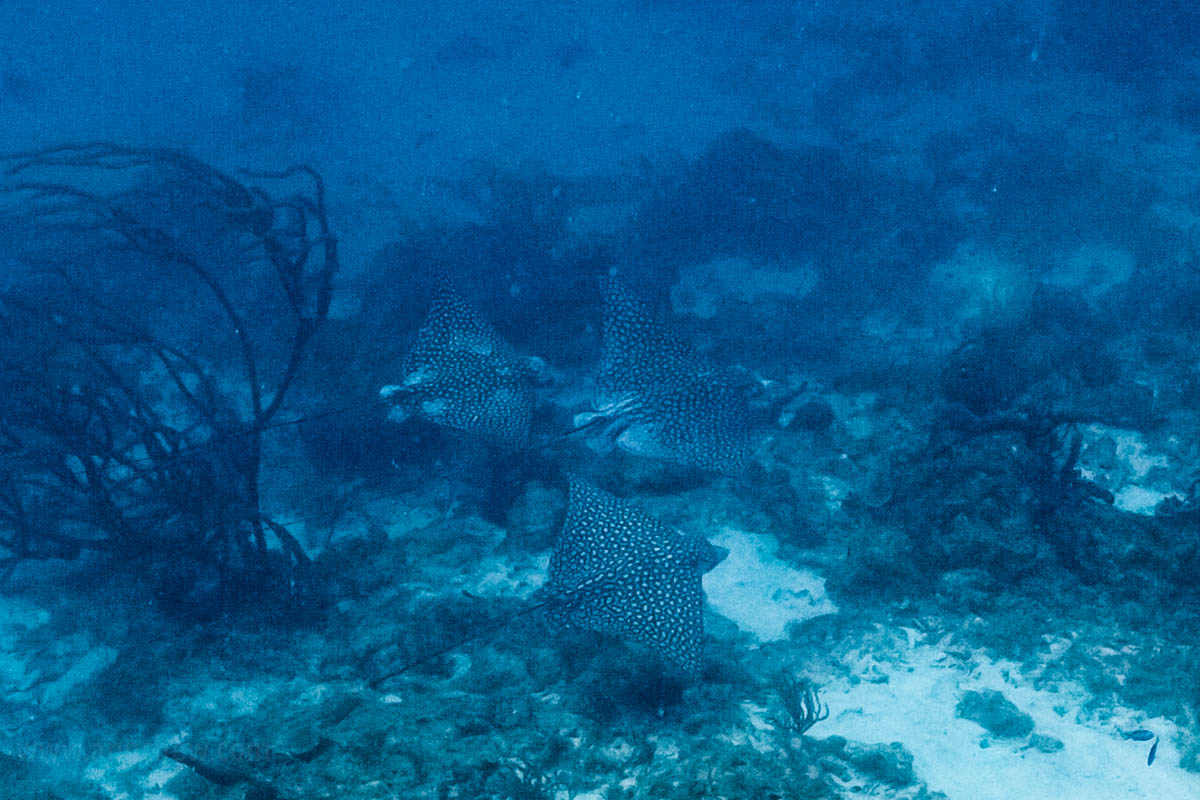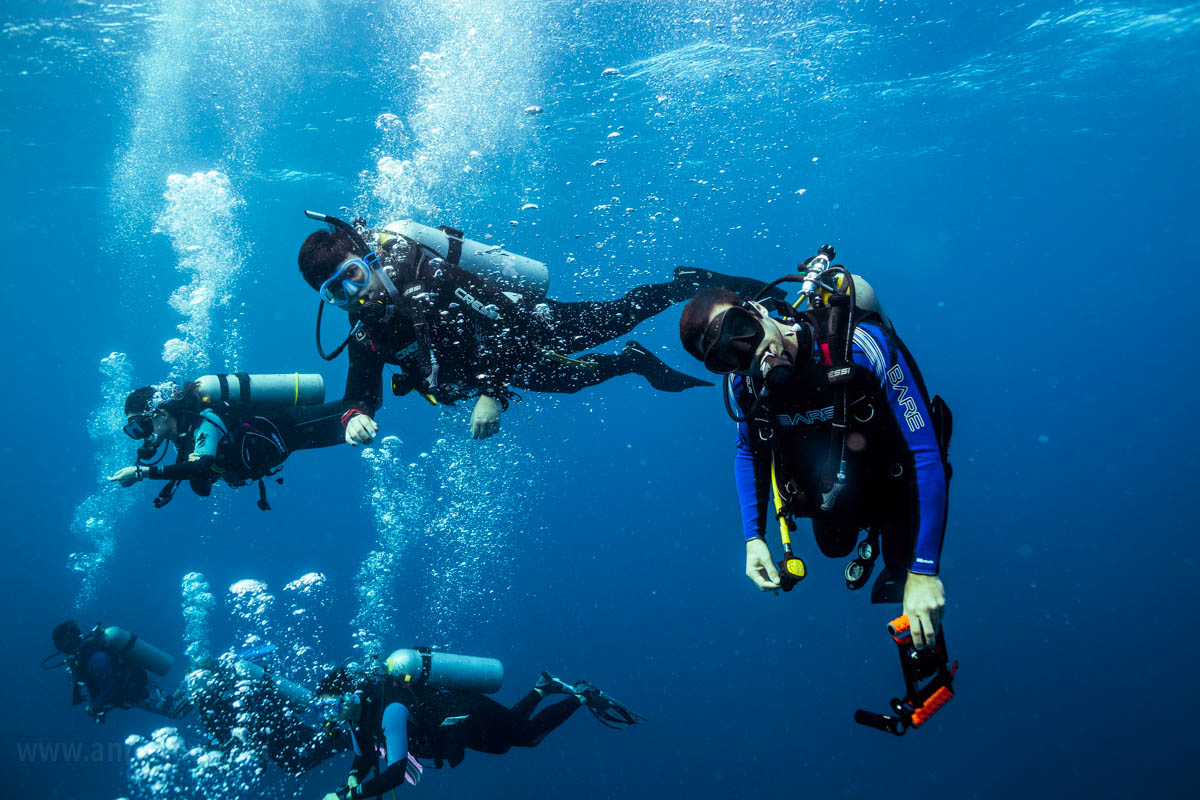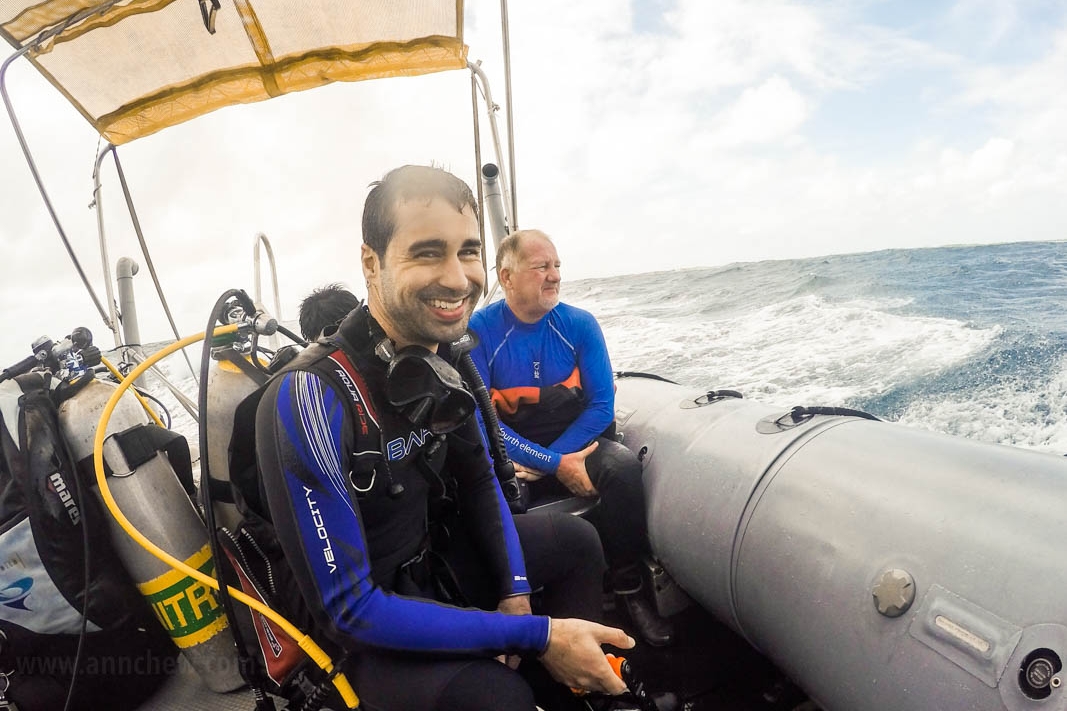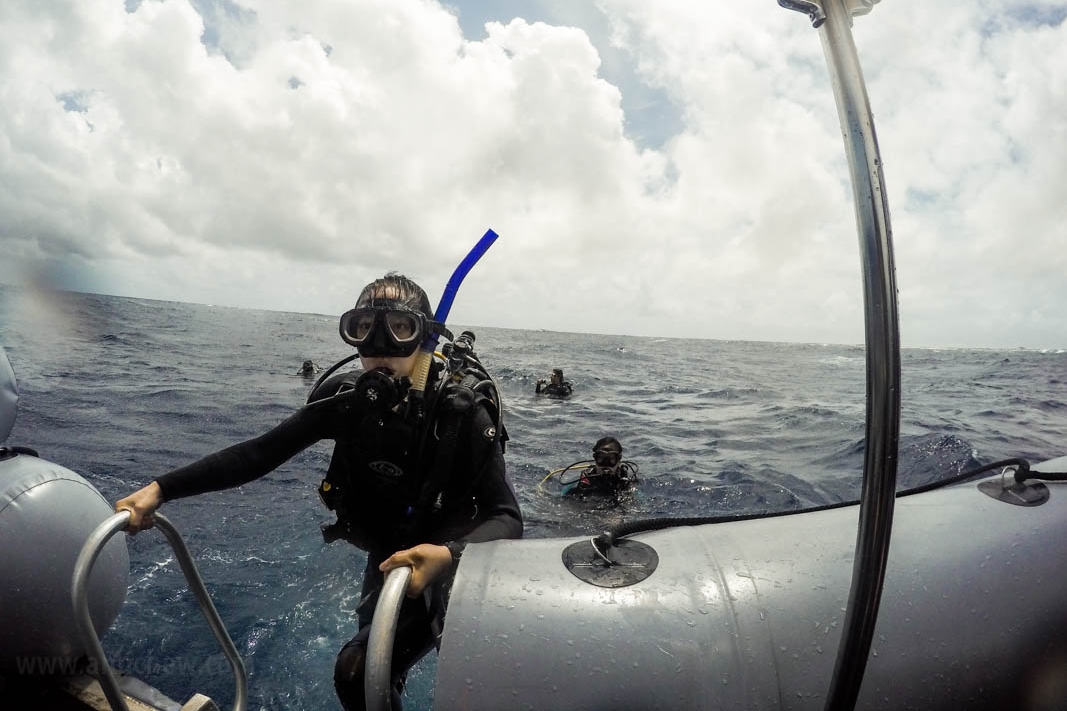 If it weren't for the terrible visibility this would've been a great dive. We passed more than a few groups of eagle rays, a large Southern stingray, a giant black grouper, and god knows what else in the silty waters.
Dive 9: Turtle City max. 55ft, 59min
Well well, didn't this site live up to its name... This place, apparently, is one of the few places in the world where turtles are known to sleep during the day. Bottom topography was really interesting with multiple cleaning stations, free-swimming green moray eels, and just heaps of sleepy turtles.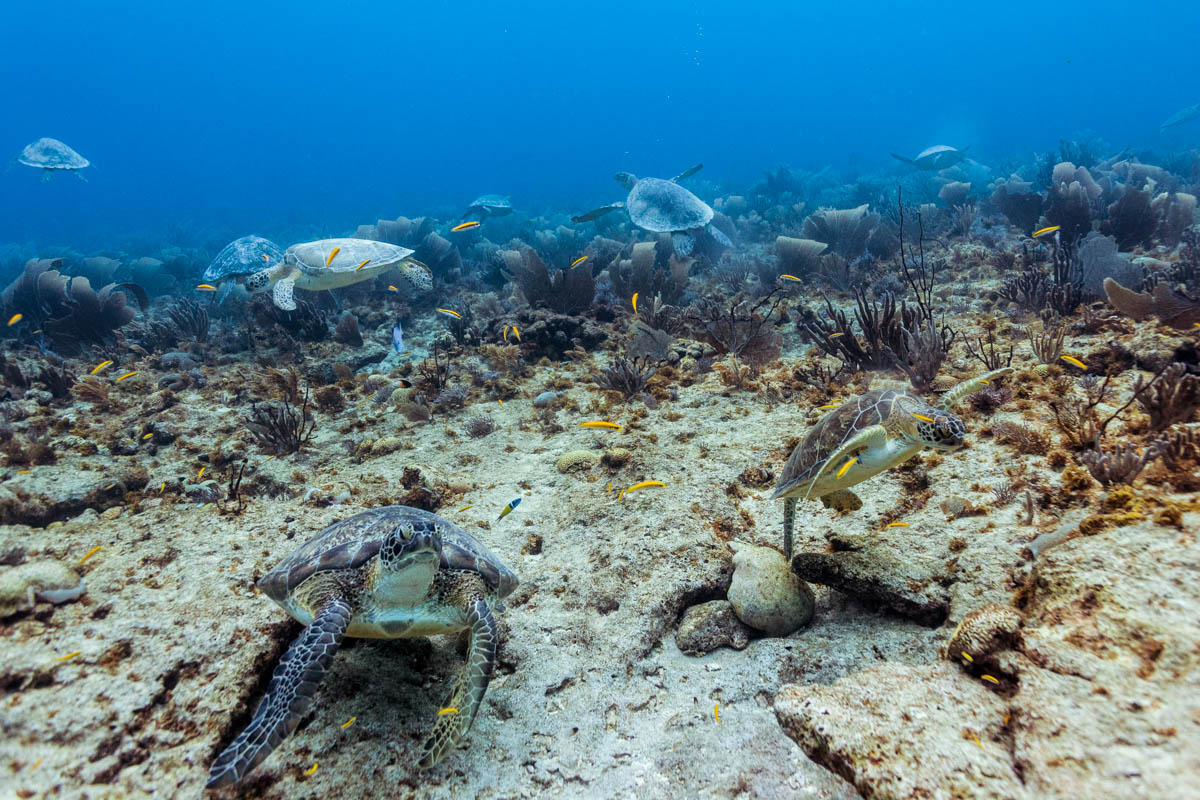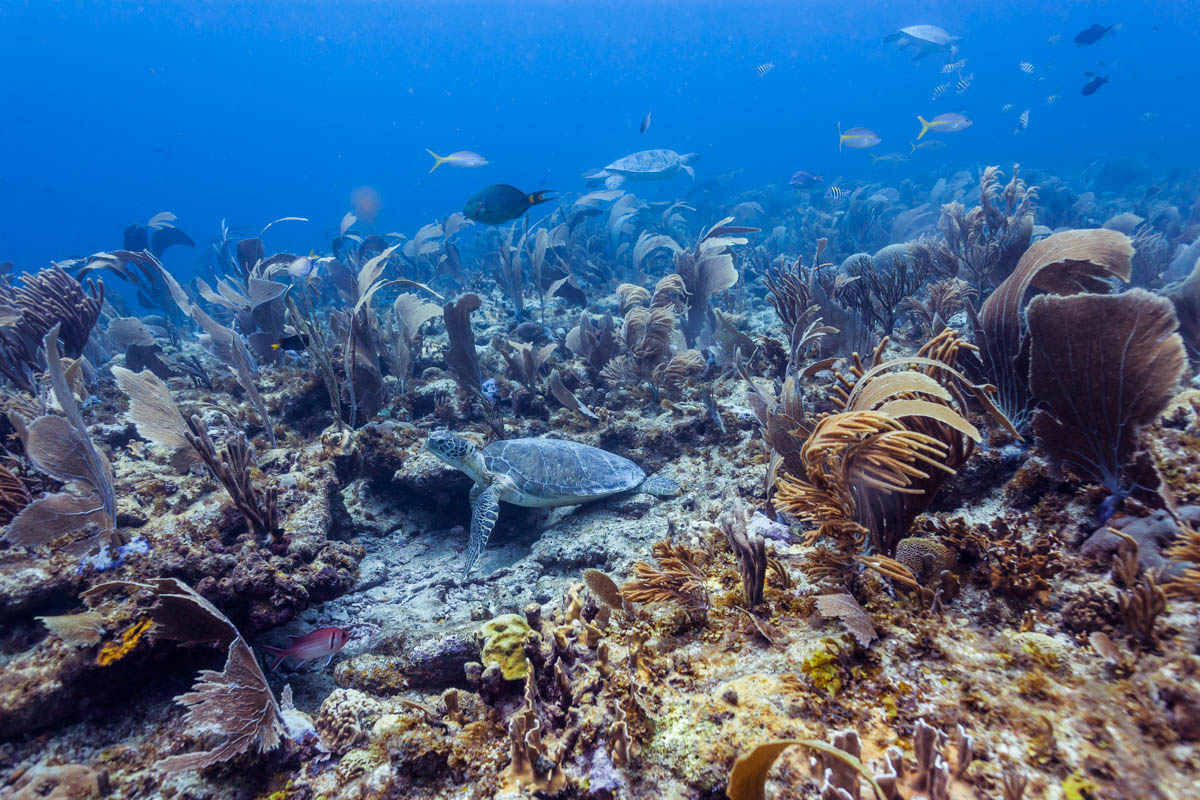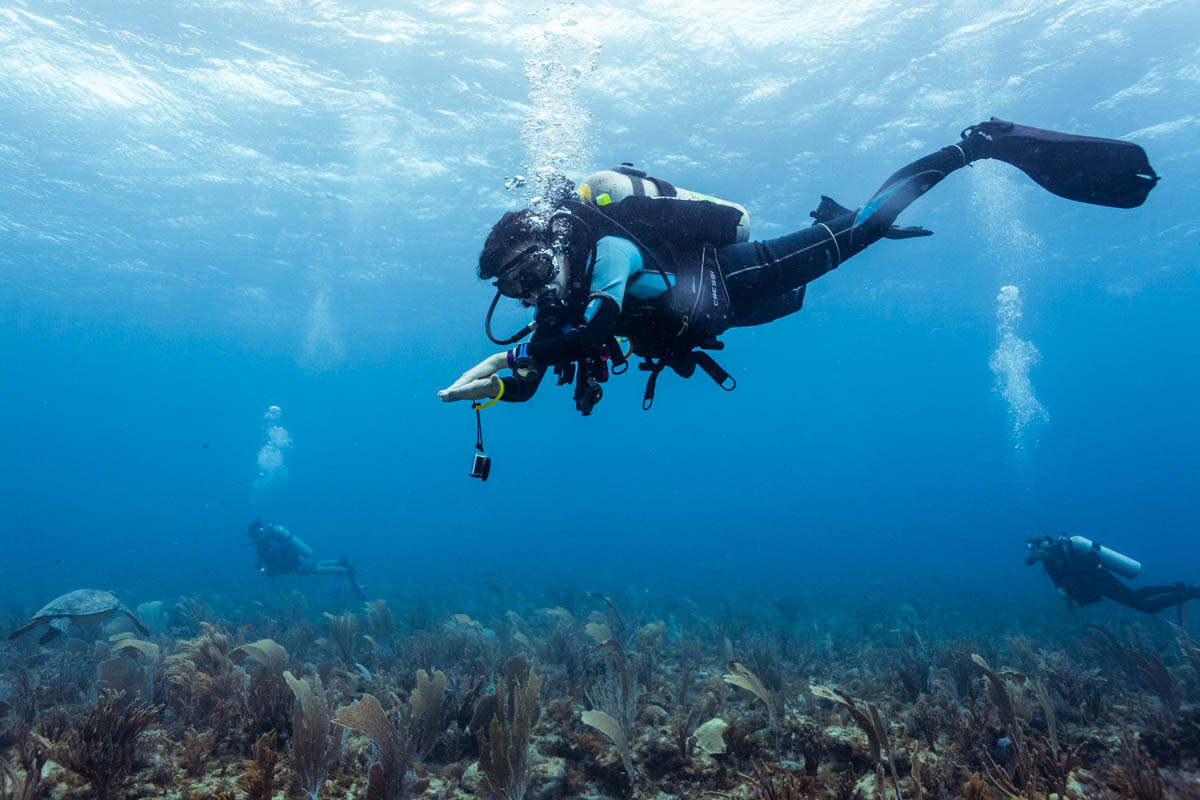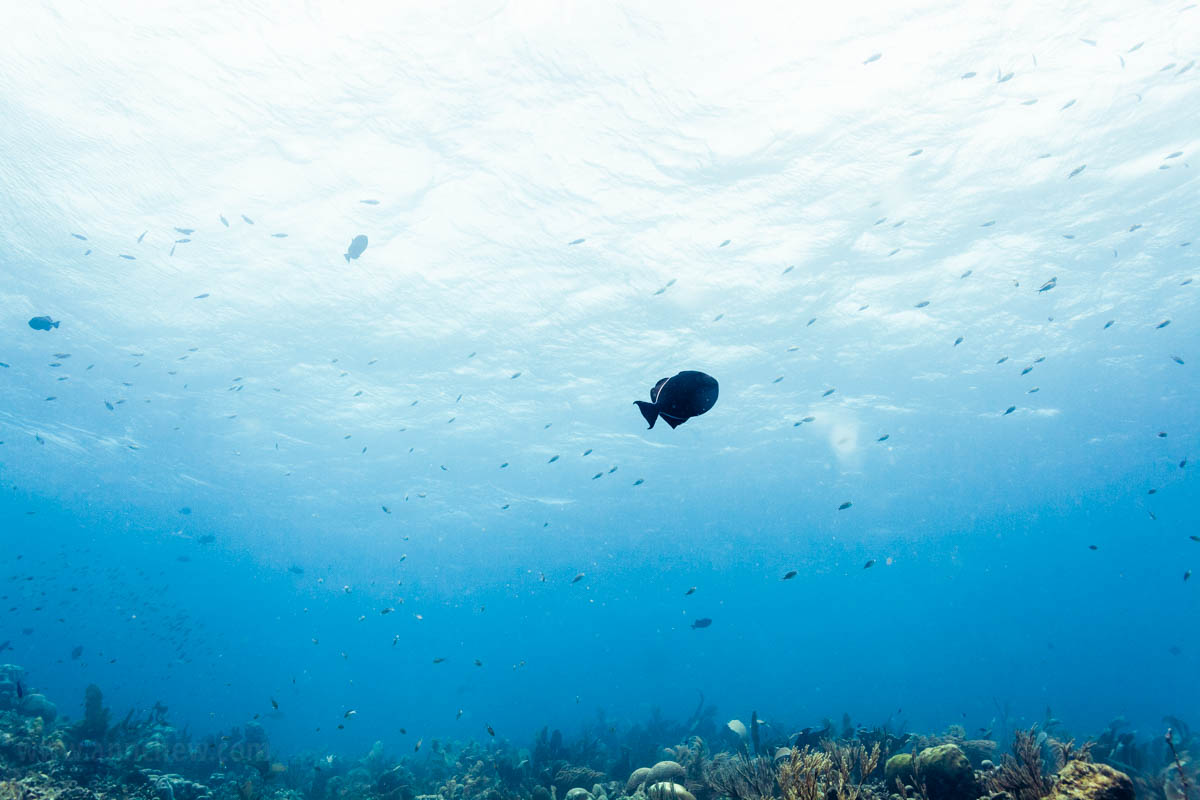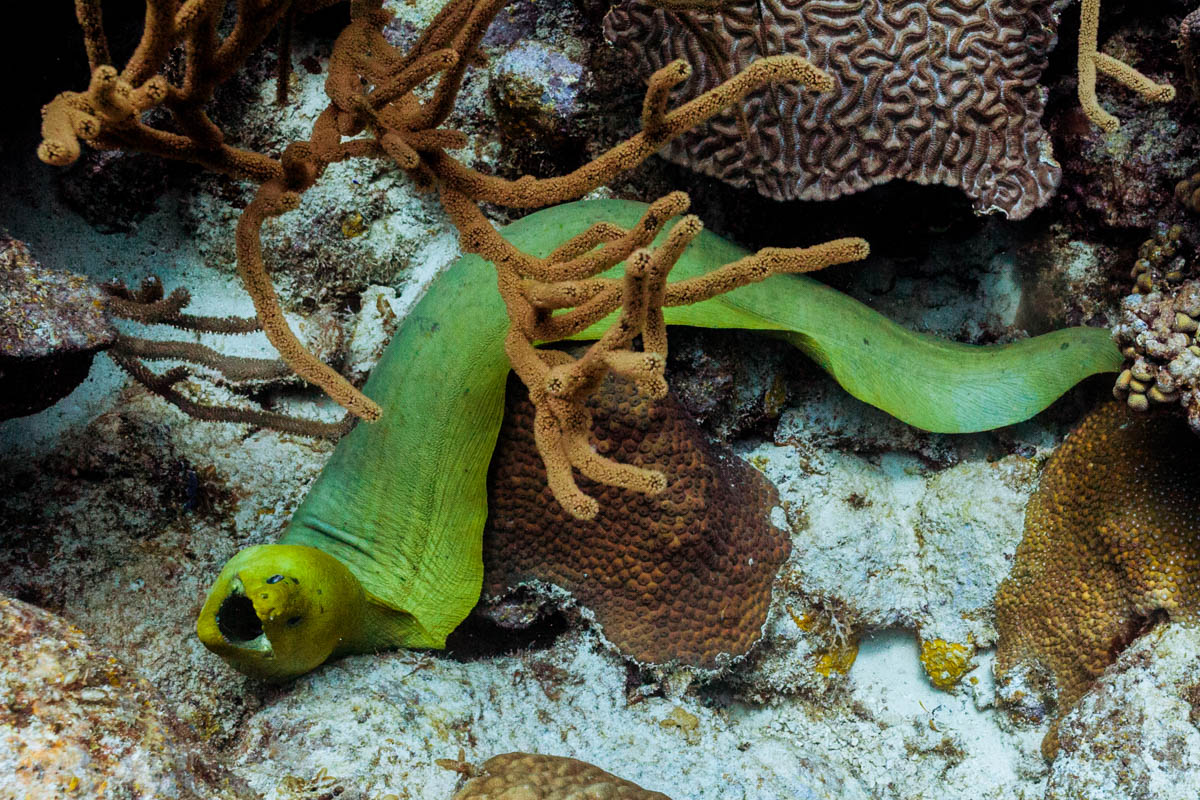 If we never see a turtle again, we'll be okay. Before jumping into the water we were told to keep a tally of the turtles we saw, and somewhere around 50 everyone just gave up...
Dive 10: 1000 Steps max. 70ft, 65min
This place is another of our favorite sites (really which one isn't??), if not in part because when we came with Matt and Lizzy in 2013 we had a (likely) false shark alarm. By now we're hiking down the 78 or something steps in full gear like pros, and are rewarded with sightings of palometas, way too many parrotfishes to count, Pederson shrimps, crevalle jacks (!), and ah well, a few lion fish :-\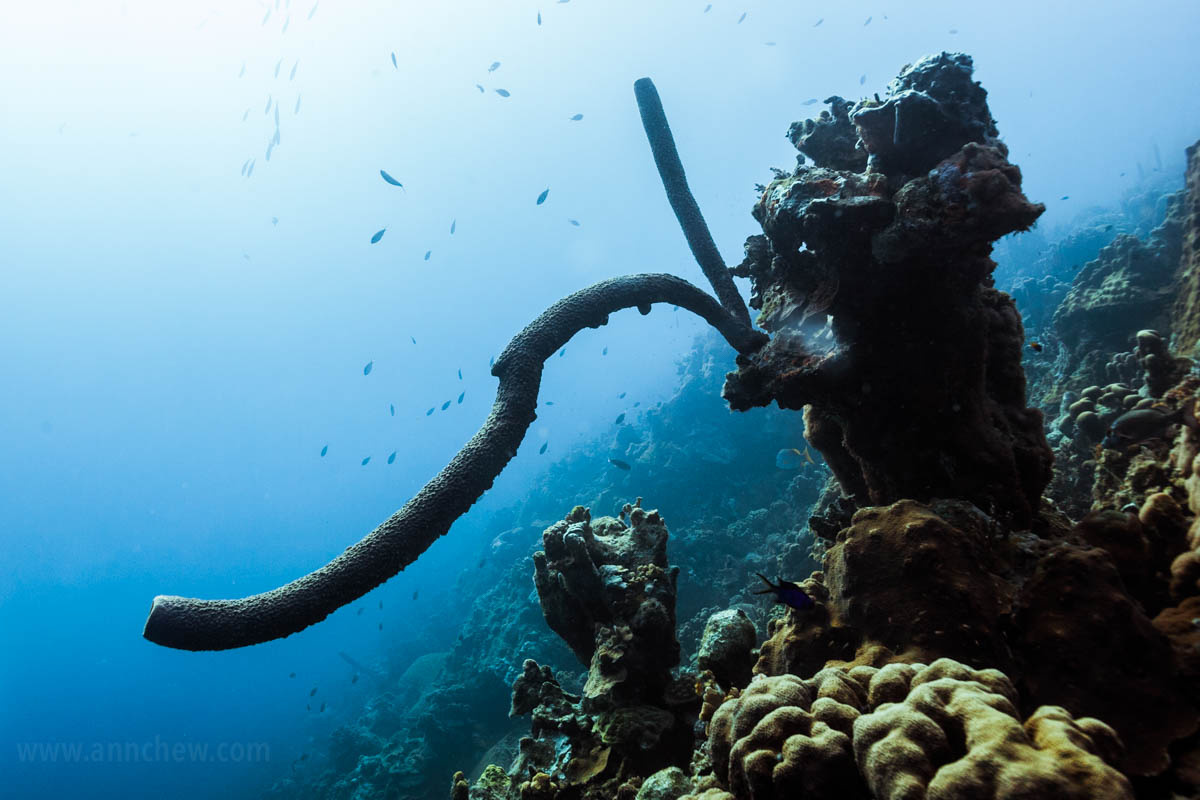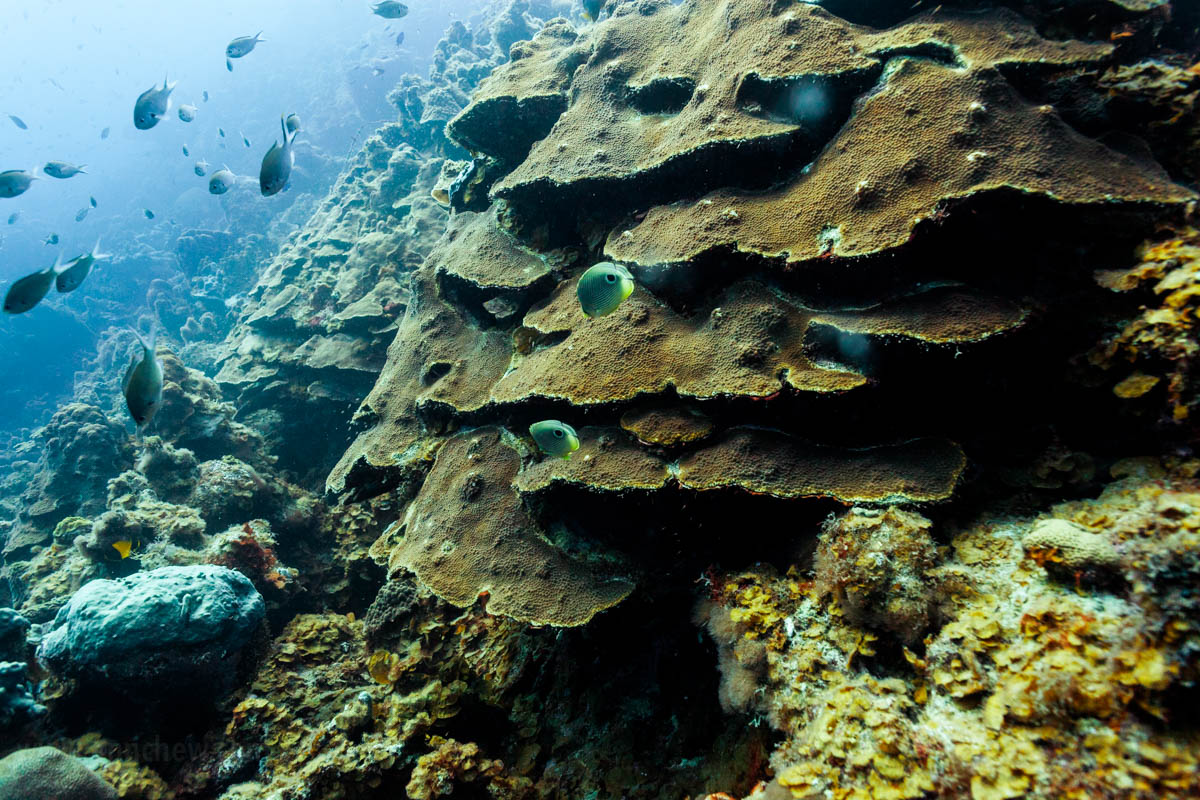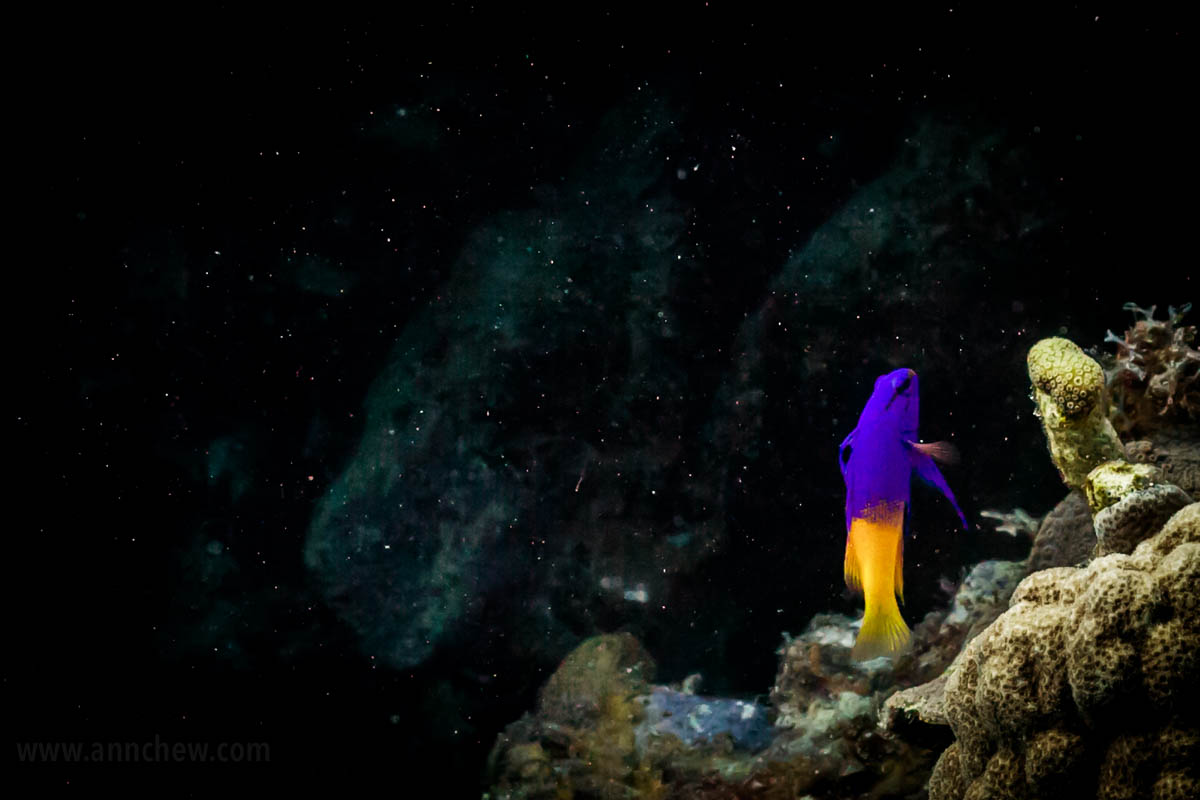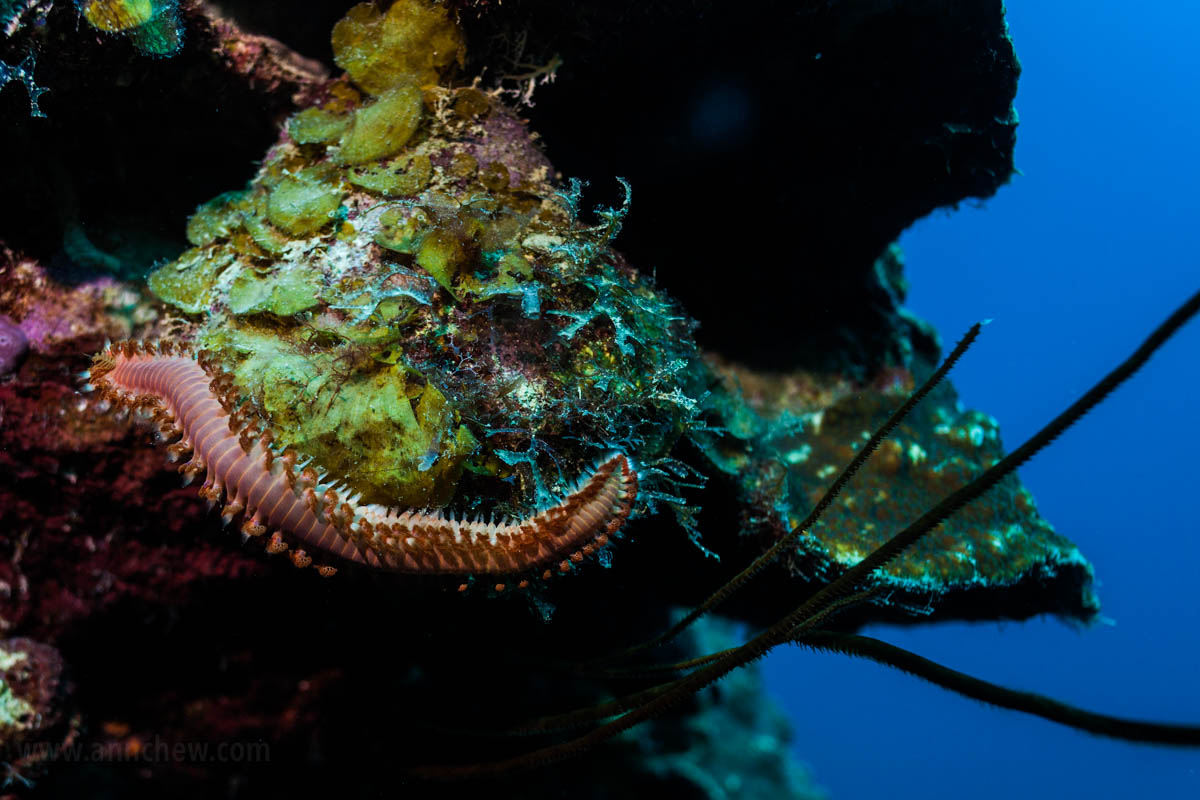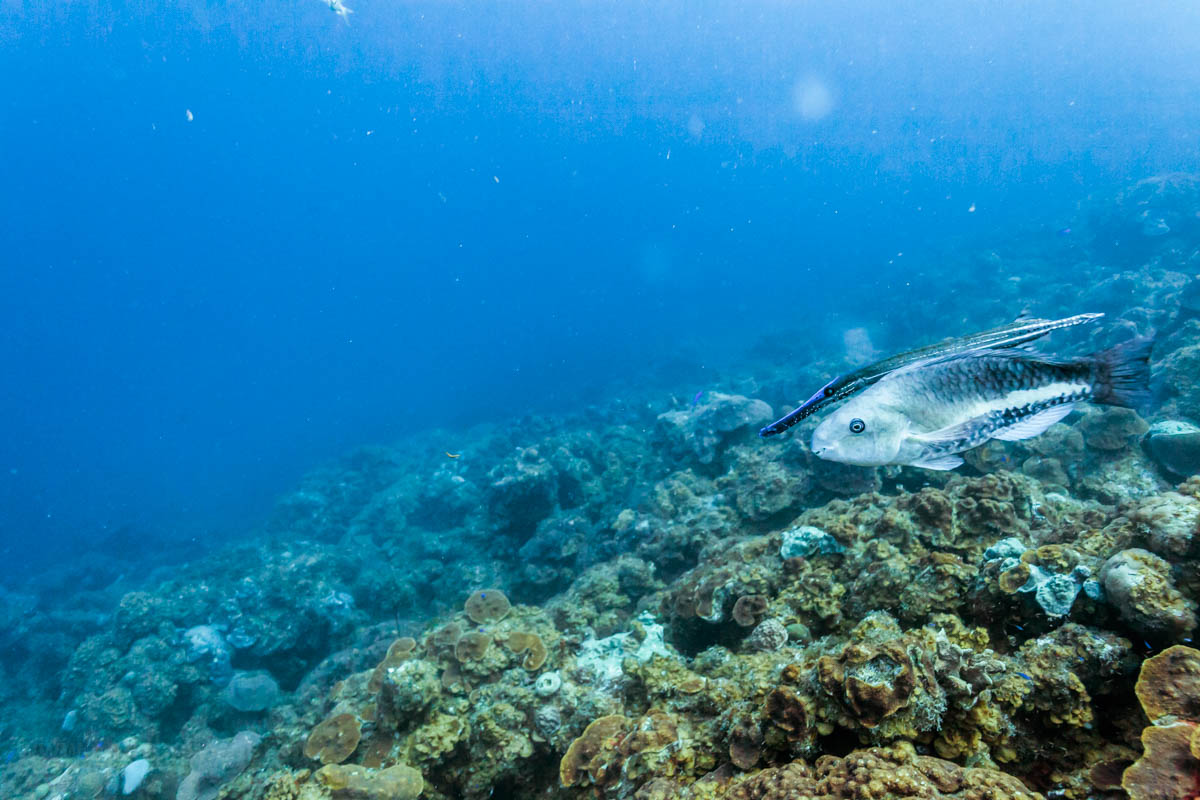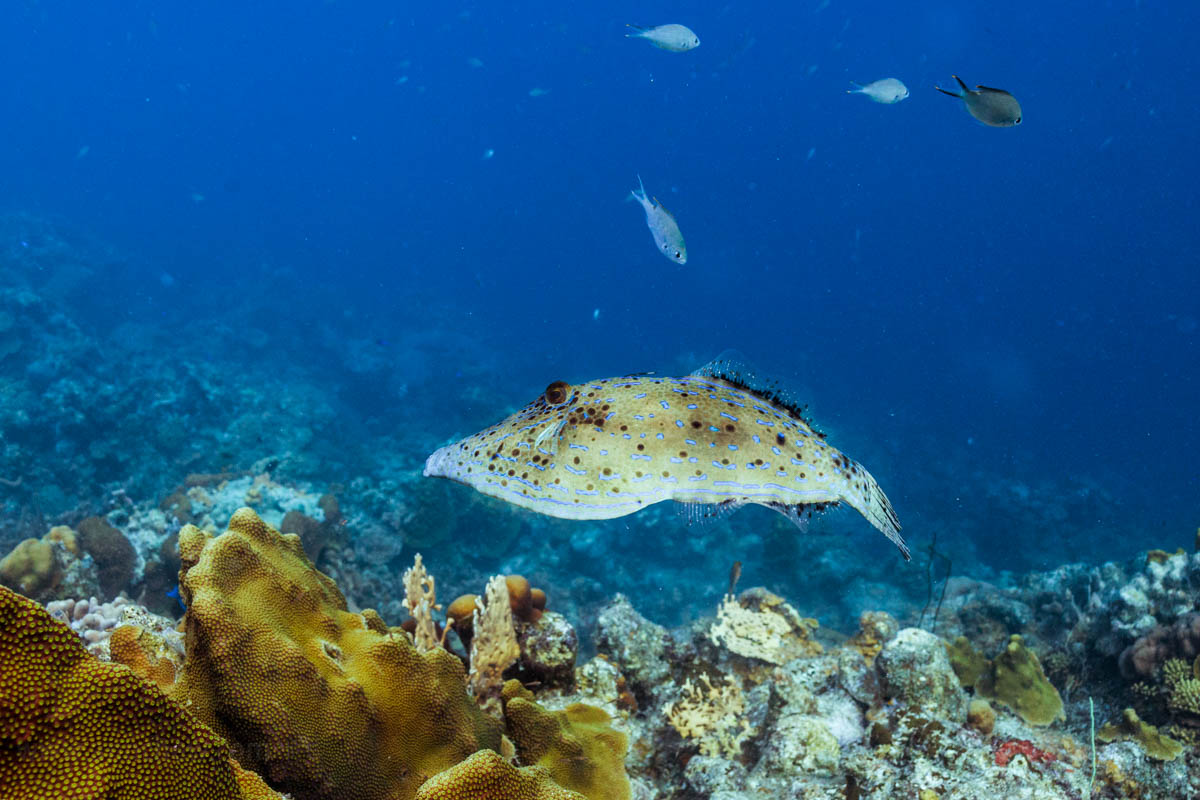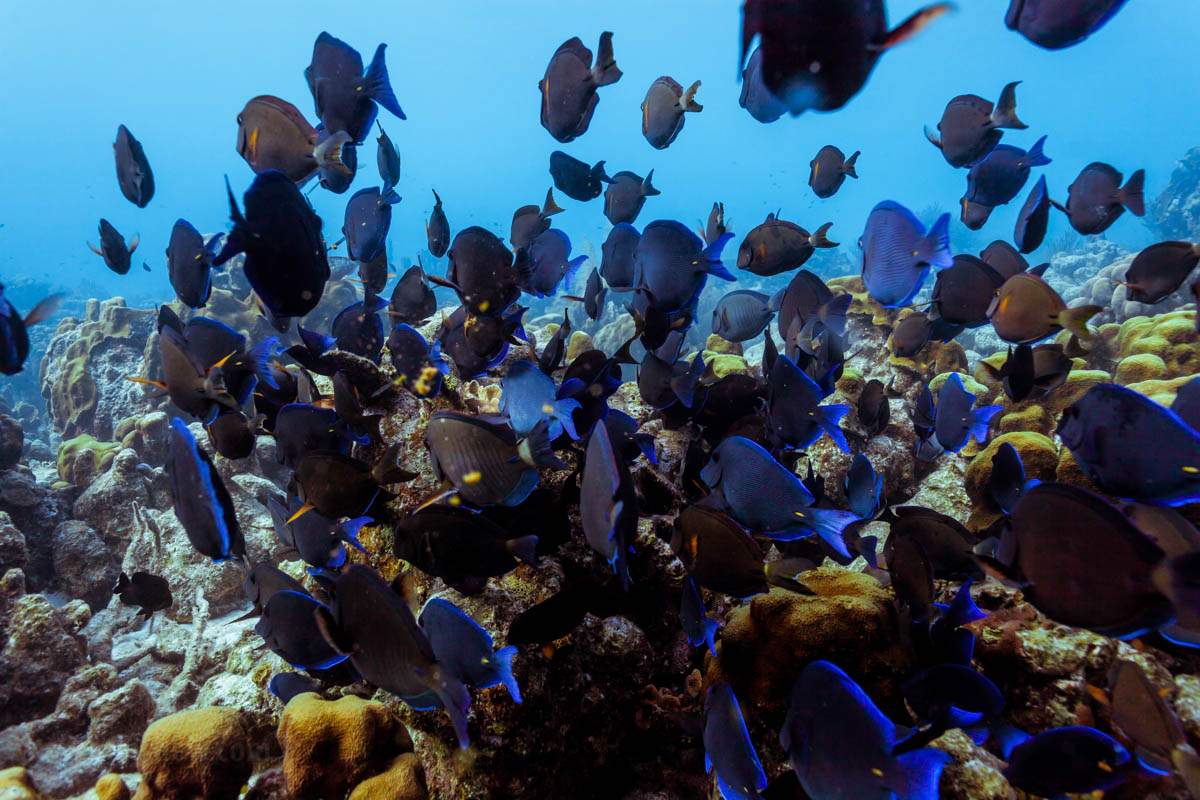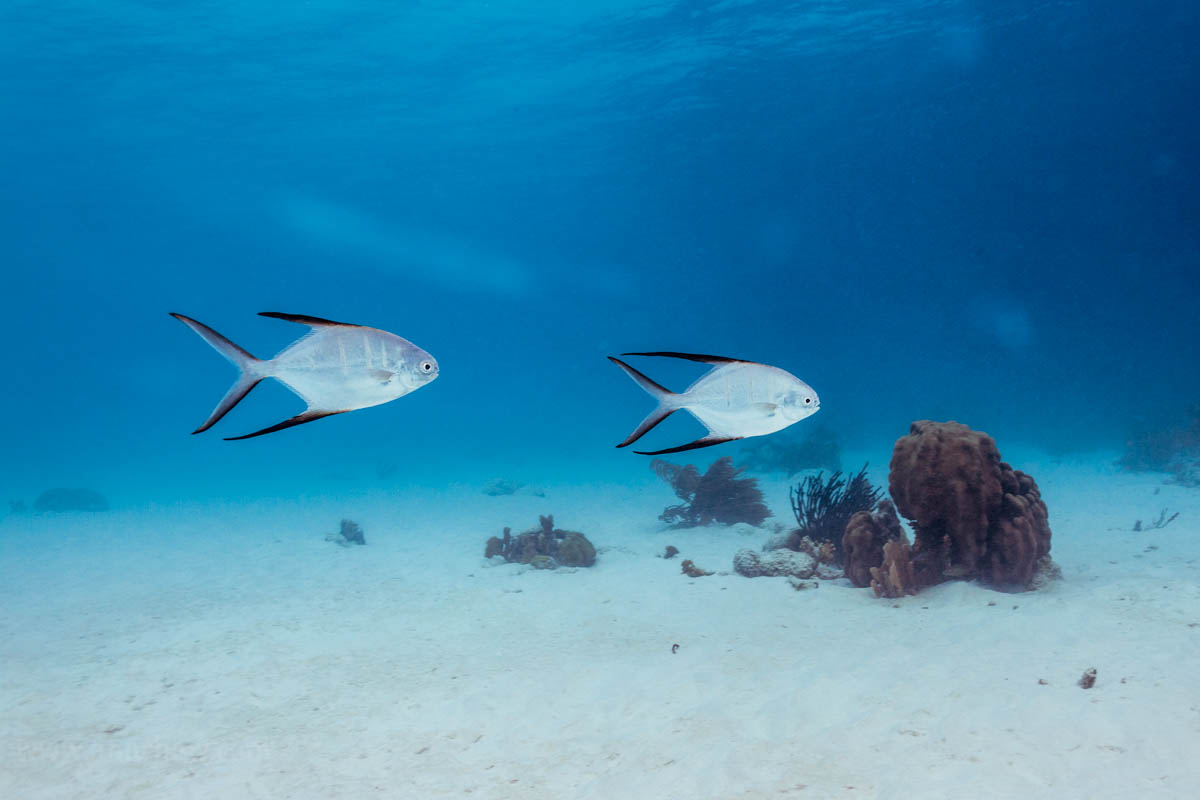 Day 4 Dive 12: Kalli's Reef max. 68ft, 59min
Kalli's is kind of like 1000 steps, minus the steps and by boat entry only. The drop off is fairly steep and descends below 100ft. Along the wall we encountered a school of tarpons and a yea.... the viz sucked. But in the shallows a pair of squids swam over to check us out, so it was all worth it...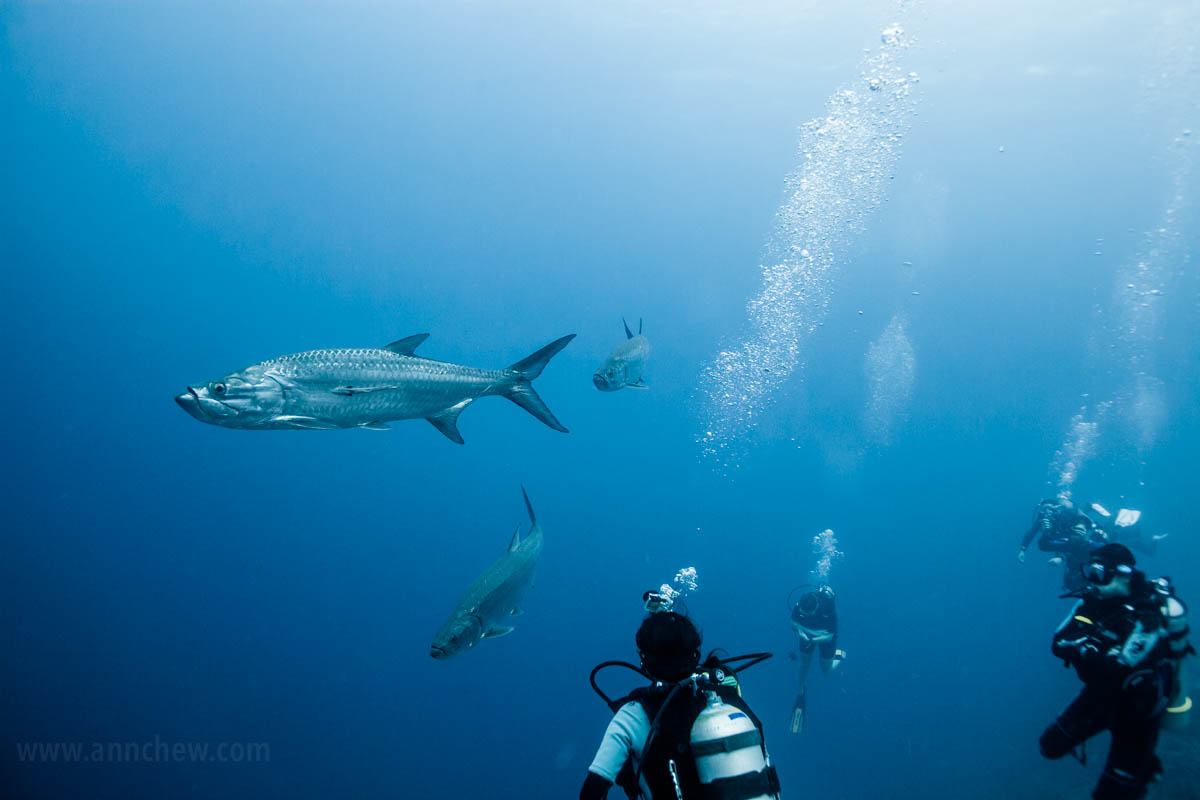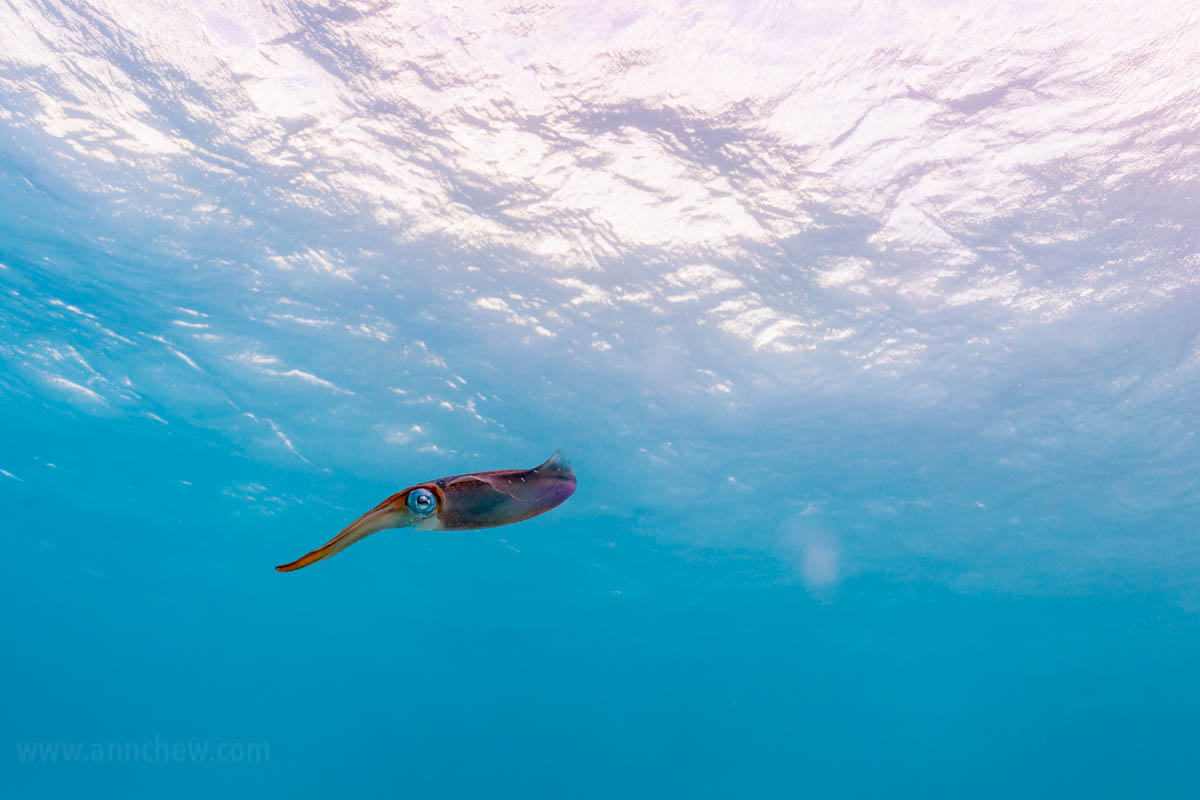 Dive 13: Knife, Klein Bonaire max. 64ft, 54min
A bit of current here and there, nice migration of the creole wrasse, large schools of tangs, and Ann's favorite fish, Chubby McChubface.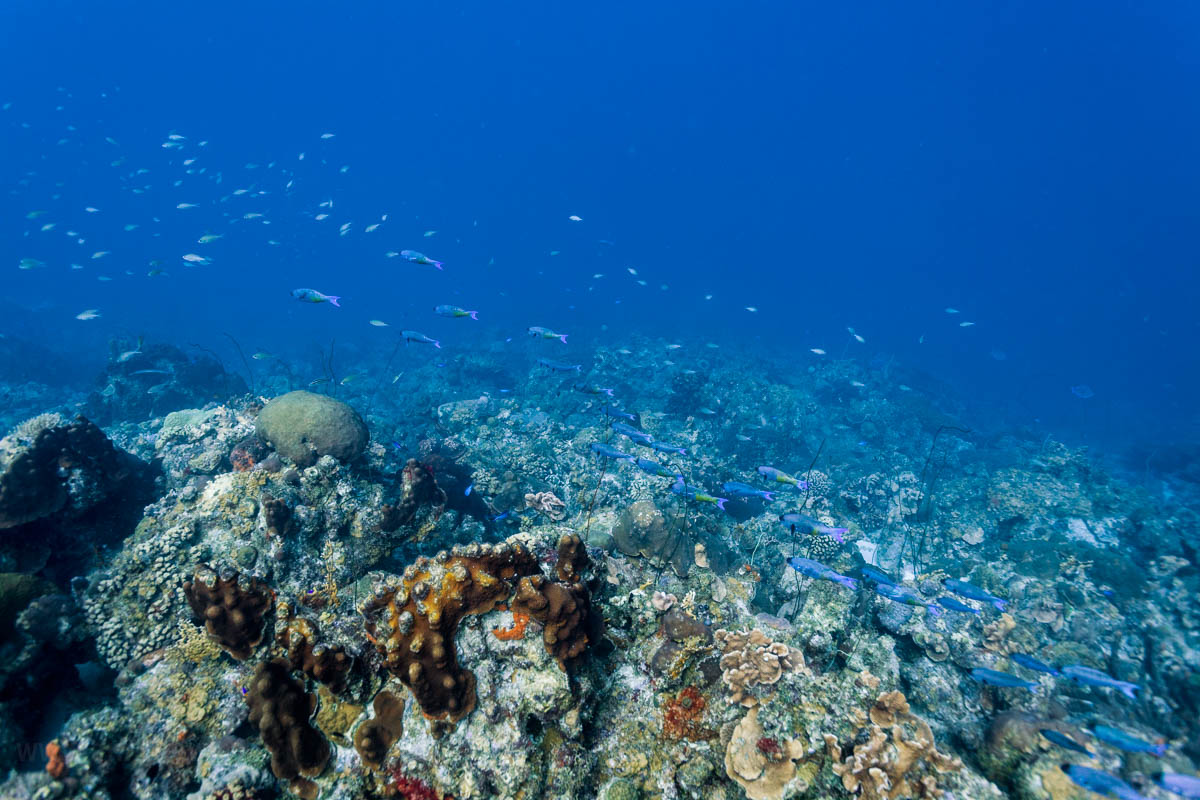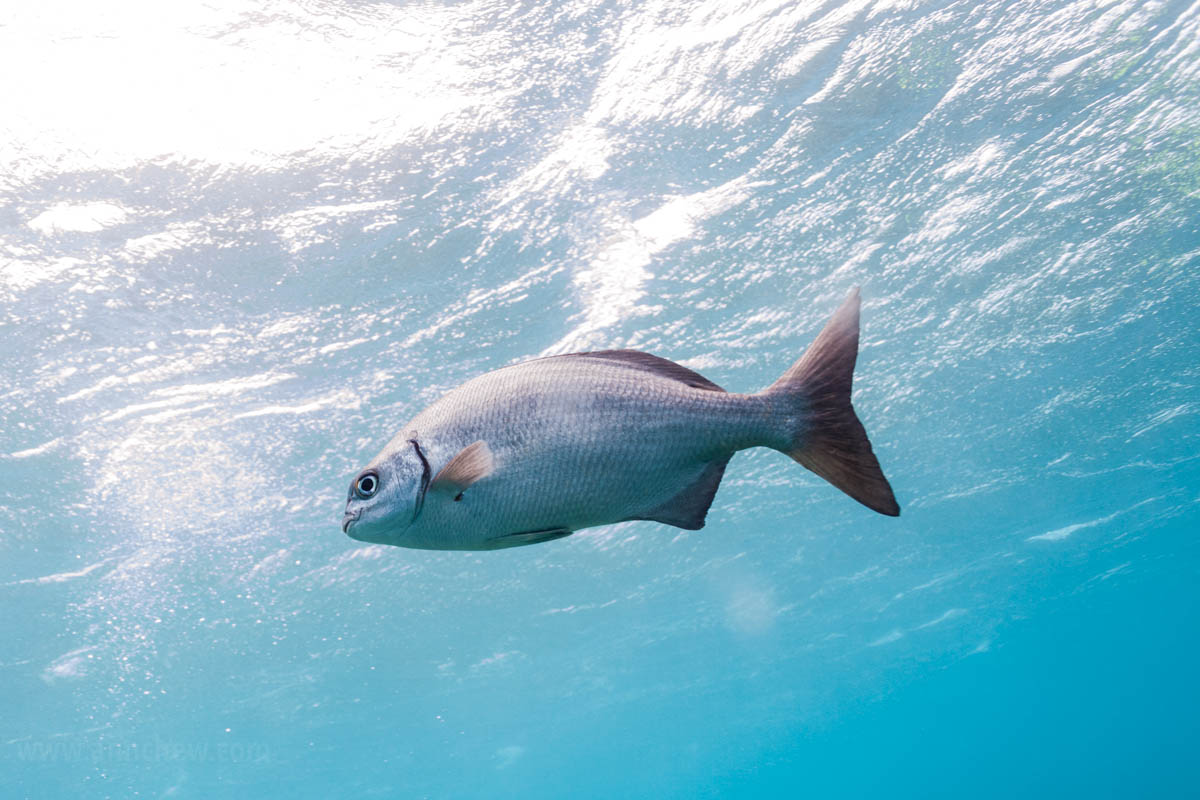 Dive 14: Alice in Wonderland max. 72ft, 56min
As a part of the southern double reef system this site supposedly has some nice features...? but viz and afternoon nap time for fishes were not in our favor on this dive. The second (outer) reef looks better than the first, but it also goes down much too deep (100ft) for the third dive of our day. On the plus side, there wasn't much current.
Dive 15: Angel City max. 67ft, 54min
Great. Dive. As soon as we descended by the mooring we encountered 3 squids. We swam to outer reef via a coral bridge, and for the first time really appreciated the incredible landscape that's the double reef system. Unfortunately we also saw five too many lionfish.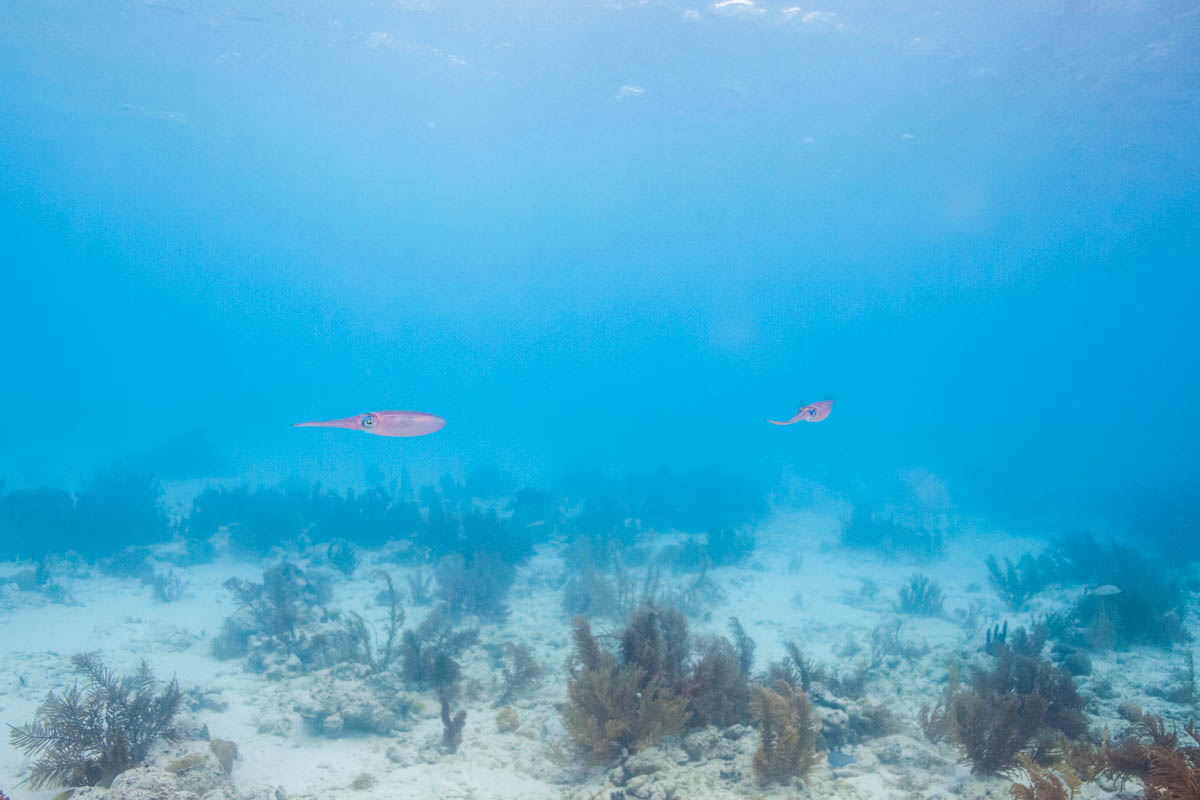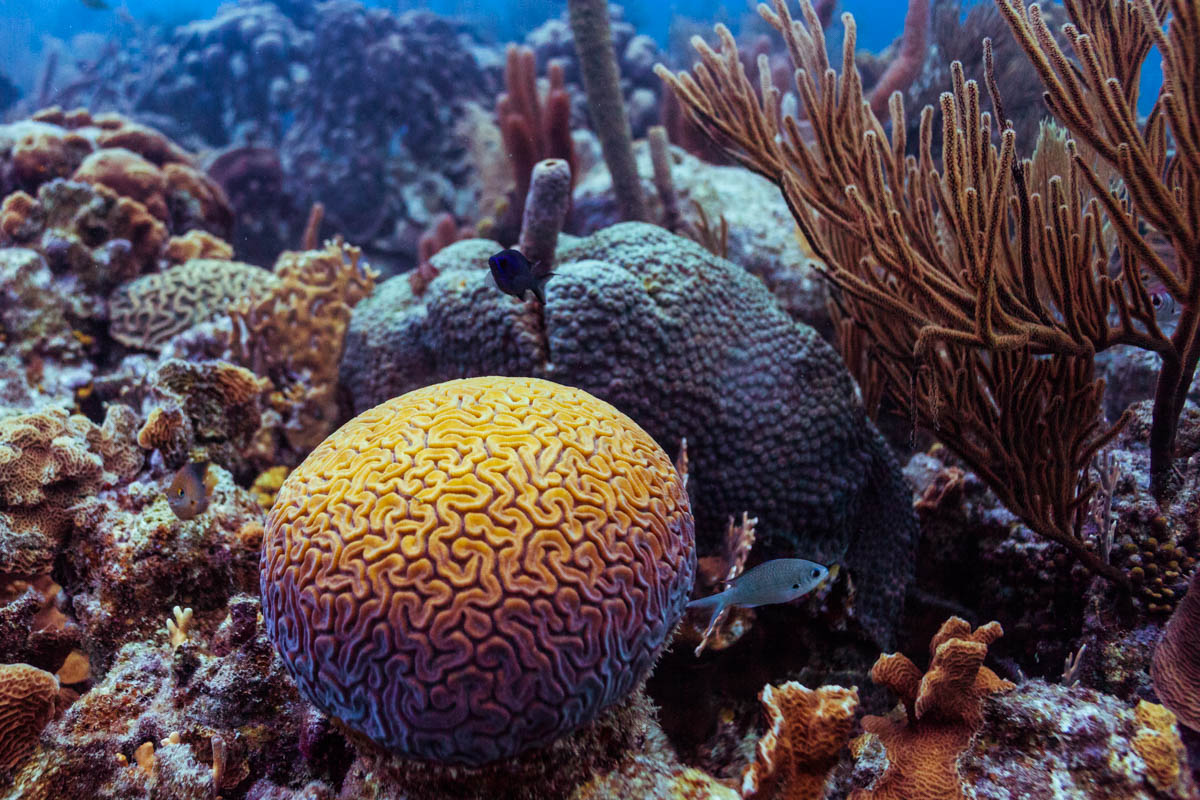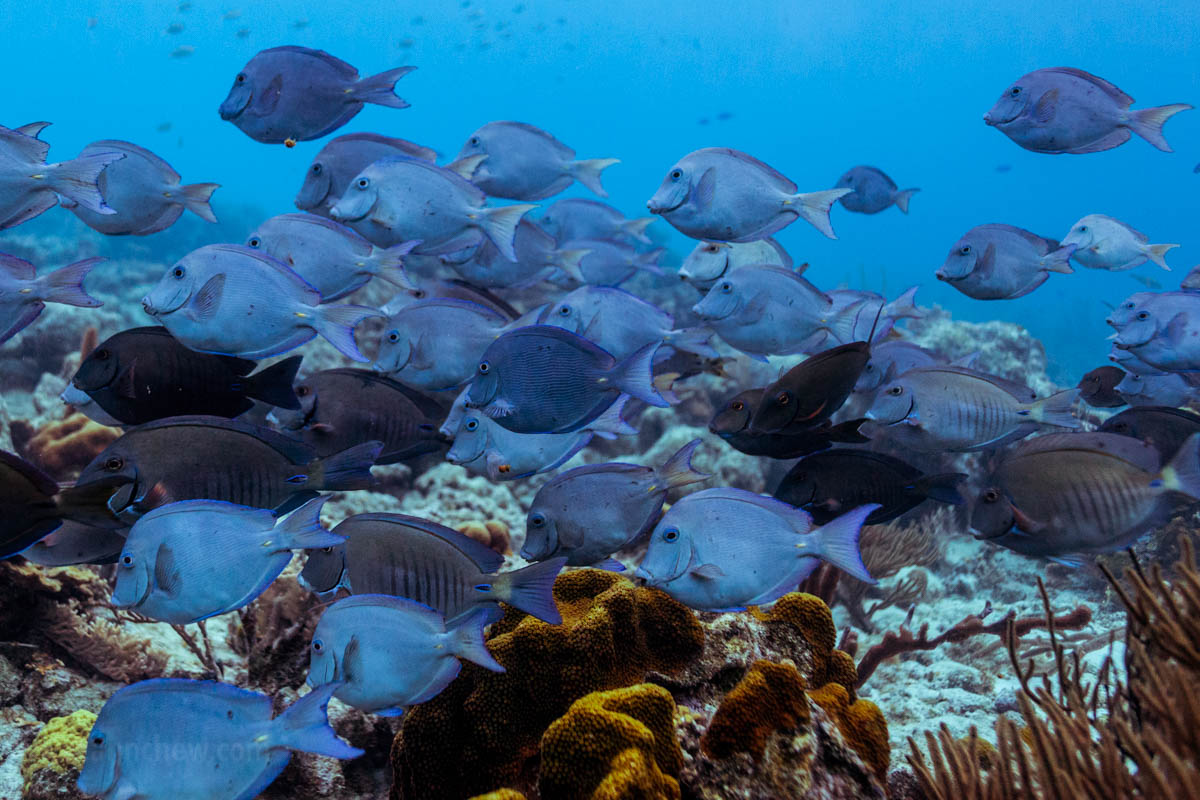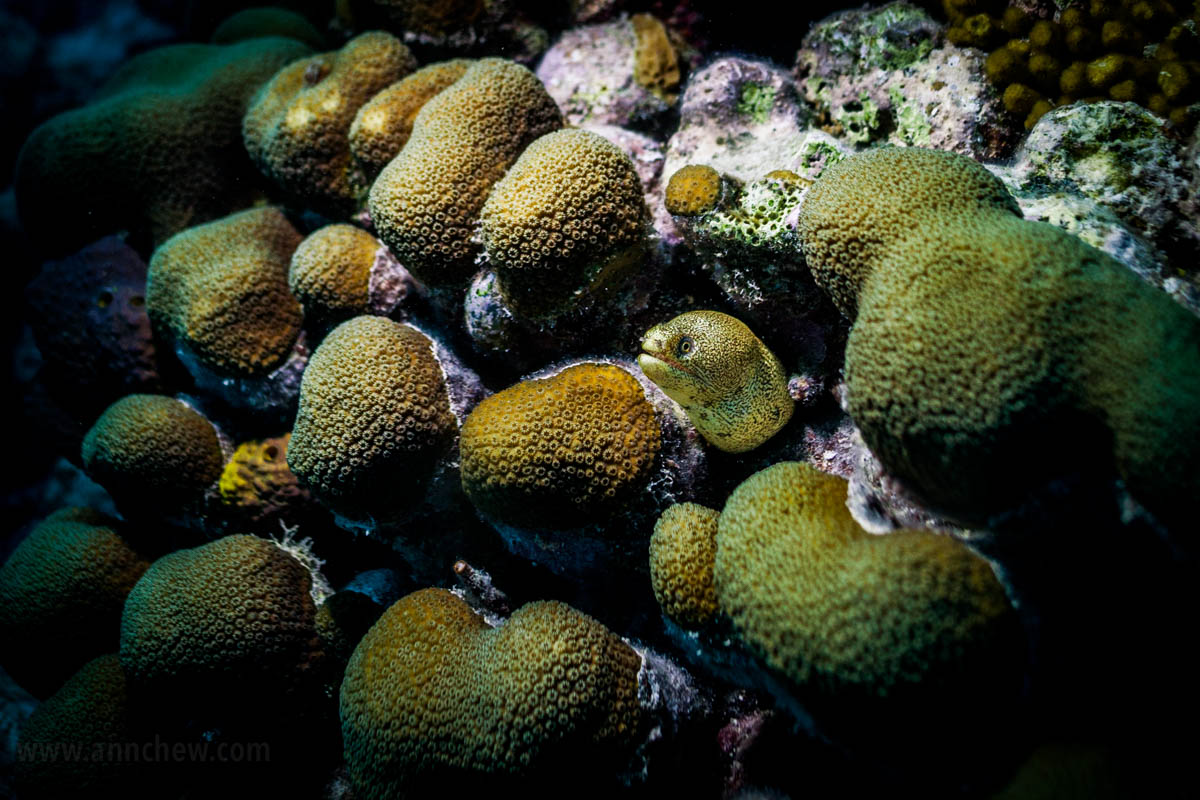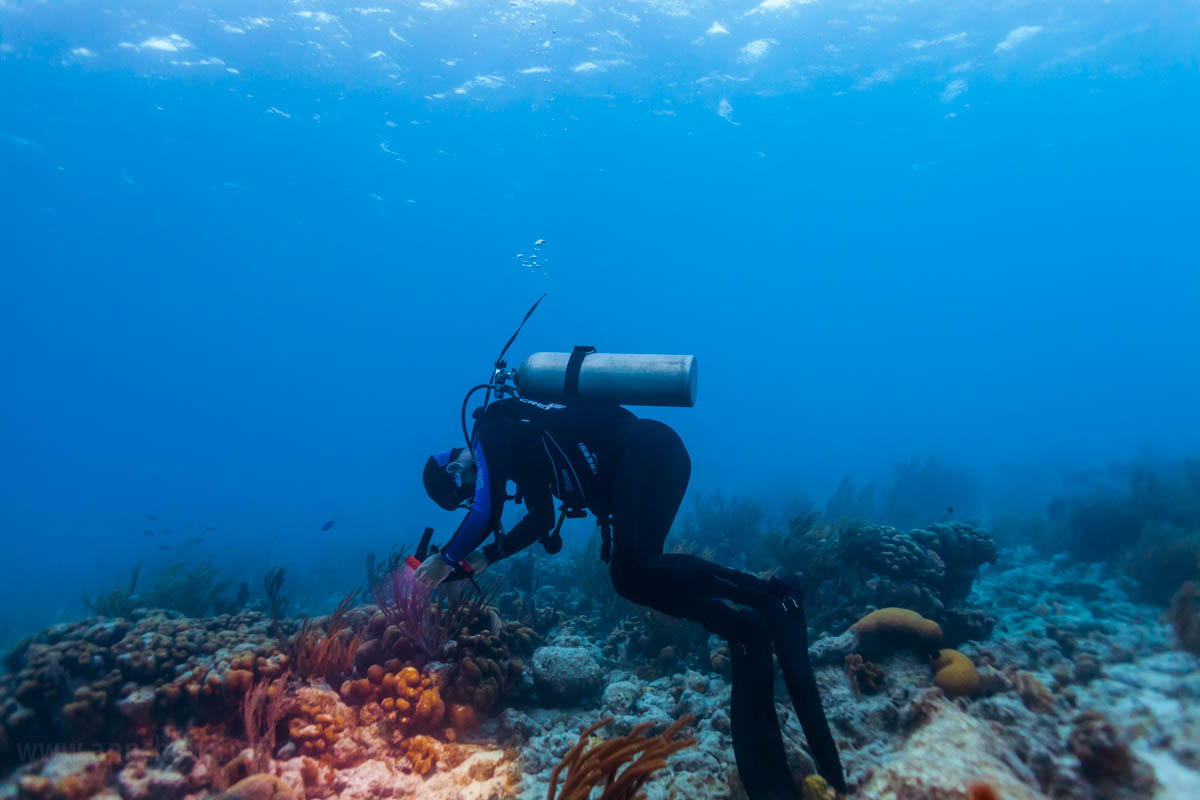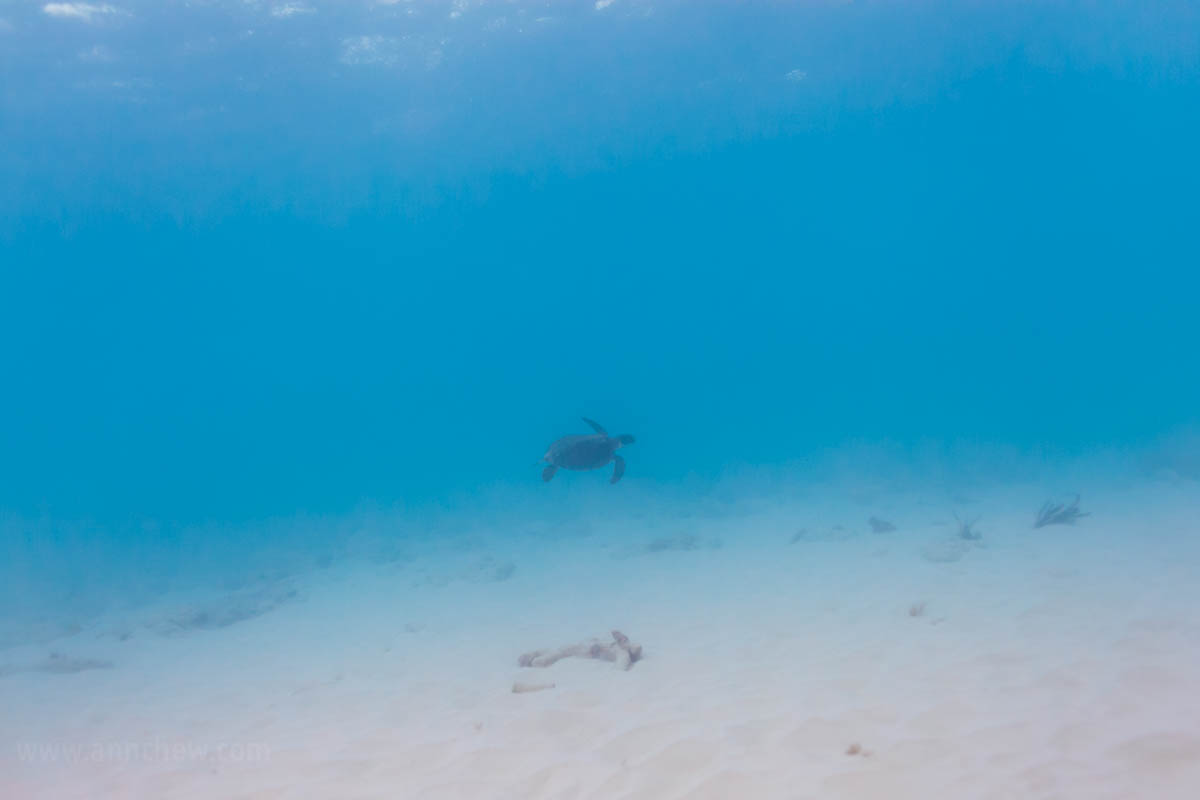 Three legged turtle... didn't we see him before? We had a terrible time exiting, being tossed about by pounding waves. Still, a great site, and a good sunset.