In the fall of 2016 we went to Austria for a conference, and took the opportunity to travel across the country by train, on the way (in a way) tripping into an alternate reality of our own. It's been almost two years and half a dozen dive trips in between, and as an interlude before the next batch of Bonaire posts, we figured it's about time to finish those photos…
We stayed in Vienna for almost a week, just a few minutes from an absurd number of cultural landmarks: grand opera houses and theaters, museums and art academies, churches and palaces. We didn't get to see much of it but did goof around a bit in the gardens of the Belvedere,
And beheld the whimsies of Hundertwasser Village, where Klimt-themed souvenirs sparkle in shop windows and fallen leaves stand up on the sidewalks like friendly little aliens.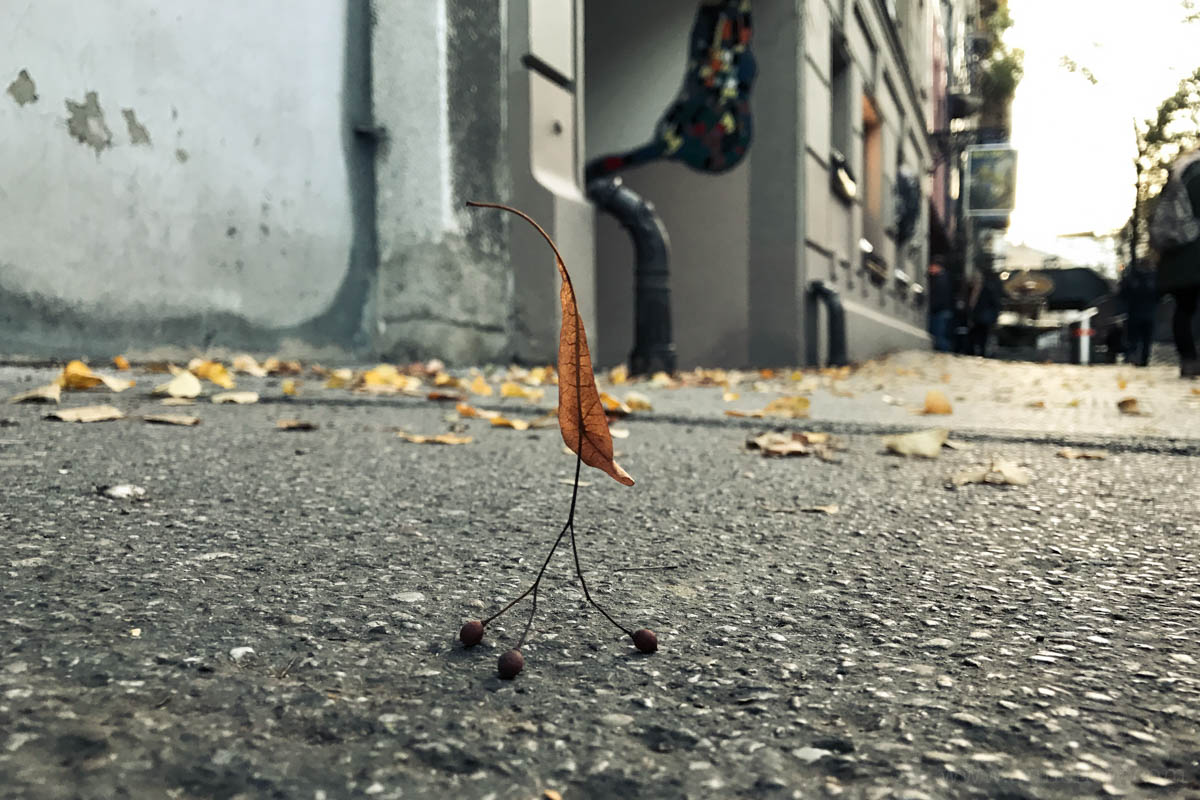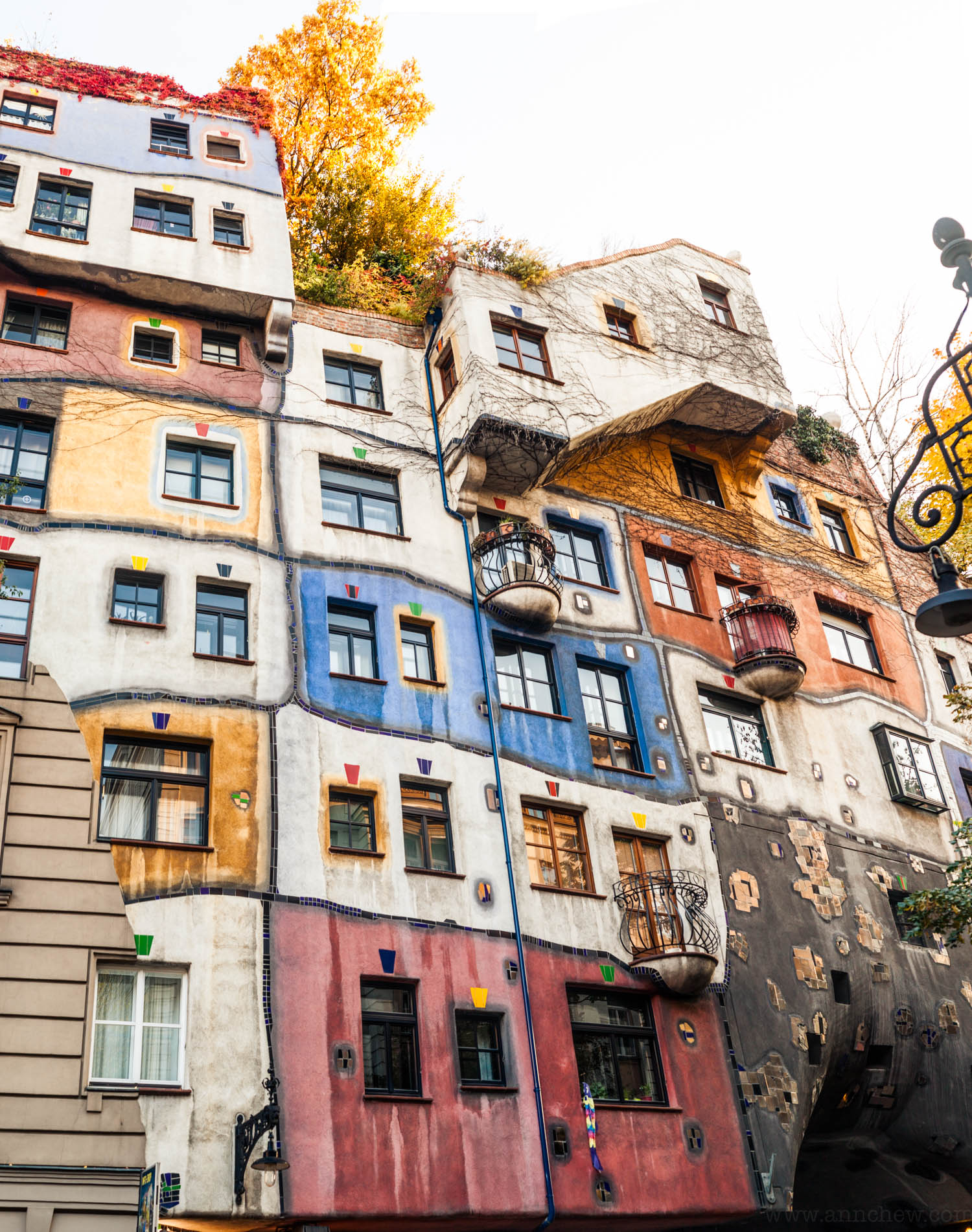 Had we come at another time I might've been a bit more psyched about being set loose in the city of my long-beloved musicians, but it'd been an intense few days, and all we wanted to do was get out and unwind. So we bought a rail pass, and by the time we hopped on, weren't entirely sure where we were going.
To pass time we read Murakami's 1Q84 together. As the train sped along the Westbahn, we were happy to lose ourselves in his (however thinly plotted) world of twin moons and air chrysalides.
Nested within 1Q84 is a short story called "The Town of Cats:" a man takes a train to a strange, deserted town where cats speak, cavort, and shop. For a few days, he observes them with fascination from a clock tower. The cats begin to sense a human in their midst, however, and get rather upset about it: they find the man but for whatever reason cannot see him. Fearing for his life the man tries to leave, only to realize that he can no longer go home. Anyhow, it begins like this:
A young man is travelling alone with no particular destination in mind. He rides the train and gets off at any stop that arouses his interest. He takes a room, sees the sights, and stays for as long as he likes. When he has had enough, he boards another train. He spends every vacation this way.
A functional, first-world railway is an engineering marvel: just two and half hours later we arrived in Salzburg. I came here with my father on a tour bus years ago. We'd covered in seven days almost as many countries, and all I recall from Salzburg were lukewarm pasta, going home with Mozartkugel for months, and this photo of Mozart's house I took (with a budding interest in photography). However unfair my recollections and reasons were, we nixed Salzburg, and set our sights on Werfen instead. It's a small town about 40km away, and Google maps promised a nice castle there.
The regional train took us south. It was slower but offered a beautiful view of the surrounding mountains. We passed within striking distance of Berchtesgaden and Eagle's Nest. Half a dozen towns later we got off at Werfen Bahnhof, a modest, riparian stop marked by a simple sign.
One day, he sees a lovely river from the train window. Gentle green hills line the meandering stream, and below them lies a pretty little town with an old stone bridge. The train stops at the town's station, and the young man steps down with his bag. No one else gets off, and, as soon as he alights, the train departs.
No workers man the station, which must see very little activity. The young man crosses the bridge and walks into the town. All the shops are shuttered, the town hall deserted. No one occupies the desk at the town's only hotel. The place seems totally uninhabited. Perhaps all the people are off napping somewhere.
One other passenger disembarked, an elderly woman who gave us a quizzical look. We crossed a bridge and walked down the main street, past a row of closed establishments and the town church, whose bells tolled for seemingly no one. It's the off-season in Werfen, too late for the summer crowds and too early for skiers.
In the afternoon we made our way up a nearby mountain, just in time to join half a dozen straggling visitors for the year's penultimate tour of Eisrisenwelt, purportedly the largest ice cave in the world (winter comes early to the Austrian alps). There's no photography permitted inside, so these contrabands will have to dimly illuminate one's imagination…
We took a long, meandering way down. The stillness of the early evening is lonely, and lovely. Just across the valley a single, familiar moon was barely visible.
We stayed the night, and in the morning walked up the large rock where Hohenwerfen stood. A tour guide gave us a dispassionate, bilingual spiel of its remodeling history over the last seven hundred years or so. From the ramparts we could see an autumn haze hang over the town below like a gossamer blanket, its chilly scent a harbinger of something not so much sinister as … forsaken. In the distance a train came and went.
The next morning, however, the train does not stop at the station. He watches it pass by without slowing down. The afternoon train does the same. He can see the engineer seated at the controls. But the train shows no sign of stopping. It is as though no one can see the young man waiting for a train—or even see the station itself…
The young man knows that he is irretrievably lost. This is no town of cats, he finally realizes. It is the place where he is meant to be lost. It is another world, which has been prepared especially for him. And never again, for all eternity, will the train stop at this station to take him back to the world he came from.
Werfen is a weird place when one's mind is embedded in 1Q84. Murakami's world has seeped into our reality. Somewhat spooked, we hightailed out.
Onwards to Innsbruck.
We arrived on a wet afternoon, but the gloom was offset by a chance encounter with the Alpine folk music festival. Local villagers, from bearded baritones to fledgling fiddlers, have assembled in town for a drizzly but joyous celebration.
We'd come to Innsbruck in part because of the Nordkette mountains nearby. Here we could hike for a few days, mountain hut-to-mountain hut, in half-hearted preparation for Patagonia. So we took a bus from town to the cable car station, where some jovial ladies were happy to let us borrow their witches' hats in exchange for some laughs.
The gondolas dropped us off just above the tree line, from where we'd walk upon a not particularly strenuous but in theory very scenic few miles to Höttinger Alm. We wouldn't know, for the mountains were shrouded in fog…
We arrived at the hut a few hours later and were glad to sit down to a hot meal of Knödelsuppe. The young host was cheerful and talkative, but cocked his head in surprise when we told him we wanted to spend the night. The dormitories were unheated and like everything else on this trip boarded up for the season. We reassured him that we'd come prepared with sleeping bags and winter clothing. He was skeptical but showed us the beds.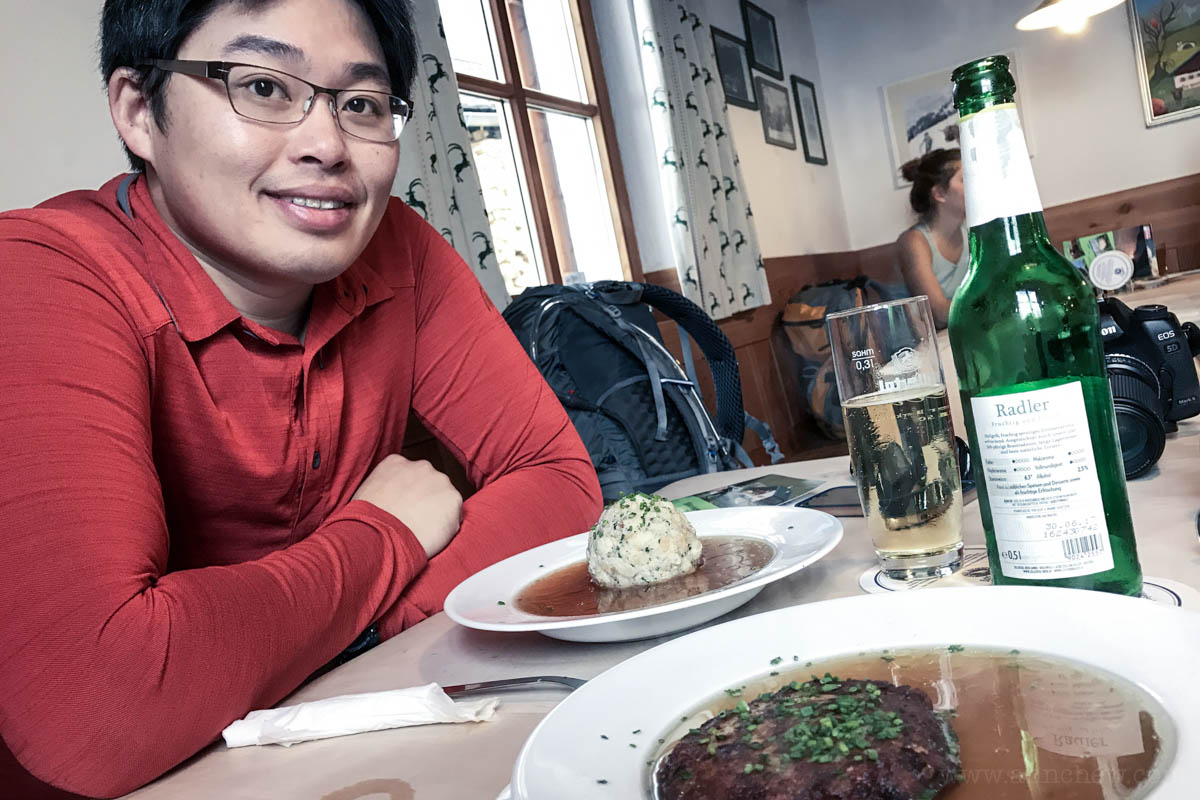 The clouds finally parted in the late afternoon and opened up a resplendent panorama of fiery granite peaks and city lights down below twinkling like fireflies.
At night the temperature dipped just below freezing but we slept soundly and warmly in a surfeit of goose down. We thanked the host in the morning and moved on, tracing a path dotted with dew and wild mushrooms back up the mountain.
Before long we arrived at Bodenstein Alm, but were disappointed to learn that our luck had run out: they were closed for overnight stay and there were no negotiations. And so with a sigh we gauged our options and made one last feeble attempt to get to Pfeishütte, an unstaffed refuge shelter a further few miles away.
Once again above the tree line, the footpath became increasingly narrow and icy. But now the parting of the clouds revealed the sheer drop from the precipice we'd been boldly – if blindly – striding all along. This did not help Chewie's vertigo. We decided to turn back in defeat, but made a friend along the way: a retired doctor who's lived and raised family here his entire life, and comes for a walk every other weekend. We basked in his contentment.
Back in town, the sun had finally come out, and against the backdrop of snowcapped mountains and pastel townhouses, Innsbruck shined in a vibrant, new light.